Three-year-old Instagram star Ryan Secret has better style than most men.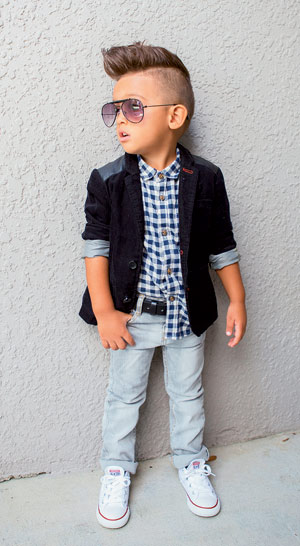 Whether he's rocking a blazer over a jumpsuit or a pair of bright patterned leggings with a henley and a beanie, there is no doubt that Ryan Secret—and yes, that is his real name—is one stylish 3-year-old. Star of a namesake blog and an Instagram account that boasts 69,000 followers, Ryan began amassing his many fans after Mom and professional photographer Sandra Rodriguez started snapping "dressed up photos" of him a year ago, combining her love for photography, fashion and her children. Rodriguez describes Ryan's style as clean and edgy—an aesthetic perfectly epitomized by his slick "undercut" hairstyle and his signature accessories: a scarf and some shades.
Though Rodriguez still puts together his outfits, Ryan is already showing signs of becoming a dapper dresser in his own right. He asks "to go cheese" when he's ready for a photo op and often comes up with his own poses in front of the camera. "He's a natural," says Rodriguez. Ryan will wear just about anything, she adds, but he's happiest sporting T-shirts and shorts—the standard uniform in his hometown of Orlando, FL. That is, unless he's allowed to wear his all-time favorite: his Superman costume.
When Ryan isn't working the camera, he can be found playing soccer or basketball outside or hanging out with his mom, dad and older sister, chatting in both English and Slovenian—his mom's native tongue. Or, adding to his extensive shoe collection. "He loves shoes. Especially his leopard print loafers [from Love Mummahh]," Rodriguez confesses. As Ryan says, "I have more shoes than my mommy!"
—Tara Anne Dalbow