As consumers increasingly snap up waterproof wares, retailers and manufacturers offer tips to soak up sales.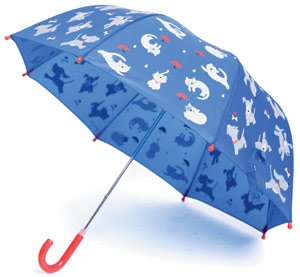 The skies opened for rain gear in 2014, as overall sales of rain boots and galoshes swelled substantially in September, growing to $3.1 million from $2.5 million the year before, according to the NPD Group. "The rain boot business in the kids' market has leapfrogged off the adult market where rain boots are now seen as a legitimate fashion accessory," explains NPD's chief industry analyst, Marshal Cohen, pointing to the volatile weather of the past year as another reason for the storming sales figures. "Consumers recognize that they can't keep making do with what they have just to pass through."
And it's not just functional footwear that's enjoying a surge. Retailers report a steady rise in sales of raincoats, too, spurred on by inclement conditions across the country. "Our rainwear sales exceeded expectations in 2014," states Kristina Perone Teague, co-owner of Vann & Liv, a Greenville, SC-based store whose bestsellers include Oil & Water for girls and K-Way for boys, adding that the recent evolution of styles from functional items to fashionable accessories has helped. Jennifer Bossick, co-owner of TinySoles, an online children's boutique, agrees. "The consumer is aware that more style choices have become available, and it makes it easier for everyday wear beyond just wet weather," she says.
Looking to help your customers battle the elements in 2015? Here, experts offer advice on making a splash in the category.
Go Big on Boys, Too
While most kids' stores tend to focus more on girls than boys in accessories categories like swimwear and shoes, rainwear offers an equal opportunity, Bossick says. "Both boys and girls need a good set of rain gear," she states, advising retailers to carry an even assortment for both. That's why Canadian apparel company Hatley, known for its PVC-free rain gear, introduces seven new prints each every season. "If it's raining, everyone out there—boys and girls—needs a coat," quips President Chris Oldland.
Rob Moehring, CEO of Washington Shoe Company, makers of Western Chief, seconds this notion, noting that while character licenses like Batman, Spiderman and Hello Kitty continue to be the core of his kids' rainwear business, prints have become increasingly popular for both genders. "Boys love monster trucks, sharks and dinosaurs, while for girls it's always girly prints like butterflies and polka dots," he says.
Embrace Color and Prints
Just because the sky is cloudy and gray doesn't mean your assortment should be. Attention-grabbing color combos and fresh prints always ring the register, says Senny Powell, owner of Island Child, a 30-plus-year-old childrenswear store on Hilton Head Island in South Carolina. As such, her 3,400-square-foot store does well with traditional yellow and navy for boys and pink and raspberry for girls. "Classic colors are seasonless," agrees Oldland, adding that kids tend to steer their parents' purse strings towards prints. The same goes for accessories, says Blair Everett, president of toy manufacturer Babalu, which expanded its wares to include umbrellas four years ago. "A child is going to select an umbrella for the graphics, not for the fact that it keeps them dry," he says.
Variety is Important
Retailers and manufacturers alike say carrying several different brands and styles gives customers a variety of price points to choose from. Bossick, for example, carries rain boots ranging from $38 to $54 from Hatley, Kamik and Keen, and Hatley raincoats from $48 to $64. "Carry a variety, but pick a boys' and girls' style you can always keep in stock," she advises, adding, "Once customers know they can get it from you, make sure they can always find something in their size."
Stocking an eclectic assortment is crucial to keep customers coming back for more, too, especially as the category continues to expand into more stylish silhouettes. "Look for a variety of different taste levels and price points that mix well with the price points of the clothing you have in the store," says Amy Wismar, founder of Oil & Water, whose range of fashion-forward rainy day outerwear for girls is adding a boys' line in Fall '15.
Beyond a wide selection of styles, price is key. "Don't overprice it and you'll do well," Cohen says.
Go for Double Duty
Maggie Chafen, owner of Dottie Doolittle, a high-end childrenswear boutique in San Francisco, recommends retailers look for raincoats that serve a double purpose: styles that combine rain protection with fashion-forward silhouettes and appear appropriate no matter the weather. "Consumers care about how much things cost and the serviceability of products and so I think if you can find good coats that have a double duty, you will do well," she offers. Powell echoes this, noting the reason she saw a jump in her rainwear sales this year is down to the fact that she started carrying more styles that merge fashion with function. "My customer wants something that sets them apart," she adds.
And it helps to merchandise versatile pieces with the rest of your store's offering. "Don't put it in the back on its own. Coordinate it with outfits," Wismar advises. "Kids are wearing raincoats as outerwear and wellies instead of boots. Rain gear has become part of the everyday, not just for rain."
Whatever the Weather
While "April showers" is an old phrase that sticks, it's not the only selling season when it comes to rainwear. In fact, experts agree that it's a year-round business. "And the blessing is that it never has to go on sale!" Powell laughs, noting that she even sells rain boots when it's 90 degrees and sunny. "Here on Hilton Head Island, kids wear rain boots on the beach and the playground when the sun is shining."
Moehring points out that rubber boots are part of most summer camps' checklists. "Consumers forget that kids wear these rain boots in the summertime, too," he says. Oldland agrees, adding that it's the same for back-to-school. "A lot of schools send checklists to parents at the end of July about required items for the upcoming year, and rain gear is on that list," he says.
"Retailers used to buy raincoats for spring and wouldn't offer them in the fall but now a lot are realizing that if they won't offer raincoats year-round, they're not going to develop the clientele that shops for them year-round," says Mindy Medvin, national sales manager for Magnificent Baby, which introduced raincoats in Spring '14. Everett agrees: "You have to show the consumer the need to purchase this item before it rains. They need to want to own this product before they need to use it." And as Oldland puts it, "There's always a reason to buy rain gear. And if consumers don't think you have it, they won't check you out."
Give It A Home
Retailers recommend having a dedicated rainwear display year-round. "Creating a collection in the store and putting raincoats, umbrellas and rain boots together helps sell rain gear," Perone Teague shares, noting that she merchandises her rainwear section by brand and by type to offer shoppers a full overview.
"You have to merchandise it as though you believe in it," Medvin echoes, adding, "You have to carry an assortment of product that tells the consumer you're not just selling raincoats but rain gear." She says that retailers who set up little vignettes within their stores showcasing coats, boots, umbrellas, even little books centered around rain have a better shot at selling the items. This is where brands that offer coordinating raincoats, rain boots and umbrellas shine. "We don't always find that customers buy the matching sets but I think it makes it very easy to merchandise and makes a really cute collection," notes Tasha Skupinski, international marketing manager for British brand Joules. (Today, 40 percent of Joules' U.S. business is focused on boots, with overall sales expected to double in 2015.)
Moehring, meanwhile, hates to see rain boots buried in boxes. "Colorful rain boots are naturally attractive items. If they're not seen, they won't sell," he says. That goes for apparel, too, Oldland notes. "A lot of retailers leave rain gear on a rack on the floor, and consumers have to search for it. Take if off the floor and put it on the wall. That especially goes for places where it doesn't rain much, as it's absolutely crucial to give pride of place in the store so everyone knows you have it," he says.
Wow with Windows
"Windows are a great way to sell without words," Powell states. That's why she recommends an enticing window chock full of attention-grabbing styles during peak rainy months. (Those would be mainly in the fall and spring, according to the experts.) "As retailers, we should put our best efforts into the face we put forward to the public when we are not open. It will draw customers in," she says.
Oldland seconds that suggestion. "During peak seasons when rain gear should be out, retailers should have it in the window, umbrella opened up, rain coat on a mannequin or a T-stand with the sleeves rolled up to show that there's a print on the inside if there is one," he suggests. Because, as Everett points out, "The only time a consumer is looking for an umbrella is when it's raining. Show shoppers that you have what they need."
Consider Consumer Education
"From a distance, all rain gear looks the same," Oldland says, and the deluge of print-happy options on the market means that many consumers will pick up an eye-catching item without first checking if it's weatherproof. "You can't hope that it's going to hold up in the rain. It has to," he says. That's why product knowledge is key when it comes to selling rainwear and keeping customers happy—and coming back for more. "Take a few minutes to understand why the raincoat you're selling is worth what you're charging," he notes.
Skupinski echoes this sentiment, adding that she always stresses the importance of hangtags to her retail partners. "So many retailers cut these off, but they contain important information on the products' technical elements," she says. "Not every raincoat is waterproof so it's important that consumers know the styles you carry are." Moehring agrees, explaining that Western Chief's neoprene boots, for example, are good down to -20 degrees Fahrenheit and retailers should pass that fact on to shoppers. "Parents need to know that certain styles offer both waterproof protection and the warmth factor. It stretches out the selling season for retailers."