Hard work and market savvy helped CEO Isaac Ash build a diverse portfolio of powerhouse brands. It's a formula that will come in handy as the newly renamed United Legwear & Apparel Company ventures into new territory: children's clothing.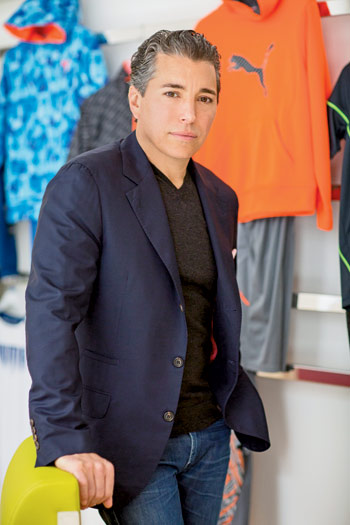 If you want to find Isaac Ash away from his desk, try staking out the shops near his company's Manhattan office. The multi-tasking CEO often spends his free time scoping out stores in search of emerging trends. "I'm always in the market looking for what's new, what's hot or what's missing," he asserts. That is, when he's not hopping around the globe, inspecting samples at the company's factories in China, Vietnam, Egypt and Central and South America.
Such is the life of the leader of a global legwear and bodywear
company—one that's grown from two employees when it first launched to over 200 today. Ash started United Legwear Company in 1998 making infant, toddler and kids' socks for Target. Not one to let an opportunity go to waste, in 1999, he jumped at the chance to meet with the president of Puma's North American operations, Jay Piccola, when a friend mentioned the company was searching for a new sock licensee. Next thing he knew, Ash was making men's, women's and kids' socks for the storied sports brand.
What's on your playlist right now?
Depends on whether I'm training, boxing, or out in the city, but right now I'm into Sam Smith, Pharrell, Calvin Harris, Rihanna—anything with soul and high energy.
What's your favorite vacation spot?
St. Tropez in July.
Favorite movie?
Saturday Night Fever.
Favorite way to spend a free afternoon?
Comp and aspirational store shopping. Even in my personal time, I'm always multi-tasking.
Puma laid the groundwork for the company's future deals, which now include licensing partnerships with Skechers, Happy Socks, Bread & Boxers, Weatherproof, Tretorn, Adrienne Vittadini and Jonathan Adler, as well as ownership of kids' legwear staples BabyLegs and TicTacToe. And in 2011, ULAC shifted its business relationship with Puma into a joint venture structure, to reflect the two companies' "alignment of goals, trust, and a seamless working relationship," Ash explains. It was just another step in a growing partnership that would eventually lead to Ash's latest endeavor: children's apparel.
"Puma has been a great partner. And I'm really grateful for the trust and support of Jay Piccola and the Puma North American team. They've put their faith in me to deliver best-in-class children's apparel, and we're excited about it," Ash says. Beginning with Spring '15, United Legwear will design, manufacture and distribute kids' apparel for Puma. (Retail prices range from $18 for T-shirts to $48 for hoodies, and will be available at department and specialty stores, sporting goods and specialty sporting goods stores and select online retailers.) It's totally new territory for the company, Ash admits. But it's territory he's well prepared to explore, thanks to a new apparel team Ash describes as the "best in the market." To reflect the new category, the company is even getting a name adjustment, to United Legwear & Apparel Company.
Does that mean apparel will be a big category for the company going forward? First things first, Ash says, and that's creating a Puma kids' collection that rivals other industry leaders, like Nike, Under Armour and Adidas. And, Ash assures, the company will always stay true to its roots, creating the best legwear and underwear possible for its impressive roster of brands.
After all, socks are in his blood. Ash learned the ropes of the legwear business beginning at the age of 18, selling socks door-to-door for the family business, Ash Hosiery. Under the tutelage of his grandfather, father and uncle, he absorbed some of the philosophies that still guide him today, namely honesty, integrity and a commitment to quality—what Ash describes as "being true" to the brands he represents and the retailers who make it possible.
"I'll never forget the day I made a sale for 90 cents a piece," Ash recalled, the last time he chatted with Earnshaw's in September of 2010. "The line sheet said $1.10, but I thought [the reduced price was justified because] I got double the quantity. My grandfather said, 'But you gave the goods away! Are you a salesman or an order taker?'" The key, his grandfather explained, is to convince your customer why the product is worth the price. "I learned to put the money into the product and ask for [the full price] rather than take the money out and try to do the volume," he continues.
It's a lesson that's served the savvy CEO well. In a market where many fashion companies have been tempted to race to the bottom in terms of pricing—often at the expense of their brand's quality and reputation—United Legwear has bucked the trend. Now, with a portfolio that includes 10 very different brands, the one thing that has remained the same, no matter the label, is Ash's commitment to quality. And that's why, he adds, his company has held on to prestige partners like Puma for so long. "Puma can be proud of the product we put out, no matter the distribution level or retailer—whether it's a $22 single sock or a $9.99 six-pair pack."
You've been making socks for Puma for 15 years. How did the partnership come about?
I started United Legwear Company in August of '98, and in early '99, a friend said, 'I know a guy from Puma.' I didn't know what Puma was—I was born in 1970, and no one used Google back then. I had to look into it a little bit. I was already overseas in Korea [working on infant, toddler and kids' socks for Target], so I asked my graphic designer to send me some designs. I was 28 years old at the time, and I only had two employees. So my graphic designer sent me the designs via e-mail, and I stayed an extra week in Korea to make sure the samples were done properly. I brought them home myself. I took the red eye and landed at 6 in the morning, and I had a 1 p.m. appointment with the president of Puma, Jay Piccola. I showed him six designs—not a whole litany of product. He said, 'This is what we need.' Other people were showing him heavy gauge and thick wool and hiking socks. I stayed in Korea and made sure my samples were perfect—we went through two or three iterations in the factory—and I came home to a meeting. And a double espresso. I don't think he got a word in edgewise. [Laughs.]
Why did you feel like now, in particular, was a good time for ULAC to branch into kids' apparel?Why do you think he would say ULAC has been a good partner to Puma?
We have a passion and the energy for what we do, and—this is the key at United Legwear—the ability to translate the brand identity into legwear. If you got Jay [Piccola] on the phone now, I think he would say it's our ability to translate Puma's brand identity into legwear, and it's not easy. And now he's asked us to make children's apparel a meaningful business for Puma like we do for socks and underwear.
I didn't. It was something that fell into my lap after Puma tried two or three other avenues. In the legwear arena, we have been Puma's trusted and proven partner for over 15 years. And they knew our systems, and they're comfortable with my executive staff. And it's really a scalable business for me.
Did you always have a long-term vision to move into apparel?
Absolutely not! When I started, I focused on my core business and being the best in the legwear space. As ULAC grew, other categories arose, so I leveraged my business platform and optimized each opportunity. Some children's apparel manufacturers have made socks part of their business model in the last five or 10 years, so why not a sock company making children's clothing?
The last time you chatted with Earnshaw's, you mentioned that learning the ropes of overseas sourcing was one of the biggest early challenges. Would you say the same for apparel?
It's definitely a different animal. I wasn't used to the manual and physical labor processes for apparel, compared to the sock business, which is capital intensive and run by machines that are $30,000 to $50,000 each. It's a big difference, and I really had to wrap my arms around the process. Apparel doesn't have the same speed to market as legwear, with machines running all night long. It's much more labor intensive rather than capital intensive. And with apparel, so many of the components have different makers. You have the zipper supplier, and you've got the trimming supplier, and they're not always at factory. You're bringing together multiple components to assemble the goods, so there's a lot of room for error there, too. It's interesting, but I know it's well worth it because at the end of the day, I would rather invest in my own company than real estate or other external entities I can't control.
And it's an investment that may pay off with more apparel partnerships down the road.
Most definitely. Since this deal, people have come to us with other opportunities, but I've committed to Puma, and I'm going to really make this work and use this as a model for future apparel partnerships, just like I did with Puma legwear. There's no rush. I want to get it right, and get the model down, and then we can build off that. However, I am going to be looking for other apparel brands down the road and build a portfolio that makes sense for ULAC.
Speaking of building a portfolio, how do you know what makes a brand a good fit for your company?
It's really a mix of things, but at the end of the day it comes down to a gut feeling. First, I look at the white space—what we don't have. I wouldn't take another sports brand, because I have one of the top three sports brands in the industry with Puma. I have one of the biggest sports/lifestyle brands in Skechers. I have a fun brand like Happy Socks. So I wouldn't take any brands in those arenas. What makes sense to me is something that really rounds out my portfolio. In the legwear world, for example, I knew that the outdoor category was underserved. Right now, outdoor as a fashion category is very hot, and cold weather socks are really important in the market. So last year we picked up the license for Weatherproof, and that's been a great success for us. There's really no formula [for finding new partnerships]. It's a mixture of business strategy, market needs and balancing our brand portfolio.
From Skechers to Jonathan Adler, ULAC is currently making legwear and underwear for 10 different brands. How do you keep each brand distinct?
We separate every brand in a couple different ways. Internally, we have a sport group, a fashion group and a private label group. And within those categories, we have silos that work on each brand, so there's a Puma team, a Happy Socks team and an Adrienne Vittadini team, for example. We have different groups and silos within the organization that focus on maintaining continuity and consistency for each brand. And they're always looking for fresh new ideas. The fashion team, for example, goes to Japan every year. We share that information across teams, but every brand has its own dedicated staff, from brand managers to graphic designers to production experts.
How would you describe your team's relationship with Puma headquarters?
We work closely with them. Our design team works hand in hand with their design team. We're up in Boston all the time, and they're down here. That's how we have always worked, even with Puma's socks and underwear, so it was a natural progression. We worked hard to make sure the kids' apparel looks seamless with Puma's other offerings. Many pieces in the collection are a takedown of prints, patterns and colors found in the adult apparel collections. For Spring '15, for example, many of the kids' pieces are neon bright with splashes of black, white or gray, made with performance fabrics in fashion-forward silhouettes. They have a sleek look that reflects Puma's new global mantra: 'Forever Faster.'
What would you say ULAC contributes to Puma's kids' apparel that has been missing in previous seasons?
I can tell you this: It's time that Puma had children's apparel to the levels of Nike, Under Armour and Adidas. Puma's socks rival the three big brands, and now the apparel can rival them, too. What I can do for a brand, however big or small, is create top-quality, well-designed and aspirational product. I won't make a sock that I won't wear myself, and I won't make children's apparel that I wouldn't put on my own kids.
How big of a team did the new apparel effort require?
Right now, we have hired about 20 people, from the executive level down to freelancers. We've recruited best-in-class executives from the kids' space. We're going into this business with eyes wide open and well-educated about the kids' apparel segment. I'm learning the business daily, but I've hired experts in the field. And that's another key: What I know is what I know. What I don't know, I go out and get the best people, and I let them lead the way, with me riding shotgun. We've got the best in the market, from our production person to our lead designer to our senior vice president of sales.
What do you look for in an employee?
Two things: First, obviously, is experience and knowledge in the category. Second is chemistry—if they would get along and fit into the ULAC chemistry. We have a very good chemistry and corporate vibe here, and there's nothing more important. A harmonious office creates beautiful product.
So true! Beautiful product is also easier to sell. But I'm sure apparel requires an entirely different retail strategy compared to legwear. Were there any challenges at first?
Absolutely not. We didn't have any challenges; it was just newness. It was foreign to me personally. But, there was no resistance from the factory level or the retail level, and that's due to the strength of the Puma brand. It's on a tremendous resurgence. Thanks to Puma's new multi-million dollar ad campaign, and all of its new sports and entertainment endorsements, the brand is back and has the vibe of the late '90s again, when it had its first resurgence. Any challenges we had were easily overcome because we were going in with a world-renowned brand. It's authentic heritage. There's only one Puma. But we don't rest on those laurels. We're still going to put out the best children's apparel ever seen. And once retailers saw the product, any roadblocks that we had were overcome.
Which personal attributes would you say have served you best in the business world?
I am very entrepreneurial, and I come into work every day with a passion and energy that reverberates throughout the company. It shows in every employee we have. Every employee also knows that I have tremendous sweat equity in what we have here—about how I started the company with two employees in 1998 and today we have 200 employees worldwide. This is a global legwear and apparel company that operates very organically, with passion and energy every day.
If not for the family business, where do you think you would be working today? Still leading a global enterprise?
I'd be a retired hockey player.