A peek behind the lens of 8-year-old photographer and style star Jayden Pyram.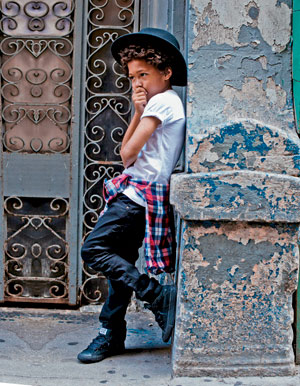 For Brooklynite Jayden Pyram, New York City is one giant runway. Whether he's outside snapping pics or visiting the Bronx Zoo, you can count on him to be the best-dressed kid around. "I dress up for the ladies," he giggles when describing the motivation for his rock star meets hip hop style. On any particular day, he can be found mixing prints with the finesse of a seasoned fashion editor and rocking kicks that would make even the most dedicated sneakerhead envious.
Fittingly, a sense of style runs in his blood. His father, Eddie Pyram, is the owner of up-and-coming designer hub and showroom The Alexander Evans Experience, and his cousin Jasmin Rodreguez is the voice behind fashion blog Vintage Vandalizm, dedicated to retro style, à la the Puerto Rican pin-ups and actresses of the '50s. Inspired by his father, Jayden's go-to outfit includes a camo print button-down, an American flag hoodie, skinny jeans, a pair of Converse sneakers and Marc Jacobs' aviators. "He always loves my sneakers and wants to wear the same pair when we go somewhere," says Pyram.
This isn't the first time Jayden has been lauded for his sartorial savvy—back in 2012 he won a Time Out New York Kids contest that landed him a spot on the magazine's cover. "I was so surprised," says Jayden, adding that it was the first thing he had ever won. And more recently, he appeared in an A$AP Mob music video.
Though Jayden enjoys being behind and in front of the lens, his real passion lies in more earthly pursuits. With big dreams of becoming a paleontologist someday, he can often be spotted watching Animal Planet and learning about dinosaurs. He adds, "My favorite color to wear is green because it's nature's color."
—Tara Anne Dalbow