Peter Kim, the CEO of Hudson Jeans, is leading the charge for a more socially responsible business model—a message he hopes will resonate with the company's littlest customers, too.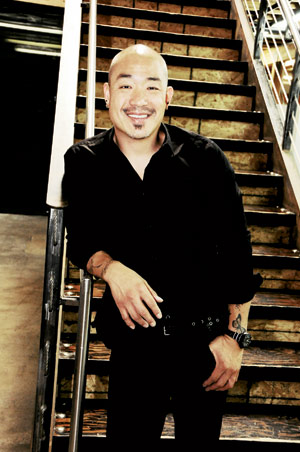 Take a look at the latest ads for Hudson Jeans, and you may notice something curious: No models. No exotic locale or swanky studio setting. Just a glimpse of jeans.
It's quite a departure from the company's Fall '13 marketing campaign, which featured Spanish supermodel Jon Kortajarena as well as Georgia May Jagger, the daughter of Rolling Stones' frontman Mick Jagger, bouncing around on a trampoline with the brand's symbol, a Union Jack. Instead, the new black-and-white images look like vintage travel ads, or documentary-style photojournalism, as men on motorcycles and in muscle cars ride off into the future, arms wide open—a perfect fit for the company's new motto: "Forever Forward."
What are you listening to right now?
You hear a lot of people say, "I listen to everything but country." Well, I actually love country music as well. It's horrible, but I'll admit I actually listen to One Direction and enjoy it. If you look at my playlist, I've got John Legend, Clean Bandit, Katy Perry, Elvin Bishop, The Script, Chris Isaak, Passenger, Bruno Mars, Bob Dylan, La Roux, Pavlo and Simple Minds.
What are you reading right now?
Winning the Story Wars by Jonah Sachs, which is an incredible book. And Born to Run by Christopher McDougall, which I begin reading every year around this time to prepare for the LA Marathon. I use it for inspiration as I train.
What are your favorite movies?
Fight Club, V for Vendetta and Dead Poets Society. When Robin Williams died last year, I'm usually not too affected by that kind of stuff, but it really hit home because a lot of his movies had a big influence in my life.
What's your favorite way to spend a free afternoon?
I love to surf, but my favorite weekend activity is spending time with my daughters.
Who in fashion inspires you?
To be honest, there's just not much in fashion I think is really inspiring. Companies that inspire me are ones like Red Bull, GoPro, Apple, Nike and Virgin. How those companies have marketed their brand, based on the core of who they are and what they represent, is pretty amazing. The ones that really inspire me are the ones that believe in something greater than selling as much product as possible. We all have to start becoming socially responsible companies.
You could even say it's quite a departure from the fashion industry as a whole—which Hudson Jeans CEO Peter Kim will take as a compliment. The catalyst for the company's new message came two years ago, when Kim found himself lecturing his twin teenage daughters on the evils of false marketing in response to a fast food spot on the radio. As the conversation replayed in his mind, one thought kept returning: Aren't fashion ads just as misleading?
"What I started realizing is the fashion industry is actually the worst of the worst because we attack people at their core. We strip away their self-worth and self-confidence. We tell people that you're not skinny enough, you're not pretty enough and you're not cool enough. We take them down to the absolute bottom, and then we say, 'Buy this bag or these shoes and you can suck less,'" Kim recalls. "When I realized that's what our industry is doing, I thought there's no way we can continue down this path."
Now, Hudson Jeans is traveling a new, more positive route—one that Kim hopes will inspire other brands to follow suit. In addition to the new ads, the brand launched the hashtag #ShushTheBrush, affirming its commitment to avoid unnecessary photoshopping, as well as #HudsonSpotlight, a series of blog posts featuring Hudson fans who are "engaging in powerful, passionate, inspiring projects and missions."
It's a message he hopes will particularly resonate with the brands' latest customers: kids. Thanks to a partnership with Five Star Premium, the kids' denim licensee for True Religion and Lee, Hudson re-launched its kids' line in Fall '13. Kim describes the collection as "a mini version of our adult style," filled with what he believes make up the core foundation of a good wardrobe, from black ponte-knit leggings to classic dark denim jeans. For more daring boys and girls, the brand's basics are enlivened with pops of on-trend patterns, from floral to tie-dye to punk plaid. "I think we're one of the top kids' brands with pretty much all of our retailers," Kim reveals.
And while it's an accomplishment he is happy to note, it's not because the brand is racking up more sales. "Our product is not the jeans; our core product is our message and what we believe in," he affirms. "We look at the jeans as our delivery system. This is how we're communicating our message to the world. So we want to make sure we're constantly relevant and people understand what it represents when you buy this product."
The brand's bold new direction isn't the first time Kim has forged a new trail. He founded Hudson Jeans in 2002 when premium denim was just beginning to make its mark on the fashion industry. A sign of its enormous growth in the span of just a decade, the company was sold to Joe's Jeans in 2013 for $97.6 million. Much of the that success, Kim notes, can be chalked up to lessons learned at his first gig in the fashion industry, leading his parents' apparel company out of $10 million in debt.
A senior in college on spring break in 1994, Kim received a pretty jarring wake-up call from his father: "The company is in dire straits and everyone needs to help out." The business, specializing in women's polyester blouses, had flourished in the 1980s, during the heyday of the power suit. But the shift to more relaxed workwear in the early '90s had decimated sales. Kim's parents, immigrants who had painstakingly built their business after fleeing North Korea in the 1960s, now risked losing everything. "My parents were just run down emotionally, spiritually and physically. They were lost," Kim recalls.
So at the age of 23, he stepped up to lead the company, but the transition was far from smooth. His parents' Korean employees were wary of Kim, who had been born and raised in Los Angeles. "Everyone was probably looking at me like I was a snot-nosed little brat, who didn't know what the hell he's doing," he says with a laugh. And Kim himself resented the new responsibility: "I played the 'poor Peter' card," he admits. "I felt sorry for myself. I kept thinking I could find something else that didn't have all this drama and nonsense."
His big revelation occurred while driving down the freeway after a particularly bad day at the office. "It was almost like divine intervention, like something picked me up, slapped me around and said, 'Let's get a grip here." He couldn't stop thinking of people like his parents and their friends in the Korean community, who came to the U.S. with so little but carved such a lasting legacy into the landscape, embodying what he calls the "true American dream."
"I realized this whole country is built off people who have nothing, and in a very short period of time has become one of the most powerful and greatest countries in the world. As I started understanding the bigger picture, I realized, what am I really afraid of? I have nothing to lose," he continues. "I came into the office the next day, and a magical thing happened, because everything was exactly the same, but in my eyes it looked totally different. Everything became an amazing opportunity, a game of figuring out how we can solve our issues. It really changed the path of how I look at business and the business world."
At the age of 23 you helped dig your parent's company out of $10 million in debt. What lessons did you take from that experience?
The most important lesson I picked up was the significance of perspective. You can look at things from a negative perspective, or you can go into situations with a creative, open mind regarding what's possible. Do you look at the impossible and say, 'How do we make this possible?' It's common for people to lose the game before they even begin because they say, 'This is something we cannot do.' Well, why can't we do this? We've sent people to the moon. We're just trying to make clothes here.
I think a lot of leaders find that kind of optimism tough given the challenges of our current market.
I think a lot of people are driven by fear, and fear is driven by the unknown. I call it the dark room. If you're sitting in a black room and you hear a noise in the corner, it could be a mouse or it could be a monster, and the fact that you don't know is what creates anxiety. The minute you can shed light on the situation, people get comfortable.
Premium denim is a pretty big shift from women's blouses. How did you get into the category?Another important lesson I learned is the value of transparency and honest communication. Our company owed a lot of people a ton of money, and our controller refused to talk to anyone. He said, 'What am I going to do? Tell them we have no money?' And I said, 'Yeah, tell them exactly that.' We ended up parting ways, and the first thing I did was sit down with our biggest creditors and say, 'I know we owe you a lot of money, but we can't pay you because we have no money. But we have a plan to get out of this, and I'm asking for your support.' A lot of times people would actually say, 'Thank you for being honest and open.' I realized all they wanted was a little bit of respect. That's something I apply to business to this day. I believe in complete transparency. Just be honest and make sure you're communicating the best you possibly can with your employees, vendors, retailers and customers.
My first time doing denim was in 2000, when I started a company called Jane's Army with a friend. When he said, 'We're going to retail these things for $200,' I thought, 'You're crazy. Get out.' (Keep in mind that I came from a moderate private label business where blouses retailed for $19.99 and $24.99. After that I got into the streetwear business with a company called DrunknMunky, where T-shirts and hats were $24.99.)
Finally, I figured I've got nothing to lose. But at our first show we did $50,000 in orders on our first day. On top of that, it was done with a few hundred pieces. In my past, to get a $50,000 order, I would have to sell 5,000 units. It helped that we were right at the forefront of when premium denim really started to take off as a category. At the time, the only brands in the space were 7 for All Mankind, Paper Denim & Cloth, Earl Jean and Frankie B.
Unfortunately, we had a really good start and sold to all the key players, but when we switched to mass production, our infrastructure wasn't set up properly. When the product came in, it was poor quality and the specs were off. It was a disaster, so we ended up closing down. But that's where I really found a passion for denim.
What do you love most about denim?
To me, coming from an immigrant family, but also being born and raised in America, denim is the ultimate symbol of America. I'm a big nonconformist, and when I looked at denim—and especially the new emergence of premium denim—I thought it was the ultimate symbol of my middle finger to society. Denim is traditionally known as blue collar and low class. If you were wearing jeans, you were either a gangster or a manual laborer. But in today's world, that exact same thing is now called premium and it's become high fashion. It seemed like the perfect vehicle to communicate my message and my beliefs. So I re-launched into premium denim, starting fresh with a new concept but with the same core message. I found a different designer, re-set up the infrastructure, and founded Hudson in 2002.
I bet that's also where you picked up an appreciation for making high-quality product.
Quality is not even a question at Hudson. We want to be the go-to denim brand for top-quality product. It's part of our company culture and DNA. A lot of people talk about quality in terms of processes and procedures: You have to have the right staff. You have to have standards and reports. And you have to visit your factories a certain amount of times. I think those are all great things and a necessity for maintaining a process of quality, but to me quality is more of a cultural thing. That's where quality starts. And it's not just the quality of your products. If you have a culture of quality, then everything you do is going to be of quality, from how you answer your phones to the respect you have for each other in the workplace. If you have that built into the culture of the company, then the quality of the product just becomes natural. I think it's very rare for a company to live by a culture of quality and produce a crappy product.
I'm sure Hudson has carried that emphasis on quality to your kids' offerings, too.
Exactly. We actually tried to create a kids' line in house several years ago, and we realized we just couldn't do that category properly. We did it for about a year and a half, and we realized we just couldn't execute it the right way, so we shut it down for several years. More recently, I was introduced to Five Star Premium and we ended up connecting on multiple levels, so we decided to give the kids' line another shot. And the collection has been an incredible success. It's in its second year, and it's been very well received. Our product and pricing strategy has been right on point with the market.
A lot of the kids' collection includes takedowns of Hudson's bestselling adult styles, but obviously you can't sell kids' denim for $200. How did you find the right price, at around $39 to $69 a pair?
We worked very closely with Five Star and did a lot of market research. It was probably one of the biggest sticking points when we first started the line. If you go too low, you dilute the brand. You go too high, and no one is going to buy it. You want to find a happy medium that's a lot more palatable to parents, because kids grow so fast. As adults, there's massive value in jeans. A pair of jeans could last 10 years. But a lot of kids won't be wearing the jeans six months later. We want to make sure people can grow with the product.
How would you describe your partnership with Five Star?
It's been a great partnership. They absolutely believe in our mission—which I believe will really connect with kids. Even though our message at this point is really catered toward adults, it's actually more important that children understand what we're talking about. If we can influence them at a much younger age, that's obviously more powerful.
What message would you like Hudson Jeans to convey?
We really stand for individuality, and for passion and dreams and for people that are questioning all of societies' norms, rules and traditions. As a little kid, you're taught to believe that anything is possible. And at some point that starts shifting, and it's all about your grades. If you want to be an astronaut, then you should get your head out of the clouds, live in the real word and start studying hard. But I'm not an incredibly talented person. I'm not incredibly smart. I went through a process of feeling like I was inferior and inadequate, and I realized it was because I didn't fit into this perfect box society had created.
Finally, I started to do what I thought was right for myself. I started going down my own path, and that's where I found self-confidence and self-worth, as well as my meaning in life. If I can do this as an average, ordinary guy—if I can reach this level of success—then pretty much anybody can. But you have to stop being influenced by other people telling you what to do with your life. That's why we speak a lot about being proud of who you are and what you look like. That's become a really strong theme in our company. Ultimately, that's a long way to say we believe creative rebels with a cause are the most powerful force in the world. I want people to feel like they're a bad-ass when they're wearing Hudson Jeans, because they are living an incredible life on their own terms.
That's a pretty unconventional idea in the world of fashion. Was it the inspiration behind your new marketing campaign?
It's exactly what happened. There's so much marketing out there, and most of it uses what I call the inadequacy approach. Let's create massive amounts of anxiety, and then let's create something that's going to help alleviate that anxiety. A lot of people don't even understand what they're doing to little girls and women, and to guys, as well. There are massively negative consequences to creating these unattainable images of what people are supposed to look like. It's so damaging. And I realized we were absolutely participating in this, and had to stop. We have to send out a different message. Why can't we go down a different path of encouragement, empowerment and inspiration?