Warrior Poet conquers new territory with an expanded Fall '13 collection. The tale usually goes something like this: Once upon a time, a mom had trouble finding trendy, age-appropriate clothing for her children, so she decided to create a line of her own. The story of Warrior Poet breaks that tradition. The idea for the […]
Warrior Poet
Warrior Poet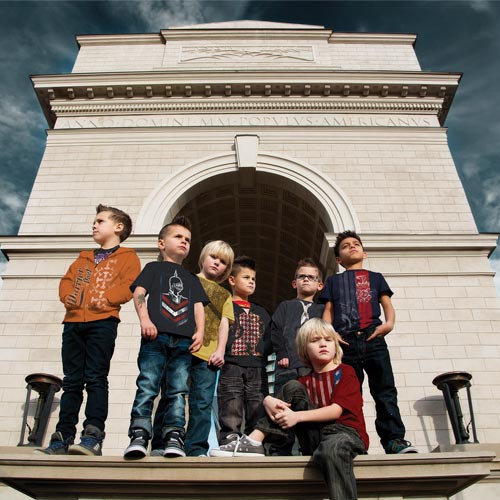 Warrior Poet conquers new territory with an expanded Fall '13 collection.
The tale usually goes something like this: Once upon a time, a mom had trouble finding trendy, age-appropriate clothing for her children, so she decided to create a line of her own. The story of Warrior Poet breaks that tradition.
The idea for the line of boys' tees inspired by the legends of knights and samurai came from a dad of two boys. Tori Young says he always wanted to be involved in fashion (he's been drawing clothes since he was 12 years old), but unexpected adventures including a decade-long stint fronting a rock band, sidetracked him. It wasn't until he heard his wife say how difficult it was to find cool and affordable kids' clothes that he decided to make a foray into his first passion.
By gleaning inspiration from history's heroes, Young says he has a "limitless canvas" of ideas. "The line is based on stories about individuals that were stronger, smarter and braver than anyone else in their time period. They were the leaders. We're taking a pop culture spin on those stories and making hip clothes that will hopefully encourage kids to lead their own way," the designer says.
The line, which debuted during the 2011 summer markets, offers long- and short-sleeve T-shirts with royal crests, coats of armor, regal lion graphics and trompe-l'oeil vests and ties. Some of the most popular designs have been imaginative tees with shields or guitars—a wink to Young's own history—on the back. Young explains, "We try to blend whimsical designs that play off the name of the brand and it seems to be hitting a nice chord with boys." In fact, parents often tell him they have to battle to get the tees off their boys. "We've heard some nice positive feedback, including how these shirts give bullied kids the confidence to go to school," he adds.
Those heartwarming responses, along with placement in more than 250 stores, including Neiman Marcus, has given Young the green light to expand the Fall '13 line. New styles include raw-edge, slubyarn hoodies that the designer says have a "visually nicer look and texture" and three styles of denim: a skinny cut, a distressed dark blue wash and a jean style with a rocker vibe. In terms of materials and fit, Young claims no expense has been spared, but notes that Warrior Poet is still on the lower end of the price range. "People are stoked about that," he adds.
Plans are in the works for boys' accessories including belts, shoes and hats, as well as baby one-pieces. "We see that moms dig our styling and they are eager to dress their babies in it," he says. And what do the fathers think? Young says, "They want the shirts for themselves."
Angela Velasquez