Swarovski Elements is collaborating with a range of childrenswear designers, adding some optimism and glamour to the U.S. fashion industry. By Jennifer Cattaui If there's anything the children's industry could use, it's a dose of sparkle. Right on cue, Swarovski Elements enters the market through collaborations with key childrenswear designers for the Spring/Summer '13 season. […]
Lamantine
Lamantine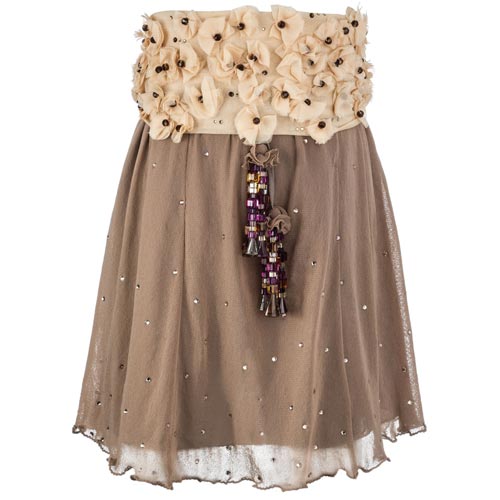 Mischka Aoki
Mischka Aoki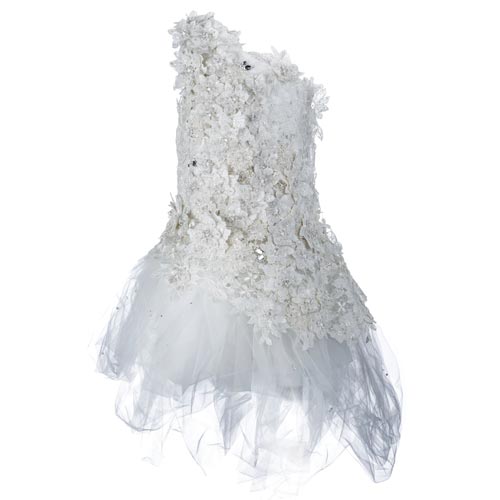 Miss Blumarine
Miss Blumarine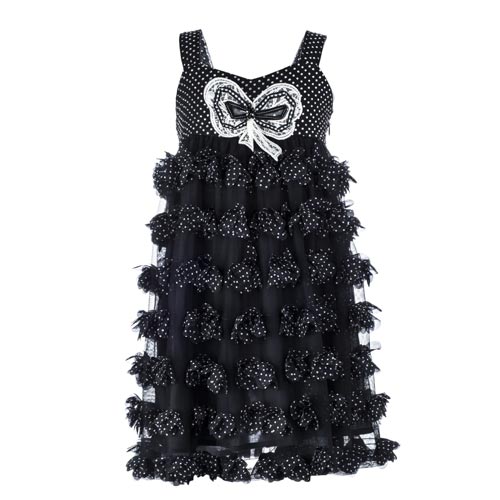 Ooh La La Couture
Ooh La La Couture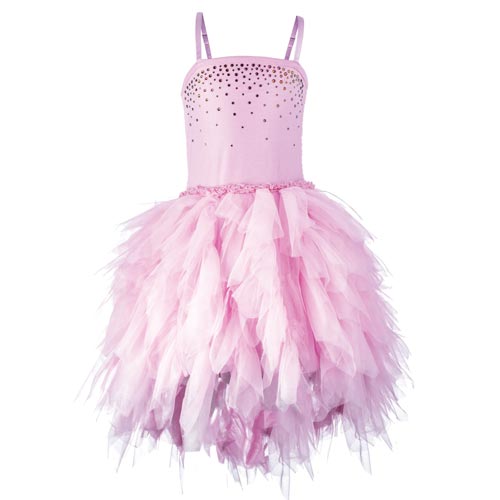 T-shirt Shops
T-shirt Shops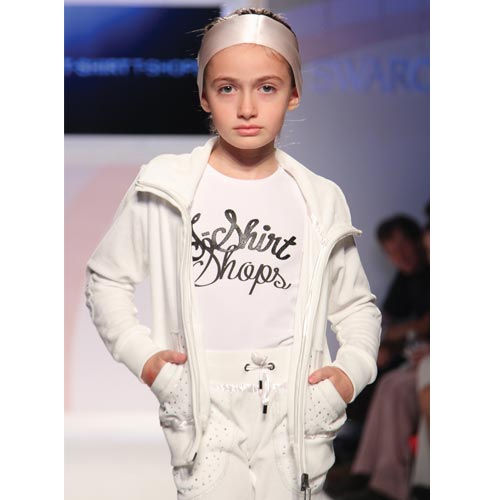 Bonnie Young
Bonnie Young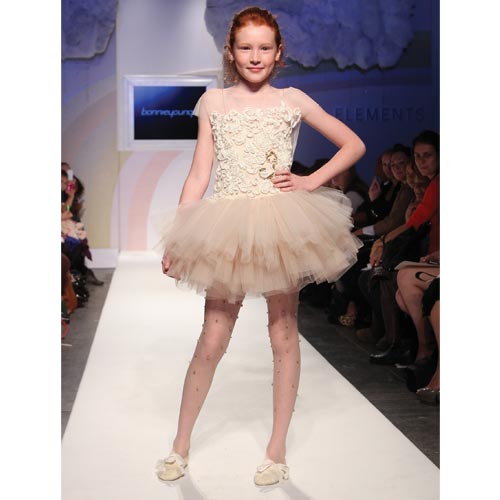 Swarovski Elements is collaborating with a range of childrenswear designers, adding some optimism and glamour to the U.S. fashion industry.
By Jennifer Cattaui
If there's anything the children's industry could use, it's a dose of sparkle. Right on cue, Swarovski Elements enters the market through collaborations with key childrenswear designers for the Spring/Summer '13 season. The playful hide-and-seek of light generated by faceted crystals is inevitably met with delight by the little girl lucky enough to don one of the collaborative creations.
After the CPSIA law changed in 2008, there was a decided downtick in crystal embellishments as companies scrambled to make something that packed a punch without violating the regulation on lead which took effect in 2009. All-that-glitters powerhouse Swarovski promptly re-engineered its baubles to be almost entirely lead-free, compliant with the CPSIA, to the joy of little girls everywhere. Their child-friendly formulation uses a patented "Advanced Crystal" standard, that Reinhard Mackinger, executive vice president of Swarovski Professional, says, "changed the DNA of Swarovski crystal." This means that the childrenswear industry is about to see a lot more of this innovated product.
The fifth generation company has been offering up sparkle to a range of industries since 1895. Founded by Daniel Swarovski, the company was built around his 1892 patent for a machine he created that could "cut crystal to perfection." The early crystals were known as "Pierres Taillees du Tyrol," acknowledging the Austrian town in which they were made. "A firm belief in continual progress, in improving and perfecting what has gone before, however good, has been an integral part of the company's philosophy, its history and heritage," Mackinger says.
We got to talk to Mackinger about Swarovski's recent entrance into the children's market, partnering with upscale brands like Bonnie Young, Lily Pulitzer and Miss Blumarine, on some sparkly showstopping frocks.
What prompted these collaborations?
Our activities to date in children's fashion can be seen via several leading European fashion capitals and has ignited enthusiasm and creativity among designers. The Spring/Summer 2013 runway show featured at New York Kids' Fashion Week was a collaboration with childrenswear designers to really highlight their designs featuring Swarovski crystal. Swarovski Elements presented a childrenswear collection at Pitti Bimbo in Florence in 2012, however that designer collaboration reflected a more European sensibility and style. For PetiteParade, we partnered with influential boutique brands that could afford to be more experimental and bold in their use of crystal. The results are collections that are more relaxed and playful.
Why did you decide to enter the market in this way?
Swarovski is a company that's constantly innovating—driving trends, its product range, applications and even its innovative formula, so we are able to add value to our customer's creations.
What's the magic formula?
Swarovski has a long-standing custom of carefully protecting the secrecy of its high-tech processes and products, a policy established at the time of the company's founding in 1895. Swarovski Elements uses only the highest quality materials and strongly relies on the excellence of its crystal craftsmanship to produce its products according to the highest environmental standards of sustainability. These added values in terms of creation, technology, service and fulfillment embody the company philosophy as set down by Daniel Swarovski. They are also the very qualities that allow our products to be valued and coveted by our customers. In addition, Swarovski, in recognition of the potential of crystal, strives to unleash its intrinsic radiance through producing new cuts and shapes of poetic beauty that awaken emotion in the hearts of their owner. They include the highest crystal brilliance and clarity, the highest precision-cut quality, a great variety of colors and effects as well as an extremely high color consistency.
How did you decide which crystals to incorporate into the outfits?
All of the designers involved in this childrenswear project embraced the challenge to work with Swarovski Elements to seek out the unexpected and to explore the infinite possibilities of this multifaceted medium. In each case, the design choices were up to the designers themselves. They interpreted their visions through the use of Swarovski Elements in creations that in turn highlighted the versatility of crystal. The extensive variety of shapes, colors and finishes in the Swarovski Elements assortment was a powerful source of inspiration that allowed them to achieve their goals.
What sort of trends are you seeing in crystal embellishment?
For Spring/Summer 2013, Swarovski Elements has responded to a genuine desire for a more positive vision of the future, a longing to embrace life's simple joys with a sense of community and a respect for cultural heritage. This passion for the celebration of life with its deep desire for happiness based on the traditional values of simplicity, honesty and commitment underlies all four Swarovski Elements' trends for Spring/Summer 2013: "Embracing Togetherness" (Classic), "Journey to the Moon" (Progressive), "Blowing Kisses" (Romantic), and "A Feeling of Freedom" (Glamour).
For Fall '13, Swarovski Elements identified globalization as the mega-trend, signaled by the move toward a neutralization of cultural diversity and national identity. But we are also seeing an emerging counter trend of "glocalization," which is a move to embrace national heritage and local traditions. For Fall/Winter 2013/2014, Austria, with its folkloric charm, snow-capped peaks and picturesque scenery, has provided a rich source of design inspiration that reflects these values.
What's in store for the next collection?
[We] always strive to move forward. We would like to continue to broaden our designer base and inspire them to generate new ideas for collections that use our products in line with emerging trends and consumer needs. It's Swarovski's ongoing desire to collaborate with exciting brands in order to fashion youthful dress styles that have crystal as the creative catalyst.
We are already in discussions with brands regarding the development of capsule ranges and also dealing with ad hoc requests. We will support designers for Global Kids Fashion Week in London and we also plan to re-visit PetiteParade in October 2013 in New York. Naturally, we will also engage in promotions and press activities throughout the year across the globe. You will be able to follow the progress of all these activities on our website.
What makes this family-run company unique in the market?
Swarovski is globalized crystal, available for all cultures and people. The current management includes fifth generation family members. All are direct descendants from the founder and all are shareholders of the company. Since 1895, the pursuit of a policy of using only the purest material and the highest quality craftsmanship has allowed Swarovski to become the world leader in precision-cut crystal, genuine gemstones and created stones. Swarovski's passion for achieving a uniqueness, diversity and unmatched crystal capabilities allow it to constantly inspire designers who highly appreciate the contribution to the fashion industry, to further develop new forms of amazement for all. Furthermore the personal experience is constantly enhanced with various kinds of interactions through products, stores, designer collaborations and Crystal Worlds (their crystal museum in Austria). Swarovski adds sparkle to people's everyday lives.
How do you see your future in the children's global apparel market?
Swarovski has maintained a tradition of innovation for 117 years, continually striving to improve and produce products that reflect the zeitgeist and speak a poetic language that brings joy to their owners through crystal's inherent beauty. Now that we have extended the crystallized lifestyle to the youngest among us, Swarovski Elements firmly intends to establish the brand as the essential component in the childrenswear segment. Swarovski crystal drives innovation and pushes boundaries, yet it is also very much a disseminator of luxury and design excellence, giving everyday objects a soul, bringing pleasure to the widest possible audience, and creating a future for itself.