Chock-full of must-see reasons to attend, the 2014 trade show circuit features a full slate of seminars, exhibitors and events. From Atlanta and Miami to New York and Europe, here's what to keep in mind as you make your travel plans. By Lyndsay McGregor It's that time of year again: Holiday sales are ending, and […]
Buyers love the runway shows at The Little Gallery in Germany.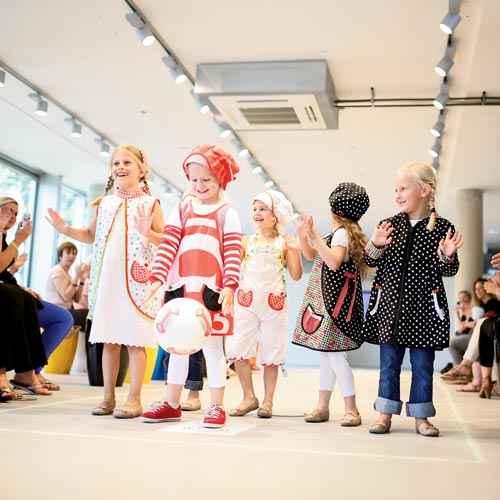 Buyers walking the Bubble London aisles.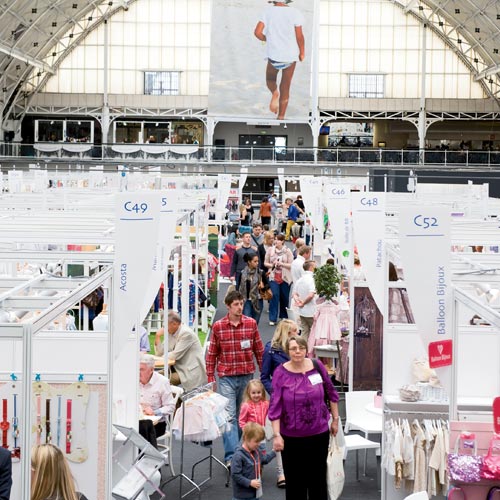 Friendly faces at AmericasMart Children's World in Atlanta.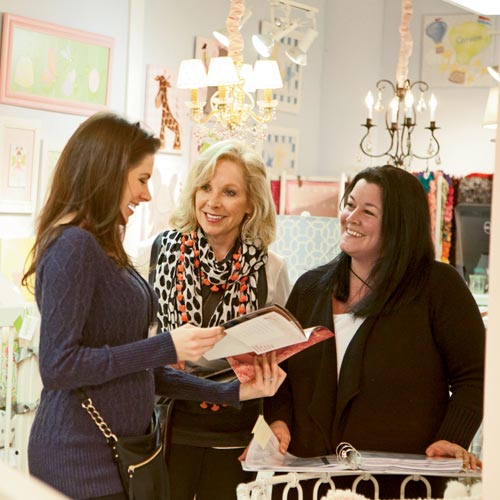 An ethereal look from the last Pitti Immagine Bimbo.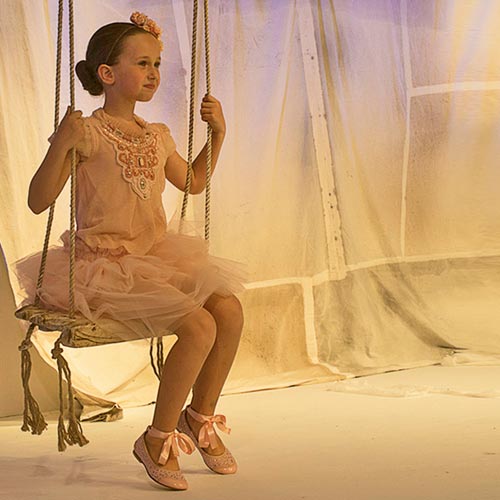 Chock-full of must-see reasons to attend, the 2014 trade show circuit features a full slate of seminars, exhibitors and events. From Atlanta and Miami to New York and Europe, here's what to keep in mind as you make your travel plans.
By Lyndsay McGregor
It's that time of year again: Holiday sales are ending, and retailers are thinking fall, hitting the trade show floor in search of new names and next season's trends. But with shows taking place from coast to coast and overseas, as well as an increasing number of online marketplaces offering buyers the chance to make wholesale purchases without leaving their stores, how do you determine which show is worth your time? And how should you organize your schedule once you're there?
"I always recommend to our buyers that they come with a list of specifically what they're there to see, but to leave themselves with a full day to check out what else is on offer," says Marlo Poole, owner of
Atlanta-based showroom Carolina Baby Company. When Jamara Ghalayini, owner of Pumpkinheads in Santa Monica, CA, arrives in New York for ENK Children's Club or heads to Los Angeles Kids Market, she's on a mission. "I go to shows to put together a story, to be efficient and to buy new things," she says. And if she had her way, she'd put all the newbies in one section. "That way I could go straight there and check them out, rather than hunt and peck and find them." But for buyers like Jennifer Ganz of Lester's there's nothing like the thrill of the find on the floor at NY NOW, though she's quick to point out that she doesn't leave orders at the show. "I prefer to walk it and see everything first. Then I come back to the office and sort through what I've found," she says.
Simone Oettinger, owner of Maya Papaya and Tony Macarony in Evanston, IL, disagrees, and for good reason: She shops local at North Branch Kids, the Deerfield Show and Kidz at Stylemax, and needs to manage her time wisely. "If you don't make appointments, you're not in control," she says. Vanessa Ting, CEO of Buyerly, an online portal that connects emerging brands with buyers for feedback and advice, and a former buyer at Target, echoes this sentiment, adding, "Your time is valuable. You go to trade shows and you get mobbed." She thinks more shows should post their directories online beforehand to help buyers figure out in advance who they want to see and who they want to make appointments with. "If I'm going to be taking time away from the office, getting on a plane to travel, I want that trade show to work out really well for me," she says. "That would be helpful so you know your time is going to be well invested." But as Poole adds, "The traffic that's at trade shows now is more productive than when the economy was better. In the past a lot of people would come and walk the show. Now the buyers that are there are there to buy."
No matter your buying style, there's no denying the marketplace is changing, and trade shows are stepping the experience up a notch. From educational seminars at The Little Gallery and trend presentations at Bubble London to complimentary meals at ENK and KIDShow, we did the legwork to bring you the highlights.
BEST WORK 'N PLAY: PITTI IMMAGINE BIMBO

Jan. 7-10, Florence, Italy
Florence never fails to impress, but this January there's more than one reason to hop across the pond to Pitti Immagine Bimbo. CEO Raffello Napoleone says he expects fewer European buyers because of the still-weak euro zone, meaning that Italian brands will be eager to get their wares on U.S. shelves. "International buyers cannot avoid Pitti because it's the best way to understand exactly where the business is going," he says, noting the show's early timing is a barometer of global lifestyle trends.
With a theme of Pitti Music Day, the Oliviero Baldini-designed show will celebrate the influence of music on fashion, and vice versa. As ever, attendees can look forward to runway shows, presentations and various events such as "Who is on Next? Bimbo," where childrenswear designers compete while displaying their collections. When that's over and done with, January's chilly temps typically deter many visitors, meaning you can see the city's sights without wading through throngs of tourists. It's a win-win.
MOST CONVENIVENT: AMERICASMART CHILDREN'S WORLD

Jan. 7-14, Jan. 30-Feb. 3, Atlanta, GA
Nestled right in the heart of Atlanta, Leasing Manager Linda Upchurch says AmericasMart Children's World offers everything retailers at any level could want. "The show takes place on one floor so it's easily accessible for buyers, and it's an easy way for exhibitors to come in and show their wares," she says, adding that exhibitor attendance has increased by 180 lines since October 2012 and retailer attendance is on the rise, too. "It's very appointment driven because buyers find they like working with the reps and lines here."
It also helps that it's easy to get to: Atlanta's Hartfield-Jackson airport is the country's busiest. (Most national and regional airlines touch down here.) And with 12,000 hotel rooms within walking distance of the show, buyers don't have to worry about long cab lines or unpredictable shuttle buses. Upchurch adds, "Our entire floor tries to make it easy as far as having food available on the premises so the buyers don't ever have to leave and can concentrate on their buying."
BEST SEMINARS: THE LITTLE GALLERY

Jan. 11-13, Dusseldorf, Germany
Retailers can look forward to runway shows, panel discussions and trend lectures at Germany's newest show, The Little Gallery, taking place at the former American Consulate General in Dusseldorf. "These discussions were highly appreciated last time and found an enormous echo in the press," says Project Director Ulrike Kahler, noting that the talks bring together key accounts, journalists and buyers.
With its carefully coordinated collection of kids' clothes, maternity wear and lifestyle products, the show has also proved successful as a platform for new brands. "Some of them are willing to take the risk of an attendance without finding many new clients on the spot. And I feel it is our responsibility to guide and support them here," Kahler shares. "Due to the fact that big exhibitors like Marc O'Polo do attract a lot of important buyers, smaller unknown labels benefit by being seen as well. We are able to present fresh, new labels to buyers."
BEST FOR IMMEDIATES: ENK CHILDREN'S CLUB

Jan. 12-14, Pier 92, Mar. 9-11, Javits Center, New York, NY
Joanne Mohr, executive vice president at ENK International, says the No. 1 reason buyers attend the winter edition of Children's Club is to fill inventory. "Retailers who come to the show are coming to write orders and leave paper," she says, adding, "It's good timing for people to preview fall and to buy European collections, which typically launch earlier."
Since its debut in January 2000 with only 20 collections, ENK Children's Club has grown to showcase more than 500 exhibitors, spanning traditional childrenswear and contemporary duds to accessories, footwear, toys and gifts for ages newborn to 12 years. For this go-round, organizers expect more than 300 brands, including Ralph Lauren, Isaac Mizrahi, Kissy Kissy, Andy & Evan and Appaman. Mohr also reveals plans to increase the show's selection of gift items, as more retailers look to increase add-on sales at the register.
BEST BRITISH SHOW: BUBBLE LONDON

Jan. 26-27, London, England
Bubble London has evolved from its boutique beginnings in 2008 into a hub for new and emerging talent. With more than 250 brands set to be in attendance in January, spanning small designers to commercially proven international collections, Event Director Lindsay Hoyes says she anticipates the overall mood of attendees to be more positive than last season.
"We have worked hard to produce a show that appeals first and foremost to the U.K. market and the diversity of stores that exist in Britain, whilst flying the flag for emerging talent," she says. "We have concentrated on bringing the best selection of brands together in a small but inspiring venue which complements the show perfectly."
Additions to the show include a series of short films showcasing the season's trends, and "The Bubble Effect," a top tips guide providing marketing and PR support to new brands. Meanwhile the show's free seminar series, "Look Who's Talking," will continue to offer buyers expert advice to inspire and improve their businesses.
MOST CATEGORIES: NY NOW

Feb. 1-6, Javits Center and Pier 94, New York, NY
With more than 2,800 exhibitors presenting 100,000-plus products in more than 400 categories across two venues, there will be no shortage of things to see at February's edition of NY NOW. While a targeted assortment of infant and toddler apparel, gear, toys and décor can be found in the Lifestyle Collection's Baby and Child section, juvenile products can also be found in Accent on Design, as well as some handcrafted odds and ends in the Handmade Collection.
Feeling overwhelmed yet? Thanks to NYNOW365, help is at hand. The new online tool features 20,000 products from more than 1,000 exhibitors to help buyers get a head start on sourcing and shopping before they get to market.
"Buyers visit the market each winter and summer in search of design-driven products from both established and emerging resources, as well as the inspiration offered by New York City itself," says Christian Falkenberg, NY NOW director and GLM senior vice president.
FRIENDLIEST SHOW: MIDWEST CHILDREN'S APPAREL GROUP

Feb. 8-11; Mar. 29-Apr. 1, Embassy Suites, Deerfield, IL
A laid-back atmosphere is the name of the game at the next Children's Show at Deerfield, according to Tony Grimaldi, president of the Midwest Children's Apparel Group. "It's a friendly show. Everyone knows each other. There's no pressure whatsoever," he says.
As the largest children's apparel show in the Midwest, Grimaldi expects an estimated 100 retailers will be in attendance to check out the 400 lines spanning clothing and accessories to gifts and gear. With doors opening at 4 p.m. on the first day and remaining open until at least 8 p.m. (some exhibitors stick around until 11 p.m.) buyers can stop by after their stores close and work later. Plus attendees get free pizza on Saturday and a complimentary catered lunch every day, and the hotel has a large hospitality room where everyone can relax and go over their orders at the end of the day.
MOST VISUALLY STIMULATING: PLAYTIME NEW YORK

Mar. 8-10, 23 Wall St, New York, NY
From the get-go, Playtime New York sought to offer the industry more than just square meters. As Director Sebastien De Hutten puts it, "When you're walking a show you see hundreds of collections and if a brand can't personalize a booth, the buyers can't immediately understand what that brand is about." For that reason, organizers provide exhibitors with hardwood walls to decorate as they see fit with minimal investment. "Most buyers have very creative stores, and we believe the best we can do is offer a creative environment for them to shop the market," De Hutten says.
To further guide buyers, installations featuring a mix of fashion and art break up the show floor to illustrate the coming trends. "We've always considered it was possible to show collections in the best possible environment for the same price as others," De Hutten continues, and thanks to the show's new, larger home at 23 Wall Street, he thinks they're finally delivering on that premise. "There's still a long way to go but it has definitely evolved a lot, and it's become a destination where buyers have time to properly judge things."
MOST DIVERSE: KIDSHOW MIAMI

Mar. 23-24, Miami, FL
Spanning swimwear from Coral & Reef and Cruz to infant wear by Baby Soy and Little Me, KIDShow Miami can't be pigeonholed, and Manager Denise Raeside is happy to report that the one-year-old show's diverse list of exhibiting brands continues to grow. The lines will still be in the moderate to designer price point, she says, and adds that the big attraction for both buyers and vendors to come to Miami is to open new business with an untapped market. "It allows our exhibitors a chance to meet customers from the Caribbean and Central and South America regions," she says. "While many buyers have learned to be cautious with their purchases, they know they need new and fresh merchandise in their stores to drive sales."
BEST FOR NEW BRANDS: PBJ SHOW

Mar. 27-28, Dallas Market Center, Dallas, TX
It's always a good sign when eight of the 25 companies that presented at your inaugural show find a reason to move in, and that's exactly what happened at Dallas Market Center last March after its first ever PBJ (play, baby, juvenile). Now Cutey Booty, Bottle Pets, Posh Play, Pello, Kidaroo Crew and Puj all have a permanent presence in The Studio, the center's shared showroom concept open daily and during all gift, home and apparel shows, while two more companies (Toofeze and Nested Bean) found multi-line reps to market their product.
As for PBJ's sophomore show, Robin Wells, executive vice president of leasing, expects attendance to grow to up to 50 exhibitors, including Lollacup, GuavaKids and Tady Tote. "I call it a showcase because when the companies come in the goal is to not only expose them to buyers, but also to provide year-round marketing for them," she says, noting that a photo lab will also be available on site to provide new brands with complimentary product shots. And because it's a small grouping of brands all on one floor, Wells says it's easy for buyers to navigate and spend time learning about each brand. "It's about coming in for two days and seeing as many people as you can and letting our trade show work for you all year around," she says.