Looking for a better way to unload your unsold inventory? Cindy Hallberlin, president and CEO of Good360, and Carly Fiorina, board of directors chair, reveal how their organization plans to revolutionize the way retailers and charities work together to help those in need. By Audrey Goodson Kingo Here's a scene every retailer knows all too […]
From backpacks to computers, Good360 helps hundreds of companies deliver products to kids in need.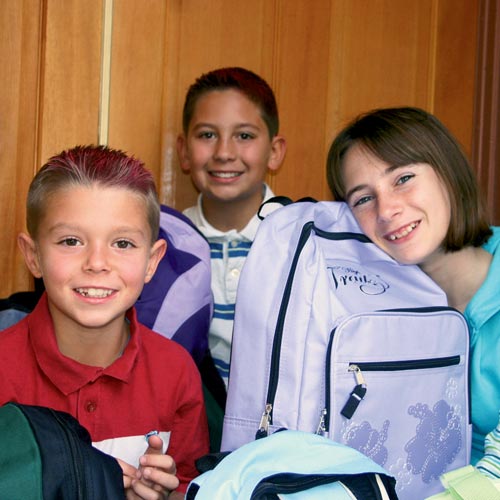 From backpacks to computers, Good360 helps hundreds of companies deliver products to kids in need.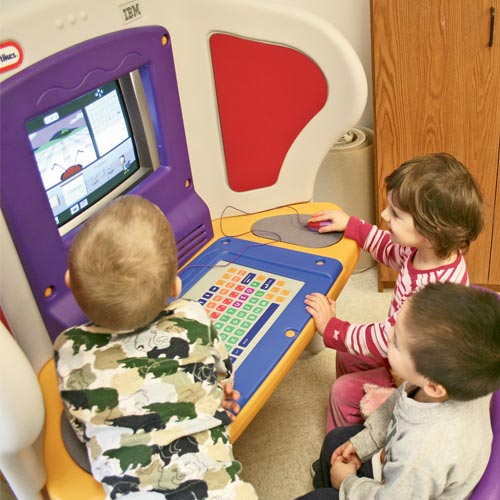 Carly Fiorina (left) and Cindy Hallberlin (right) pause for a pic in the middle of an action-packed day.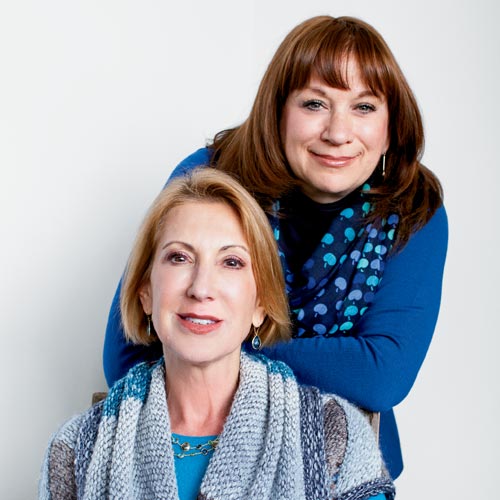 Looking for a better way to unload your unsold inventory? Cindy Hallberlin, president and CEO of Good360, and Carly Fiorina, board of directors chair, reveal how their organization plans to revolutionize the way retailers and charities work together to help those in need.

By Audrey Goodson Kingo
Here's a scene every retailer knows all too well: It's the end of the season, and no matter the markdown, some merchandise still lingers on the shelf. For eco-conscious shop owners, destroying the inventory is out of the question. It's also a non-starter for other, more practical reasons: Just look at the media firestorm that ensued a few years ago when shoppers found dumpsters full of slashed clothing outside H&M locations in New York City. Donating the goods to charity is ideal—but which charity? And will a non-profit need summer apparel in the middle of winter? Suddenly, doing a good deed can become a complicated, lengthy endeavor.
That's where Good360 wants to help, says President and CEO Cindy Hallberlin. The organization already works with an array of retail heavyweights—Wal-Mart, Home Depot, J.C. Penney and Sears, just to name a few—to deliver extra inventory to people in need. But thanks to a batch of new technology Good360 is rolling out next year, it will be easier than ever for smaller, independent retailers to locate nearby charities and donate excess merchandise.
"Think of our website as the eBay of the charitable world, connecting those who have to those that need," Hallberlin describes. In fact, the Good360 website, Good360.org, already operates as a marketplace of sorts, where retailers can list their excess inventory, and charities can shop for the items they need most. Next year, the non-profit will incorporate Google Maps technology to its site, allowing retailers to find a nearby charity in need, and vice versa. In a matter of minutes, a retailer can register for the site, list her shop's excess merchandise, and get linked up with a local charity that will pick up the goods at no charge. "We're making it extremely easy for small and mid-size retailers to donate," Hallberlin notes.
The non-profit certainly has the operation in place to make it happen: With more than 40,000 partner charities across the globe, including Christian Appalachian Project, Feed the Children and World Vision, Good360 has distributed more than $7 billion in product donations since its inception. The organization is consistently ranked one of the top 10 most efficient charities by Forbes, and is currently ranked by the magazine as the 29th largest charity in the U.S. And now, thanks to new Board Chair Carly Fiorina, who joined Good360 last year, it has an added dash of star power needed to help make a bigger splash in national news outlets—another goal for the group in 2014.
If Fiorina's name sounds familiar, there's good reason: The former CEO of Hewlett-Packard (from 1999 to 2005) made headlines as the first woman to lead a Fortune 20 company. Also active in the political sphere, Fiorina ran for Senate in California in 2010 and was even floated as a possible vice presidential pick for Sen. John McCain during the 2008 election. Yet while Fiorina's impressive resume and connections are sure to be a boost to Good360's already-robust operation, Hallberlin instead lauds Fiorina for the traits that make the former CEO such a compelling leader, describing her as a "fun and an extraordinarily caring person."
"When Carly joined Good360 as our board chair in 2012, she made an immediate difference," Hallberlin adds. "Her energy, commitment and keen intellect were felt by everyone. She has devoted an enormous amount of time to the organization's strategic vision, as well as helping develop our sales team and providing leadership advice and training. She is not just generous with her time but has made a substantial personal financial investment in the organization. And on a personal note, I have never learned more from anyone in my career. Her straight-forward insights and thoughtful advice help inspire me in my work every day."
It's a sentiment Fiorina echoes regarding Hallberlin, who has served as the organization's president and CEO for four years. The easy, confident working relationship between the pair is immediately apparent as they pause for a quick photo op, during a day packed with crucial meetings. Together, the two are looking forward to a banner year in 2014, with new technology aimed at helping in the disaster recovery sphere, as well as the Google Maps feature poised to revolutionize giving back for small and mid-size retailers. It's all part of their efforts to help Good360 live up to its motto: "We help organizations do good better," they both say at different points during their interview. "Even though inventories get better and better, they'll never be perfect," Hallberlin points out. And with nearly a quarter of U.S. children now living in poverty, the need for product donations—toys in particular, Hallberlin notes—is undeniably evident.
Not to mention all the added benefits that come with along with donating, from tax breaks to positive public relations. Hallberlin points to a time when Mattel called Good360 a week before Christmas, looking to donate American Girl dolls on Christmas Day to children in hospitals across the U.S. "How do you think that felt to that kid who couldn't go home on Christmas because she's so sick?" Hallberlin asks. "The reaction is unbelievable, and the appreciation is just huge. It's wonderful for the companies. They get an enhanced tax break, and they know they're doing something good with their extra inventory."
Carly, I'm sure you have a lot of requests for your time. How did you link up with Good360 and what inspired you to become the Board Chair?
Carly: I was introduced to the company through a mutual friend, and frankly I'd never heard of them. I started doing a little research, and I was blown away by the impact they have. It's a 30-year-old company with 40,000 partner charities, and relationships with more than 1,000 companies. I was blown away by what Good360 does through a combination of deep expertise, logistics, warehousing, distribution and a very robust technology platform to match excess or unsold inventory to people in need.
Why are non-profits like Good360 necessary?
Carly: One in six people in this country live in poverty, and poverty falls most heavily on women, and especially children.
Cindy: One of the things I feel passionate about, and that people don't necessarily think about, is the fact that stuff matters. If you don't have a decent pair of clothes to put on to go to work, it matters. After a clothing distribution we did last year, a priest called to thank us. He said, 'There's this guy who we minister to at church, and when we gave him a shirt, he held it and teared up.' He had never opened a new piece of clothing. So when he put it on, he felt transformed. I like to remind people that stuff really matters.
As poverty continues to increase in the U.S., do you think the need for Good360 has increased, as well?
Carly: Certainly the needs are greater. But I also think it matters more to retailers and companies now. Because we know, and all the research says, that consumers increasingly want to do business with companies they think are good, responsible corporate citizens. When consumers find out how much perfectly good stuff goes into a landfill, they're horrified. They want to be assured that extra inventory is going to a community in need. So it matters not just to the people who receive the goods; it also matters to our partners who are trying to do the right thing, but need help doing it efficiently and effectively.
And destroying unsold merchandise is definitely a bad PR move these days.
Carly: We had a situation where a retailer came to us, because they had an employee whose job it was to destroy clothing at the end of the selling cycle and throw it in the dumpster. And the employee couldn't stand it any longer and started taking videos and uploading it to YouTube. Nobody likes doing that. Nobody likes waste, especially in this day and age when there's so much need. But they didn't know how to solve that problem. We do. We solved it.
Good360 has delivered $7 billion worth of product to people in need, yet the organization flies under the radar. Why is that?
Carly: We want to make sure that our retail partners get all the credit for being generous and our charities get all the credit for helping people in need. But one of the challenges with that is a lot of people don't know we exist. So next year we're really ramping up to make sure not only are we providing additional capability, particularly during disasters, where we're building new technology, but also to make sure people know we're there.
How are you providing additional disaster-relief capability?
Carly: Whether it's 9/11, Superstorm Sandy, Hurricane Katrina, tornadoes in Joplin, MO, or earthquakes in Haiti—you name any disaster and Good360 is there at the beginning, and importantly, we're there a year later when everyone else has left and the cameras have gone away. One of the things that happens in disasters is everyone piles in at once, and that can create a disaster. It can create too many of the wrong goods in the wrong places at the wrong time. And a lot of that stuff ends up in a landfill.
Cindy: So many companies sent clothes during Superstorm Sandy, the National Guard had to put out a plea to stop sending them. In fact, 60 percent of all donated goods at the time of a disaster ends up in landfills.
Carly: What we're able to do, and what we're enhancing our technology to allow us to do even more effectively in the future, is not only do we stay through the long haul, but because we've built up these relationships, our charities can tell us what they need a year later. They can say, 'I don't need bottled water anymore, but what I do need are mattresses and clothes.'
Cindy: And in 2014, we are launching a disaster recovery portal called DisasterRecovery360. It will help stage disaster relief and product donations from the first time a disaster hits until the weeks and months and years it takes to rebuild. We are going to be collecting the needs of non-profits on the ground at the time of a disaster and keep tracking their needs as they unfold and change, displayed front and center on our portal. That will enable corporations to send the right goods at the right time to the right people. We hope to launch it before hurricane season in July 2014.
How do you help your retail partners get credit for helping their community?
Carly: We have community partnerships with local charities, so we let people know where the merchandise comes from. In some cases, we have helped a retailer establish ongoing relationships with the charities in their community. And not only is it important to consumers that their preferred retailer is a good citizen, but those local charities have employees that buy things. What our donation partners have discovered is that the charity world is a marketplace of consumers. So those connections mean a lot to employees, consumers and to the bottom line, as well. And in many cases, there are tax write-offs associated with donating. In other words, we can help retailers with the financial aspects, too, so they not only get the credit they deserve in the community, but they get the credit they need in the bottom line, as well.
Sounds great. How can smaller retailers get involved?
Cindy: We want small businesses to have an opportunity to donate, and our new enhanced platform that launches in early 2014 is specifically designed to make it easier for smaller retailers to get involved. Our donation process will be available online, so it should take a small retailer a matter of minutes to sign up. With our new technology, they will be able to describe what they want to donate and upload the information. Then, thanks to our new Google Maps feature, local charities will be able to see that a nearby boutique has, say, 20 pairs of jeans they need to get rid of. The charity can find it and pick it up. So we're making it extremely easy for small and mid-size retailers to donate, because we're automating the process.
So charities will be able to use to the site to look for retailers, too?
Cindy: Yes. Any legitimate charity can go on our website and begin to view our available donations in an array of categories—personal care, clothes, technology—and request them. (Good360 vets all nonprofits before they are able to gain access to our donation catalog.) And in an average of 48 hours, we'll ship it to the charity. Or, you can also search for local store partners. We currently have 3,000 stores across the country in our database, including Bed, Bath & Beyond, Home Depot, Disney, Williams-Sonoma, Guess and PetSmart. All someone at a charity has to do is log on, type in her address, and put in how far she wants to drive. And if she's matched with a store, she can pick up the donations locally. Partnerships typically last for one year.
Aside from the new technology, how is Good360 different from other non-profits who offer similar services?
Carly: No one has the logistics, warehousing and distribution expertise that we have. No one has the technology platform that we have. And these are things that we think more people need to know about so they don't think we're competing with other charities. No, we're not. We are providing a more systemic, sustainable solution to retailers, manufacturers and charities, so they can get on to doing what they do, which is helping people.
Why is working with Good360 important to you personally?
Carly: I have seen the faces of children when they get something new. It's not just stuff to them. It's self-respect. It's something special. It's a treasure. One of the things that we want to do more of is to be able to share with our retail partners the stories of these children, so they can see them, know them, and know what it means to these children. It's everything.
Cindy: A moment that stands out for me is when I visited a Sioux reservation in Lower Brule, SD. We do a ton of donations through the Native American Heritage Association, which operates on three reservations in South Dakota, and I wanted to go see it. I timed my visit with when we were delivering Tempur-Pedic mattresses. I was really taken aback—85 percent of the tens of thousands of people on those reservations live below the poverty line. And when we delivered the mattresses, we weren't replacing their beds; we were getting them off the floor. I was talking to one woman, and she said, 'We just love these mattresses, because we realized they are such a great conductor of heat. So now we use them to warm our babies.' Also, to help combat a gang problem on the reservation, carpenters from local towns came in and trained teenagers on how to build platform beds. As a reward, the teens learned a skill, and were able to bring the beds home to their families. All in all, the donation helped keep people from sleeping on the floor, kept babies warm and kept at-risk youth engaged. What a fantastic impact.