Lisa Burik, owner of Frankie's on the Park, inspires tweens with age-appropriate fashion and the value of giving back.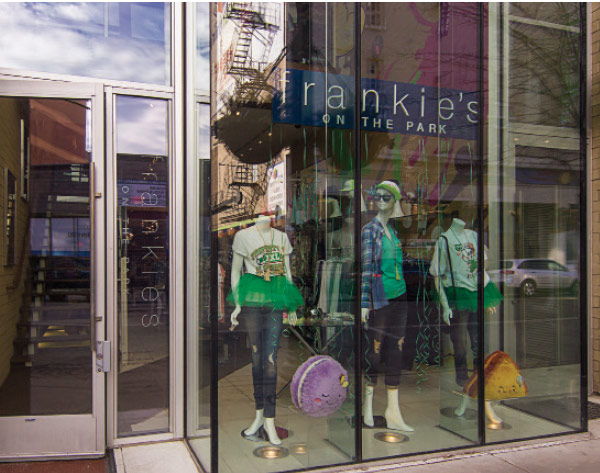 Lisa Burik first got the idea to open her own boutique after struggling to find trendy yet modest clothes for Frankie, her 13-year-old daughter. It's a common industry startup tale, but Burik isn't your run-of-the-mill retail entrepreneur. She dreams big, and she's a woman with a plan. Having sold her healthcare management consulting firm, Burik was looking to do something completely different. She did her homework, she created a sound business plan and she was all in from the get-go. In 2008, she filled the void she saw with the opening of a 3,000-square-foot, two-story tween boutique in the heart of Chicago's bustling Lincoln Park neighborhood. In 2013, she followed that up with a second, 1,100-square-foot location in Santa Monica, CA.
"While many boutique owners start their shop simply as a hobby, I've always approached it from the perspective of a businesswoman," Burik says. "My goal has always been to reach as many people as I can."
The boutiques serve as an oasis for girls age 8 to 18, brimming with stylish apparel and accessories congruent with what Burik describes as a fun-loving tween's lifestyle. From bright décor to eye-catching displays, Frankie's on the Park is meant to be not only a fun place to shop but hang out with friends. Interactive experiences (in the Chicago location) include a second-floor graffiti bar for customizing T-shirts, hoodies and shorts, and the sales consultants are described as "part stylists/part camp counselors." It helps raise the stores' experiential factor to regular destination level. Shoppers are satisfied, entertained and—when needed—reassured. Anyone who's the parent of a teenage daughter will know that the latter might serve as Frankie's on the Parks' greatest attribute.
"My job is to bring a special experience for every girl during this particular—and often challenging—time in her life," says Burik, a mother of two girls. "If there are a handful of tween-specialized stores like ours in the country, I'd be surprised." Burik adds that most retailers prefer not to bother with such a tricky, fickle age category. "While it can be hard to understand who the tween really is and what she wants, we enjoy the challenge," she says.
But Burik has never been one to shrink from a challenge. The year Frankie's opened in Chicago, the Financial Crisis hit head-on. However, the tween-shopping haven exceeded $500,000 in revenue in its first year. Both stores have experienced steady growth, first in the face of recession and, of late, amid the retail apocalypse. Burik has also dabbled with a pop-up location in the Chicago area, as well as introduced a private box subscription service. "Introducing newness is critical to continued development and growth of your business," she says. "A little risk can lead to great reward and, at the worst, a lesson learned."
Burik is a risk-taker, however her inventory leans heavily on athleisure—a perennial staple for tween girls. Tracksuits are particularly popular of late. "Customers want soft and cozy," she says. "For kids and parents, it's all about the hand feel." Popular brands at Frankie's include me.n.u, DL 1961, Aviator Nation, Spiritual Gangster and Chaser. For dressing up, Burik cites Zoe Ltd, David Charles, Jovani and By Debra as frontrunners in the special occasion section. Burik reports Santa Monica and Chicago tweens have similar fashion tastes in terms of brands and styles, but the palette definitely reflects the stark contrasts in local climates. "I would say our inventory is 70 to 80 percent the same," Burik says. "But my Chicago tweens don't like colors as much—everything has to be black, navy or gray. And it's very beachy and brighter colors with the California girls."
People Pleaser
Having the right mix is step one to pleasing Frankie's customers. Step two and three? Burik and her staff try hard to remember names and their style preferences. "We know what they like and don't like—and we don't have to look at a notebook to remind us," she says. Burik's team also makes note of the customers' preferred method of communication, whether it's phone, text or email. "You want the customer to want to engage—not feel bothered or overwhelmed," she says, adding that a strong social media profile is critical in communicating with customers.
With an impressive 16,000-plus followers on Instagram—the preferred platform of tweens—Burik keeps a professional yet authentic vibe of real girls modeling Frankie's latest styles. "We invested a lot in our online infrastructure to be able to have a cool presence that girls like," she says. It's also user-friendly and seamless. For example, someone in Ohio who sees a girl sporting a cool outfit on Frankie's Instagram feed can simply click on what she's wearing, and it will take her directly to the store's website for purchase. "There's few stores that aren't major players such as Nordstrom that can do that," Burik says.
What's more, customers shopping Frankie's can be assured its merchandise is the real deal. It's quite unlike the internet, which Burik says, is awash in shady outlets selling cheap knockoffs of well-known labels. "Anyone can go into business these days," she says. "Just make a product out of your garage, throw a photo up on Instagram and there you have it. While there's nothing technically wrong with that, it erodes the market because everyone starts to expect things cheaper."
In response, Burik draws a line in the sand on quality, authenticity and integrity. It's about staying true to Frankie's reputation and mission of being a trusted resource for tweens and their parents. "We operate on a pretty high echelon," she says. While Frankie's still offers something for everyone with price points ranging from $3 to $300, offering the lowest price is not the driving factor of its business model. "Everybody can shop at Frankie's, but for the mom that feels we are too expensive and wants to buy leggings at Target, by all means," Burik says. "We have a standard of quality we need to keep, which means we are not going to go chasing prices to the bottom." The same high standards apply to its vendors. If customer returns regarding quality issues reach a tipping point, Burik drops the brand from Frankie's mix. "I need my customers to trust that I only stock the best for them," she says. "We adore our customers, and that drives everything."
Giving Back
Frankie's love affair with its customers extends well beyond a financial transaction. Burik and her team are committed to helping its tweens overcome personal challenges as well as on a broader scale with its extensive community outreach efforts. Take Frankie's  annual sponsorship of the University of Chicago Medicine Comer Children's Hospital Fashion Show each spring. Marking its eighth year of sponsorship, the recent event saw four hundred attendees rise to a standing ovation in the ballroom of Chicago's Four Seasons Hotel as a young girl in rainbow leggings and a unicorn graphic tee gingerly came down the runway assisted by a walker. She stopped to pose in the middle of the catwalk, beaming as she absorbed a moment she likely never thought possible. "That girl was told by doctors she'd be wheelchair-bound the rest of her life yet that night we were able to find a way for her to walk down the runway and feel like everybody else," says Burik. "It was the moment of all moments."
The event, which raises more than $125,000 each year, is just one of the many charitable partnerships Frankie's engages in annually. The list of partnerships includes school auctions, fund drives, service projects and holiday festivals. "Frankie's isn't just a store—it's a lifestyle," Burik says. "We're always open to supporting great causes, particularly those that are sponsored by our customers and directly involve kids and teens in a meaningful way."
Think of it as community service with a fashionable Frankie's twist. For instance, every December the store partners with La Rabida Children's Hospital for its annual Holiday Dress Party. Burik and her staff bring a selection of age-appropriate party dresses backed by a team of volunteer "fashion stylists" from local high schools to help patients pick out a dress and get their nails done for the holidays. "The girls love helping us put a smile on each patient's face," she says. "It's just another one of the many heartwarming experiences we get to enjoy from bringing the community together."
In an effort to extend its community outreach further, Frankie's on the Park has recently introduced "Frankie's Gives Back." Applicable both online and in store, customers can select a charity they'd like to support with part of the proceeds from their purchase at Frankie's. "Not a month goes by that doesn't involve us giving back in some way through our business," Burik says. "It's all part of our experience, built on serving and inspiring the next generation."