Candy Pink whips up delectably soft loungewear with a dash of tween-approved 'tude.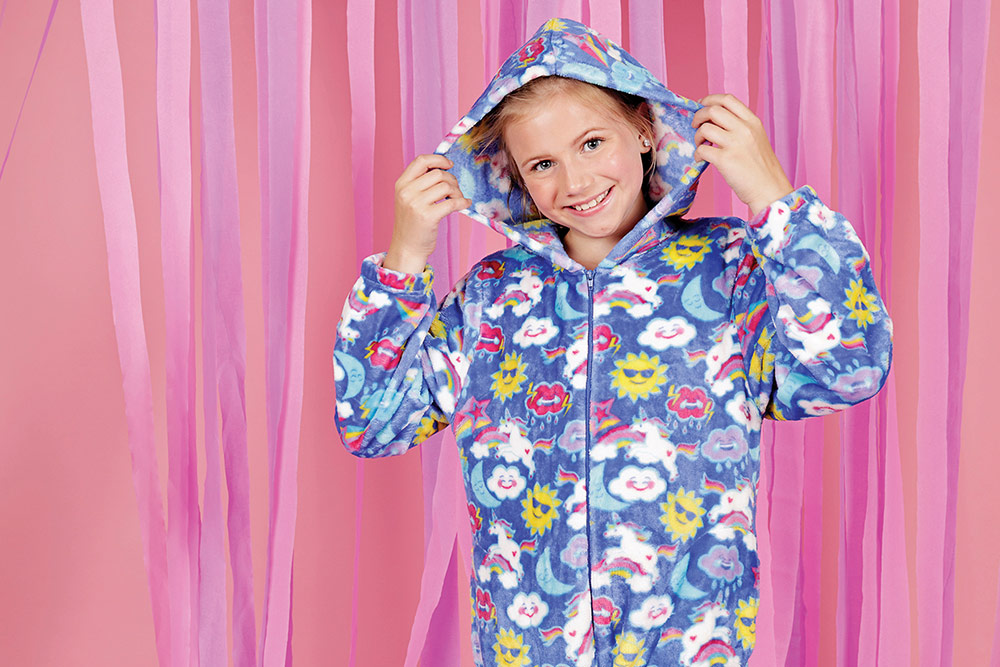 Known for its mouth-watering color palette and prints so saccharine they could trigger sweet tooth cravings, Candy Pink loungewear is more than just eye candy. Design and sales executive Melissa Zemanek claims its "marshmallow-soft" fleece blend is craved by its rapidly growing customer base. Since the Australian-based company's launch in the spring of 2014, distribution has mushroomed to hundreds of specialty boutiques across the United States, as well as online at Nordstrom and, beginning this fall, in select locations of the department store chain.
"Working with our factory tirelessly to get the right hand feel really paid off," says Zemanek, noting retailers say the pajamas "sell themselves" with their fluffy, fun-loving appeal. "When we do our photo shoots, the kids never want to take our samples off," she adds.
Sizes range from size 2/3 to 14/16, and Zemanek says Candy Pink is constantly working on introducing new eye-catching prints. "We have a key formula of colors that we know works well for our customers," she says, citing pink, mint and aqua as mainstays. "The challenge is coming up with creative prints." A bestseller of late is its hotdog print. "It couldn't just be a hot dog—it's a dog that's dressed up as a hot dog," she says. Zemanek cites unicorns and narwhals as additional popular motifs for tween girls, while sport themes continue to be bestsellers in boys. Perennial silhouettes include fleece pants, shorts, robes and hoodies, although Zemanek reports a recent surge in one-piece pajamas. "The Onesie is still big for kids up to tweens," she says, noting how tweens love the playful photogenic quality of the hooded one-pieces in fun prints.  "Most importantly, we make sure the pockets are big enough to hold a phone," she adds. "Kids these days always want their cell phone on them. Smart designers keep that in mind."
Although Candy Pink's rapid growth to date has largely been organic, this year the company has taken more initiative with social media marketing. "We're investing a lot of time and energy into growing that side of the market because that's where everybody goes these days," Zemanek says. "Even buyers who want to check out our brand will often take a peek at our Instagram page. It's an easy way to see how we market our brand—how we tell our story."
While Candy Pink has an e-commerce site, Zemanek says it's used mostly for building brand awareness. Wholesale remains the focus for growth. "The majority of our sales come from wholesale," she says, noting that one of her best decisions of late was investing in the software NuOrder. "It allows our wholesale customers to go online after hours and place an order with full access to our inventory."
Succeeding in business today, Zemanek says, boils down to delivering frictionless convenience. "The more you can streamline the buying process, as well as make your business a destination and an experience, the better the chance you have at survival," she says. Going forward, Candy Pink plans to expand into new categories by Holiday, with accessories being a major theme. Last year, it dabbled in the category with neoprene bags for camp and sleepovers. After positive feedback, Zemanek is ready to introduce more accessories. It won't stop there, either. "In five years, we'd love to see ourselves as a leader in the tween category," Zemanek says. "We'll do everything we can to make it possible."