With children's footwear sales on the rise, retail experts reveal how to stay a step ahead of the competition.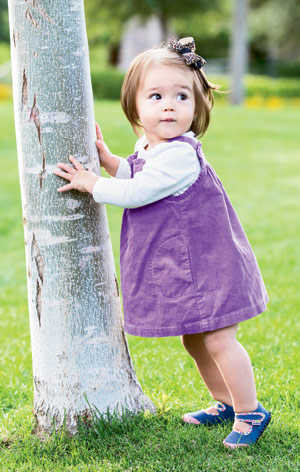 Are you prepared to put your best foot forward in 2015? Last year, children's footwear sales soared, and with the category projected to maintain its upward climb in 2015, now is the perfect time to shore up your store's shoe selection and service. In fact, overall sales of boys', girls', infants' and toddlers' footwear grew an astounding 28 percent from January to November 2014, totaling $7.7 billion, according to the NPD Group, a market information and advisory services company. For a comparison: Sales of women's and men's styles increased by only two percent over the same period.
And the children's footwear boom isn't headed for a bust anytime soon, according to many analysts, retailers and manufacturers. "The U.S. economy is improving, there are additional spending dollars in consumers' pockets and children remain a top priority for most families, so I definitely see some of those additional expenditures going in that direction," confirms Chen Grazutis, equity research analyst for retail, apparel and footwear at Bloomberg Intelligence. Rob Faw, national sales manager at See Kai Run, says their stock has been flying off the shelves, admitting that one of the brand's bigger challenges lies in supplying the voracious demand.
Today, little feet can make a big impact on your business. Here, footwear pros share how to stay in step with your customers' needs and make the most of the quickly climbing category.
Know thy Customer
Retailers and manufacturers agree: The timeworn advice is still true, especially for children's shoes. Tastes, budgets and habits in every community differ and ultimately dictate what will sell in that area. "The feedback that we get in the store is what we base our [buying] choices on—we really go out and hand-pick things that will work specifically in our boutique and our community," reports Becca Bramhall, owner of Clothes Pony, a children's clothing store in Fort Collins, CO. Keen is always a favorite of her outdoorsy Colorado customers, and the laid-back vibe of Fort Collins means brands that transition well between school, play and special occasions are top sellers, too. (Think Morgan & Milo, Lelli Kelly and Livie & Luca.)
Melissa Chunn, the shoe buyer for Connie's Children's Shop in St. Clair Shores, MI, identifies her town as more traditional in aesthetic and keeps that in mind when selecting which shoes to stock. That means avoiding extremely trendy styles or shoes with too many bells and whistles and opting for parent-approved brands like Stride Rite.
As Erin Carter, co-owner of Kid Dynamo boutique in Berkeley, CA, notes, items that are bestsellers for reps won't necessarily be bestsellers in her store. "You've got to learn your customer and pick what sells for them," she says. "We're in the store every day and we know our customer." The shop is decked out in bright colors and bold patterns, and customers tend to buy shoes that reflect that aesthetic, going for brands like See Kai Run and Plae. Lisa Lombardi, corporate sales representative at brand Livie & Luca, concurs, advising retailers to start with four styles when bringing in a new brand and branch out from there, after gathering feedback from customers.
Fit Matters
Finding the perfect fit in children's shoes can often be a major source of anxiety for customers. If they are first-time parents, they may not know children's sizing or how shoes ought to fit. If well-trained employees can hop to the rescue and assist customers in finding the right shoe for their little one, it often results in more than a sale—it may lead to lifetime loyalty on the part of that customer. "A lot of first-time parents don't yet know what is best for a growing foot," says Carter. "They look to us to give them the right information."
Bramhall emphasizes customer service at Clothes Pony, too. "When we get new staff," she states, "we educate them—it is so important to be able to put a shoe on a child's foot, get the right fit, gauge if there are any problems and watch them walk to see if it works." And since finding the right fit can impact health factors like foot development, knowledge is especially crucial. "Good customer service ensures they get the fit, the help and personal attention they need, especially if they require a special service or size," agrees Chunn. "Customers will call ahead to ask for it before coming in," she adds.
Beyond the ability to properly fit shoes, retailers must also be well-acquainted with the particulars of their product. Angela Edgeworth, co-founder of children's brand Pediped, which focuses on healthy foot development, states, "Our top retailers are the ones who provide a strong level of customer service, understand what features and benefits each shoe has and have earned the trust of their customers." Many brands offer special treatments or designs, promoting proper growth, durability and boasting advanced technologies—and they look for retail partners who are able to properly promote their products. Ryan Ringholz, founder of Plae, says, "The best retailers are the shop owners and sales people on the floor who are able to speak to what the brand does and what we're about."
Keep it Unique
The kicks you offer need to stand out. When it comes to selection, stick to charming, out-of-the-ordinary styles that play into the overall store aesthetic. Janet Finegold, co-owner of KidBiz, a high-end boutique in Dallas that stocks fashion-forward styles for girls, says part of the store's draw is "having that shoe that the department store just won't have." Similarly, Bramhall describes the Fort Collins style as relaxed and informal, so she goes for comfortable shoes that incorporate quirky design details not found in mass-market styles, carrying brands like See Kai Run and Plae. In Berkeley, Carter reports that bright blue hues that reflect the store's vibrant, colorful atmosphere are what walk off the floor for both boys and girls.
For the more traditional crowd, neutral colors like black and brown will always reign supreme, but that doesn't mean the design must be plain. Mark Kohlenberg, president at Umi, promises to dress up neutrals for girls in Fall '15 with chocolate in snake and pebbled leathers, and in a deep, rich saddle-tan leather for boys. Edgeworth reports that Pediped has also seen "a strong demand for classic school-type shoes and boots" that the brand will jazz up with metallics and rich colors.
Find Floor Space
Allotting a specific spot for footwear on the sales floor helps customers easily locate the department and can significantly improve the shopping experience. Bramhall notes that keeping shoes and apparel separate simply allows for easier shopping. "We get lots of compliments on our controlled-chaotic look in the rest of the store, but it doesn't work as well in the shoe department," she reveals. "You have to be able to see the shoes clearly, so the area needs to be clean and organized." Carter agrees, recommending the area remain orderly and clutter-free to help keep customers from feeling overwhelmed. In the same vein, organizing merchandise in the department into different sections also assists customers in their search for the perfect shoe. Separating shoes by gender helps keep customers from having to search through all of the offerings.
Chunn also recommends separating the sections by style—sandals grouped together, boots, sneakers and so on—to help those looking for a specific kind of shoe. Another option splits sections by age groups. Carter says this keeps bigger kids from feeling like they're shopping in the babies' section. "I also put size availability on stickers on the display shoe so parents can immediately tell if their child's size is available," she notes. In a smaller store where back-end space is limited, this helps avoid confusion about what's in stock.
Don't feel like you have to go it alone when setting up your shoe department: Most manufacturers offer display options such as shelves, table set-ups and signs with their logo. "The ideal in-store display is one that shows the breadth of our line along with strong branding," asserts Edgeworth at Pediped. Umi offers retailers the opportunity to work with experienced sales reps for advice and guidance. And See Kai Run even distributes a pocket-guide pamphlet to educate consumers on the brand's story and philosophy.
Boys are Big
While many stores tend to focus on girls' footwear, it was actually boys' footwear sales that skyrocketed in 2014. The NPD Group reports that boys' shoes sales increased by $3.2 billion—amounting to a 24 percent growth in the segment. Kohlenberg confirms the growth over the last year at Umi, attributing it to the fact that "so much of the boys' business has been surrendered to athletic brands in the past, but men's shoes have become more fashionable of late and that's crept down into boys." Faw at See Kai Run has also observed a growing appetite for variety in the segment. Accordingly, the brand is gearing up to offer more sophisticated and "handsome" styles that will provide an heirloom quality to the line. Livie & Luca has also responded to the growth by expanding its offering, Lombardi adds.
And as more and more kids stray from traditional blue and pink, carrying unisex styles is becoming an option. Plae's Ringholz touts the brand's unisex offerings as "a great opportunity for retailers to reach both boys and girls while saving space, as they can cross-merchandise the products." This comes in especially handy in an environment like KidBiz in Dallas, where Finegold reports that boys' sales just don't compete with girls'. No matter what, Carter at Kid Dynamo suggests carrying brands that "do both genders well," and keeping styles in both genders well stocked.
Know What's Next
Keeping a finger on the beating pulse of fashion is not always easy, but having an idea of what's new and fresh is never a bad idea. Carter recommends paying attention to adult styles, which are often shrunken down to kids', as well as home décor magazines, which can help provide cues of what color trends will be dominant. Finegold also keeps a close eye on adult fashion, stating, "Truly the best guide I've had for predicting trends in kids' comes from knowing what I'm selling in women's."
Carter reports that fashionable chukka boots and sneakers are big in Berkeley right now, and she expects them to remain popular in 2015. Classic Mary Janes and ballet flats are also tops on her list of what's hot—especially ones with muted sparkles and metallic materials for Fall '15, like styles by See Kai Run, Pediped, Plae and Livie & Luca. Meanwhile, Finegold plans to carry more booties in 2015. "I think the bootie is fresh and we haven't maximized it in kids' yet," she states.
Even if you're loathe to follow trends, it's never a bad idea to keep an eye out for undiscovered styles or brands. As Bramhall says of Clothes Pony, "We look for charming designs that are unlike what's in mass market, so it's imperative to see all the new options out there."