Kids are encouraged to submit photos inspired by their own imaginative play.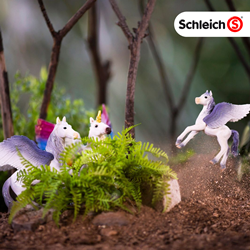 Ever wonder what it would be like to see the world through a child's eyes? Schleich USA, a leading toy manufacturer known for its animal figurines, is making that possible with its Power of Imagination Photo Contest.
The perfect shelter-in-place activity, the brand welcomes kids to create photographs depicting the sensational storylines they bring to life during open-ended playtime with Schleich figurines.
The idea of bringing imaginative play to life kicked off earlier in the year, with the brand celebrating its 85th anniversary at New York Toy Fair, featuring the work of acclaimed toy photographer Mitchel Wu. To support kids in developing their contest entries, Wu has created a series of videostaking kids behind the scenes of his own photography process, providing tips for taking the best images at home.
"There has been a powerful response to the images we created to remind grown-ups just how spectacular and vivid a child's experience can be when engaged in open-ended, imaginative playtime," says Annie Laurie Zomermaand, chief commercial officer for Schleich USA. "Asking kids themselves to now help us continue bringing their imaginations to life with their own photography felt like a perfect way to continue our yearlong celebration while inspiring and engaging kids at home."
To enter the contest, kids and their parents are encouraged to visit the Power of Imagination campaign website, where they can view existing campaign photos created by Mitchel Wu, watch photography tutorials and upload their own photo entries.
The entry period runs from May 13 through June 5. Ten finalists will be announced on June 6 and receive $100 Schleich prize packages. Voting for the grand prize winner will run on Instagram through June 15, and the winner will receive a $500 Schleich prize package.