For every eligible career doll sold, Barbie will donate a doll to the First Responders Children's Foundation.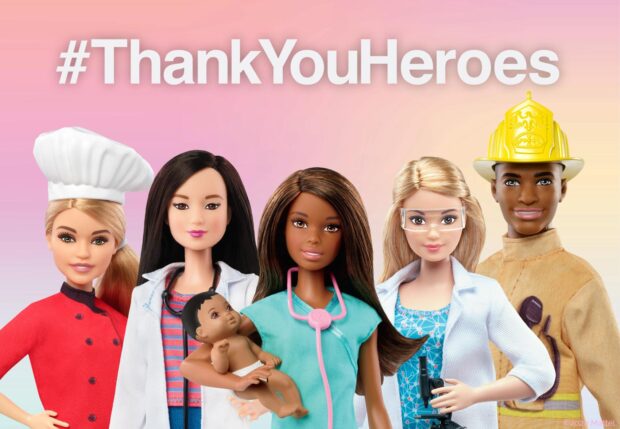 Mattel's Barbie has announced its new initiative #ThankYouHeroes to benefit the children of first responders in the fight against Covid-19. For each eligible doll sold from May 14 through May 17,  a doll will be donated to the First Responders Children's Foundation, inspiring play for kids of essential workers.
The #ThankYouHeroes program is the second program launching as part of Mattel's broader "Play it Forward" platform, which focuses on leveraging Mattel brands to give back to communities in times of need.
"As Barbie has always highlighted role models to inspire the limitless potential in the next generation, we are proud to launch a program celebrating the real-life heroes working on the front lines and supporting their families through the First Responders Children's Foundation," says Lisa McKnight, senior vice president and global head, Barbie and dolls at Mattel. "We want to do our part to give back and inspire today's kids to take after these heroes one day."
The new Barbie program follows the launch of Fisher-Price's #ThankYouHeroes collection, the first product line to be introduced as part of the company's Play it Forward platform. Additional brand programs will be launching in the coming weeks.
"First Responders Children's Foundation is excited to deploy Barbie to first responder families across the country during a time when their children are in need of a little joy in their lives," says Jillian Crane, president, First Responders Children's Foundation. "There's no doubt that first responders on the front lines of the COVID-19 pandemic are sacrificing so much to protect our families, and it's our responsibility as a nation to help them through this crisis by providing grants, scholarships and partnerships such as our program with Mattel that encourage consumers to support these efforts with the buy-a-doll, donate-a-doll program that benefits first responder families. This partnership also marks the official launch of the Foundation's Happy & Healthy Child Program, an initiative that will support the year-round needs of first responders' children."
For more information about the First Responders Children's Foundation, visit 1stRCF.org. For additional details and eligible products for promotion, visit Barbie.com/Careers.