From noted Texas retailer to legendary sales rep exec, Marilyn Klein, CEO of The Klein Group, has always put the needs of her customers first in order to come out ahead.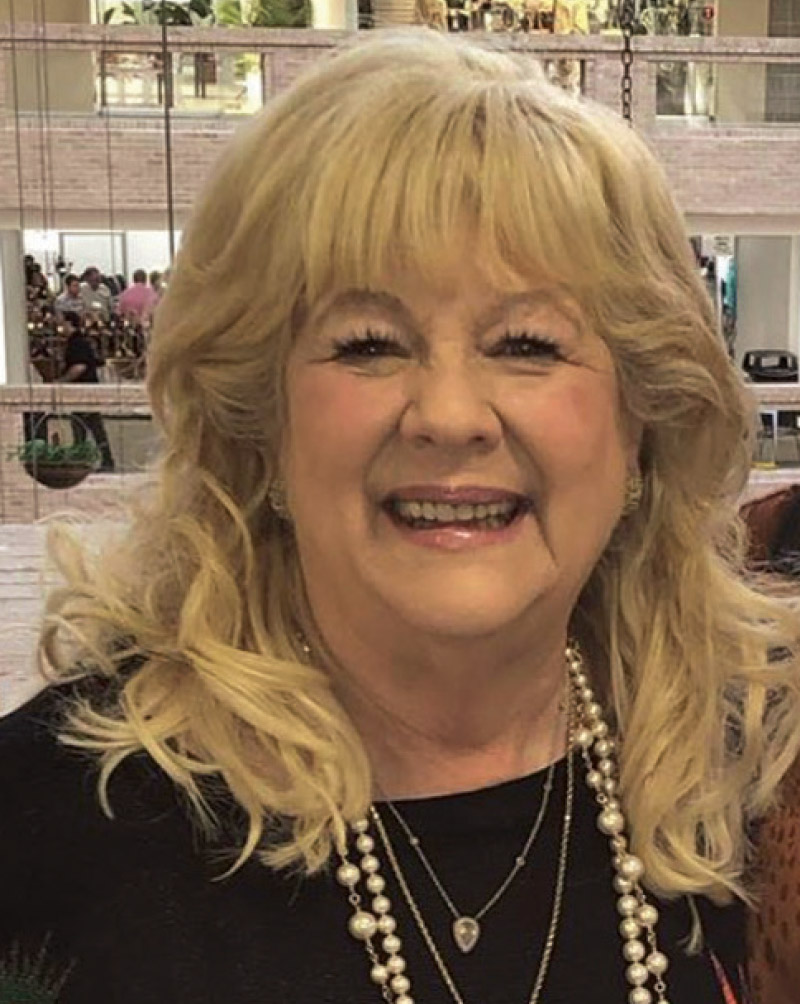 It's 1973, and Marilyn Klein sits in her living room, surrounded by the gold-flecked wallpaper and red shag carpet of her Spanish mission-style home in Houston. Sorting through children's clothing on makeshift displays, Klein smiles as she dutifully prepares for her local clientele of young mothers. Her husband, Denny, is at her side—as he will remain for the next 50 years and counting. He is Klein's "numbers guy," sweating the details of cash flow and inventory. With the help of her close friend Martha Oberman, Klein will sell her curated selection of post-season samples from the Dallas Market Center to neighbors in her own living room—at a time long before outlets, big box dealers and online behemoths ruled the retail landscape. Klein's nascent business is gaining traction, and she has dreams of making it a lifelong career.
Fast-forward to today: Klein sits at the helm of her expansive showroom in Dallas, aptly named The Klein Group. For nearly half a century, the seasoned retailer-turned-rep has weathered a turbulent industry, finding ways to adapt, survive and thrive. Along the way, she's enjoyed a fulfilling personal life, blessed with three children and eight grandchildren. Klein is as talented as she is tenacious. She's built successful retail and rep businesses through hard work and adhering to the Golden Rule that the customer comes first—always. Klein could call it a "successful" career and move on to full-time grammy duties. But at age 74, she shows no signs of slowing down or retiring from the industry she adores. She is the epitome of a "people person," and her innate ability to make everyone feel like they are the most important person in the room has been key to The Klein Group's near four decades of success. Klein's customers are considered family, and maybe that's why she has no intentions of leaving them any time soon.   
"Whether a retailer spends $500 or $500,000, they're equally important to me," Klein says. "I want every customer to feel like a guest in our 'home.'" 
A far cry from the '70s carpet and patterned wallpaper where it all began, The Klein Group's 2,600-square-foot space in Dallas' World Trade Center boasts nearly 25 lines of girls' apparel and accessories spanning tot to tween. Popular lines include classics Hannah Banana, Baby Sara and Bari Lynn, which Klein has repped for years, to newer additions like Penelope Tree, Baby Noomie and Glossy Pops. Challenging Southern retailers' traditional tastes, Klein has carved a niche in the market with a selection of edgier, trend-driven styles.
"The beauty of the Klein Group is it's a one-stop shop," says Janet Finegold, co-owner of Kid Biz in Dallas, who has been a customer for decades. "I love the showroom's contemporary assortment and how Klein will be the first to jump in and say something if there's a new and great item I may have missed."     
Snap Caps, a line of necklaces made from bottle caps, is an example of Klein's keen eye for what's new and soon-to-be big. The tween accessory's founder, 15-year-old Maddie Bradshaw, appeared on Shark Tank in early 2012, reporting $1.6 million in sales. "In fact, $1.2 million of that income was sold by us," Klein says. 
Klein's dedication to her customers is unmatched. Described by Fred Schmidt, co-founder of Shade Critters, as "tenacious," Klein approached the swimwear brand at its first trade show in 2016. Strongly encouraging Schmidt to allow The Klein Group to represent his line, the co-founder was sold immediately by her energy and expertise. "She doesn't need to work another day, but she works harder than anyone I've met in this industry," Schmidt says, adding he once offered Klein free tickets to the hit Broadway shosw Hamilton during Children's Club and she still put business first. "She told me she couldn't leave her booth," Schmidt recalls. "And not because of an appointment, she just wanted to stay in case someone happened to stop by!" 
According to Finegold, The Klein Group's entire team upholds her high standards for exceptional customer service. She cites a recent example of a team member coming to the rescue when Finegold needed a specific style, and the vendor couldn't get it to her in time. "One of the reps gathered six of what I needed and brought the product right to my store!" she says. 
Dan Hakim, co-founder at Watchitude, repped by The Klein Group for nearly four years, says the service is unparalleled. "Marilyn's knowledge of the industry and the trust and confidence retailers have in The Klein Group is really unavailable anywhere else," he says. "She's the top of the food chain, period." 
So what does Klein attribute to her success? She humbly cites years of trial and error along with a couple of fortuitous elements. "In many cases, I've just been in the right place at the right time," she says. "I've also learned to surround myself with great people—there's no way I can take all the credit!" 
The Retailer Days
Klein made the leap from selling off-price samples out of her living room to renting her first store in 1974. "It was the day a kid got bubble gum on my carpet," she recalls. "I turned to my husband and said, 'Okay, we need to open a store.'" 
Klein's first location—a 500-square-foot former head shop in a touristy section of Houston—came with a startup incentive. The landlord said: "If you take all of the psychedelic stuff off the windows and walls, I'll give you six months' free rent." Sold! 
The store opened the day after Easter, the "worst possible day for retail," according to Klein. Traffic was excruciatingly slow to start, but there were two patrons early on who were quite memorable. Klein recalls them as stereotypical "hippies" who wandered in and asked a curious amount of questions about the merchandise, before exiting without a purchase. "After they left, we joked they were probably disappointed because the psychedelic merchandise was gone and were just trying to be polite," Klein says. Two weeks later, however, Ann Light and Sue Goldstein, authors of The Underground Shopper, a highly respected local guide to value shopping, stopped in to introduce themselves, revealing the two "hippies" had been sent on a mission to preview the store. "They apparently liked what they saw because The Underground Shopper was doing a spot on three different TV stations that week and wanted to borrow merchandise from us," Klein says. "I said, 'Sure! Take whatever the heck you want!'"  
The on-air publicity was invaluable, and within days Klein had a line around the block. (Partly because she could only fit 10 people in the micro-sized shop at a time.) "That's when we realized we needed more stores," she says. The business mushroomed to four locations as Klein culled post-season samples from not only Dallas market but Atlanta and Ohio (where Denny's parents lived). Not long after Klein's friend dropped out of the operation, Klein's retail operation shifted to offering full-price, in-season merchandise and expanded to 10 locations across Texas, including Corpus Christi, Amarillo, Lubbock, Pasadena and six in Houston.
It was during this retailer career stage that Klein learned the importance of finding the best people for her team. Scouting experienced buyers and other seasoned retail execs to manage her stores, Klein recalls one employee as particularly memorable. Ursel Simmons, a black woman who managed a local Gap, impressed Klein with her customer service so much that Klein recruited her to run her Pasadena store, the largest of the chain at 5,000 square feet. But this was the deep South and racism was still a major issue. Klein recalls a Pasadena business associate pulled her aside and asked, "Why are you giving a manager's position to a black woman?" Her response: "Because she is the most qualified person for the job." A week later, Simmons' tires were slashed, which Klein suspects was due to the shopping center's proximity to a Ku Klux Klan meeting spot a few blocks away. While this enraged Klein, she and her star manager refused to be intimidated. They continued to provide superior products and service for several more years, winning over the town as a destination store for childrenswear. 
In addition to top-notch service, Klein attributes her stores' success to her team being "ahead of its time" when it came to product merchandising. "We were one of the first to merchandise by color," she says. "We also were forward-thinking when it came to putting the baby options in the back and older kids in the front, so customers didn't have to walk through a 'baby store' to get to tween clothing."
Klein's stores hummed along straight through the '70s. Kids were plentiful, the competition was manageable and the Texas economy was juiced. That is until the oil crisis of the early '80s hit and changed everything. The sharp decline in production put a cap on discretionary spending. Texas retail suffered greatly. Klein's husband had warned that they'd probably would close some stores, and he was (partially) right. Ultimately, they sold two stores to employees who were running them and shuttered the rest. It was a dark chapter in Klein's career. All that hard work and poof. What would she do next? Klein recalls the exact moment she could have given up completely, only to embark on a new chapter by deciding to launch her own sales rep agency. "I remember walking into my office that day and sitting on the floor—not even at my desk—and just sobbing," she says. "Finally, I told myself, 'Okay Marilyn. Pick yourself up, draw a line in the sand and catch your pass—it's time to work on your future."  
The Agency Years
Wholesale partners had offered Klein their sympathies, but more importantly they were instrumental in urging her to become a childrenswear rep. They told her she had the industry knowledge, a keen eye for merchandise and terrific people skills. It was the sales rep's trifecta. If she was able to introduce their brands successfully in one Texas chain, they saw no reason why she couldn't extend those talents to other retailers nationwide. "I decided to go for it," Klein says.
Klein's first client was a close industry friend, Irwin Chaiken, founder of a playwear line Ann's Place. New to the rep game, Klein was open to advice. "You've got to look the part," Chaiken advised, suggesting a rep-worthy uniform of a suit, pumps and a briefcase in replace of Klein's eclectic (and sometimes hand-painted) attire. The first appointment was with a buyer from Foley's department store, who Klein had befriended at a trade show during her retailer days. The buyer had a visceral reaction to the "new" Klein. "She literally said, 'Why are you wearing those clothes? That's not the Marilyn I know!'" That's the day Klein learned an invaluable business lesson that she would remember for the rest of her life: Always be yourself.  
Klein's buttoned-up appearance aside, that first day turned out quite well. She secured orders from Foley's and another local department store chain, Sakowitz. "I was very lucky to begin my journey as a rep with department store accounts," she says, noting those orders would be key in getting her business off the launch pad. 
After a brief period of sharing a showroom at Dallas Market Center, Klein secured her own space in 1984, marking the official start of The Klein Group. In 2000, she opened another showroom in the Atlanta Apparel Mart. Between the two showrooms, Klein reports generating more than
$20 million in annual sales at their height. The Atlanta location closed in 2017, thanks to a perfect storm of challenging market conditions and inflexible leasing agreements, but the exec is looking into opening a new showroom there as soon as 2020. "It feels like the right time to expand again," Klein says, citing the increased opportunities to connect in the digital age. For example, The Klein Group integrates online platforms like Brandboom and RepTime to simplify its ordering process. It also has boosted its social media presence, with Klein often shooting live stream videos to share new product with thousands of followers. What's more, Klein challenges each of her reps to schedule at least 10 FaceTime appointments per week, not only capitalizing on convenience but also expanding the showroom's client reach. "When I started as a rep, there weren't even cell phones," she says. Today, Klein's close-knit team of six reps and a marketing consultant stay nimble and connected when it comes to applying the latest strategies. There may be fewer retailers overall, but there are many more ways to stay in touch. It's another yin-yang example of finding a way to stay in business. But the most effective sales technique, according to Klein, extends beyond the latest technologies. It comes down to simply being there for your customer—whenever, however and wherever that may be. 
"Marilyn will go out of her way to make a deal work even if it means sharing her part of the pie," confirms KJ Kim, president of Imoga and repped by The Klein Group since 2012. "Major accounts often ask for a discount upfront to increase their margin, but Marilyn was willing to share the burden to make the deal work when we started out. It was a tremendous help as a small brand trying to expand." 
Schmidt says Klein isn't just a rep for her brands; she's an expert advisor. "Marilyn has been through the trends three times, so she's a great sherpa in terms of predicting what the next evolution of a brand should be," Schmidt says. "Honestly, with her talent and outstanding personality, that woman could have her own TV show!" 
Speaking of which, if it weren't for her friend who first suggested selling childrenswear, Klein very well could have finished earning her degree at the University of Texas and gone on to fulfill her original dream: an on-air weather reporter. "I always had a desire to be in front of the camera," Klein says, noting it's not surprising she ultimately fell in love with sales. "There's a lot of parallels between the retail and broadcasting in terms of being in front of people and winning their attention, trust and loyalty."
But Klein has no regrets about having landed a recurrent leading role in childrenswear instead. In fact, if she could live her life over again, she wouldn't change a stitch. Selling childrenwear has been a labor of love—the clothes, the people who make and sell them, and of course the children who wear them. What's not to love? "I can't say for sure what today's crazy retail climate will bring, but there's one thing I can tell you with certainty," Klein says. "There's a 100 percent chance retirement is not in my forecast." •