Designer Chat: When Syreeta Johnson welcomed her daughter to the world in 2012, she knew it was time for a better work-life balance.
When Syreeta Johnson welcomed her daughter to the world in 2012, she knew it was time for a better work-life balance. "During my 9-to-5 job, I always wanted to leave work at the door," Johnson says. "It didn't take long for me to start toying with the idea of doing my own thing." Stepping away from her career as a women's couture buyer, the London-based fashion enthusiast put her degree in textile design to good use by launching an apparel collection fit for her new baby—an idea that picked up pace when Johnson realized a void in the market for organic kids' apparel that was bright, fun and unisex.
"Indikidual is about encouraging playful self-expression, spontaneity and daring to be an individual," Johnson says. "All our garments are made using organic cotton and designed to be practical and comfy, as well as fashionable and expressive."
Indikidual's first collection debuted at Bubble London four years ago, receiving positive feedback from several U.K. boutiques. Johnson used that encouragement as inspiration to continue growing the business—and her family. "I love seeing my son wearing his sister's hand-me-downs," she says, noting another benefit of the durable, unisex line. "Our line is perfect for parents who hand down clothing to younger brothers or sisters."
Johnson's children often provide inspiration when it comes to determining seasonal themes. In fact, Indikidual's signature banana print came from her daughter's obsession with the yellow fruit. "We continue to carry the print and change it slightly each season," she says, adding that it is a consistent bestseller. For Spring '18, it comes in the form of the "Tuff Banana Sound System" collection, featuring banana prints (of course) with washed-out brights inspired by colors found in the Caribbean. "I've noticed color creeping back into fashion, which is great because I love mixing and matching bright colors," Johnson says. Available in sizes newborn to 10 years, the spring collection includes tanks, tees and bottoms of faded coral and peach hues as well as hand-drawn prints of snorkel and sunset motifs. "I think the cute snorkel print will become a bestseller," Johnson says, crediting one of her daughter's drawings as inspiration.
Looking ahead, Johnson hopes to expand Indikidual into new categories, like bedding possibly. "We had a great collaboration recently with Made.com for home décor, which I really enjoyed," she says. "I am always excited for what's next." —Aleda Johnson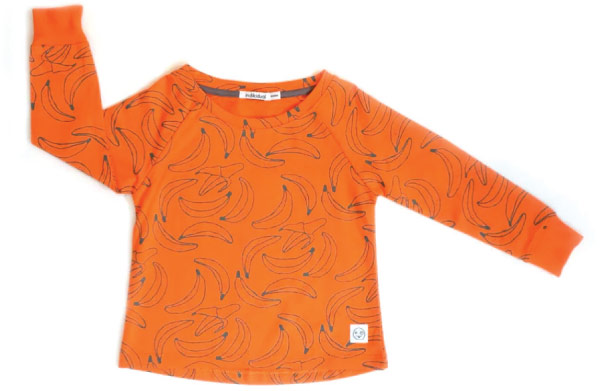 How's business this year? Sales are very good. We have customers in 70 boutiques all over the world, which is wonderful. We're still fairly small, and I like it that way. 
What is your design philosophy? I feel kidswear should be fun, expressive and colorful. You have your entire adult life to wear boring clothes.
Speaking of? Designing for children has actually made me a bit bored of what's offered in womenswear. Thank goodness for brands like Monki and Lazy Oaf who make fun, quirky styles for grown-ups.
When do you know you have something new to add to the line? I always ask my children for their opinion on the clothing first. They try everything on for me and are not shy to speak up if something isn't comfortable.
What do you love most about your job? I love working with friends and family. My husband shoots the seasonal campaigns, and my children and my friends' children model—a great excuse to get together. It's more like a party than a shoot!