Knitwear company 525 America launches its first children's line.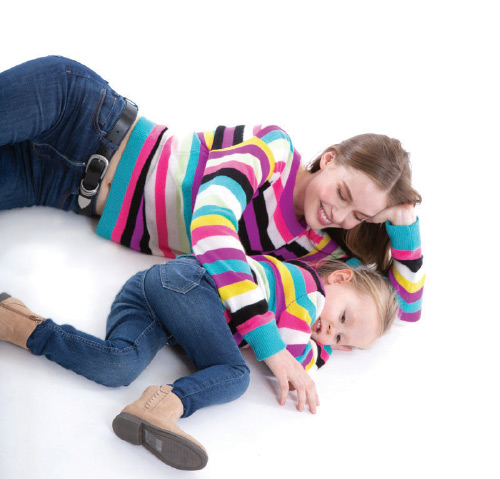 When 525 America president Elissa Bromer became a grandmother, she saw an opportunity to give consumers the only kind of shrinkage they want from knitwear: a collection of children's takedowns. The company known for modern designs in fabrics like cotton, chenille and cashmere, is launching children's this fall.
"Elissa watched her daughter wanting to dress her child in 100 percent cotton and great quality clothing, but couldn't find much," says Jodie Kovler, national sales director. "We realized there's a whole generation of moms who want to dress their kids in luxurious, quality styles, and we can give that to them."
Starting with a direct-to-consumer soft launch on Mother's Day, the brand offered mini me versions of its top five women's styles, with more classic silhouettes in the mix for fall. Available in sizes 2 to 14, the contemporary styles, like the classic Emma shaker, are made with machine-washable, 100-percent cotton or cashmere with a soft handfeel to keep kids comfortable.
Finding the right color palette was one of the biggest challenges, according to Kovler. "Outside of New York, where parents put their kids in black, moms and dads really love bright colors," she says. Staying true to the brand, the line (SRP: $58-$98) is awash in bright orchids and beautiful jade hues. "Our rep Ilene Oren & Co has been very helpful in guiding us in right direction," Kovler adds. "There's a lot to learn about what parents want to put on their kids." Looking ahead, Spring '20 will see the addition of whimsical neck treatments and poppy graphics to the classic shaker style.
The first wholesale shipments of Fall '19 goods will arrive in mid-July. Notable accounts include Lester's in New York and Penny's from Heaven in Chicago. Focusing on specialty stores, Kovler reports interest from its current retail partners seeking to branch into children's with 525 America. "We've spoken to stores who've been loyal women's customers of ours for years, and they love the idea of 525 offering children's," she says. 
With companies like Rent the Runway adding children's categories, Kovler sees it as perfect timing for 525 America to make its move into childrenswear. The extension further cements its mission of being a multigenerational brand, suitable for retired grandparents, working moms and now stylish children. "Mom knows good quality when she sees it," Kovler says, hinting that the company may expand into the layette and gift packaging markets down the road. "We listen to our customers, and trust that they'll guide us in the right direction." —A.J.