Savvy mamas share what, when and how they buy for their little ones.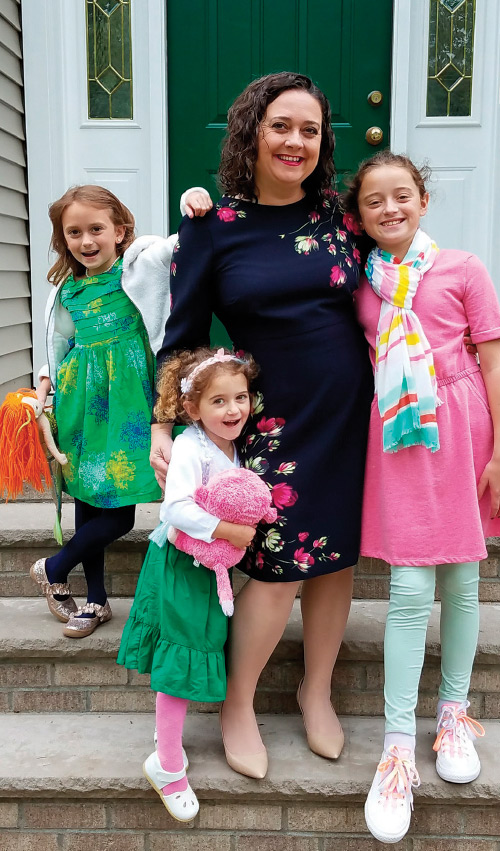 Crystal Carey, traditional labor law attorney, Randolph, NJ. Daughters: Alice, age 5, Grace, age 7, and Claire, age 11.
How often do you shop for your daughters? At least every two weeks for something.
How important are sales? Very! Especially with girls, it can get expensive!
What's your price range for the basics? $5 to $25. In this category, I would include things like cartwheel shorts for under skirts and dresses, underwear, socks and camisoles. We really like Primary.com for the super basics because they use great materials and really hold up.
How about for outerwear? I'd say $75 to $250. We prefer to go with brands like The North Face and Patagonia because we know all three girls will end up wearing through hand-me-downs, and with cold weather and some skiing thrown in, we need top quality. If not, we find we're constantly going out to purchase the same thing over and over.
Shoes? Sneakers, up to $200. We don't let the girls share shoes, except snow boots. My husband believes the way shoes wear could have negative effects on different feet, so we always buy new sneakers around $40 to $130 each. Last winter, Claire got Ugg waterproof boots. Those were $200—again going for quality and versatility, because cold feet make for cranky kids.
Accessories? Under $10. Honestly, we lose these so frequently, I'm not looking to spend a lot of money in this area.
Where do you buy most of your kids' clothing? We like Primary.com for basics—good quality, great price, excellent customer service. We like Journeys Kidz because they have a casual, dressy and fun selection, all in one place. Macy's always has the classics (white dresses, dance dresses, etc.) Kohl's has hip stuff at good prices. Nordstrom is always great—staff is amazing and the shoes are awesome! And what's not to love about Target?
What are a few of your daughters' go-to brands? Justice for cute trendy stuff, Under Armour for durability and versatility, Matilda Jane Clothing for classic, whimsical looks and Mini Boden for quality and style.
Do you like receiving suggestions from store employees? Yes—on quality of product, but not really on style. We try hard to let the kids make their own choices on style and comfort.
How involved in the purchase decision are your children? 100-percent involved! At the very least, we provide them with multiple options we feel comfortable with, and they make the final call. For instance, one of my kids loves smocked dresses, but the other one hates them. I'm not forcing my kid to wear anything they don't feel amazing in.   
What's your favorite kids' trends of late? Comfort and versatility of cotton, pockets on dresses, more 'boy' patterns on 'girl' colors.
Your least favorite? The open shoulder dresses and shirts—it kills me.
Any suggestions for the children's market? Retailers, please make sure the people you're hiring for kids' departments actually can deal with kids and have patience. Nothing can throw off an entire shopping trip like a cranky sales associate, stamping their feet as my kid tries to decide between three pairs of shoes. 
---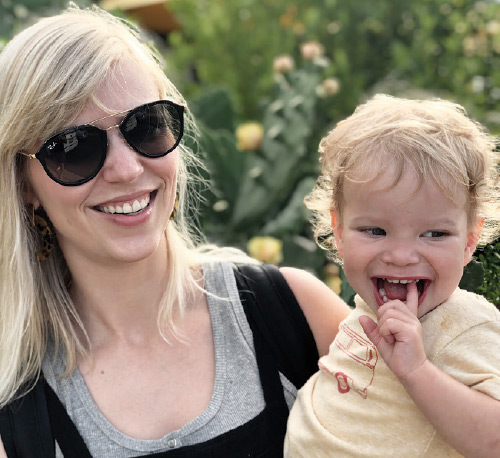 Brandis Ohlsson, owner of model and talent agency, Austin, TX. Son: Miles, age 2.
How often do you shop for your son? All the time! For clothing, probably two to three times per month.
What's your ideal price range? Shoes, anywhere from $30 to $60 and outerwear, probably up to $200. I don't really have an accessories budget for my toddler—we just get what we like when we like it, within reason.
When are you most likely to splurge? When I'm shopping by myself or when there's a sale or limited release.
Do you prefer shopping online or in-store? I do a bit of both. Because 2T means something different from one brand to the next, it makes shopping challenging in general. However, when it comes down to it, I mostly shop online.
Any go-to retailers? I like Target and Zara. My son's growing so much, plus everything gets dirty in two seconds. It just makes the most sense to buy from lower-price retailers for the day-to-day.
What are some of your favorite brands? Kith, Mini Rodini, Nununu, Adidas, Billionaire Boys Club—they have some cute options. It can be really challenging to find brands that focus on boys.
What's your biggest childrenswear pet peeve? Anything pink and blue or designs that lack in creativity.
What's your favorite trend right now? Less boho and more hype kid.
Any suggestions for designers? The sizing for kids is just all over the place! It would also be nice to see more choices out there for boys.
---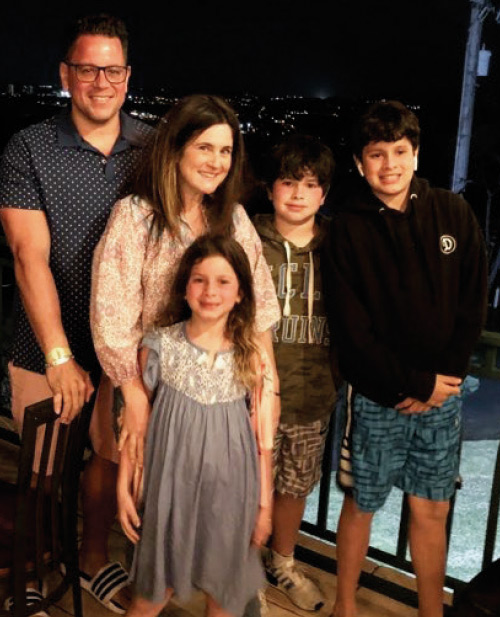 Beth Gardner Goldoff, freelance graphic designer and stay-at-home mom, Brooklyn Heights, NY. Daughter: Michaela, age 7. Sons: Evan, age 11 and Drew, age 12.
How often do you shop for your kids? I shop seasonally, and a bit in between based on upcoming vacations.
How important are sales? I do pay attention to sales, especially for brands that are more premium. But sales don't necessarily dictate how I shop.
What's your sweet spot price-wise? For underwear, I spend around $30 to $40 a pack, outerwear varies between $40 and $100 and my sons' shoes can be anywhere from $40 to $120 due to their specific athletic needs. My daughter's shoes are typically between $30 to $60.
Do you prefer shopping online or in-store? All three kids have very busy schedules, so unless I carve out time in advance, I'll shop online. For special occasion items though, I always prefer to go to stores.
What are your kids' favorite stores? My sons love Dick's Sporting Goods, and my daughter enjoys shopping at Everafter in Tribeca.
Do you like receiving suggestions from store employees? I do if they are truly looking to help us find something, not if they are making a suggestion based on commission.
How about your family's favorite brands? We've always loved Appaman, from the infant- to preteen-hood. Stella McCartney is another staple when it comes to fun items and dresses. They are great for passing down to friends and family. Pink Chicken is another great quality brand. And Chaser offers awesome lightweight, quality clothes, too.
What's your favorite trend? I love that girls and boys can wear whatever color they want. My boys love hot pink and my daughter loves wearing sportier clothes mixed in with feminine skirts and dresses. Anything goes, and that's fantastic!
Your least favorite trend? I've never been a fan of kids wearing characters. I'm also not into shoes that light up.
---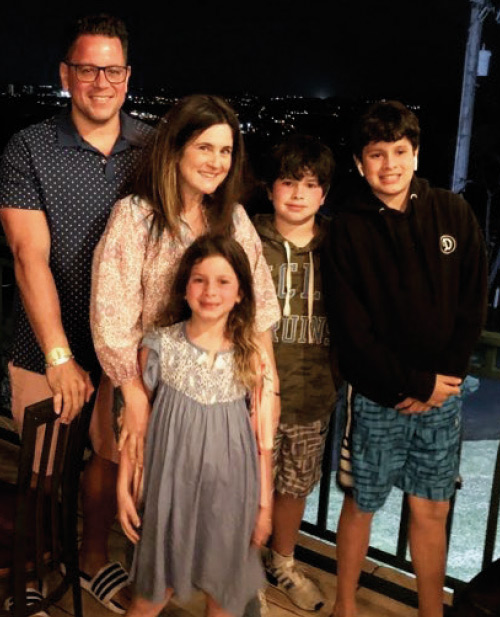 Rachel Gordon, pediatric nurse and blogger, Atlanta, GA. Daughters: Isabelle and Madison, 2-year-old twins.
How often do you shop for your kids? I'm always browsing, but at least twice a year.
When are you most likely to splurge? For special occasion items and shoes.
Do you prefer shopping online or in-store? Online, due to the time constraints of being a working mom.
What are some of your favorite children's brands? Mud Pie (so cute), Bella Bliss (great quality), Old Navy and Carter's (basics at an unbeatable price) and Hanna Andersson (fun PJs and play dresses).
What's your biggest pet peeve when shopping for your girls? Inconsistent sizing is frustrating.
Do you like receiving suggestions from store employees? Sure—as long as it doesn't feel too sales-y.
What's your favorite trend of late? I love bloomer sets!
Your least favorite trend? I hate rompers due to potty training!
Any advice for the childrenswear designers? Practicality is so important for moms. Comfort and ease should be kept in mind when designing for babies. As for toddlers, clothes should be easy to take on and off for potty training. And one-piece bathing suits should always have a snap at the bottom!