Trickle Down Theory
The mini me movement marches on into Spring '18.
The mini me movement marches on into Spring '18. Brands exhibiting at European trade shows, such as Pitti Immagine Bimbo, Bubble London and FIMI, embraced the trickle-down fashion theory in the form of grown-up silhouettes, au courant motifs and a sophisticated color palette.
While there were playful and whimsical embellishments—like rainbow colorways, puffy petticoats, colored metallics and oversized bows—to be found, many of those trends are equally popular in womenswear of late. Even accessories on display don a decidedly grown-up aesthetic, spanning reflective shades to dainty cross-body bags.
Here's a breakdown of the upcoming season's mature couture trends from some of Europe's leading childrenswear designers.
Pretty Little Things
A notable trend at the show was brands showcasing their own accessory collections instead of collaborations or bringing in pieces from outside labels. Popular add-ons for the season include aviator sunglasses, floral headbands, straw purses and leather satchels. Tuc Tuc, Querida Philippa and Teresita Royal featured woven straw handbags. For an edgier look, leather satchels with studded or fringe detailing were on display by Barcarola and Boboli. As for headpieces, festival style influences were prevalent with thin Boho headbands to elaborate flower crowns from brands like Dolce Aela and Oca-Loca.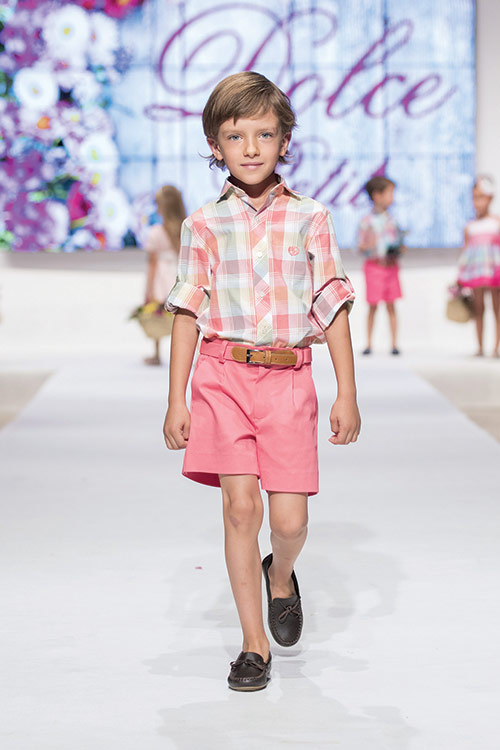 Tickled Pink
So much of the "new neutral" was on display from exhibitors that it would make anyone blush. Shades from dusty rose to bubblegum were popular for girls and boys. Pinco Pallino offered rosy looks in dressy feminine materials including tulle, chiffon and satin, while Teresita Royal, She.ver and José Varón Baño sported more casual versions doused in the season's It hue.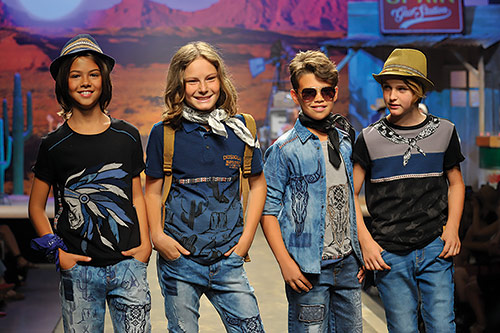 Wild West
Runways ran wild with Western-inspired looks, be it embroidered suede, fringe, patchwork or prairie-inspired dresses. Barcarola's runway show featured models in wide-brim hats, cowboy boots and Western-chic attire. Boboli capitalized on the frontier theme by incorporating Native American-inspired styles like a feather graphic tank top accessorized with elaborate headdresses. Desigual showcased rodeo-ready denim options with frayed edges, various washes and a wide selection of desert graphics.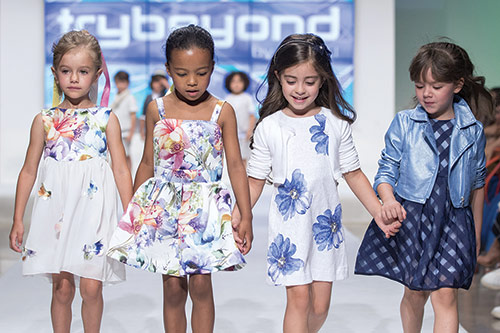 Garden Party
With allover floral prints prominent in womenswear this summer from the likes of Salvatore Ferragamo, Zac Posen and Balenciaga, childrenswear designers have embraced the trend for Spring '18. Florals, fruits and gingham—and several hints of tulle—give a whimsical spin to classic silhouettes. A lively palette of yellows, pinks, blues and greens is reminiscent of a summer garden and reflects a sweet country aesthetic. In fact, Pitti Bimbo's theme was "Boom, Pitti Blooms." Bursting with cheerful flower motfis, brands featured retro flower power to English gardens looks. You'll notice blossoms bursting from brands like Amaya, Teresita Royal and Ágatha Ruiz de la Prada.
Cream of the Crop
The crop top trend has sliced up womenswear styles for the past few seasons, starting with casual tees and shifting into formal red carpet attire. (Remember Rihanna's Armani Privé sparkling orange crop and structural black skirt at the Grammy's or Kendall Jenner mixing couture and jorts at Cannes?) Now the shrunken silhouette has trickled down for little fashionistas. From Dolce Aela's easy-breezy, white, tiered take and Oca Loca's metallic tops to Nuditos tropical-inspired, high-neck number, the exposed midriff looks to be a warm-weather favorite by childrenswear designers for this spring.   
Cold Shoulder
This season's hottest silhouette in women's wear, the off-the-shoulder (a.k.a. the "cold shoulder top"), can be found in dresses, jumpsuits, swimwear and even bridal gowns. The look is trickling down to kids for next spring a la these mini-me looks from Mayoral and Fun & Fun.