Brands embrace a mature aesthetic for spring, although kitschy details remain part of the mix for their too-cute factor.
Kids today are dialed into social media. They know what's hot, what's not, what to wear, where to get it—they are literally wired into the latest trends. Such instantaneous 24-7 access extends to an awareness of what the big kids (i.e. adults) are wearing and, not surprisingly, their desire to want to dress the part. What little girl or guy wouldn't want to rock the same looks as Rihanna and Jay Z? And kids' designers are right in step for Spring '18 with collections that are more reflective of adult trends in terms of silhouettes, materials and colors.  "Innovations and the effect of technology are the root of many trends," confirms Heather Dady, design director of Western Chief Kids.
It's a noticeably subdued offering overall for Spring '18, featuring plenty of sleek shapes, notes of nostalgia, gender-neutral designs and earthy hues and materials. "There's an organic influence for Spring '18, showing lots of linens, creamy colors and more of an overall natural aesthetic," says Jenevieve Froncek, director of product development for Pediped, adding, "Expect to see a lot of simple color combinations and embellishments without all the bells and whistles."
Of course, there are still some kid-appropriate touches to be found, which come in the form of over-the-top glitter treatments, emoji decals and character themes. Ironically, this, too, is in line with the adult trends as kitschy elements (cactuses and tacos from Kate Spade and pompoms and faces by Gucci) are trending strongly of late. "We saw a great opportunity to do some 'Mommy and Me' takedowns from our bestselling women's styles, including the cactus and gum espadrilles," says Tara Sabourin, North America general manager for Emu Australia. Likewise, quirky characters, humorous verbiage and trendy fruits are just some of the eye-catching elements of kids' shoe styles this coming season that will be sure to generate a double tap by friends on Instagram.
Gender Bender
The children's market has witnessed a growing opposition to gender-specific designs and labels over the past few seasons. Toy stores, for example, have revoked binary labels and pink girls' apparel feature graphics of trucks and sports motifs. As to whether the latter constitutes an example of being "gender fluid" is open for debate, but the mindset is that if kids (or parents, for that matter) want to blur the lines on traditional gender color palettes, materials and even silhouettes, it's their right. The shift, in turn, has caused brands to aim for a safer middle ground of unisex-driven colors and styles, which presents a win-win for retailers as they can sell the same style to both genders.
Timberland's water-friendly, two-strap Adventure Seeker sandal is in step with the unisex trend. Generically labeled under "kids" in the brand's look book, the sandal is made from a lightweight material with an EVA footbed and 15-percent recycled rubber outsole in a poppy neutral blue colorway.
Merrell's kids' collection also offers shades of blue, orange, gray and lime suitable for any gender. Same goes for Tsukihoshi: the Japanese brand is promoting a new knit-upper sneaker in a variety of colorways, showcasing a lime and gray option that satisfies unisex style-seeking consumers.
For retailers testing this gender-neutral market, executives advise that shades of blue (sky to navy) are a safe bet. "Previously, I would avoid using anything that was in the sky blues because it was too feminine for boys and too masculine for girls," says Froncek of Pediped. "However, in the past two seasons, that has drastically changed." She reports sky blue to now be one of the brand's top five colors in boys and girls, from baby to youth sizes. "We went from shying away from sky blue to now having to worry if we have enough," Froncek says, noting, "It all comes down to listening to the customer and giving them what they want."
Kitsch Up
In an Instagram-worthy world, novelty-themed items are an increasingly popular draw. From something as subtle as a trendy fruit or dessert motif to froufrou pompoms and animal faces, designers are using their imagination to add an element of post-worthy kitsch to their designs.
"We've been seeing a focus on humor and O.T.T. (over the top) embellishment," says Sara Louise Petty, trend director of Nina Footwear. "These trends originated from the women's runways with labels such as Gucci and Anya Hindmarch showing outrageously fun styles with very over-the-top decoration." Petty expects the trend to be a big hit. "I mean, what girl doesn't adore fun shoes?" she says.
Look for lots of playful embellishments and left/right stories, like the one depicted on Nine West Kids' "Edinah" crib shoe. The style's sleek uppers sport a self-adjusting band across the top for secure fit, featuring "LOL!" and "XOXO" verbiage in two colorways (pink and white). Popular novelty treatments also include dinosaur and shark motifs for boys and flowers and butterflies for girls—not to mention light-up styles. Stride Rite, for example, offers the "Vroomz police cruiser" for boys (a light-up sneaker that resembles a police car and illuminates with every step) and an allover donut-print sneaker with a light-up sole for girls.
Keds is also offering sweet treat prints for spring such as donuts, cupcakes and sprinkles in crib to youth sizes. For boys, the brand's minimalistic yet cheeky baseball-inspired design of red stitching on the shoe's white upper is paired with a memory foam footbed and easy hook-and-loop closure.   
"I definitely think cute recognizable motifs are a great way to catch a bit more attention," Pediped's Froncek says. "It's important to keep a balance between easily wearable core colorways with the occasional pops of kitschy for accelerated fun and interest."
The Coachella Effect
Drawing on bohemian and Americana influences, organic and earthy boho-chic styles (sandals, mocassins and western ankle boots) feature plenty of embroidery detailing and patterned cutouts in neutral hues. Shades of tan, beige, cream, brown, olive and navy in natural materials like denim, canvas and suede present a sophisticated organic look that pairs well with dresses, jeans and shorts. The seventies-era look is topped off with laser cutouts, embroidery treatments and tassel and fringe details.
Bearpaw's new Kahala sandal, for example, features a wide forefoot strap with multi-color details and jute braid trims along the outsole edge, while its Jane sandal comes in a soft faux leather upper (available in pewter or dark brown) and includes floral-inspired cutouts and a studded trim along the blown rubber outsole.
A neutral, earthy palette can be found in Pediped's new Mary Janes collection built on a street sole. "It's a more modern look combined with that organic influence," says Froncek, citing a creamy linen style with a sparkle stripe as a standout. "It's all about subdued colors with high-end details and touches," she says, adding, "I definitely see a more mature look evolving in children's, although you are always going to have your sparkles that sell very well."
Anchors Aweigh
A nautical story in the form of sailor stripes, anchor motifs, ocean blues and greens, and studded embellishments on sandals and slip-ons is another trend looking to come ashore next spring.
Plae is incorporating deep sea blues and purples, leopard eel prints and wave-like textures as part of its "Ocean Planet" collection. Emu Australia is introducing a collection inspired by the Great Barrier Reef, featuring pops of colors, light metallics and fun coral prints across a variety of sandal and closed-toe styles.
Nina Footwear's Petty says "no summer collection is complete without some kind of tropical story." In addition to its nautical collection, "Mariner," the brand will launch "Island Retreat," a whimsy, vacation-ready collection of sandals and slides featuring tropical details like raffia, pineapple icons, palm trees and pompoms reminiscent of a summer in Havana.
Feminine Touch
This gender-specific, delicate approach to design includes a washed-out color palette of pastels and feminine embellishments like lush satin and bow treatments. It's a more sophisticated turn for little ladies who lunch.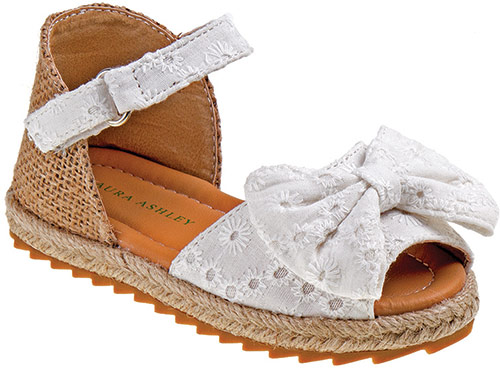 Luis Gonzalez, design director at Vida Shoes, says Spring '18 styles will not be as vibrant or electric as past seasons. "Color is more faded and probably will continue in the direction of a more pastel palette in future seasons," he says.
To top off the dainty color spectrum, David Kern, vice president of product and design at BBC Intl., says it's best to put a bow on it. "If there's one thing that's really doing well for us, it's oversized bows," he reports. "That's been a standout." In addition, Kern says that the introduction of the block-heel sandal appears to be a popular, more mature-looking item for the tween customer. "She had been restricted to a wedge or a platform," Kern says, noting the collection has been expanded for this season. "We are finally giving her a nice alternative," he adds.   
Other feminine touches to be on the lookout for spring include ruffles, charms, tassels, pompoms and a palette of pink (the new neutral) that spans rose gold to fuchsia.
Splash Zone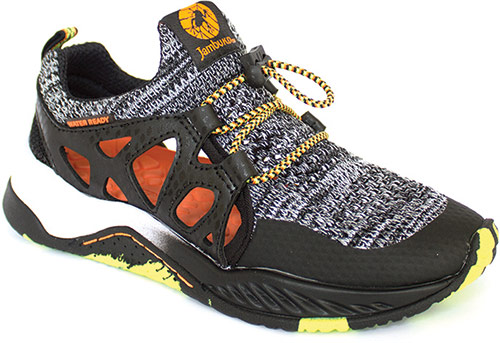 Athleisure and versatility continue to be major product themes with parents looking for more features and benefits—particularly the perk of easy cleanup during messy summer months.
"Kids are going to want to play and get their feet wet," says Naly Lee, design director at Vida Shoes, noting that a balance of functionality and style is key. For the company's new Stride Rite license, it comes in the versatility of lighted Made2Play Phibian sneaker-sandal hybrids that feature easily adjustable closures and slip-resistant soles that grip surfaces from pool decks to playgrounds. Vida's Jambu KD brand is also joining in on the water-ready trend with a sneaker that includes machine-washable custom-knit mesh uppers.
Dady says the waterproof hybrid products is an important growth category for Western Chief Kids. "Moms are still trying to stretch the dollar, so they are naturally attracted to a style that's both a play and a water shoe," she says. Known for its trend-right rain boots, Western Chief will introduce a new collection of sandals for Spring '18. The line is built around the motto "wash, wear, play," facilitating kids' adventures through summer sprinklers and mud puddles.