Easy Does It
When it comes to sustainable fashion, good taste should join …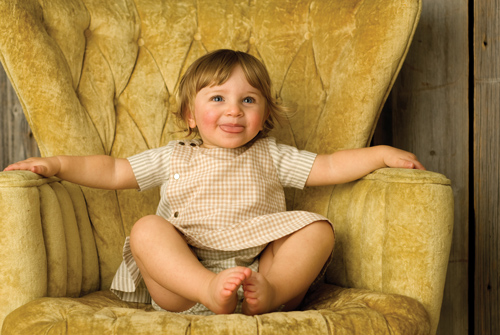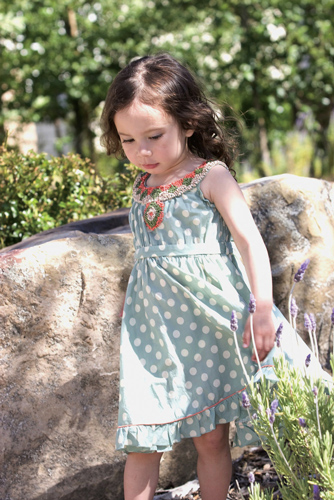 When it comes to sustainable fashion, good taste should join the ranks of organic cotton and natural dyes. Judith Campbell Posey, designer of Little Esop, crafts her organic line with special attention to timeless details and silhouettes that ensures each piece's longevity.
The New York-based line marries textures and cuts from the '40s and '50s with contemporary mix-and-match staples and simple closures. "Looking back at some of the clothes my parents wore when they were babies, I realized a lot of it would still be relevant today," Campbell Posey said, noting she made an effort to build extra functionality into the clothes. The end result is a refined line for specialty stores durable enough for growing babies. But not too refined, as the designer said the garmets still work for playtime. "I went to great lengths to make sure all the colors looked great paired with mud," she joked.
Muted cream, seafoam, chocolate and slate blue woven and jersey fabrics lay the groundwork for most of the debut spring collection. Touches of red twill, yellow herringbone, nautical stripes and gingham in pale green, brown and blue add visual interest by way of drawstrings, collars, button plackets and pocket detail. The girls' line features six dresses (including an asymmetrical button-up, a sleeveless shirtdress and a slip dress that can be paired with bloomers), plus a pleated tank and a two-pocket skirt. The boys' range offers an asymmetrical snap paneled shirt, elastic-waist pants and drawstring shorts. Unisex basics include a jumpsuit, rompers, graphic tees, and a group of jersey snap tees and pants. Sizes range from 0 to 2T. Wholesale prices run from $9 to $34. Call (646) 434-5981 or visit www.littleesop.com. —Angela Velasquez
Global Confections
The dresses Inshi Khanna created for her little girl Siya were just too sweet to keep to themselves. Khanna, who previously worked in women's wear, knew they needed to be introduced to the market, so she began showcasing her dresses last summer. From there, Cupcakes and Pastries cooked up styles reminiscent of fun, contemporary young women's designs made for girls 12 months to 8 years.
Along with her daughter, Khanna is also inspired by her travels—especially to India. "I am always inspired by the rich cultural heritage, handicrafts, age-old techniques of fabric development, embellishments and vivid colors," she said. "There's just so much energy." This free-spirited mood is reflected in the Spring '10 collection. Peach, yellow, white, pink and lilac, in mostly cotton and silk, is used throughout. "Color is the first thing I decide on when I create a silhouette or print," Khanna explained. Silhouettes include a sleeveless dress with a flowing hemline, a ruffled wrap-dress and tie-dyed tunics that can be worn alone, over leggings or as a beach cover-up. Hand-applied beadwork, embroidery, block printing and patterns like florals and polka dots dress up the simple silhouettes. "The collection has a lot of intricate, valuable details that are not common in children's collections," Khanna noted. "One thing we noticed… is how the dresses stand out and bring a very girly look to any child," she added.
In the next few seasons, Khanna expects to grow the Los Angeles-based brand internationally, as well as add more sizes and categories. In the meantime, Cupcakes and Pastries is aimed at retailers open to unconventional clothing and bold color choices. "Some retailers stick to the 'safe' brands, but many eventually come around as they see what the product has to offer," the designer explained. The line's wholesale prices range from $26 to $38. Call (818) 825-7720 or visit www.cupcakesandpastries.com. —Angela Velasquez