Elyse Richman, owner of Baby Shock, entices customers with a sweet selection of grab-and-go goodies.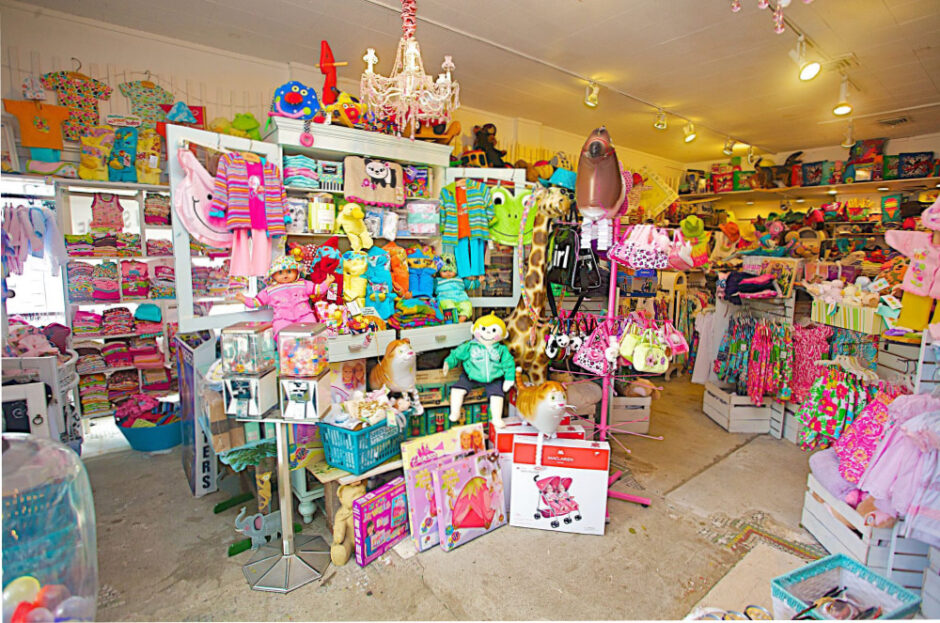 What's in a name? In the case of Shock, a twist of fate that's worked out like a charm. The Westhampton Beach, NY, boutique opened in 1986, first as women's clothing boutique, and was named after Elyse Richman's partner, Jeff Disick, who was diabetic and kept going into "shock." The catchy name, however, quickly caught on and the business has been thriving ever since.
Today, Shock is a three-pronged operation with Shock Women's, Baby Shock and Shock Ice Cream stores. Richman is now in the process of merging the women's and kids' stores into a new 1,000-square-foot space with the ice cream shop located behind it. "There really aren't a lot of stores where moms can shop for themselves while also shopping for their kids," says Richman, who is re-imagining the mix to cater to trendy Hamptons babies, kids, thirty-something moms and sixty-something grandmothers. To make room for more women's clothes, Shock is dropping larger boys' sizes and only going to size 4. (The kids' mix was already 80 percent girls.)
Being in a resort town, Shock's merchandise mix is mostly casual. This being the Hamptons, however, brand names are important. Baby Shock's roster includes Artwalk, Baby Sara, Sippy Baby, Baby Mish, Mish Mish, Zutano, Angel Dear, Flowers by Zoe, So Nikki, Vintage Havana, Mary Meyer and IScream, among others. Grab-and-go items are also a key draw—not to mention Shock's adjacent ice cream parlor. "We've sold thousands of LOL dolls and squishes," Richman says, noting the store jumps on trends immediately. "We also do bubbles outside the store, hopscotch in our alley and a maze kids have to follow to get into the ice cream store."
Over the course of 34 years, Shock has become intertwined with its Westhampton community, including participating in fashion shows over the years in area schools and churches as well as contributing to local fund raisers. Richman is grateful for all the support and being able to give back. "My customers aren't just friends, they're family," she says. "I've shared their joys when their kids got engaged, to their weddings and births, and now they're shopping for their grandchildren." —Lauren Parker
How's business? It's been a double whammy. Last Fall the Village began a Main Street construction project, dug up streets and closed traffic. And just when we were expecting business as usual in May, wham, the coronavirus nightmare shut us down completely! But we've been adapting. Just like 9/11, when many people relocated to their Hamptons homes from the city, Covid-19 also sent an influx of people out to their summer homes two months early. I opened my ice cream store two months early with text orders and curbside pick-up. A little bit of happiness with Shock Ice Cream!
How much does the ice cream shop help drive traffic to the clothing store? It does, because the ice cream is famous! A couple of years ago, I created a cotton candy carnival ice cream cone that went viral with a post from a food blogger and millions of views. [The cone is hidden inside cotton candy]. It was even featured on Business Insider!
What's selling amid the pandemic crisis? During this quarantine period when everyone in the family is lying around the house watching Netflix, athleisure has been doing well. Soft sweats from Vintage Havana (animal prints, tie-dye) are doing well. I'm going to cross over this brand with women's sizes, so it's teenagers and their moms. Cozy slippers and sneakers by Cientas and Mini Melissa are also selling well—no one wants to get dressed up now. So pajama pants and shorts by Confetti and IScream for lounging are selling.
How are you weathering the shut-down? We closed the store, but we've sold via social media for curbside pick-up. We have moms moving out from the city who are 8-months pregnant—people are still having babies, and kids are still growing! People need things, and not all want to buy on Amazon. They'd rather support their local stores.
What's been selling well in addition to athleisure clothes? We've amped up on puzzles, games and some activity sets, especially from Melissa & Doug. I just put a post on Facebook and Instagram featuring our paint-by-number kits stating: "Paint Don't Panic: While we are all learning to slow down and learning to take a breath from our busy lives, let's take care of ourselves and our families." We just got them back in stock. People can text me for orders for curbside pickup. This is also the time that we'd be selling lots of camp gear, but that's very much up in the air at the moment.
What might the future hold? Well, if sleepaway camps are canceled, it's going to be a lot more crowded here in the summer, especially since people won't be traveling internationally or around the country. They'll stay here in the Hamptons with their kids, and who knows, when things calm down, they might just realize it's a great place to live, and not go back to the city! Through this coronavirus crisis, there is going to be a real awakening of what we truly need in our lives."