How Pajamas for Peace teaches kids to make a difference.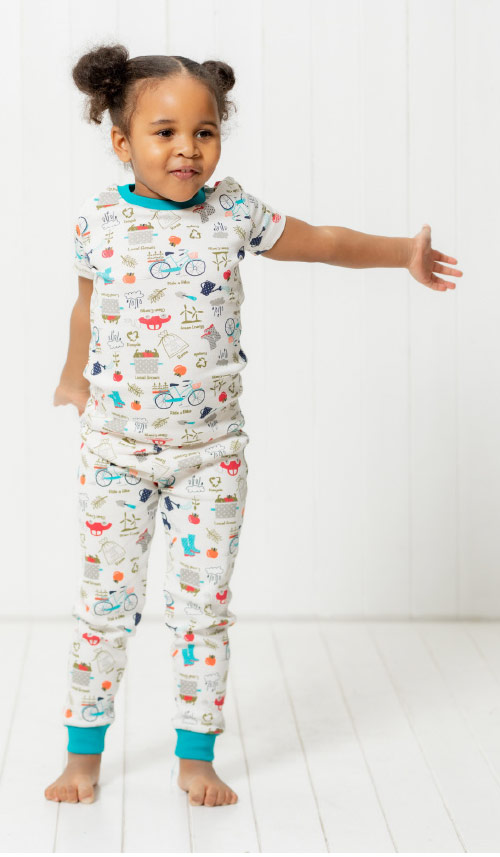 It all started after the terrible elementary school mass shooting in Sandy Hook, CT, in 2012. Chandinie Frances, founder of Pajamas for Peace, wanted to include her children in community service activities that would teach peace and kindness, so she organized a pajama drive in her kids' school that would benefit area homeless shelters. "Pajamas have always represented comfort and security, and then I soon realized there was an opportunity to make a bigger impact," Frances says of her decision to launch Pajamas for Peace.
Frances wasn't a fashion designer, but she drew inspiration from her various degrees in psychology, anthropology, social work and educational leadership, not to mention volunteering at various schools, nonprofits and hospitals over the years. Pajamas were an underlying link. "Pajamas are fun and give us the opportunity to think creatively, artistically and with intention," Frances explains.
Pajamas for Peace designs draw inspiration from everyday life, including themes of peace, sustainability, inclusion and encouraging kindness. Sizes range from newborn to 7/8, with seasonal matching family items too. "Kids spend a lot of time in their favorite pajamas, and we care about what we put on them—from design to production," says Frances. "We make conscious decisions that will help make a positive impact on families and the environment."
Philanthropy is key component of the Pajamas for Peace business model. A "buy one, give one" program sees the company donate a set to one of partner shelters (Human Options, a domestic violence shelter and Haven House Bridges, a homeless shelter) for every pair purchased. Shipments to the shelters are made annually on the International Day of Peace, Dec. 14, in honor of the victims of Sandy Hook, and on Mother's Day.
As her foray into the worlds entrepreneurship and childrenswear, Frances couldn't be happier. "I love every facet of Pajamas for Peace," she says. "This industry has a powerful platform to uplift others and bring awareness to issues such as homelessness, domestic violence and gun violence, while also making socially responsible choices that can ultimately aid in the advancement of a world where children feel safe, supported and loved."