From the moment Geri Damone and her daughter Chrissy Cunningham opened Cheeky Chic Baby & Kids Boutique in the summer of 2014, they were focused on bringing a taste of New York to their new home in Scottsdale, AZ.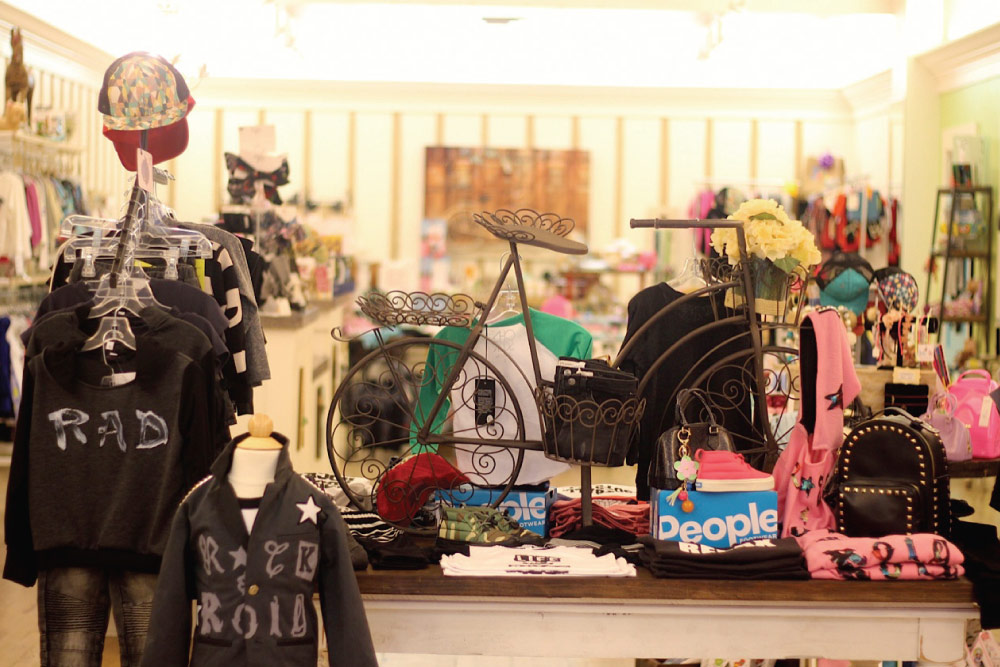 From the moment Geri Damone and her daughter Chrissy Cunningham opened Cheeky Chic Baby & Kids Boutique in the summer of 2014, they were focused on bringing a taste of New York to their new home in Scottsdale, AZ. Looking to outfit Cunningham's new chubby-cheeked son (the inspiration behind the store's name), the mother-daughter duo was at a loss for trendy boutique shopping like what they were used to in the Big Apple. "There were very few boutiques for kids around Scottsdale," Damone says. "So we decided to open our own similar to where I would bring Chrissy in Brooklyn and Manhattan when she was little."    
Seemingly pulled off the streets of Williamsburg, the 2,000-square-foot store features an eclectic mix of vintage finds amid handmade décor with an edgy attitude that creates a unique backdrop for toys, maternity, accessories and designer apparel, from newborn to size 10. One of the store's biggest draws is its rock 'n' roll-themed boys' section. Complete with 8-track tapes and old 45s, Damone and Cunningham stock New Yorker-approved styles in a volume that rivals the average girls' section. The co-owners noticed many boutiques have lackluster boys' departments, inspiring them to fill that void. "We zeroed in on having more special items for boys," Damone says. "It's turned out to be a big pull for us." The mix includes DL 1961 jeans, Rowdy Sprout tees and Sandbox Rebel tops.
Other Cheeky Chic draws—displayed around its vintage rocking horse centerpiece—include its baby area of toys, teethers, rattles and clothing from the likes of 1+ in the Family, Huxbaby, Sweet Bamboo, KicKee Pants and Baby Noomie. For girls, key labels include Kenzo, Tru Luv, Hannah Banana, Biscotti and Kate Mack and Terez. In addition to the unique selection, Damone and Cunningham wield another distinctly New York tool to draw customers to their store: fashion shows. The duo invites local press and customers twice a year to watch selected neighborhood kids strut down a catwalk sporting its latest seasonal collections. "Parents get excited to see their kids on stage," Damone says, noting the buzz generated just from the shows' castings is beneficial. "The fashion shows are one of our biggest successes—it's always important to stay in touch with your community," she adds. —Aleda Johnson
What have been your best-selling new brands of late? Jagged Culture is one of the biggest sellers right now; it's very edgy and handmade. Sandbox Rebel and Rockin Street Wear round out our most popular recent additions.
How's business this year overall? We've definitely grown tremendously over the past year despite the online boom. A lot of parents are coming in to buy gifts. They steer away from online because of the desire to still touch and feel clothes. There seems to be a trend of people wanting to go out shopping instead of sitting behind the computer. I've noticed that in sales, especially here in Arizona during the summer when it's usually dead from the extreme heat. We're still seeing an increase.
What is the biggest challenge facing your business right now? We're toying with the idea of going up in age since we stop at size 10. We want to start adding up to size 14 for tweens, but we're still trying to figure out the logistics. We know the demand is there because children are growing out of our clothes, and parents still want to stick with our store. We have to sit down as a team, weigh the different offerings and decide what sells best before we make any major changes.
What is your No. 1 goal for this coming year? We just want to grow more and keep adding new brands to generate excitement. We've decided to listen to our customers more. If they come in and make a brand suggestion, we take them seriously. First, we'll do some research to see if the brand is a good fit and, if so, we'll give it a try.
How important is social media to your marketing efforts? We post heavily on Instagram. I was a photographer, so we cast local models and do themed photo shoots. They're great because customers can see how the clothes look on the body. Flat lays just don't show off outfits as well. We always try to come up with cool themes and hang posters around the area to promote the store. Last year we did "The Breakfast Club," and this year, we did the TV series "Riverdale" and dressed each child up as a different character. People loved it.
Where do you envision Cheeky Chic in five years? My dream is to expand to another location. It should be easy for us to do that in this area. I would also love to have a store in New York, but it's a lot more responsibility and travel to oversee. Perhaps something in California instead. Our goal is to make Cheeky Chic the top children's store in the country.