A for Apple is a Hong Kong-based brand founded by Denise Ho and Jeffrey Chau. Utilising eco-friendly materials and organic cotton, the brand offers chic yet effortless clothing for boys and girls from newborn to sixyears-old. WGSN interviews co-founder and designer Denise Ho. As an established celebrity and editorial fashion stylist, what made you decide […]
A for Apple
A for Apple autumn/winter 2011/12.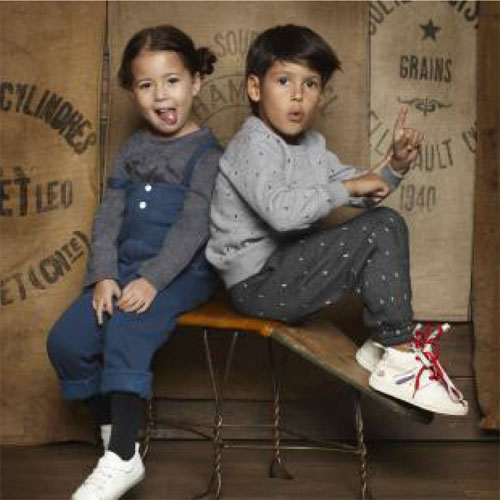 A for Apple
A for Apple autumn/winter 2011/12.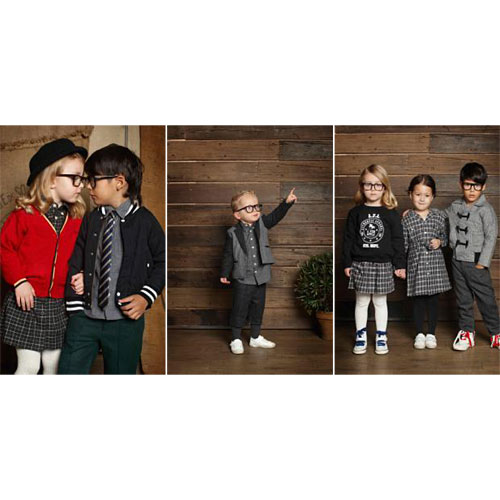 A for Apple
Left and right: A for Apple autumn/winter 2011/12; Center: A for Apple autumn/winter 2011/12 mood board.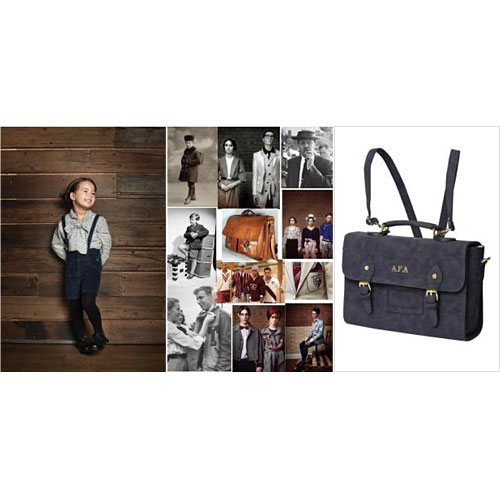 A for Apple
Left to right: Denise Ho at studio; A for Apple showroom; A for Apple shooting.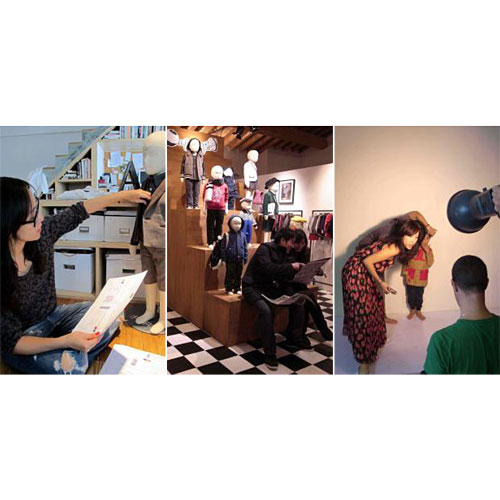 A for Apple is a Hong Kong-based brand founded by Denise Ho and Jeffrey Chau. Utilising eco-friendly materials and organic cotton, the brand offers chic yet effortless clothing for boys and girls from newborn to sixyears-old. WGSN interviews co-founder and designer Denise Ho.
As an established celebrity and editorial fashion stylist, what made you decide to start a kids clothing brand?
I have been styling for the past seven years and I got a bit bored. I have always wanted to do something different but still fashion related. Also, I love kidswear, there is something very inspiring about cool kids and their parents. Then I met my business partner Jeffrey who is a kidswear manufacturer and the next thing I know we came up with the name A for Apple.
Every season you choose a different collection theme, how would you describe the A for Apple look?
The theme is the direction for the collection which is different every season. But the most important thing is to make really cool kids clothes, something I'd like to wear but smaller. It's as simple as that.
What inspired your latest collection?
School! I like the dandy old-school look for boys and girls, a classic look with a twist.
What do you personally find inspiring at the moment?
I have been inspired by anything colourful. Mixing crazy colours but keeping the rest of the look clean, for example simple hair, make-up and accessories.
Why is using organic cotton and eco-friendly fibres such as Tencel important to the brand?
Tencel is a great material for kidswear as it is very soft, allergy-free and also organic. It is still quite new for the kidswear industry so we are one of the very few brands who are using it.
In what other countries is A for Apple sold?
Other than Hong Kong, we are selling in New York, LA and Paris. For the autumn/winter collection, we are selling in Belgium, Berlin, and England. We also did a collaboration project with Opening Ceremony and that will be available in the two New York stores and LA.
What is the most popular market for you right now?
I would say Europe and the US. Our brand is still very new as we started only two years ago. But with the Opening Ceremony project, which is coming out in June, our name is getting recognition in the States quite quickly. We also got great feedback from Pitti Bimbo in Florence last season, and were featured in Kidswear and Bambini Collezioni magazines. We are very excited about this.
Which trade shows have you exhibited at and why?
We've showed at Playtime New York twice and Pitti Bimbo. To be honest, we are just trying to hit as many shows as possible so this July we will be at Playtime Paris and Kleine Fabriek.
Are there any plans for a standalone store yet?
We're planning to open our first store or showroom within a year in Hong Kong but we will also carry on with wholesale and collaboration projects.
Are there any other events or collaborations in the pipeline?
We are planning to make toys with a Japanese artist. We are also going to do some collaboration projects with an eyewear company and shoe company. So there is a lot going on!
—Sharon Tsang, WGSN
Visit WGSN.com to view related reports and more!