Marili Jean coins a signature look with quality winter accessories. Just think of Marili Jean as the little hat company that could. In 2009, Laurie Derickson took a leap of faith, quit her job in education and embarked on her own lesson plan, schooling herself in children's apparel by researching companies she admired and discovering […]
Marili Jean
Marili Jean coins a signature look with quality winter accessories.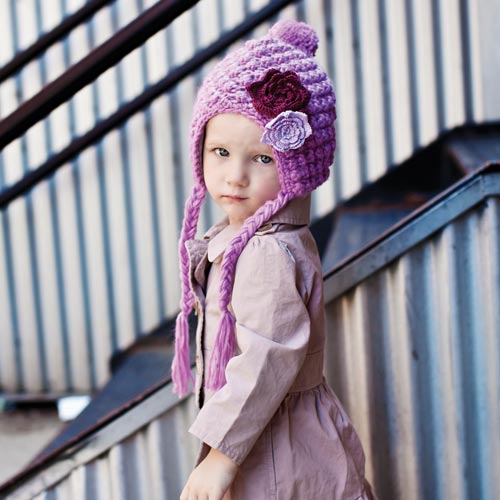 Marili Jean coins a signature look with quality winter accessories.
Just think of Marili Jean as the little hat company that could. In 2009, Laurie Derickson took a leap of faith, quit her job in education and embarked on her own lesson plan, schooling herself in children's apparel by researching companies she admired and discovering how they manufactured and distributed product. "I've always wanted to start my own business, but never had the financial backing to open a franchise. Then my daughter came along [and] I couldn't believe how difficult it was to find a stylish and warm hat for a little girl," she recalls. "I thought, 'I can do this.'"
The company, named after Derickson's daughter and muse, began with a few hat styles. "I just went for it and started to make hats for anyone who asked," she says. Orders came in for one and then 200 hats. Today Marili Jean offers a complete range of boutique-quality girls' hats, scarves, mittens, headbands, legwarmers and sweater dresses, as well as winter accessories for boys. "That's what has helped set the company apart from other accessory brands. It's knit and crochet, but without a homemade look," the designer adds.
Best-selling items include the plush Mini Diva hat and the vintage-inspired Snowbunny hat—both of which Derickson reports are constantly reordered. And as the mom of three points out, hats are an easy way to change up an outfit. In this economy, she believes parents are looking for items that look high quality and make an impact. Derickson has homed in on matching little sibling and big sibling looks with popular styles spanning a number of size ranges. Interchangeable knit flower clips that accent hats also key into girls' desire to personalize. A bundle of colors allow tots to collect flowers and coordinate with a number of outfits.
One thing that Derickson says she has learned is that cash flow is always an issue. "As a designer, I have a multitude of ideas, but you have to grow a company gradually and do what's best for the business," she explains. For Fall '12, the company launched a sweater dress in gray and cream. "The dresses allowed retailers to show our products as a complete brand and it helped at retail," she reports, adding that retailers can expect to see more sweater dress styles for Fall '13.
For the next few years, Derickson plans to focus on offering customers more options by expanding colors and upgrading fabrications including a line of 100 percent cotton dresses and other apparel to coordinate with her signature accessories. As a company heavy with fall product, Derickson is looking for ways to bridge that gap between seasons. "Fall is our season. July to February is our busiest time, but we'd like to build our spring line," she says with sun hats and sundresses in the near future.
—Angela Velasquez