As more schools jump on the uniform bandwagon, retailers and brands present selections of their own school attire. By Maria Bouselli Four years ago, superintendent of Stroudsburg School District in the Pocono Mountains, PA, John Toleno and fellow administrators put together guidelines for high school students to follow a strict dress code policy that emulates […]
School's In
Eddie Bauer mixed media jumper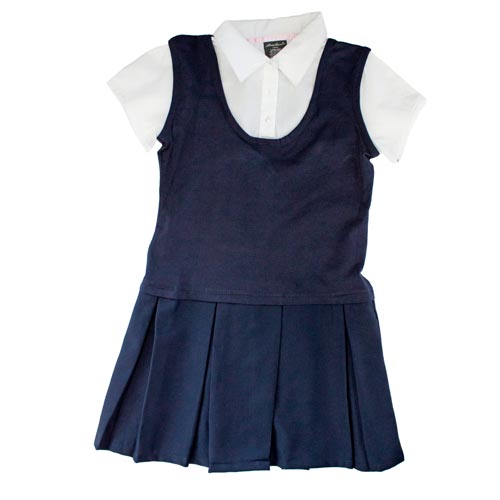 School's In
From left: Lands' End plaid jumper and polo; Lands' End polo and plaid skirt.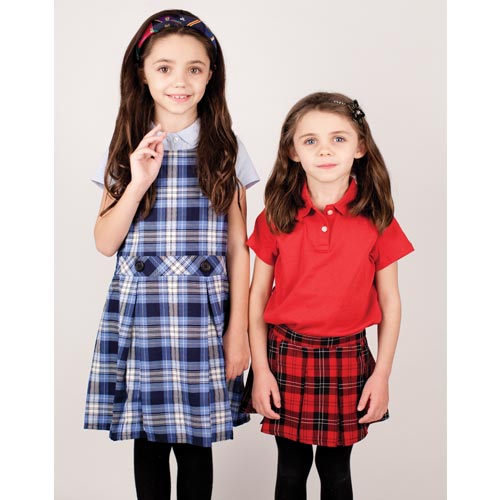 School's In
Lands' End orange and pink polos, yellow polo by Classroom Uniforms.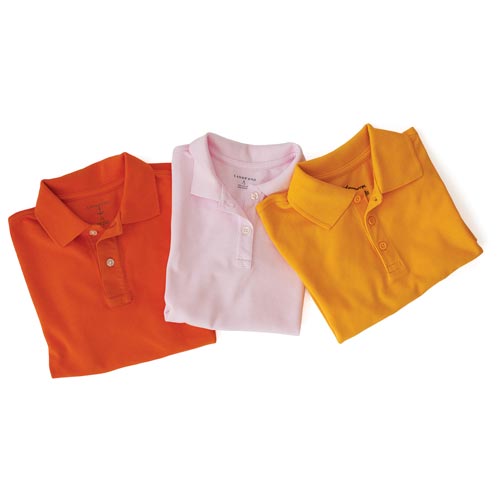 School's In
From left: Classroom Uniforms boys' khaki Bermuda shorts, girls' navy skinny pants by Classroom Uniforms.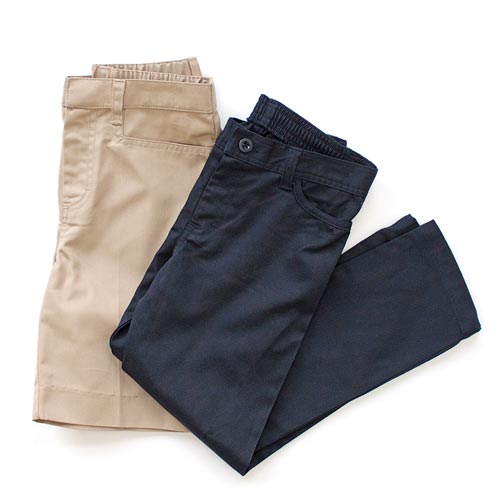 School's In
A quick guide to school uniforms.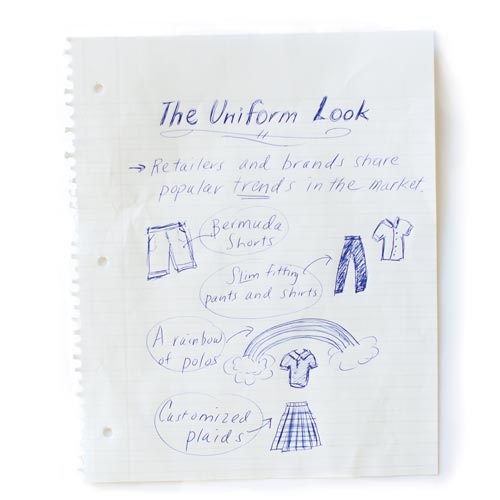 School's In - Gallery
As more schools jump on the uniform bandwagon, retailers and brands present selections of their own school attire.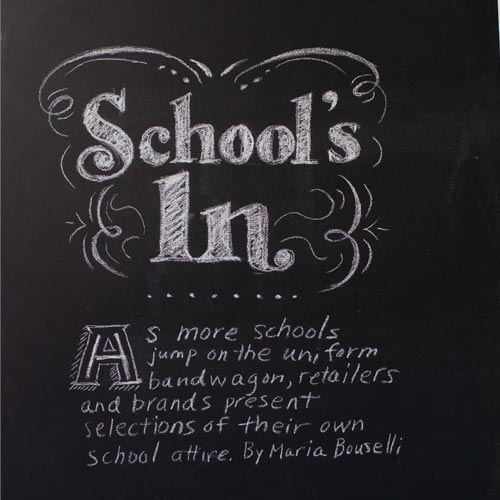 As more schools jump on the uniform bandwagon, retailers and brands present selections of their own school attire.
By Maria Bouselli
Four years ago, superintendent of Stroudsburg School District in the Pocono Mountains, PA, John Toleno and fellow administrators put together guidelines for high school students to follow a strict dress code policy that emulates a school uniform—khaki, black or navy pants; a white, maroon, grey or black polo or white oxford shirt; and black, brown or tan shoes. "I would take this wherever I go—that's how much I believe in it," Toleno says of the dress guidelines. Within the first year of implementing the program, he notes that the school had 1,000 less disciplinary referrals than the previous year. Because of its success, all grades from kindergarten to 12 now follow the policy. "One of the things we wanted to eliminate was the issue of the have and have nots," he says of the dress code. "[Uniforms] put everybody on the same playing field." Because of the school's downtown location, safety was another concern that encouraged the dress guidelines. "We know who is supposed to be on our campus and that has really helped," he adds.
The popularity of school uniforms and dress policies overall is rising across the country. According to the U.S. Department of Education, from 2009 to 2010 approximately 19 percent of public schools required school uniforms—an increase from 12 percent during 1999 to 2000. Andy Beattie, general manager of Classroom Uniforms, has witnessed this growth first hand during his nine years in the uniform business. "There's been a consistent increase in the amount of schools that are enacting a strict dress code or an actual uniform policy," he offers. "From nine years ago, it's gone from about an 18 percent to a 25 percent penetration of all schools in the U.S." Marie Johnson, kids' wear general manager at Dickies, echoes his statement. "Standardized dress in general seems to be expanding in markets more quickly [than] uniforms, allowing more freedom for students (and parents) to select apparel within the confines of their school's guidelines," she says.
As the popularity of uniforms and dress codes continues to expand, so does the amount of retailers carrying uniform essentials, from stores such as Kohl's, J.C. Penney and Target to independent retailers offering items. Target has sold uniforms for a number of years in store and on their website. "We began carrying [uniforms] because we know that for many consumers, school uniforms are an important part of the back-to-school shopping process, and our goal each day is to deliver on our 'Expect More. Pay Less.' brand promise," says Evan Miller, spokesman for Target, who also notes that the retailer sells select pieces year round in specific markets and online.
Mom-and-pop stores are catering to their local customers as well. "I would encourage smaller [retailers] to carry select uniform items for their area schools," says Stephe Tanidjaja, president of Stani Corporation. "Buying from a local store can be more convenient for parents. [And] small stores can carry universal uniforms that will be advantageous to all parties." Tavin Portman, managing director of sales for Genuine School Uniforms, adds that independent retailers should do their homework before carrying uniform attire. "There's a lot of money to be made from this business, but the mom-and-pop stores have to figure out what the schools are requiring and carry the inventory," he says.
Norma Guillory, owner of The Village Boutique in Opelousas, LA, says local area schools recommend her store to parents because she works closely with the administration to ensure she sells approved products to her customers. And after greatly increasing her offering six years ago when the school board approved uniforms, approximately 40 percent of the store's total business is from uniform sales. "We found that the back-to-school business is tremendous. The month of August is bigger for us than the month of December," she says, adding that school uniforms is an all-year-round business for the store. "[Customers] like the idea of having that option that they can come in when the child is growing or if they fell and tore their pants, or the merchandise has faded," she says.
Trusted brands such as Ralph Lauren and Lands' End manufacture uniform pieces as well. Adam Weil, senior director of Lands' End, says the brand started carrying uniforms in 1997 due to customer demand. "It was parents and those that loved Lands' Ends kids' [apparel] who asked if we could also do school uniforms," he says, adding that parents felt comfortable outfitting their children in a brand they trusted. Weil notes that the brand works together with the schools to make the shopping experience as painless as possible, with each school having its own customized page on Lands' End's website with the ability to save information for each child such as sizes or items purchased. Customers can also purchase Lands' End school uniforms in more than 200 Sears locations across the U.S. The brand works with approximately 5,000 schools throughout the country, supplying about 1.5 million children with uniforms.
Weil attributes their success to listening to two key parties: parents and the school. "We think of quality of product; it has to be stain resistant, shrink resistant, and pill resistant because that kid is going to wear [the uniform] every day," he says. "And mom is going to check them on their way out the door and the school's going to check them on their way in." Lands' End also offers customizable plaid patterns and embroidery. "Some schools for the last 60 to 80 years have had the same plaid. That's their brand, it means everything to them," Weil notes.
Branding was important to Stroudsburg's Toleno, as he chose the school colors, maroon and white, to incorporate into the uniform. And as for what the kids think, he sees students embracing the dress code and still finding ways to express themselves. "The young ladies have done a wonderful job accessorizing the school uniforms and the young men have really stepped up to the plate," he says. "We've never claimed our kids are getting smarter from it, but it's definitely changed the school climate."
School Uniforms 101
If you're thinking about carrying school uniforms in your store, here are some helpful tips from Norma Guillory, owner of The Village Boutique in Opelousas, LA.
Space. Because most uniform orders are pre-booked, products begin to arrive in store around March. Guillory advises retailers to make sure they have enough space to store the products on and off the floor. "I find that if [retailers] have the room to keep [uniforms], I would encourage [them] to sell them," she says, adding that she has a large warehouse that is adjoining to her store, which she uses for storage.
Competitively price your items. Guillory states that she is careful about cost and what items she brings into her store in order to turn a profit, and that customers enjoy supporting neighborhood businesses, especially when the price is right. "A lot of people like shopping local and we have found that when we are careful about when we purchase, if we pre-book, then we have a very good chance at competing price-wise with the big-box stores," she says.
Follow school guidelines. Work in tandem with the schools to ensure children are buying properly fitted uniform pieces that fit dress-code regulations. "The school board will send a child and the parent here when they have gone to school with something that is not in code," she says. "At our store, it's all in code—we only sell approved uniforms."
Accessorize. "[Accessories] are one thing where the schools generally give students a little freedom to do something that is more individualized," Guillory says. She names neckwear, hair bands, bows and belts as popular items students buy to make their standard uniform stand out from the crowd.