Cool-kids' brand Kapital K spreads its style-loving boys' clothes and accessories into a new market. For many fashion brands – even those that include boys' and men's apparel – it's a girls' world, in which lots of lovely lace, cute bows and sweet ruffles abound. But little gents' brand Kapital K, which launched in 2009, […]
Kapital K
A selection from the Kapital K line.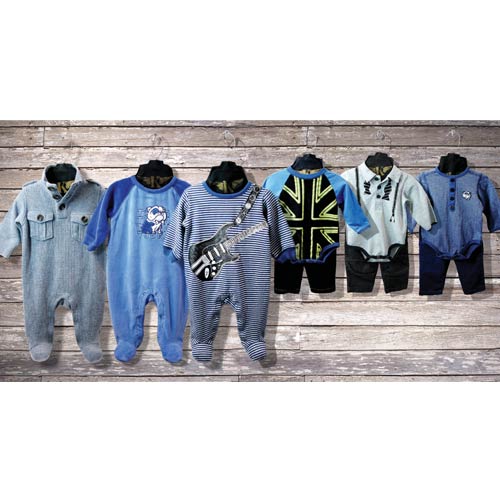 Cool-kids' brand Kapital K spreads its style-loving boys' clothes and accessories into a new market.
For many fashion brands – even those that include boys' and men's apparel – it's a girls' world, in which lots of lovely lace, cute bows and sweet ruffles abound. But little gents' brand Kapital K, which launched in 2009, sought to steer clear of that path. "We started out because we saw a void in the market. It was so saturated with girls' lines," explains Spencer Sujjaporamest, head designer for Kapital K. "We wanted to offer boys' clothing in a cool way."
Or, more appropriately, in a kool way. "Everything we do is 'kool' with a capital K. And everything we do, we do with passion," Sujjaporamest says. For the kool Kapital K kid, "every day is a different outfit," he points out, "and the style factor is there every day when he gets up." This little consumer is high-spirited, outgoing, energetic and "he picks out his own clothes," all while searching for apparel that's fashion-forward and versatile, the designer notes.
Popular not just here in the U.S., but also in specialty boutiques as far-reaching as Japan and Dubai, Kapital K quenches this thirst for versatility with a full-range collection featuring everything from flannel shirts and outerwear to scarves and trapper hats. For fall, the brand will introduce its biggest collection to date – with more than 50 SKUs – made up of graphic tees with a British punk vibe and dinosaur prints, plaid shorts and shirts, reversible vests, pullovers and its popular faux fur-trimmed Mohawk hoodies. "Graphics and textures were on our minds," Sujjaporamest maintains. "From diamond-quilted jerseys to faux-leather and shiny oil nylon to double-knit, double-stripe jersey, we have just about everything every cool boy could want."
Perhaps most exciting for the brand is the birth of a newborn line for Fall '12. With almost 20 styles, the collection for babies 0 to 9 months will feature fabrics like corduroy fleece, velour and knit herringbone. "It's the cool and fun styling that Kapital K is known for shrunk into graphic bodysuits, pull-on pants and coveralls, with a playful yet sophisticated color palette of blues and grays accented with fun florescent greens," Sujjaporamest says of the new collection.
For upcoming seasons, the brand wants to add more shorts, coveralls and accessories like bibs and receiving blankets to the line, he states, adding, "There's a lot of room to expand in the baby collection." So with new lines on its mind, does Kapital K see a girls' collection in the future? "It's crossed our minds," Sujjaporamest declares, "but right now we want to stay focused on what we do best without having to add a ruffle or a sequin." – Mary Avant