As children look more and more to their parents for fashion inspiration (Or is it the other way around?), Mommy and Me styles are a hot commodity. In the not-so-distant past, matching outfits with mommy was nightmare fuel for many a kid and tween. Chances are you remember—not so fondly—holiday gatherings spent decked out in […]
As children look more and more to their parents for fashion inspiration (Or is it the other way around?), Mommy and Me styles are a hot commodity.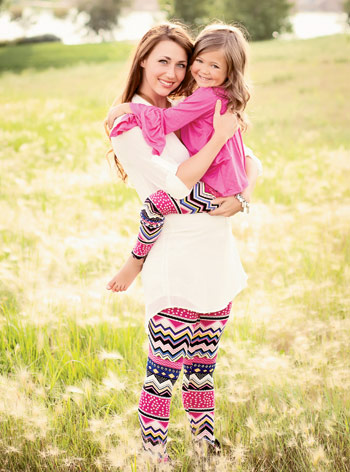 In the not-so-distant past, matching outfits with mommy was nightmare fuel for many a kid and tween. Chances are you remember—not so fondly—holiday gatherings spent decked out in coordinating color palettes and family photos in matching outfits. But now, as kids' clothing skews towards a more grown-up aesthetic, matching mom and dad doesn't carry the same stigma it might have in the past, and a growing number of brands are selling complementary products for children and their parents. "Young girls especially have always idolized older girls, but now they're exposed to more of the world's offerings through television and the Internet," says Kalyn Waters, director of marketing for Minnetonka, which offers a full line of shoes for boys, girls, men and women. "Women are also dressing younger and looking toward millennials. We've seen the gap between women's and kids' styles grow so much smaller." Which is why brands like Melissa, Flit and Flitter, Mustard Pie and more are designing complementary kids' and adult looks.
Take Chooze, for example. Launched in 2011, the mix-and-match shoe brand started off selling only boys' and girls' products. But as the line became more visible, CEO Sharon Blumberg found that more and more moms wanted in on Chooze's offerings. "Once we started building out a Facebook fan page, so many moms started writing us because they wanted their own pairs," she remembers. "They really caught on, even before our launch." And though Blumberg doesn't consider Chooze to be a Mommy and Me brand per se, it still racks up plenty of matching purchases. "We see lots of orders that consist of kids' and women's shoes in overlapping prints, and lots of moms and daughters send us pictures in their matching shoes," she adds. For her brand, it's more about moms getting in touch with their inner child rather than kids taking a more mature fashion stance. "I always hear in the industry that kids want to dress like their parents, but we've really seen the parents as the ones who don't want to grow up," she comments.
Adriene Sanchez, owner of online store Menmommy.com, says matching outfits give busy parents a way to bond with their tots. "There are a lot of working moms out there right now," she points out. "I think they have a desire to really connect with kids in whatever way they can. Kids really like it when they're matching with their moms. Girls just light up, and it really fosters a bond." Want to capitalize on the coordinating concept? Here's how.
Start Small
When Amy Martini opened Me & Mommy 13 years ago in Myrtle Beach, SC, she initially sold only kids' clothing. But after a steadily increasing number of moms made offhand comments about wanting to buy items for themselves, Martini decided to capitalize and introduced a small assortment of adult-sized products. "I started small, and then as it became profitable, I added a little more." Now, seven years later, the store has a full selection of baby, boys', girls' and women's clothes, from kids' brands like Kissy Kissy to women's brands like Judith March. And, of course, she offers lines that produce a full range of girls' and women's sizes, such as Girlfriends by Anita G and Hatley. "It was the best move I could have made," reports Martini, noting that the women's styles, both complementary and stand-alone, have been wildly successful since she added them to her inventory. Brands like Flit and Flitter and Mustard Pie fly off the shelves, especially around holidays like Mother's Day, Easter and Christmas. "Plus, since we're in a beach resort, we have a lot of people coming in looking for things to wear in beach portraits," Martini notes.
For kids' retailers looking to add womenswear to their inventory, Martini recommends taking the experimental route. "Start small, that way you can feel out your own market to see if it works," she advises. Test the waters with classic, familiar styles first—customers tend to stick with what they know. Susan Silverstein, a buyer for New Jersey boutique Marcia's Attic, says jewelry looks like Chan Lu-inspired wrap bracelets, pearls and anything on a leather cord, as well as slip-on metallic sneakers and gladiator sandals by brands like Sam Edelman—"adult takedowns for the mini mommy," she states—are popular with both moms and daughters. Sandals and ballerina flats, continues Levy, are also good bets—they're common styles that constantly receive updates, and they're popular with both girls and their moms.
Don't Disregard Dads
Moms and daughters are not the only ones who cop one another's styles. Mother-son, father-son and father-daughter shoes and clothing are cropping up across the market. Amber Colleen of Footsteps Clothing, a matching family clothing brand based out of North Carolina, says her Daddy and Me items are actually the most popular in the line's selection. "Maybe it's because women are the primary shoppers," she suggests. "They're always looking for fun gifts for dads, whereas dads just run out and get flowers and candy." Colleen says Footsteps started off as a strictly mother-daughter line in 2006, but quickly added Daddy and Me tees once requests started pouring in. "We've been adding new Daddy and Me designs to keep up with demand, addressing specific activities that fathers and sons do together, like fishing and golf," Colleen offers.
Nathan Romano, co-founder of men's and boys' line Onia, agrees. His coordinating swimsuits—the Charles for men and, fittingly, the Charlie for boys—are top sellers, and he often sees both styles come up in the same sale. However, Dads tend to prefer complementary color stories rather than identical outfits, he notes. "Dad might wear a solid blue trunk, and his son will wear that same suit in the same color, only with a print like gingham," he explains. Aside from T-shirts and swim trunks, fashion accessories like ties and hats are a popular pick for a debonair Daddy and Me look. And don't forget footwear—while Waters says Minnetonka's coordinating styles are much more common with women and girls, men and boys are likely to pick up a matching pair of mocs, too.
Complementary IS COOL
While Mommy and Me looks may be on the rise, fewer parents are interested in matching right down to the socks. In fact, complementary styles tend to see more success on the sales floor than their matching counterparts. "What we're finding is that they don't want to match; they want to coordinate," Romano says of the dads who seek out Onia's swimwear. "There's still that same sense of the takedown from the father's style, but they're not matching." Martini points out that palazzo pants, in either matching prints or simply complementary colors, are her top-selling style for moms and daughters looking to mimic one another. Meanwhile, Silverstein says her customers put their own spin on matching outfits—think a funky-patterned, multicolor legging topped off with a teal blouse for mom and a bright pink peasant top for her daughter. Or, parents will select a matching pattern, like Splendid's signature stripes, in different items of clothing. "Some brands offer a dress for girls in a certain pattern, and they'll add a coordinating skirt for the mother," observes Martini. "That way, it might cover the whole outfit for girls, but the mother will be able to choose her own top." It gives mom a little more leeway to express her own personal style, she adds, while still allowing her daughter to feel grown up, even in her own, age-appropriate clothing.
Looking for more ways to tone down matchy-matchy sets? Accessories could be the perfect cure. An understated pendant for mom and a chunky necklace for girls can go a long way towards altering an otherwise identical look if your customers aren't in the mood for twin ensembles. "Generally, we see matching outfits with different accessories," Silverstein says. Some of her bestsellers include brands like Vince, Central Park West and Sam, who all craft kids' items that are exact takedowns from their adult lines. Other profitable brands sold in both stores include Design History, Young, Fabulous & Broke, Blank Jeans and Ella Moss, and coordinating sweaters, dressy jog pants with banded bottoms and Sam's shiny down jackets, all in simple blacks, navys and grays, fly off the shelves. "It's appealing [to shoppers] because it's mostly adult lines that have branched into kids," co-owner Trang Lio notes.
However, some consumers love outfits that offer an exact match, observes Kristy Schlueter, buyer and marketer for Mommy and Me brand Ryleigh Rue Clothing. For bestsellers, she reports that the line's identical dresses, leggings, tunic tops, leg warmers and boot socks are all at the top of the list. "There are only a few short years moms can enjoy dressing alike before their little ones grow up, and they are taking that opportunity every day," Schlueter points out.
Keep It Together
To get more bang for your buck out of Mommy and Me clothing, shoes and accessories, Waters recommends stocking matching products in a vignette. "In a lot of stores, men's, women's and kids' styles might be in separate areas, but planting them together helps cross promote and tease different ideas," she points out. "Being able to see them together is a great opportunity to get the extra sale." Blumberg agrees, adding that Chooze's sales are higher when the full range of sizes are displayed together. "We have done very well when our shoes are paired together because we have a very distinct look," she continues. "We always see success when stores display the shoes together. It's a better opportunity to tell the full story of the brand."
If it's not possible to merchandise Mommy and Me looks as a group, don't despair. Some stores, like Marcia's Attic, keep adult and kid sizes separate—as in across the street—and still see success with the concept. Silverstein and Lio say the transition happens more often than not, and when an item catches a mom's eye in one store, the Marcia's Attic staff simply sends her right across the street to the other—and picks up another sale. Keeping customers informed, Lio says, is the key to securing the sale. "If a mother comes in looking for Vince clothes for herself, we let her know that she can get the same thing for her daughter at the kids' store," she offers.
And as long as you're faithful to your store and your customers, Levy adds, you can't go wrong with Mommy and Me. "Watch the market trends, but also keep true to yourself and the kids," she suggests. "Make it fun, make it special and make it memorable. Have a fun presentation, environment and atmosphere—and good and appropriate product."