Earnshaw's Webdesk • Nov 25, 2014
Earnie Award Winners 2014
Drumroll Please… After tallying thousands of votes from retailers across the U.S. and Canada, we are pleased to announce the winners of the 2014 annual Earnie Awards! Congratulations to this year's honorees, who wowed voters with everything from top-notch customer service to stand-out style. Read on to find out who took home top honors this […]
Drumroll Please…
After tallying thousands of votes from retailers across the U.S. and Canada, we are pleased to announce the winners of the 2014 annual Earnie Awards! Congratulations to this year's honorees, who wowed voters with everything from top-notch customer service to stand-out style. Read on to find out who took home top honors this year—and why.
Company of the Year:
Little Giraffe

For Little giraffe, winning Company of the Year was almost a natural next step. First, the brand snagged an Earnie Award in 2012 for "It" Item of the Year for its super-soft plush giraffe, Little G. Then, in 2013, the company won for Best Gifts, spurred in part by the addition of more blankets, apparel and toys to its bestselling core offerings. So it only makes sense that retailers would reward Little Giraffe again in 2014, for continuing to create gifts moms can't resist—and for a commitment to customer service that's helped many stores survive even in a turbulent market.
"We realize that business can be challenging for some of our retailers, and we do our best to partner with them every step of the way," says Little Giraffe President and CEO Trish Moreno. First, that means creating the best product possible, so shoppers will keep coming back for more. "Every new mom covets a Little Giraffe blanket or Little G plush toy for their little one, because we have become synonymous with luxury and softness," Moreno points out. "We are a destination brand, and retailers know they can count on our product to sell. Customers have shared many stories with us about how the consistent selling of our brand got them through the tough times."
And sell it does. In fact, the company has doubled in size since Moreno and her team took over in 2009. Of course, top-selling product wouldn't be the same without an organization in place to ensure retailers are well stocked. "We have the best customer service team in the industry," notes Little Giraffe's Vice President of Sales Chris Brown. "Our core goods ship immediately, so our retailers appreciate our excellent rate of stock replenishment. We stand behind our products and our customer service team is always complimented on our ability to quickly resolve any concerns. Everyone on the team is empowered to help a customer to a happy resolution."
—Audrey Goodson Kingo
Best Accessories:
Wee Ones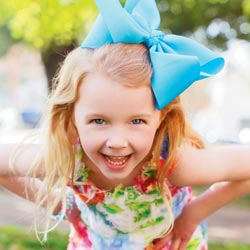 How do you make a beloved bow brand with a 35-year history and 11 Earnies to its name even better? Introduce a patent-pending technology that makes moms' lives easier, of course. That's exactly what happened in Spring '14, when Wee Ones launched its WeeStay No Slip Clip, made from a silicone-like material and now featured on every one of the brand's pinch clip styles. The new technology finally helps bows stay firmly in the hair of even the most active toddler, say owners Gina and Miles Faust. Couple that with the company's reputation for high-caliber products, and it's no wonder Wee Ones netted its 12th Earnie. "I think we have developed a reputation for delivering quality in design and construction," notes Miles. "It's the recognition of that consistency over such a long period of time that sets us apart."
Founded by Barbara Agatstein in 1978 and purchased by the Fausts in 2010, Wee Ones is now seeing that recognition pass from generation to generation, says Gina. "We're in a position now where we have moms who wore Wee Ones as children buying the bows for their own daughters," she observes. And it's due to a constantly evolving selection of styles and patterns like chevron, Greek key and quatrefoil, which Miles cites as the brand's top sellers in 2014. The company also experimented with new textures—burlap, lace and crochet—for fall. And for Spring '15, the Fausts plan to venture into totally new territory: an expansion into boys' headwear, as well as a line of reversible sunhats for both boys and girls.
—Samantha Sciarrotta
Best Footwear:
Pediped
For Pediped, it's all about building a bond with consumers—and retailers—says Founder Angela Edgeworth. When they ask, she listens. "Some accounts wanted more school shoes," she recalls. "We have a good selection, but it could have been better, so we created a back-to-school offering that was more robust and able to meet their needs." And that, she continues, is why Pediped has earned both consumers' and retailers' trust. "We've continued to focus on the healthy development of children's feet and high quality, comfortable, stylish footwear."
Keeping that emphasis on quality while adding an ever-growing number of on-trend offerings, says Edgeworth, is what won the 9-year-old brand yet another Earnie this year, after previously winning awards for Best Company for Good and Best Community Outreach, as well as a Best Footwear nod in 2011. Creating a broader selection of athletic shoes as well as a "more interesting" array of colors and materials—including a foray into corduroy and gender-neutral hues—were some of the brand's biggest changes this year. "People are kind of getting away from the traditional pink and blue," Edgeworth reveals. "There's more of an overlap in girls' and boys' styles."
But no matter the style, Pediped's shoes are crafted explicitly for children, using kid-specific technology like the brand's Flex Fit System, and that's why customers keep coming back for more, Edgeworth points out. "We're not an adult shoe company that brings down styles to fit kids," she continues. "We've developed a lot of trust with the consumer in that regard, and we're very fortunate that when a child starts with shoes in the baby line, they generally continue to wear them as they get older." —S.S.
Best Made in USA:
Tadpole and Lily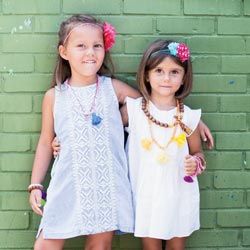 Capturing its second straight Earnie for Best Made in the U.S.A. Brand, Tadpole and Lily doesn't shy away from embracing its homegrown principles. "Made in the U.S.A. is part of our marketing campaign," notes co-owner Alex Krasnoff, who launched the brand with Clair Robinson in 2010. "Every piece of our accessory line has a Made in the U.S.A. graphic on it." And despite the smaller profit margin that comes with domestic manufacturing, Krasnoff says the boys', girls' and men's accessories brand won't travel overseas for production. "Quality and supporting our economy are why we choose to manufacture in the U.S.," she explains. "Our factory is like an extension of our family."
And so are the collection's consumers, retailers and sales reps, Krasnoff points out. When customers call the brand, they always speak to her or Robinson. "We really care about our stamp in the country, and being made in America is just one piece of the pie. Every customer is our best customer, and we care about our retailers," she offers, noting that the brand is always quick to help with merchandising and social media support.
As for this year's win, Krasnoff credits the addition of the Spencer suspender to the brand's lineup, offered in patterns like chevron that match the tie and bow tie fabrics. It's constant roster additions like the Spencer, which is quickly approaching the Westin bowtie as the brand's top seller, Krasnoff adds, that keep the awards rolling in. She and Robinson hope to see similar results with the Spring '15 expansion of the girls' line, which includes partnering with LA-based Little Petite Designs to create tassel jewelry. —S.S.
Best Licensed Apparel & Accessories:
Junk Food Clothing Co.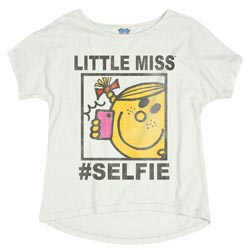 Forget fruits and vegetables—all the cool kids want Junk Food. Junk Food Clothing Co., that is. And, according to company President Jennifer Somer, they also want junk food on their Junk Food: The soaring success of the brand's tees featuring edible delights like donuts and ice cream was just one reason why retailers couldn't resist treating the company to an Earnie Award in the Best Licensed Apparel & Accessories category this year.
"One of the things that really sets us apart from the competition is our creative talent. We create a lot of our own art that becomes some of our bestselling graphics," Somer says. But aside from the brand's irresistible in-house styles, retailers also rely on the company year after year for its unique take on a huge array of classic properties—more than 800, astoundingly—including the NFL, Disney, DC Comics and Warner Brothers. The company's latest agreement, to recreate the iconic street art of Jean-Michel Basquiat and Keith Haring, has been a hit with retailers looking for ahead-of-the-curve boys' apparel for Spring '15, Somer says. And it's not just retailers and customers who look to the company to create innovative products, she points out. "We're the only company out there that a lot of the bigger entertainment companies such as Warner Brothers allow to create our own art [for their properties], and that's really because they have such respect for the creative team at Junk Food and trust in what we do." —A.G.K.
Best Infants' Collection:
Kissy Kissy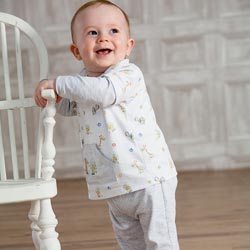 Kissy Kissy just snagged the Earnie Award for Best Infants' Collection for the fifth time, and Founder and Owner Roxana Castillo says it has everything to do with retailers. She takes their suggestions about the collection to heart, because they're coming directly from the consumer. What's more important, she adds, is their loyalty to the brand, which has hewed to the same classic sensibilities over the course of its 17 years in business. "We know our stores love that we've maintained the signature Kissy Kissy look and hallmark Peruvian pima cotton softness year after year," she continues. "By sticking with what we do best, we help them cultivate loyal customers."
The brand's most fruitful venture in 2014 was the launch of its first beyond baby line, a sleepwear collection spanning 12-18 months to size 6. "We listen to our stores, and they had been asking us to do this for a long time," Castillo reveals. In 2015, look for an expansion of the pajamas line—Castillo notes the fall launch "was just a little preview"—featuring some popular prints from the baby collection, as well as a few extras that Castillo says will stay under wraps for now. Kissy Kissy's characteristic quality, though, will stay intact. "Moms rave about our quality," Castillo proclaims. "They tell us they can feel the difference our cotton provides. That means a lot when they're selecting clothes for their new little ones." —S.S.
Best Toys:
Kids Preferred, LLC
"This sounds so simple," confides Laura Perks, vice president of marketing at Kids Preferred, LLC, as to why the company snagged the very first Earnie Award in the Best Toys category, "but we make cute stuff! Cute sells… and sometimes that's all you need."
Perks is right. Cute certainly sells in the children's industry, but undoubtedly Kids Preferred also wowed retailers this year with a huge variety of developmental toys and gifts, as well as an impressive roster of licensed goods, including four new offerings in 2014: Rudolph the Red-Nosed Reindeer developmental activity toys and singing light-up plush toys, Little Me plush toys, Splat the Cat books and Carter's plush toys. All, Perks reports, were a "resounding success." Not to mention, "In 2013 we were very fortunate to acquire the delightful Bunnies by the Bay, affording us expansion into luxurious children's apparel combined with the highest quality plush toys and accessories in the industry," she continues.
It all adds up to a blockbuster year for a company that's been conquering the kids' market since its launch in 2002 with generic plush baby toys. Now, Kids Preferred creates products for 20 licensed properties, from Harley-Davidson to Goodnight Moon. "We are thrilled to be recognized by industry experts for our innovative, educational and beloved toys for kids of all ages," Perks adds. —Lauren Fusilier
Best New Brand:
Max & Dora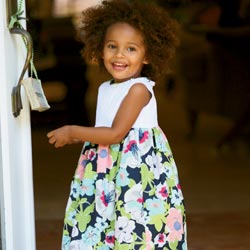 "It's been a journey outside of my box," laughs Lisa Godown, owner and designer of American-made girls' line Max & Dora, about her decision to take her vintage-inspired creations to market last year. And while she knew her whimsical classics like reversible charmeuse and tulle tutus and bouclé moto jackets were like nothing else offered in stores, she had no idea how well they'd catch on. That's why she says she was "speechless" to learn she'd won this year's Earnie for Best New Brand. "It's a confirmation that we're doing it right," she adds.
It's not the only one: The brand's first Spring '14 collection shipped to more than 40 stores in the U.S. and orders quadrupled for fall. Next spring is shaping up to see another jump, too. "The most exciting part of that growth has been the stores that have come back. New business is new business, and we welcome it and we're excited about it, but when I see a store come back and buy a second or third season, it blows me away," she shares.
Next spring the brand is expanding its wares to include Totally Max, a boys' collection, and a women's line is on the horizon, as well. "It won't be traditional Mommy and Me, but it will probably include prints that call back to the kids' line but done in a way that's sophisticated enough for moms," Godown offers. —Lyndsay McGregor
Best Swimwear:
Kate Mack by Biscotti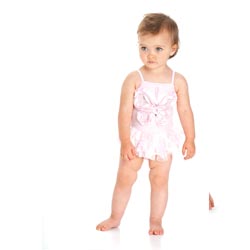 Ask just about any children's retailer what her bestselling swimwear brand was in 2014, and she will likely answer Kate Mack by Biscotti. So it's no surprise that retailers rewarded such a stellar sales record with an Earnie Award—adding up to a dozen overall Earnie wins for Biscotti.
So what is it that's so special about Kate Mack? According to Owner and Design Director Bernadette Reiss, it's the brand's "out-of-the-box" design elements that keep both customers and retailers excited. Exhibit A: "For the first time, we did a group of shimmery gold suits with sequined dots that were a huge hit," Reiss reports. "The matching chiffon cover-up tunics were particularly popular with the tween set!"
Offering swimwear for girls sizes 3 months to 16 years, Reiss notes that Kate Mack keeps its customers happy by focusing on what the end consumer truly wants. "While we are always looking to offer something new and unique by staying on top of the latest trends, we are also highly aware of the importance of maintaining the signature 'Kate Mack look' that sells so well," Reiss notes. "We also work very hard to maintain high quality, dependable shipping and a sense of fun about everything that we do." —L.F.
Best Sleepwear:
KicKee Pants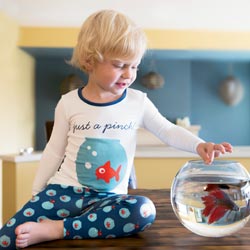 To catch an Earnie, you need to Catch a Tiger. At least that's one reason why KicKee Pants CEO Erin Cloke says her company snagged its first-ever Earnie Award for its super soft sleepwear. Best known for its bamboo fiber fabrics and quirky characters—perfect for pajamas as well as everyday essentials—the brand branched into bigger sizes for the first time in Spring '14 with its Catch a Tiger collection in sizes 5 to 10. "We had so many requests for bigger sizes that we decided to give it a try," Cloke remembers. "It was well-received right away and now, retailers that started with the pajamas in Catch a Tiger are venturing into our separates."
Of course, the success of the new collection wouldn't have been possible without the hard work Cloke and her husband, Nick, put into building the brand, launched in 2007, into a favorite with retailers and moms alike. "We create all of our prints, and parents like the unique designs," Cloke notes. "Their children look cute, even though they're dressed in something soft and comfy." And while layette items like footies and coveralls are still top sellers, products for older kids—which Cloke's own growing children partially inspired her to create—are flying off the shelves. And for next season, she hopes to see similar results with KicKee Pants' reimagined gift sets, now boxed in a reusable elephant-shaped package, complete with a see-through window in the belly and soft tail, so customers can feel the fabric before they buy. —S.S.
Best Boys' Collection:
Andy & Evan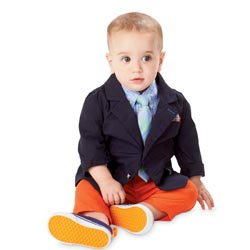 Since its 2011 launch, Andy & Evan has made a name for itself by shrinking down menswear to fit the infant to 7-year-old set, outfitting boys in the most dapper of duds, like its Shirtzie, a button-down top with a bottom snap closure. Dressy has always been the brand's specialty, but a beefed-up casual collection, says Partner and Co-Founder Evan Hakalir, is what earned the brand its second straight Earnie. "As our audience grew, we really expanded," he points out. "We have a more broad, diverse collection." Now, in addition to its suits, pants and oxford shirts, Andy & Evan offers a strong selection of tees, hoodies, casual sweaters and more. But don't think the brand has forgotten its roots. In Fall '13, it launched the My First Andy & Evan collection—another venture Hakalir credits with boosting the company's success. Featuring touches like front pockets and ties, the layette line provides a "reinterpretation of baby clothing." It's that "fresh approach," he adds, that's enabled the brand to keep churning out consistently cool looks for kids. True to that ethos, the brand is tackling a totally new project for Spring '15: a girls' collection. "The same elements that made us successful in boys'—fresher designs, hidden details—we're applying to girls'," he reveals. —S.S.
Best OutErwear:
Appaman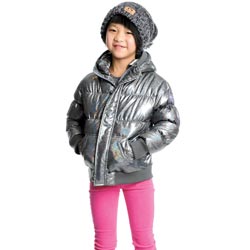 Taking home its first Earnie Award for Best Outerwear is a validation of sorts for New York City-based Appaman. "We've had a growing outerwear business for some years now, and to get recognized for our hard work is exciting," shares Lynn Husum, who founded the street-chic label with her husband, Harald, in 2003. Back then the brand focused on graphic tees for boys and girls, but today it's anchored by its outerwear—and Husum is confident that the line's coats will continue to reign supreme next year. "We have a new designer and he has a great outerwear background so we expect to bring the category to bigger heights with more variation in style in Fall '15," she notes.
That's something Appaman's fans will be eager to see. Coming off of its best year in sales to date, Husum suggests the brand's popularity is due to its commitment to creating classic, quality clothing that's consistently on trend. "It stands the test of time and remains a favorite for kids and parents alike," she reveals, adding that the brand did a big reorder business across the board in 2014. The girls' Puffy coat in Disco, with its iridescent holographic pattern, was "a real crowd pleaser." "We'll have to assume if we're getting reorders from buyers that the consumers are pleased."—L.M.
Best Hosiery:
BabyLegs
Let's face it: Tights can turn the already difficult task of diaper changing or potty training into a frustrating feat. That's why consumers flocked to BabyLegs when it launched its line of legwarmers in 2005. Nine years and four Earnie Awards later, the brand continues to resonate with its simple and stylish solutions for keeping kids' legs and arms cozy while offering parents peace of mind. "BabyLegs is a functional, problem-solving item that offers protection from hard floors, bug bites, the sun and the cold," states Isaac E. Ash, president and CEO of United Legwear, the parent company of BabyLegs.
This year the brand expanded its lineup with BabyScoot, a new style with thick terry cushioning on the knee to protect little crawlers, and collaborated with the likes of hip kids' company Appaman and New York City-based boutique Piccolini. Ash says fans of the brand's organic cotton styles for newborns will be happy to hear that come Spring '16, all legwarmers will be organic. "Our mission statement is 'Protect What You Love,' and we constantly demonstrate this purpose with new product innovations that safeguard babies' skin," he adds. —L.M.
"It" Item of the Year:
Chewbeads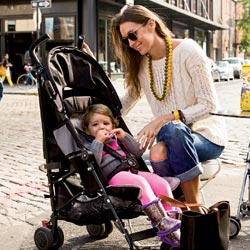 When Chewbeads founder and Owner Lisa Greenwald came up with the idea for the brand's line of non-toxic teething jewelry and accessories, she knew she was on to a winner. Now, five years and three Earnie Awards later, it's clear that buyers—and shoppers—agree. "We are so proud of what we've done to grow the brand and the loyalty we've garnered amongst our retailers and our customers," Greenwald gushes, noting that babies love the bright baubles as much as moms do. With sales on the up (Greenwald reports that this year's numbers have topped last year's.) and an ever-growing retailer base (over 1,500 stores and counting), the company decided to outsource storage, packing and shipping. Now, the brand can focus its efforts on what it does best: innovative product development. "Not only did we free up time for helping our retail customers, but we decreased our ship time from two weeks to about one to two days," she reveals. New styles introduced this year include Christopher, a rainbow-beaded necklace requested by buyers, and Essex, the brand's take on tribal jewelry. "We listen to the buyers who are face-to-face with customers every day," Greenwald notes. —L.M.
Best Girls' Collection:
Lemon Loves Lime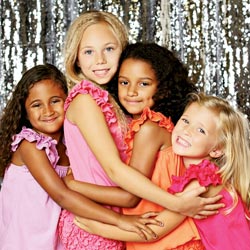 Head-to-toe black might be the official uniform of fashion industry insiders, but it's one color you will never see in a Lemon Loves Lime collection, says Founder and Designer Joy Cha. "I see that a lot of moms want to dress their kids like adults, and that's fine, but colors are so great on kids—and kids love colors." And there's a veritable rainbow of them throughout her wonderfully whimsical clothing, which has wooed buyers, consumers and little ladies alike since it launched in 2007. Nonetheless, Cha and her husband and business partner, Bill Banti, are overjoyed to take home the nod for Best Girls' Collection for the first time.
Known for its intricate appliqués, rich hues and ruffles, the 7-year-old Peruvian-made label likes to eschew trends in favor of fairytales and florals, and 2014 was no different. "Unicorns and mermaids are a must every season," notes Cha, adding that this year's top sellers included the Princess Bridgette tee, complete with crochet and embroidery appliqués, and the Merry-Go-Round skirt, perfect for twirling. "My customers love when they can see my creativity," says Cha, "I don't regurgitate my styles. I keep my collections fresh and new, and I go with my instinct." —L.M.
Best Denim:
Levi's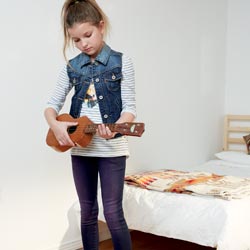 There's a lot to be said for having a heritage that stretches back to 1853. Few denim brands can claim the kind of true blue American roots that cut through the indigo clutter to connect with today's consumers in the way that Levi's does. In a category packed with some pretty impressive brands, longevity, durability and consistency are what make this eight-time Earnie Award winner stand out from the crowd, says Sam Haddad, principle at Haddad Brands, children's licensee for Levi's. In fact, when Haddad Brands launched Levi's first kids' line in 2004, the company went to great lengths to ensure the sized-down styles stayed true to the label's pedigree, with authentic details like buttons and rivets. "Levi's was probably most parents' first jean, and they want it to be their kids' first jean, too," he says. This year the brand introduced a knit denim collection, which Haddad explains, "looks like a jean, feels like a sweat pant." The stretchy styles were a hit at retail. It's that dedication to innovation that cements the brand's reputation year after year. From ripped styles to acid washes, Levi's continues to inject modern cool into its iconic jeans, making one of the world's oldest brands the most relevant. —L.M.
Best International Brand:
JoJo Maman Bébé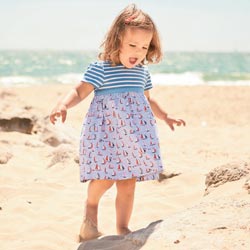 A second straight Earnie win for Best International Brand is "the start of something big" in the United States for JoJo Maman Bébé, says Founder and Owner Laura Tenison, and she's not kidding. Founded in 1993, the maternity and children's brand is currently available in over 500 boutiques throughout North America. "Our American customers love JoJo for our European feel, combining quirky British prints with French nautical style," Tenison points out, adding that retailers also appreciate the brand's extensive range, including over 800 kids' and 200 maternity styles.
Even so, Tenison hopes for a bigger share of the U.S. market in 2015—and with the brand's first American distribution center opening in New Jersey for Fall '15, that will become even easier, helping with quicker replenishment and better prices. Accompanying the move will be a bolder marketing effort, since, as Tennison notes, "The world's eyes have turned towards British mother and baby designers over the past year, and JoJo is proud to be a brand which appeals to all, from royalty to 'the girl next door.'" —S.S.
Best Dresswear:
Isobella & Chloe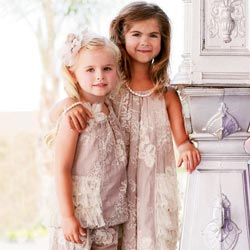 If success is sweet, then it makes sense that girls' brand Isobella & Chloe would continue to dominate the Dresswear category. After all, one of the brand's bestselling dresses in 2014 was a taupe linen confection with ivory embroidery, appropriately dubbed Crème Brûlée. But Isobella & Chloe President of Operations Emily Fong credits the brand's big win this year—its third in a row in the category—to more than just stellar styles. "We have always strived to have excellent customer service," she says of the company, which launched in 2007. "After refining the system over the years, we have a streamlined communications system in place with our retailers, so that they have timely deliveries and are regularly updated on specials and changes to our line."
Better communication also means the brand is better equipped to incorporate feedback. Take, for example, the Crème Brûlée: Isobella & Chloe launched the style in Spring '14, but decided to re-run the group in Spring '15, along with the popular Vicki line, after multiple requests from retailers. And, Fong continues, "Those two styles inspired our Vintage Collection, which is our hit for Spring '15." As she sums it up, "When we design, we make sure we include overall quality and finishing touches that appeal to retailers, parents and young girls." —A.G.K.
Best Gifts:
Aden + Anais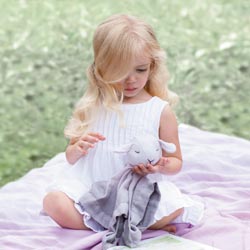 The ubiquity of muslin swaddles on the market makes it hard to imagine a time when the breathable fabric wasn't a go-to nursery staple for moms across America, but just eight years ago, the blankets were almost unheard of outside of Australia—and along came Aden + Anais. Founded by CEO and Aussie native Raegan Moya-Jones in 2006, the brand has become synonymous with soft, long-lasting swaddle blankets in a wide range of contemporary designs. Although the blankets certainly serve as the backbone of the brand, it's the company's increasingly diverse range of products that catapulted it into first place in the competitive Best Gifts category.
"Muslin swaddles are the foundation of the brand, but we now have everything from nursery collections and skin and laundry care, to an electronic sleep system—and we're constantly releasing new products," Moya-Jones notes. For 2014, add to that list bestselling collaborations with Zutano and non-profit AIDS organization (RED). And, Moya-Jones, points out, "This year we introduced our 100-percent Merino wool muslin collection. It's the first time that Merino wool has been combined with a muslin weave, and the result is a truly luxurious product which has been very popular with our boutique stores."—A.G.K.
Best Baby Gear:
Skip Hop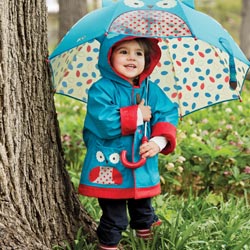 How do you turn one great product into a wide-ranging line of items and an Earnie Award in the inaugural Best Baby Gear category? For Skip Hop Co-Founder and Chief Creative Officer Ellen Diamant, it's simple: "We believe that the best products please kids while appealing to a parent's sense of style. We design our products to help out parents, then add 'just enough kid style' to turn them into family favorites."
Case in point: Skip Hop's new rainwear collection, which made a big splash with retailers this year. The raincoats and umbrellas, which sport critters from the company's popular Zoo collection, "have been flying out the door," Diamant reports. (In 2011, the brand's Zoo lunch boxes snagged an Earnie Award for "It" Item of the Year.) Since the company's launch in 2003 with its perennial bestseller, the Duo diaper bag, Diamant and her husband, Michael, have applied their style-driven philosophy to a wide range of kids' necessities, from toys to feeding products to bath and bedding accessories. "We trust moms' intuition and want them to trust themselves," Diamant notes. "So we make products that help them feel more confident." —A.G.K
Best Tween Collection:
Splendid by SEM Kids Design LLC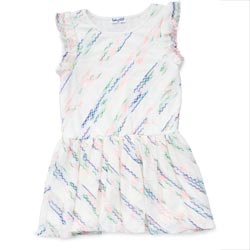 For 12 years, adults and kids alike have been earning their fashion stripes in Splendid's comfy, cool designs. But the California-based brand really ramped up its kids' collection in January of 2014, when it linked up with SEM Kids Design LLC, a division of Mamiye Brothers, to begin manufacturing its super-soft duds. "Mamiye Brothers is a leader in manufacturing and designing children's clothing so it was the perfect next step and partnership," says Lackey Bevis, director of sales for SEM. By sticking to the core basics and stripes that are the backbone of the brand while introducing an array of new fabrications and prints, Splendid struck a chord with retailers looking to please the tricky tween demographic—earning its very first Earnie Award. "Splendid is known for stripes, but new prints have really been successful for us this past year," Bevis points out. "We also expanded our bottoms assortment from our basic leggings to adding more fashion leggings, skirts and pants." —A.G.K.
Best Showroom:
Thread Showroom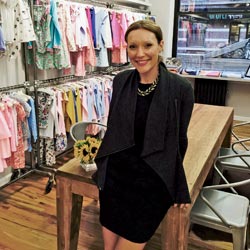 Ten brands, eight years, three Earnie Awards and one fearless leader: all attributes that describe this year's best showroom winner. When retailers go in search of sure-to-sell-through children's apparel and accessories, they almost always end up at New York City-based Thread Showroom. Founded in 2006 by Terra Fazio, the warm and welcoming showroom is home to some of the most sought-after brands in the industry, from Spanish label Mayoral to this year's Best Accessories winner, Wee Ones. "Our mission at the Thread Showroom is to have fun building relationships with our retailers and manufacturers. The Earnie Award is a great compliment to our philosophy," says Fazio.
This year, the showroom's success culminated in the opening of a second location in Los Angeles at Kids on 6 in the California Market Center. But despite its physical expansion, Fazio credits the showroom's popularity to its exclusive collection of brands. "We prefer focusing on fewer brands, thus giving each brand more attention. In order for us to take on a new brand, we must see something special—something not currently available in the industry," she explains. "We believe retailers and designers appreciate our balance of professionalism and personal connection." —Tara Anne Dalbow
Hall of Fame 2014
Honesty, foresight and determination are just a few of the characteristics this year's Hall of Fame recipients have in common. Every year, Earnshaw's honors remarkable childrenswear professionals who have made an indelible mark on the industry, and we are proud to present this year's inspiring inductees.
the Nordstrom Baby
Accessories and Gear Team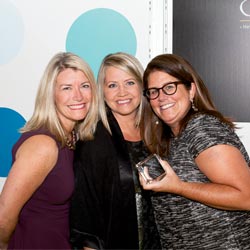 For Nordstrom Baby Accessories and Gear Buyer Elin Bregy, the key to being a good retailer is all about being a good shopper. "I just like to see what's out there and see what everyone else is doing," she confesses. "I welcome all competition. I love it." Aside from perusing her personal favorites, Bregy and her team can also be spotted trekking every aisle, "no matter what," at the industry's biggest trade shows. "It's kind of a tireless mission for us to go out and find that product we think is going to work great for our customers," she continues.
It's a mission that many industry insiders would agree the team has accomplished by carefully curating a collection of unique, design-driven merchandise that lives up to the Nordstrom reputation for style and quality. Or, as Jeff Glick, division president for Little Me, Offspring and Flapdoodles puts it, Nordstrom shoppers know they will always find the best new baby gifts and gear. "I think Elin and her team are well regarded because they do a great job of editing for the Nordstrom customer," he says. "They are always looking to serve up the newest trends while also making sure the basic necessities are still covered in the assortment—all this while keeping the mix focused and easily shoppable."
Keeping the mix easily shoppable is a top priority for Bregy, especially since the Nordstrom baby department stocks such a wide array of gifts and gear—another savvy move that can be credited to her team. Sensing the rapid growth of the high-end gear market, Bregy quickly started snapping up items like Stokke's Flexi Bath and Béaba's Babycook Pro, and now the bath and feeding categories are two of Nordstrom's fastest-growing. Making the merchandise easy to browse is also why the team is extremely selective when it comes to finding the right strollers for its stores. "One of our challenges is taking a clothing floor and finding spots for gear, and then figuring out how to present it and making sure our sales staff is well trained," Bregy notes. "There's a lot to putting a stroller together and making a customer comfortable with taking it out, and we work so hard on getting that right."
Bregy's love of retail dates back to her high school days, working at the café in—you guessed it—Nordstrom, in her hometown of Half Moon Bay, CA. Even after graduating from college and becoming a teacher, she spent her summers as a sales associate in the boys' department at Nordstrom and eventually worked her way up to manager of the kids' department in San Francisco. Many of the skills she picked up as a teacher—namely listening carefully and being patient—translated perfectly to retail. Almost 10 years ago, Bregy became assistant buyer for all of Nordstrom's baby accessories and gear, and eight years ago was promoted to lead buyer.
Yet even with 18 solid years of retail experience under her belt, Bregy admits she couldn't do her job without the help of her tight-knit team, especially Buy Planner Mikela Neff. By working closely together, as well as working one-on-one with Nordstrom's online staff, the team ensures the satisfaction of the person who matters most at the end of the day, Bregy adds: "We have one end goal, and that's always the customer." —Audrey Goodson Kingo
Nancy Markert
and Amy Hoffman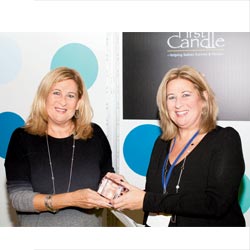 Despite the appearance of their showroom, filled with all manner of tutus and ruffles, Nancy Markert and Amy Hoffman aren't all about the fluff—they are straight talkers who built their business by fearlessly guiding the brands they represent through the ups and downs of the children's fashion industry. Dividing their time between a warm and welcoming New York City-based showroom and the road, where they make routine trips to check in on retailers and manufacturers alike, the two represent 16 of the children's industry's most sought-after brands, from footwear staples like Old Soles and Bloch to fashion labels like Daily Threads and U Go Girl. "We love what we do," says Markert, "After all, it is who we are."
Twin sisters, the two were introduced to the textile industry at a young age—their father had them guessing the weight of fabrics for his tableware and gift company as soon as they could speak. "We've been instrumental in growing just about every brand we've been involved with," adds Markert, who struck off on her own as a sub-rep for Selandia Designs, a giftware company that sold both Disney and Barney licensed products, after working her way up through
the executive training program and eventually becoming a buyer at Bloomingdale's. Hoffman soon followed, leaving her merchandising career at Merona Sport to help her sister build a showroom. "I was hooked," says Hoffman of helping her sister at her first trade show.
The two joined forces in 1989, and 11 years later the sisters moved into their current location at the 34 West 33rd Street showroom building, and as Hoffman puts it, went to work turning lines into brands. Curating a collection of labels under the ethos of finding "what kids really wanted to wear," each and every one of the showroom's 16 brands earn high marks in comfort, quality, fashion and fun, according to Markert. The sisters point toward their knack for predicting the future as a key to their success. "We can predict trends in the very, very beginning," says Hoffman, who even boasts a namesake shoe, the Hoff, as a thank you for pushing footwear brand Old Soles to produce what came to be Spring 2015's hottest style: a metallic, slip-on sneaker.
But it isn't just their gift for spotting trends that earned Markert and Hoffman a spot in the Earnie Award Hall of Fame—it's also their unmatched customer service. The sisters, who are often confused for employees in their retailers' stores or as designers in their manufacturers' factories, have given brand repping an entirely new meaning. "We help design and develop products every season," says Markert who also notes that they are the eyes and ears of the brands, responsible for providing feedback—good and bad. "I have such a personal relationship with all my accounts, and that's why they keeping coming back year after year," Hoffman adds. Of course, it's not always easy. "It's a 24-7 job," says Markert, who often finds herself up at 2 a.m. placing orders on her iPad. "If it's your passion, not just your job, you'll reap the benefits." —Tara Anne Dalbow