Step by step, Bébé au Lait founders Claire and Ronnie Ekelund built their line of stylish nursing covers into a range of sophisticated products for mom and baby—all inspired by a surprising source: soccer. by Audrey Goodson Kingo As a former professional soccer player, Ronnie Ekelund, along with his wife Claire, know a little something […]
Step by step, Bébé au Lait founders Claire and Ronnie Ekelund built their line of stylish nursing covers into a range of sophisticated products for mom and baby—all inspired by a surprising source: soccer.
by Audrey Goodson Kingo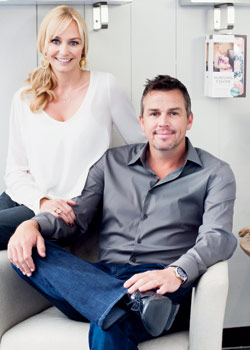 As a former professional soccer player, Ronnie Ekelund, along with his wife Claire, know a little something about the importance of staying nimble. What the two never would have predicted when traveling around Europe for Ronnie's career, however, is just how well those lessons would serve them years later—as the founders of Bébé au Lait, one of the fastest-growing companies in the children's industry.
Today, their ever-expanding line of stylish infant essentials is carried in 6,500 stores across the globe, from mom-and-pop specialty stores to Target and BuyBuy Baby. But success didn't come without some revisions to the couple's original game plan. Take the brand's name, for example. Inspired by their first product, a stylish nursing cover, the Ekelunds cleverly dubbed the company Hooter Hiders. Though the tongue-in-cheek moniker perfectly conveyed the purpose of the product, it wasn't long before they realized that the name, funny as it was, would make it more difficult to land major retailers like Nordstrom. So they switched to Bébé au Lait, in honor of the time they spent in the south of France while Ronnie played for Toulouse FC.
Ronnie's soccer career didn't just inspire the name for the nursing covers—it also helped propel the idea for the product itself. Claire, the company's senior vice president of marketing and product development, crafted her own nursing cover so she could still breastfeed their daughter while watching Ronnie's games. "Claire was not a fan of leaving the stadium or the conversation when I was playing," recalls Ronnie, now CEO. "So she came up with this nursing cover idea where Mom could see baby, baby could see mom and her modesty was still intact."
When the couple became inundated with requests from friends for their own versions, they realized they had stumbled onto a promising business idea. So in 2004, they found a local manufacturer in their new hometown of Los Gatos, CA (Ronnie's career eventually brought the couple to the U.S., where he won two MLS Cups.), set up a website and began reaching out to specialty stores. "Our warehouse was in the garage," Ronnie recalls. Claire, laughing, adds: "Quality control was sitting in front of the TV at nighttime together."
It wasn't long before the brand became known for offering a wide range of stylish nursing covers, thanks to Claire's unerring eye for sophisticated patterns. Accordingly, Bébé au Lait is no longer a two-person team offering nursing covers only. With a product line that includes bibs, hooded towels, blankets, swaddles and on-the-go totes and bags—as well as a new nursing pillow that wowed bloggers and buyers alike at September's ABC Kids Expo—it's safe to say the couple's fancy footwork has paid off. "On average, we've grown 50 percent year over year since 2004," Ronnie declares. Here, the couple divulges the secrets to their off-the-field success.
What were some of the biggest challenges when you first launched?
Ronnie: Fulfilling demand. Back then, Claire picked out the fabrics, I dropped them off and picked [the nursing covers] up from our local manufacturer. Then we would take them home and pack them after quality control. The demand grew much quicker than we expected, and fulfillment became increasingly more and more difficult. We tried to stay with our local manufacturer as long as we could, but when the orders became larger, bigger and quicker, they simply couldn't keep up. They weren't scalable at all, so we headed to China and Vietnam.
How would you say the industry has changed since then?
Claire: When our 14-year-old was born, there were around four or five big players in the industry, and they were the ones that you always relied on for your strollers and car seats and all of those things. And then it seemed to soften up over time and more creativity came into the industry, and the consumer was willing to try out products from companies they had never heard of before and give them a chance.
Why do you think parents were willing to try something new?
Claire: I think people increasingly wanted to express their own creativity through how they dress their children, or through the gear they buy for their babies and for themselves. Women don't want muumuu dresses in maternity anymore, or teddy bears and ABC's for their baby. There was a major change in children's design, which led to the whole industry changing. And we feel like we're in the center of that. We inspired the idea that a nursing cover could be fashionable.
UPCLOSE with Claire and Ronnie Ekelund
What's your favorite way to spend a free afternoon?
Claire: Aside from spending time with the children, I might play a round of golf or read a book just for fun, because I don't really get to do that so much anymore. A beach read would be nice. Then I would follow it up with appetizers and cocktails with family and friends. Sounds like a good day to me.
Ronnie: Our girls play a lot of sports, and I enjoy when we go out as a family and play golf. And cocktails and appetizers never get old.
What's your favorite book?
Claire: Angela's Ashes by Frank McCourt. It really struck a chord with me. It was really well-written and interesting and different.
Ronnie: I'm more of a movie person. My favorite movie moment has to be watching Frozen with all my girls. I remember because we must have watched it about 80 times. [Laughs.]
What three things could you never live without?
Claire: Aside from family, I don't know what I would do without my iPhone. Online shopping would be a close second. And a nice big glass of cabernet at the end of the day.
Ronnie: I would have to say family as well, and I can't get going without my morning coffee. And my golf clubs.
And safety concerns have jumped to the forefront, too.
Ronnie: There's a lot more awareness from the end consumer, who expects a lot more from companies—and rightly so.
Claire: There are more people asking questions like, 'Is it BPA-free?' I don't think our parents ever asked that kind of question. Nowadays the end consumer knows what BPA-free means, as well as phthalate-free and lead-free. The end consumer is definitely savvier in that way.
So how do you cope with parents who have such a strict standard for their purchases?
Ronnie: We make products that adhere to it.
Claire: We make products that we use with our own children. We stand behind them. We want them to be durable and functional yet beautiful. People are working hard for their money and there's nothing worse than buying something and wishing you'd never spent the money. We want our end consumer to think, 'That was a great purchase.'
Speaking of beautiful products, how would you describe the Bébé au Lait aesthetic?
Claire: It's difficult to put into words. It's more of a feeling. We want moms to feel beautiful when they use our products and happy to put them on their babies. Everything we create goes through our own personal test, which is: Is it functional? Is it fashionable? Is it of a high quality at a really good price?
It seems like you apply that same careful eye to your branding and photography.
Claire: Yes, I would say so. We're pretty critical when it comes to everything, down to the smallest detail. Our photography is really important to us, and we actually spend a lot of time making sure we have the right elements in the photo shoot and making sure it adheres to that Bébé au Lait feeling. It's an opportunity to show the end consumer how we see the brand.
A lot of companies have introduced nursing covers in recent years. How do you stay one step ahead of the competition?
Claire: We stick to what we know, and then stay on-trend by looking at what's coming in the market and what people are looking for nowadays. And we combine that with my own design desires to make a product with integrity. I think the end consumer appreciates that and they tell their friends. We have loyal customers who build loyal customers. At the end of the day, if you're making a product that stands the test of time and that people like to look at, then you're fulfilling your job as a brand.
How do you decide which product categories to add to the line?
Ronnie: A lot of it is based on feedback and requests from our customers. We're also parents, so we have a very good idea of what we would like to see. We always ask ourselves: Is this something we could stand behind? From there it becomes a process of determining whether it fits with our brand and whether we can make improvements to the product—make it even better.
Is the specialty market an important part of your retail strategy?
Ronnie: Absolutely. That's how we started. Even though we are in big box retailers today as well, we feel that we are a very appropriate brand for specialty retailers, and they will always be a very important part of our business. As we continue to grow our offerings, we have special deals for our specialty retailers, to cater to that segment. We have both inside sales reps and outside sales reps who keep the lines of communication open, and we take any messages we get from the stores very seriously—good or bad. We will always try to do what we can to make things better for our independent retailers.
Has the growth of social media changed your marketing methods?
Claire: It's definitely important to us. Before, it was all very one sided: You would make the product, put it out and cross your fingers. Nowadays, you get more feedback. You get to find out what your end consumer is thinking and feeling. I don't know why you wouldn't embrace that. We like to stay engaged with our customers. We want to increase that over the years and have more of an open dialogue with them.
According to CDC data, more moms are breastfeeding these days. Do you think brands like Bébé au Lait helped foster that growth?
Claire: I think so. Apart from us, of course, there's also more emphasis on education—there are a lot more initiatives out there to promote breastfeeding. It's encouraged more in the hospital, and now you get a breast pump with your insurance. I think it's also more widely accepted. There are a lot of celebrities taking selfies of themselves breastfeeding, so those things help, too. I would say that where our nursing covers help, from what we've heard from our moms, is that they normalize breastfeeding. Before, you might have left the room or you might have gone to your car or, god forbid, the restroom, to find a place to nurse your baby. Now you don't have to. Now you can sit and stay and enjoy the conversation wherever you are, even if it's a soccer game.
Absolutely! What do you say to the folks who think moms should feel free to breastfeed, nursing cover or no?
Claire: We always say you shouldn't be embarrassed of the fact that you're breastfeeding. That's something to be proud of. It's not about hiding that fact. It's just that if you're a little bit shy, and you don't want to breastfeed in public, this is the alternative. This is the solution. I would definitely say that our covers have played a huge role to help normalize breastfeeding, and I'm proud of that.