Children's retailers – a.k.a. Santa's real elves – reveal how to make the most of the 2015 holiday shopping season.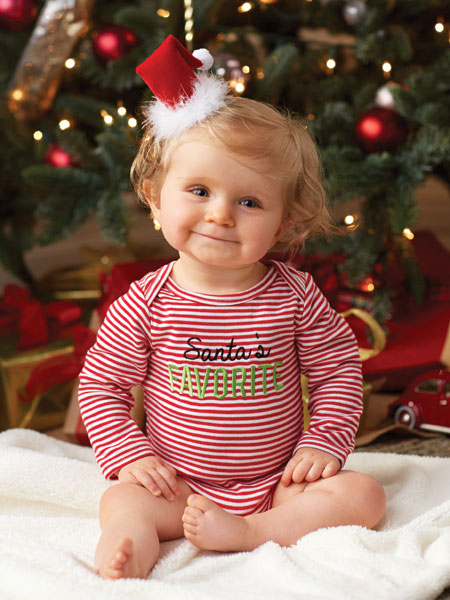 The weather outside may not be frightful just yet, but most retailers already have holiday shopping on the brain. While a sluggish economy put a damper on seasons past, American consumers were certainly feeling the Christmas cheer last year, spending a total of $616.1 billion during the 2014 winter holiday shopping season. In fact, last year's retail sales were at their highest since 2011. Though it's too early for certainty, experts say a confluence of lower gas prices and stronger consumer confidence should make for a similarly strong 2015 holiday season. And Aerin Nicole, CEO of Kickee Pants (known and loved for, among other things, their seasonal jammies), thinks the recession may in fact have invigorated holiday shopping habits. "It has encouraged the celebration of holidays and time spent together," she says. "Having apparel that invites families to celebrate together is appealing to customers."
As every savvy retailer knows, there's no shortage of demand for special occasion and seasonal outfits this time of year; 'tis the season for family portraits, school concerts and holiday parties. But gift-buyers are also on the hunt for stocking-stuffer-sized accessories, toys and more. By setting a festive scene that evokes warm holiday feelings, perfecting the art of customer service amidst one of the most frantic times of the year and getting the timing just right, children's retailers can ensure their offerings make it into Santa's sleigh. Before you make your list and check it twice, read on for advice from industry experts and retailers alike on how to guarantee a holly, jolly holiday shopping season.
START EARLY (BUT NOT TOO EARLY)
Say what you will about the so-called "Christmas creep"—breaking out your winter wares early is a smart move. Pam Goodfellow, consumer insights director at Prosper Insights & Analytics (which conducts research for the National Retail Federation), notes that 40 percent of consumers start shopping for Christmas in October or before. In fact, "bringing out the Christmas tree and starting the carols the day after Halloween almost seems kind of late," she says. Consumers who start shopping early are trying to spread out their budgets and get a head start hunting down the most in-demand gifts, so be ready by mid-fall to take advantage.
Across the country, families don their gay apparel for portraits to send with their holiday cards—so they need their red and green duds ASAP. That's why Miki Brugge, owner of Cotton Tails in Memphis, TN, says bringing in the holiday goods early is essential for her store. She aims to have her popular holiday pajamas on display by late August and everything else shortly thereafter. "Some people think I'm crazy, but if I can get the majority of my Christmas stock by the end of September or beginning of October, I think that's best." Actually, she's in good company: At Bright Beginnings in Austin, TX, infant holiday apparel debuts as early as October 1, according to co-owner Sally Whitehouse, who says parents like to snag their "baby's first Christmas" outfits early and hold on to them for family photo time. Though Evelina Rogers, owner of Pink Lemon Blue Lime in Darien, CT, is wary of going full-on Christmas too soon, last year she got a lot of inquiries about her holiday PJs from customers as early as August. This year, she may try making them available online in August or September before they hit the sales floor in late October. "I don't want to miss the boat on that customer," she adds.   
For gift and apparel manufacturer Mud Pie, May and June is the "sweet spot" for retailers' holiday orders, according to Marcia Miller, company founder and CEO. Although some storeowners want their seasonal goods immediately, others hold off for delivery until October. "There isn't a one-size-fits-all timeline—each retailer has different needs based on things like geography and space constraints," Miller says.
Another benefit of starting the holiday sales season early? "That way, we can mark it down early," Brugge states, explaining that at Cotton Tails, holiday items are discounted in the first or second week of December, and marked down further a few days before Christmas. "You cannot wait until after Christmas because then it doesn't matter what it is, customers are over it."
CREATE A WINTER WONDERLAND
When it comes to decorating and merchandising, a festive atmosphere "puts people in a better mood to shop and spend money," Goodfellow states. Accordingly, consider going all out—not just with a single display, but throughout the entire store, as Brugge does at Cotton Tails. She's careful to make sure the magic happens behind the scenes—meaning after hours, so that when customers come in the next day, the store has been transformed. "I liken our displays to The Elves and the Shoemaker," Brugge says, referring to the fairy tale in which elves visit a poor cobbler at night and help revive his business. "You leave at night and you come back and everything's done." Whitehouse sets the scene at Bright Beginnings with lights, decorative window displays and even scented candles to entice shoppers with the aromas of the holidays, while Annie Cantrell, owner of Annie's Blue Ribbon General Store in Brooklyn, NY, commissions a local artist to create a holiday-themed bespoke painting in her shop's window.
Spread seasonal cheer even further with in-store festivities. A rotating cast of holiday characters pays Cotton Tails a visit on Saturdays in December, including Sophia the Elf, the Sugar Plum Fairy and Mrs. Claus. The latter is especially popular: "Kids get kind of scared of Santa, but there's just something about Mrs. Santa," she muses. Whitehouse's store hosts a silhouette artist and a photographer around the holidays and has local purveyors and artisans on hand for product demonstrations and gifting inspiration.
Of course, there's always the question of when to deck the halls. "It's a fine line," Rogers states. "The big box stores start [holiday] so early, and I feel like there's this urgency to beat them to it. But when people come into the store, they're not ready." Instead of bowing to the pressure, Rogers waits until the weekend before Thanksgiving to bring in the Christmas gear. Brugge likes to wait until one holiday ends before moving on to the next, but "that first weekend after Halloween, the whole entire store goes into holiday." And while holiday tunes are clearly an essential part of the overall experience, it's a sensitive subject: Don't expect to hear "Jingle Bells" at Cotton Tails until after Thanksgiving. "We don't want to hear it any sooner," Brugge declares.
KEEP IT CLASSIC
Anyone who's been in a children's store around Christmas—or any store, for that matter—knows bright, bold holiday looks featuring beloved holiday staples like Santa and Rudolph are in high demand. But as Whitehouse puts it, "subtle and tasteful has always been my preference." Similarly, Rogers explains, "Holiday is very conservative. Even the people who aren't normally traditional go more traditional for the holidays." She stocks her store with special occasion wear from Bella Bliss and Isabel Garretón for church and family outings, as well as a few "subtle red dresses that aren't over-the-top fancy" for school parties. Miller points to classic patterns like tartan and Fair Isle and whimsical touches like ticking as big trends in Mud Pie's holiday 2015 offerings, especially when mixed with modern pieces like playful appliqued tops. Girls' holiday dresses with smocking (by brands like Claire & Charlie and Vive La Fête) are big in the South, as well as casual wear in
holiday motifs by Persnickety, according to Brugge. Several retailers and manufacturers cite monogramming as popular around the holidays; Miller says personalized bibs, stockings, blankets, pajamas, sweaters and hats are a hit for Mud Pie, while Rogers likes SkylarLuna's PJs because their consistent patterns let monogrammed initials pop.
To appeal to customers seeking something a little more subdued, consider brands like Coccoli, which has made a classic approach to holiday its signature. According to Francois Vachon, VP of the Canadian brand, that means "no reindeer and no Santa Claus." Instead, Coccoli's holiday '15 offerings include boys' pajama tops with a candy cane stripe in red and heather gray paired with a solid gray bottom and an all-over red floral on a gray background for girls. This subtle design aesthetic comes with a few unintended yet welcome benefits—Coccoli's PJs have a longer shelf life than typical seasonal products and appeal to customers who don't celebrate Christmas but still want something festive for the winter holiday season.
The same rules apply when it comes to gifts and toys: At some stores, tried-and-true holiday franchises, like Rudolph the Red-Nosed Reindeer and Elf on the Shelf, are as much of a hit with little ones as gift-buying parents. On the other hand, retailers like Rogers lean toward items that are "a little more special," like the elegant holiday plushes from French brand Maileg, which fly off the shelves at Pink Lemon Blue Lime.
STOCK UP ON STOCKING STUFFERS
Irresistible accessories and other trinkets are go-to gifts during the holidays, and a great way to accentuate your assortment. Last year, Rogers devoted an entire table to stocking stuffers like mittens, ornaments and toys, and reports that it was a big hit. The expansion of her toy selection this year should bring it to the next level. Miller says accessories like "Cookies for Santa" plates and "Daddy & Me" bowties are big seasonal sellers for Mud Pie. And at Bright Beginnings, hats, hair accessories and socks are particularly popular around the holidays, according to Whitehouse.
Quirky-cute gifts are the bread and butter at Annie's Blue Ribbon General Store, and at the holidays, Cantrell says, "We go bananas." She mentions stickers from Peaceable Kingdom, pen sets from International Arrivals, socks from Gumball Poodle, plushes from Jellycat and craft sets from Eeboo as hot sellers. The store also features a back wall decked out with an array of 60 different ornaments.
In addition to stocking items from mainstay brands like Two's Company, Brugge sets aside about 5 percent of her December budget for accessories, which allows her to jump on new trends when she spots them. She explains that when kids come into the store with cute outfit add-ons, like Silly Bandz (which took off around the holidays in 2010) and last year's Frozen necklaces, "I shamelessly get the name and I hunt it down. It's always good to leave some money to groove with," she adds.
REMEMBER SEASON'S GREETINGS
The holidays can be hectic for retailers and shoppers alike—all the more reason that superb customer service is key during gift-buying season. Goodfellow points out that many shoppers in the market for kids' gifts aren't regular consumers of children's products. "That's when service really comes into play," she says. "It's a huge unknown area for a lot of people. Ideas and inspiration for gift-giving shoppers really help." It's especially true for smaller boutiques, where shoppers aren't simply snatching up this year's must-have toy. Customer service is an area in which they can really shine.
In fact, good sales help is Cotton Tails' "biggest weapon" against big-box stores during the holidays, according to Brugge. She says that while her store tried holding early-morning sales during Thanksgiving weekend to lure Black Friday shoppers, it didn't stick, so she went back to opening up at Cotton Tails' regular 10 a.m. time. "What works for us is having fabulous customer service, beautiful gift wrap and having things that other people do not have." To that end, consider beefing up your sales staff to accommodate the increase in traffic around the holidays, as Whitehouse does at Bright Beginnings.
Even better, Mud Pie makes it easy on holiday shoppers with ready-to-gift packaging. The brand offers knitwear sets and reindeer socks that come in conveniently gift-able boxes—no wrapping required. "My First Christmas" sleep gowns packaged in fiber board gingerbread houses and "Santa's Favorite" one-pieces tucked into Mason jars come ready to be placed under the Christmas tree. Similarly, boutiques can become one-stop holiday shops by providing free or inexpensive gift-wrapping services. If long lines of impatient customers preclude that, do as Cantrell does at her store and offer gift-wrapping supplies like tissue paper and ribbon with each purchase.
These special touches are why, despite competition from online vendors, brick-and-mortar stores continue to see shoppers flocking to their shelves. Children's retailers that ring in the season with thoughtfully selected merchandise, cheerful decorations, gift-inspiring promotional events and skilled sales help manage to make holiday shopping a pleasant experience. As Whitehouse puts it, "We try to create a festive atmosphere and a welcoming environment that makes people feel at home."