Noé & Zoë Jumps into Converse Noé & Zoë has tied the knot with Converse on a Fall '18 collection. It takes the relationship to the next level since the German brand often accessorized its collections with Converse's iconic Chuck Taylor All Stars. "Converse has been adopted and interpreted by youth to continuously emerge on […]
Noé & Zoë Jumps into Converse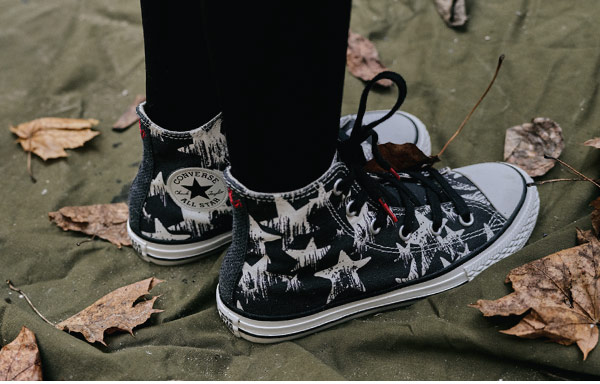 Noé & Zoë has tied the knot with Converse on a Fall '18 collection. It takes the relationship to the next level since the German brand often accessorized its collections with Converse's iconic Chuck Taylor All Stars.
"Converse has been adopted and interpreted by youth to continuously emerge on the feet of the next generation," says Nici Zinell, founder of Noé & Zoë. "The Chuck Taylor All Star has become representative as a silhouette for self-expression."
Adapting the color palette and three favorite Noé & Zoë patterns (winter stripes, star shower and black dots) from its fall collection, the design teams added special details like the embroidered Noé & Zoë anchor, color-pop lace tips and a signature sock liner. "The outcome is a beautiful melody between the two brands," Zinell says. "Converse's canvas became a fun and interesting place for us to explore and apply Noé & Zoë´s bold and graphic prints, and the classic style works really well across all sizes in the range."
Wholesaling for $27 to $50, each story features four takes on classic Chuck silhouettes: a hi-top, OX, 2V and infant crib variations in sizes infant to size 10.5.
LA Mart Celebrates 

60 Years with New Exhibit
For this year's winter market, LA Mart debuted Temps on 2, a unique array of temporary exhibitors. Although this is the first time in nearly a decade LA Mart has organized a temp show, it won't be the last, according to Frank Joens, senior vice president and general manager of LA Mart. "Temps on 2 is permanently joining our stable of offerings here at the LA Mart and will be with us at every major winter and summer market," he says.   
The show celebrated LA Mart's 60th anniversary and salutes Hollywood with the catchphrase "Celebrating 60 Years in Show Business"—a nod to the marts' 60 years of producing trade shows. The entrance to the temp show continued the theme, paying tribute to Miami's famous Coconut Grove, the home of stars like Sylvester Stallone, LeBron James and Madonna. Buyers received commemorative anniversary tote bags, free lunches and complimentary happy hours.
The luxury and business opportunities served as a big draw for buyers new to the show, which exhibitors appreciated. "I saw half existing customers and half new," says Alec Bell of children's toy brand Melissa and Doug. "We need good West Coast representation, and we want the LA Mart to be that."
The venue showcased nearly 100 curated, artisan-driven lines, many shown exclusively at winter market. "As a very new brand, we were so happy to have opened multiple new accounts nationally and across California," says Heidi Androl–Guzman of Tinseltot and Zalamoon. "This was the perfect place to introduce our brand to local buyers."
LA Mart's latest edition and Temps on 2 were a smash hit, Joens reports, adding that buyers should expect more of the same at the next edition from July 20 to July 23.   
Monnalisa Marks 50 Years of Success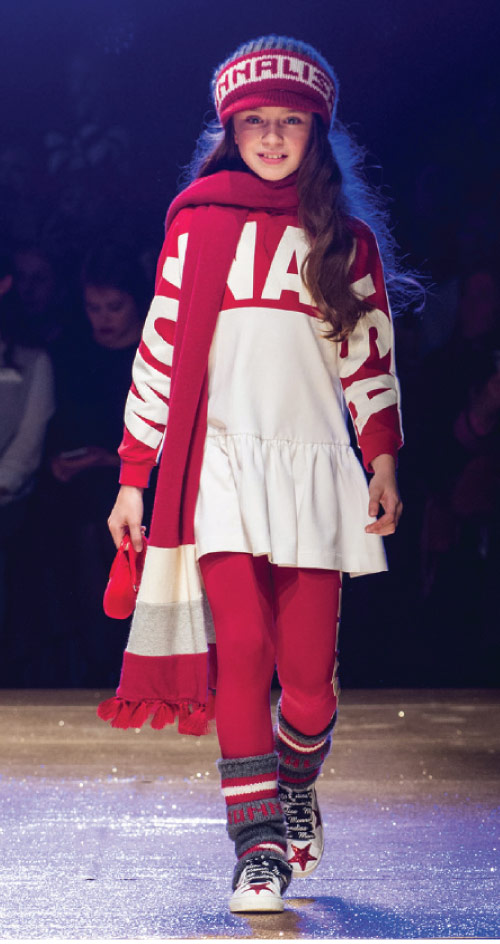 Monnalisa is marking a half a century of designing pint-sized fashions featuring authentic Italian craftsmanship. In recognition of the luxury label's milestone, the 86th edition of Pitti Immagine Bimbo honored the company with an event inside the Fortezza da Basso. The celebration, dubbed "The Golden Age," was attended by more than 1,000 guests including collaborators, journalists, bloggers and buyers. Monnalisa also used the occasion to debut its Fall '18 collection.
"The goal is to continue to excite while maintaining a strong identity and extending our concept of lifestyle," says Barbara Bertocci, creative director. "We started from clothing and now we express our creativity with accessories, shoes, romantic furniture from our Living line and perfume."
Bertocci says the fall collection is inspired by classic Hollywood films. Based off a palette of tarmac gray, forest green and candied-chestnut brown with touches of pink, black, fuchsia and pomegranate, patterns include polka dots recalling the circle gowns worn by '90s actresses, hot air balloons of Around the World in 80 Days, rose bouquets that evoke The Secret Garden and prints with elegant perfume bottles.
Reflecting on Monnalisa's golden anniversary with an eye always toward the future, Bertocci and her husband and co-founder, Piero Jacomoni, take great pride in the company's longevity. It takes dedication, passion, talent, hard work and, Bertocci says, "investing in people." It's people who are behind the designs, according to Bertocci. "The combination of talents is the true strength of a brand," she says.