Denise Coloma, owner of Boy Meets Girl in Coral Gables, FL, celebrates a quarter-century of success.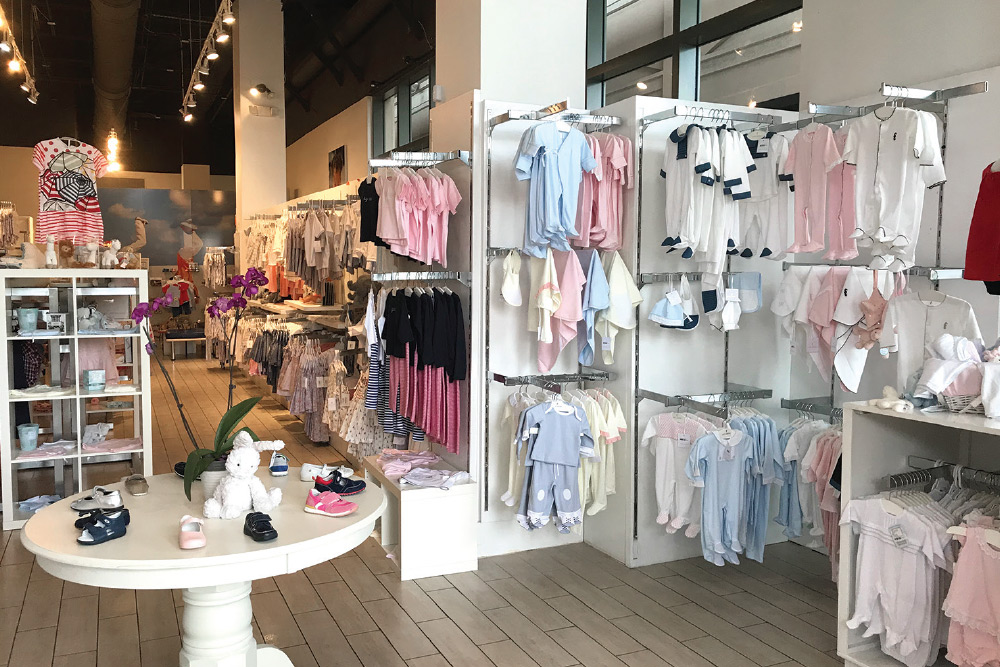 Marking 25 years as a children's retailer, Denise Coloma is delighted to be welcoming many of her original customers back to shop for their own kids. She believes such generation-to-generation loyalty is the ultimate sign of respect. "While it sure makes me feel old, I'm so appreciative for what that says about my business," Coloma says, attributing the store's longevity to a classic selection and exceptional customer service. "Seeing my store valued generation to generation makes any challenge worth it," she adds.       
Coloma first opened the doors to Boy Meets Girl while pregnant with her daughter. "Instead of napping more, I opened my own business," she says with a laugh. "Probably a little unusual, but I always knew I loved fashion and wanted to take advantage of an opportunity."
The opportunity was a void Coloma saw in the marketplace. Having settled in Coral Gables, a city just south of Miami, she had struggled as an expecting mother to find a well-curated selection of children's apparel brands. Fusing her finance degree with her classic sense of style, she decided to solve the problem herself. She rented an elegant space in a local shopping center and went about stocking a selection of infant, boys' and girls' apparel. You might say it's been Boy Meets Girl business as usual ever since.
But that'd be the abridged and cleansed version of Coloma's retail story. She admits there have been several trying periods. "I would never call it easy," she says, noting that early on the selection consisted of nearly all imported labels. But then the value of the Euro skyrocketed. "Customers cut back on their spending, and it was up to me to adjust my product mix," she says. Coloma scrambled to introduce more domestic lines and vary the pricing of her high-end assortment. She chalks up the experience to what is a key lesson in the world of retail: change is constant and one must be able to adapt in order to survive. "My whole plan had to change," she says. "But honestly, that's all part of being a good retailer."
Basic Training
Coloma says that many retailers make the mistake of "blowing money on frivolous things." To avoid that, she always comes to the table with a well-organized plan. The gist being to lead with your head before your heart whenever possible. "You have to always be smart about your next move," she says. "That means a lot of analysis. It's not the fun part, but it's important if you want to survive."
After the Financial Crisis hit in 2008, Coloma once again had to find ways to adapt to try and survive during the Great Recession that followed. The strategic modifications to her business included updating her product mix to feature more accessible lines as well as working harder than ever to maintain a great rapport with customers. "I'll be honest—that was a really tough stretch," she says. "It was a lot more sweat, but we made it."
Some might think that this current state of industry upheaval—what many in the press have called the Retail Apocalypse—might be even tougher for Boy Meets Girl to weather. A one-door, primarily brick-and-mortar business in the age of Amazon is deemed by many analysts to be a (rapidly) dying breed. But, in the case of Boy Meets Girl, they'd be wrong. In fact, Coloma reports little, if any, effects from the epic downsizing many other brick-and-mortar retailers are undertaking. She attributes that mostly to having established her niche and knowing her customers like the back of her hand. "It's been a great year," she says, noting that her high-end selection has been selling well. "The industry is not 'doomed,' it's just adapting to a more informed customer," Coloma adds. "It's your job as a retailer to find your strength and curate a selection that the customer feels is fun and beneficial to come explore."
Coloma uses frequent e-blasts, direct calls to customers and in-store events to help spread the word and connect with her clientele. "It's that one-on-one communication when you're a small business that sets you apart from the big box and e-commerce sites," she says. "We'll often call the person who places an online order, confirming the purchase and presenting an upsell that fits their needs." And while Boy Meets Girl benefits from e-commerce purchases within the U.S. and South America, Coloma says the majority of revenue still comes from in-store shoppers.
Know Thyself
Merchandized to resemble "a little department store," each vendor's collection is grouped together a la a shop-in-shop approach. It's a tight and curated mix. Brands include Sunuva, Mayoral, Florence Eiseman, Tartine et Chocolat, Isabel Garretón, Petit Bateau, Stella McCartney and Kissy Kissy. "They're all so different it works well," Coloma says, noting offerings range from newborn to size 8 with a few 10s. "I did try preteen at one point, but it was a nightmare," she adds, advising fellow childrenswear retailers to think twice before taking that plunge. "The girls always wanted one thing while moms wanted something else," Coloma says. "It ultimately led to lots of crying in the dressing room—not good for the store environment."
Another one of Coloma's tween no-nos: carrying baby clothes in the same store. It sent many preteens racing toward the exits. "They were already unhappy just walking in," she says. One category, however, that Coloma keeps in big sizes is shoes—up to size 38 (7.5). In addition to many kids having bigger feet these days, shoe shopping can be a logistical challenge (think nightmare) for moms. It's better to try and shod as many children as possible while they're all in one place. "It's an all-inclusive and painless try-on process," Coloma says. Of late, she reports slip-on styles as selling particularly well in metallic, especially rose gold. Naturino is one of Boy Meets Girl's leading footwear brands. Others making it onto the shelf include Pediped, Superga and Eli.
As for apparel, timeless looks with modern flair are always the foundation to Coloma's buy. "Nothing is blinged out—just nice quality and simple," she says, citing chambray dresses, cute prints, neon details and navy as favorites this season. "I also sell a lot of jewelry—a lot of pearls and real gold. I never sell costume jewelry," she says, citing Mindy Harris as her best-selling accessory line.  
Of late, Coloma is putting a significant amount of effort into growing Petit Atelier, her private label brand. It first debuted four years ago when Coloma sought a new challenge. "I can practically run Boy Meets Girl with my eyes closed, so I wanted to try something new," she says. So far so good as Coloma reports Petit Atelier continues to expand beyond Boy Meets Girl with reps for the Dallas and Atlanta markets as well as exhibiting at Children's Club in New York. "It's a very preppy European look—quality materials that are well-tailored in soft pastels," she says. Over the next five years, Coloma hopes to build Petit Atelier into a full-on lifestyle brand. "Right now I only offer traditional clothing and layette, but I'd love to branch out into shoes, swimwear—an all-inclusive assortment," she says.
As for Boy Meets Girl the store, Coloma says it remains business as usual. In essence that means pleasing her clientele. Going forward that will include more in-store events to keep customers engaged as well as to attract new ones. For the holidays, she's already arranged another in-store photo shoot with a local photographer. Getting holiday cards done while shopping is a no-brainer for multitasking moms.  Boy Meets Girl will also be adding more opportunities for in-store customization, like monogramming clothes and engraving jewelry. It's just another reason to pay a visit. It's also just what a good retailer does—to always be willing to change to meet the wants and needs of customers. "Sometimes you just have to make the leap and say, 'All right, let's try this,'" Coloma says. "At the end of the day, it's about connecting with my customers and most of all making the kids happy—that's what makes each day special."