Amy Sparks, owner of Once Upon a Time, makes customers' wishes come true through fairy tale-inspired merchandising and old-fashioned service.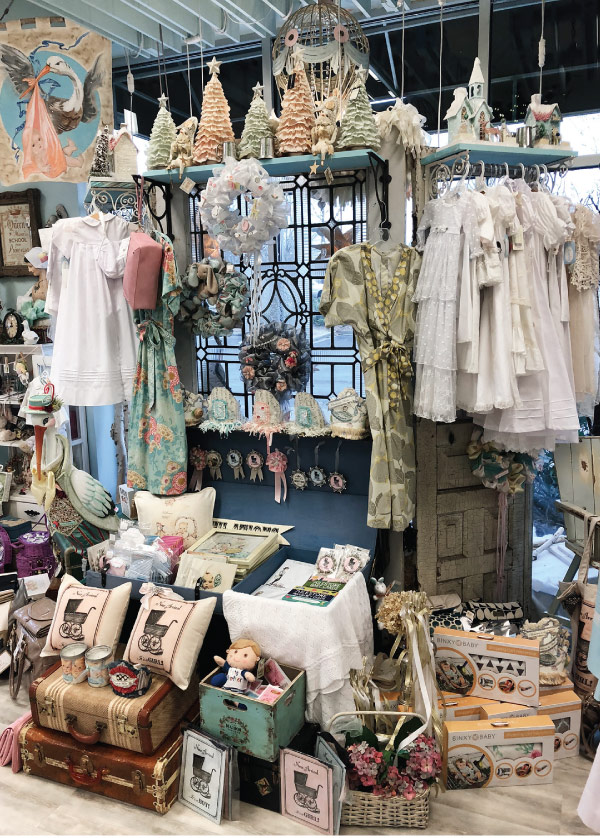 Sixty-two years young, Amy Sparks describes herself as a late bloomer when it comes to finding her true career calling. After rearing three daughters, going through a divorce, taking a job at a juvenile court and ultimately inheriting her father's dynamite company, Sparks decided to use her late parents' inheritance in life's next chapter to capitalize on new passions. With a love for fashion and an even greater love for her grandchildren, Sparks saw an opportunity when a kids' boutique in Hendersonville, TN, shuttered its doors. The year was 2013. "I knew I could slip right in there," she says. "I already had the name and everything."
That same year, Once Upon a Time by Amy opened its doors: a 1,400-square-foot space in that same Hendersonville shopping center, brimming with fairy tale décor thanks to the artistic talents of her second husband, Michael Sparks. Turns out the former music equipment technician who had spent two-decades as a roadie for Lynyrd Skynyrd back in the '70s also had genuine artistic chops. "When I married Mike, I honestly had no idea what talent I was getting," Sparks says, emphasizing how the couple's teamwork has been key to making Once Upon a Time such an enchanting experience. "I was able to turn a roadie into a muralist for a children's store—pretty cool, huh?" That's not the only good fortune Sparks' husband has brought to the marriage: His "eye for finding great treasures" led him to purchase a rare, 184-year-old copy of the Declaration of Independence in 2007 from a Nashville thrift shop for $2.48. It was later sold to a Utah investment firm for $477,650. "It's a true story—Google it," Sparks says, adding that the couple now share their antiquing hobby to pick out unique décor for Once Upon a Time.
Only a few years into the children's retail game and having grown her customer base significantly, Sparks relocated last August to a space double the size but only five doors down. Instead of a moving van, Sparks used shopping carts from a nearby Target, pushing them down the sidewalk and unloading merchandise and displays one cart at a time. "If we were moving across town it would have been a lot easier," she says. "It was tiring—and pretty hilarious, but most of all it was worth it."   
Beauty and the buy
Amy Sparks shares buying and selling secrets that guarantee a happily ever after for every customer/
Do you buy with your head, gut or heart?
Heart. If I see it and love it, I will find a way to carry it.
What's one thing you avoid doing when planning your buy?
Getting carried away with price points. I forget that when you're older like me, you're better off financially than younger mom customers. I want to be accessible to the majority.
What's your best sales technique?
I've got a funny yet effective one. I stock these new hospital gowns expecting moms can purchase for delivery, and I've been selling them like crazy with just one line: 'You never know who died in the hospital gown they give you.' Sold.
What inspires you?
I don't look so much at the clothing, instead I try to envision how it will fit in the store. I become inspired to buy when I can picture a beautiful display.
What gives you the greatest satisfaction?
Having people walk into the store with a smile.
Welcome to Our Castle
When customers walk into the newly renovated, 3,000-square-foot Once Upon a Time, the experience is described as falling into the pages of a fairy tale. Upon entering, customers are greeted with a giant storybook suspended from the ceiling, open to an image of a castle adjacent to the phrase, "Once Upon a Time." The subtle scent of baby powder filters through air ducts while calming tunes play in the background to please Millennials and Baby Boomers alike. "There's something very important about walking into a place and having its ambiance strike you," Sparks says, noting several personal touches add to the nostalgic décor, like her childhood Chatty Cathy doll, old photographs and even her church's cradle roll. "Does everything have a purpose in there? No, not really," Sparks says. "But if you look at it, it brings you back to a happy time. It's all part of the experience—part of the story."
From the contrasting aesthetic of delicate christening dresses hanging from Birchwood bark to playwear displayed on antebellum mansion gates, every corner of the store is customized with character. Even the dressing rooms are decorated with antique window panes displaying vintage paper dolls. Sparks is especially proud of the patio area, envisioning it from the start as the perfect place for a playhouse to occupy kids while parents shop. "If you get something that kids are used to playing with, they'll be bored," she says, explaining how she looked near and far to find the most unique playhouse. And when she finally found it, Sparks stayed up past midnight assembling it with her husband. "If you're looking for teambuilding to enhance your marriage, buy a playhouse—you'll quickly find out if you'll succeed in life," Sparks says with a laugh.
Royal Treatment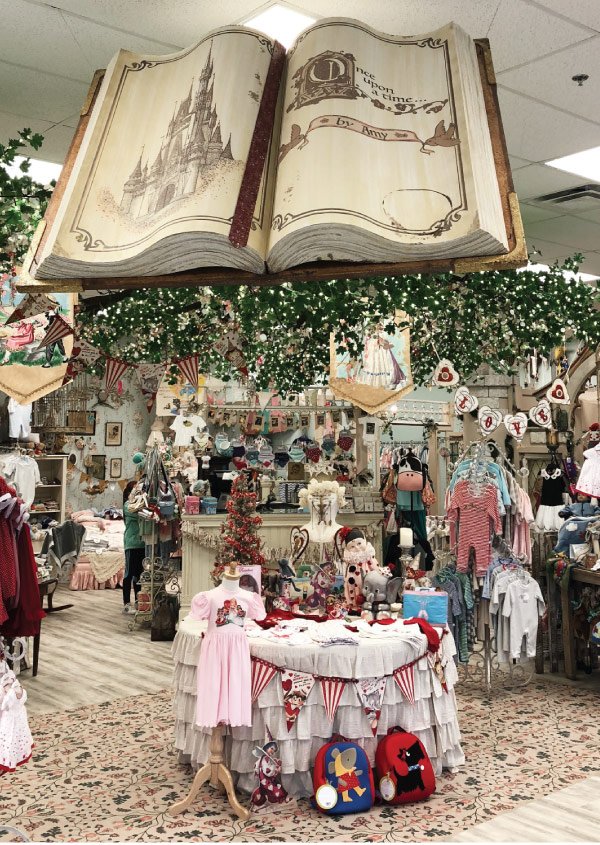 Born and raised in Tennessee, Sparks was the daughter of a state legislator and grew up going door to door with her four siblings asking neighbors to vote for her father. "I was trained from a young age how to please people," she says. "It's how I secured votes, and now it's how I get sales." Sparks believes customer service is everything, and every new customer is a chance to build a lasting relationship. She stresses how important it is that boutique owners make sure their shops are comfortable for more than just new moms, noting that grandparents are the secret weapon to boosting sales. "Grandparents are the ones that have the big bucks," Sparks says. "I clothed my little grandbabies for years and years, and that's just the fun of being a grandmother." In fact, grandparents often come in to Once Upon a Time for a complimentary cup of coffee as they sit by the boutique's faux fireplace and listen to Sparks tell them about new inventory in the store.
When it comes to pleasing customers, Sparks believes no favor is ever too much and no advice is worth withholding. "I often show young mothers how to move buttons on certain garments to make them last longer for growing kids," she says. "I tell them to bring the clothes in, and I'd never charge a penny because that's what good customer service is." Last year, Sparks even hosted free pictures with Santa in front of the store's "castle door" on the Sunday after Thanksgiving. Sixty-three families showed up, all adoring the ornate winter wonderland Sparks and her husband created. Each customer was able to take pictures with Santa and have the photos sent directly to their email—perfect for Christmas cards. "I know I'll have people calling next year saying, 'Hey, are you doing those free Santa pictures again?'" Sparks says. "It was that much of a success." Overall, she believes the key to customer loyalty is being more than just a shop owner; it's about being a friend. "Communicate," Sparks says. "I tell my customers if there's something y'all want to see here, all they have to do is let me know."
The Next Chapter
When it comes to predicting what's next, Sparks says she has no limits. "I'm a believer, and I do think it's a God thing," she says. "I think when He's given you abilities and talents, if you touch on those things and it's good with Him, the sky is the limit." Not to mention that Sparks can't sit still. "My kids always say I can only wait 10 to 15 minutes for anything," she says. "And they're right—I've got stuff to do before I die!"
In the planning stages, Sparks mentions everything from her own private label collection to franchising the boutique and even creating an HGTV special about antique hunting and designing each unique Once Upon a Time space. She already has the colorway of her private label line picked out: "Tiffany Blue," she says. "It's a universal color—you put that color on anybody and they'll look good in it."
In the meantime, the owner says she will stay true to her core business value, believing that her motivation for owning a children's store should never be just about making as much money as possible. "I don't have a huge markup because that's not what fulfills me," she says. "I'm simply doing what I love and ultimately I'm living my dream because I have my priorities right."
That's why Sparks believes her attempt at launching an e-commerce site turned out to be one of her biggest regrets. "If I could have my money back from what we've spent opening the online store, I would take it in a heartbeat," she says. "That online store puts a damper on everything that I'm about." Sparks says she came into the business wanting to meet new people and make friends, "not stand there and box up items to send through UPS." Nonetheless, Sparks understands the importance of a digital presence. She often works with her daughter, Hope, the store's part-time buyer, to keep an active social media feed and stay connected with the community through charismatic posts and videos—all designed to draw customers into Once Upon a Time. It's an experiential shopping experience that is worth experiencing.
To that end, Sparks believes fairy tales do, in fact, come true. Her boutique is living proof. "Nothing is impossible," she says. "It's a person's uniqueness—likes, dislikes, everything about us that brings us together. Expand on you, and who knows, people may really love you."