At the Plaid Rabbit children's boutique in Nashville, Tenn., warm customer service and cozy merchandise keep this small-but-mighty business booming.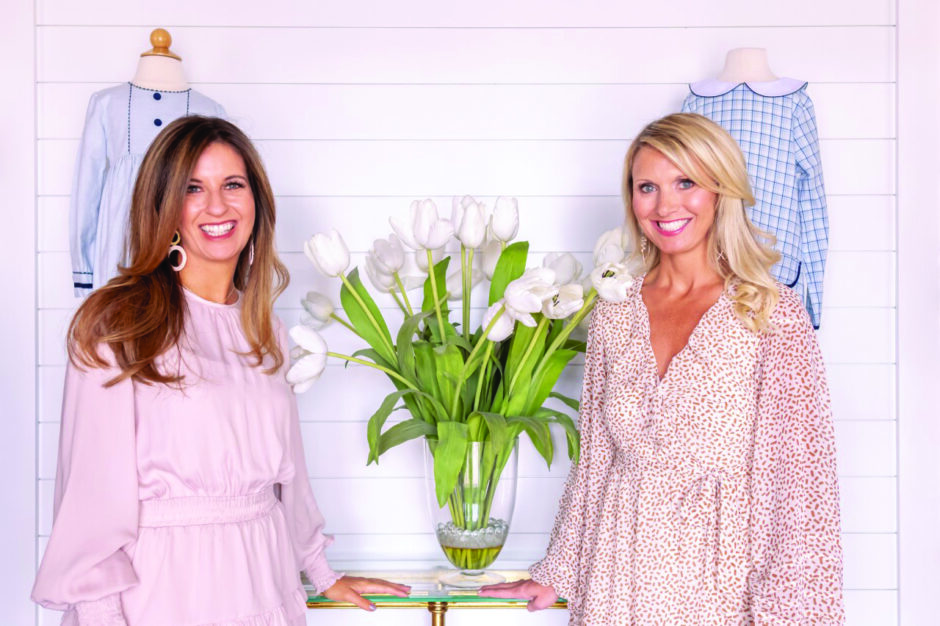 When kindergarten friends Macy Mulligan and Kendra La teamed up to take over the well-known Plaid Rabbit baby shop, they could not have guessed how much love they would have for their jobs more than a decade later. Mulligan, who has a degree in nursing and worked with recovering open-heart surgery patients and heart transplants, was looking for a career shift once she became a mom. La began her retail career in high school, studied broadcast journalism in college and then worked at Dell, managing an all-male sales team They are both driven women who have a passion for fashion.
Mulligan and La purchased Plaid Rabbit in 2011 from prior owner Angie Patterson, who had bought it in 2006. Under Patterson's stewardship, Plaid Rabbit primarily sold European clothes up to size 6. The new owners wanted to keep the well-established name, which had a three-decade history, but their vision entailed big changes for the merchandise–more U.S. brands and greater variety–and the overall gestalt of the store. "Our mission was to make Plaid Rabbit a place where moms can bring their kids to pick out their wardrobes for an entire season or just the perfect outfit for an occasion." Mulligan enthuses, "It isn't uncommon at all for us to hear a customer say to us 'I have never seen a store with more inventory!'"
Women Helping Women
The duo channeled many of their own needs and wants into the store, knowing that most of the items on their wish list were universal in the parenting world. "We both have children so we realize the importance of having a place where moms can shop and the kids have a place to play." Plaid Rabbit went one step further, employing a village of females who just get it. "Everyone working is a nanny, mom or grandma so they are always happy to help. You will always be greeted with a smile. We have the sweetest team of ladies working for us and everyone loves helping customers," La says.
It isn't uncommon to see an employee in the play area engaging with a child so the mother can finish her shopping or witness a baby on the countertop while one of the employees is helping change their outfit. Knowing that accidents happen, the store keeps its bathroom stocked with diapers from newborn to size 4 and of course, wipes.
While the village keeps the store running well, Mulligan and La still face the daily challenge of being business owners with families–the juggle that all working moms can relate to. "I always say that my main goal in life is for my family not to know I have a job and my job not to know I have a family," Mulligan says. "That obviously creates a ton of stress at times!"
Divide and Conquer
While both owners are equally invested in their inventory, there is a division of labor with other tasks. Kendra has always held more of the managerial cap, according to her partner. "I make the schedule, train our team, and focus on sales," La says. "I also love putting together displays throughout the store." La explains that Macy focuses on buying and designing outfits and she spends "hours doing custom embroidery for our clients."
Although Plaid Rabbit's online and social media business has increased significantly since 2020, the buying strategy is still primarily buy for in-store customers. The location—and reputation—of the store yields amazing foot traffic on a daily basis. The store primarily caters to sizes 2T-6 and the owners make sure to buy double in lots of sizes for all the multiple births these days.
Plaid Rabbit prides itself on being one of the leaders in the industry in buying classic, timeless children's clothes—and doing it with the utmost attention. "We visit practically every vendor and look at every garment at market so that we can make the best selection possible for our customers," Mulligan expresses. "We try to find unique pieces that you can't find in big box stores or online."
The depth of the inventory is impressive. Layette includes brands such as Kissy Kissy, Angel Dear, Magnolia Baby, and Pixie Lily; choices for toddlers include Bella Bliss, Little English, Beaufort Bonnet, Luigi Kids, and Bailey Boys; gifty merchandise is extensive, with options from 3 Martha's, Little Giraffe, Oh Mint, Noodle & Boo, and Aden & Anais as well as accessories from Jefferies Socks, Wee Ones, New ICM, Weefarers, Babiators, and Lily Nily for jewelry. Finally, Plaid Rabbit also stocks goodies for teens and tweens from Bella Bliss, Mayoral, James & Lottie, Hayden Girl, and Queen of Sparkles, among others. It's safe to say that customers do not walk out of Plaid Rabbit empty-handed!
Sizable Staffing
In order to ensure a steady stream of sales help and enough coverage for the busiest seasons, there's a host of part-time help—more than 30, in fact.  There are five full-timers, and some employees have been with Plaid Rabbit for close to 30 years; these sales people are now helping to outfit the grandchildren of their first generation of customers.
Mulligan and La want to keep their staff as content as possible since they know that reliable, loyal help can be tough to find, and it's often small gestures that go a long way. "We are constantly taking our ladies to dinner and buying them coffee. We do our best to make their pay rate comparable in the industry," La says. When it comes time to hire new staff, they only need to rely on word of mouth.
Not only does Plaid Rabbit benefit from consistent sales help and very little turn over, it has also managed to remain largely unaffected by supply-chain disruptions—with the exception of socks and gliders. "We are very lucky," Mulligan admits. "Our manufacturers were able to continue producing almost everything we needed."
Post-Pandemic Practices
The owners feel lucky in many other ways, too, even in the aftermath of the pandemic. The shut-down really forced the store to get online. "The best change that came out of Covid for our business was teaching us how to go live on social media, create more stories and posts, and to put most our products on our website," La says. "We'd been delaying it for a long time, but we are so glad we moved into the e-commerce world when we did." The owners plan to continue growing their online business and potentially opening another brick and mortar.
Mulligan and La feel a deep commitment to their small business and others—locally and nationally. Their shopping center is filled with other small-business owners, with whom their have friendships and partnerships, often providing fun events and promotions for their collective customers. "We also have lots of boutique owners in other cities that we talk to on a weekly and sometimes daily basis. We love brainstorming with friends in the industry," Mulligan effuses. "We feel like this is such a great tool to better our business and we hope we help others in the process."