Shade Critters has made a splash with its UPF50+ pool, beach and resort wear. Discover how co-owners Fred and Maureen Schmidt keep their fashion-forward business happily afloat.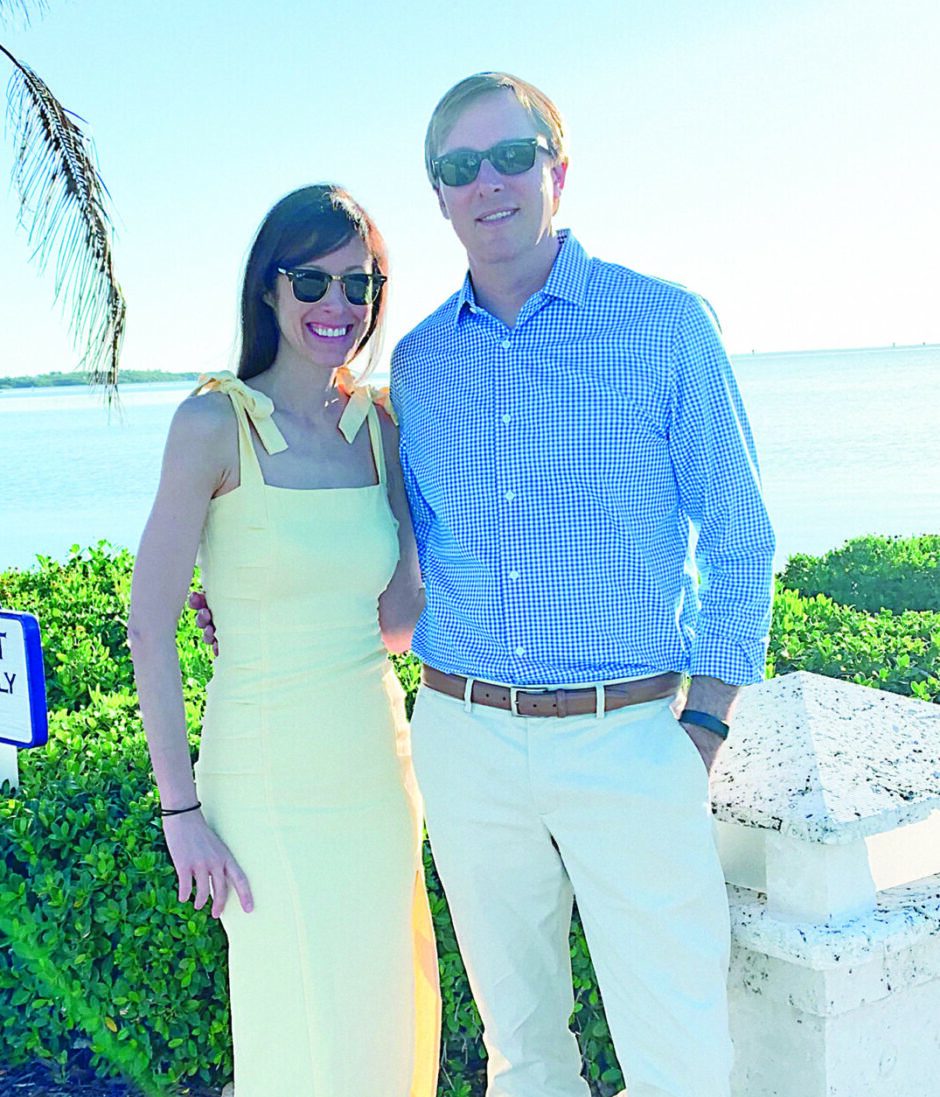 More than 30K followers on Instagram can't be wrong. Shade Critters, the Sewall's Point, Fla.-based swimwear manufacturer that offers sun protection with a dress-up element, has been building its fan base of parents, bloggers and some celebrities; the company counts model and mom Molly Sims as one of its devotees and an Instagram post featuring Khloe Kardashian's daughter, True Thompson, garnered more than 3 million likes.
The husband-and-wife team of Fred and Maureen Schmidt have been producing Shade Critters since 2016 under parent company 8 Oak Lane. Despite being affected by global supply-chain disruptions, Shade Critters succeeded in retaining its staff during the height–and aftermath–of Covid.
Earnshaw's: What's your professional background and how did you get started in the swimwear business? 
Maureen Schmidt: I started my career as a buyer at Limited Too and then I wound up pivoting to product development. I have designed a wide range of products over the years for top retailers, but my true passion became children's sun protective swimwear once I started having a family.
Shade Critters emerged out of a personal need for sun safety for my own small children after moving to sunny Florida. We wanted our children to be able to active and enjoy the outdoor space without getting sun damage, but the options in the marketplace were very limited and frankly, very boring.  Beyond white, black and navy, there was very little available in the children's market.  I decided that my next company would make sun safety fun and fashionable, focusing on designs that kids would actually want to wear—and moms would want to post on social media.
ER: What has been the  evolution of the company?
Fred Schmidt: Shade Critters launched with a handful of styles featuring long sleeve rashguards and swim sets featuring UPF50+ fabrics.  Today, we offer several hundred styles of swimwear, cover ups and resort wear for the whole family. Shade Critters can be found on the shelves of top retailers around the globe.
We love coming up with new designs and constantly evolve our collection. We're constantly challenging ourselves with new techniques, fabrics and silhouettes. Our retailers love us for it, but it does put a lot of strain on the product development team and our manufacturing partners.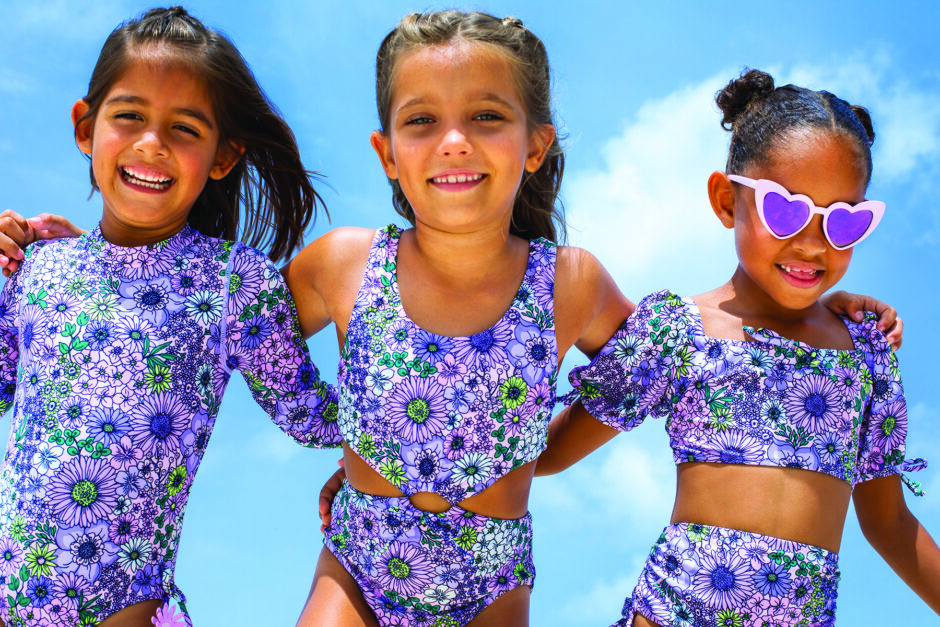 ER: Do you sell direct to consumers?
Fred: Actually, we don't and that is intentional and how we approach our business. Our focus is on B-to-B and supporting our network of retailers. The primary function of our website is to build brand recognition and offer access to families lacking retailers in their area.
ER: Who comprises your staff?
Maureen: We have an amazing team in place in our Florida design office.  We've brought sourcing from Hong Kong back to the U.S. due to Covid, and we have recently moved to a new state-of-the-art warehouse facility in Indianapolis.  We have between 12 to 18 dedicated staff members working on our business at any given point. Equally important is our sales reps out in the field servicing our retailers and they are: The Closet, Janet Hunter Hawkins, The Dressing Room, NY Kids Showroom, and Whitney Douglas.
ER: How do you attract and retain high-quality employees, especially during The Great Resignation?   
Maureen: We are fortunate to have a great team in place and like many small business owners, we treat our employees like family. By offering flexibility and a great work/life balance, we have many tenured employees. Some of the team continues to work remotely. We were fortunate to keep everyone fully employed during the Covid shutdowns and have been able to grow our ranks as the economy recovered.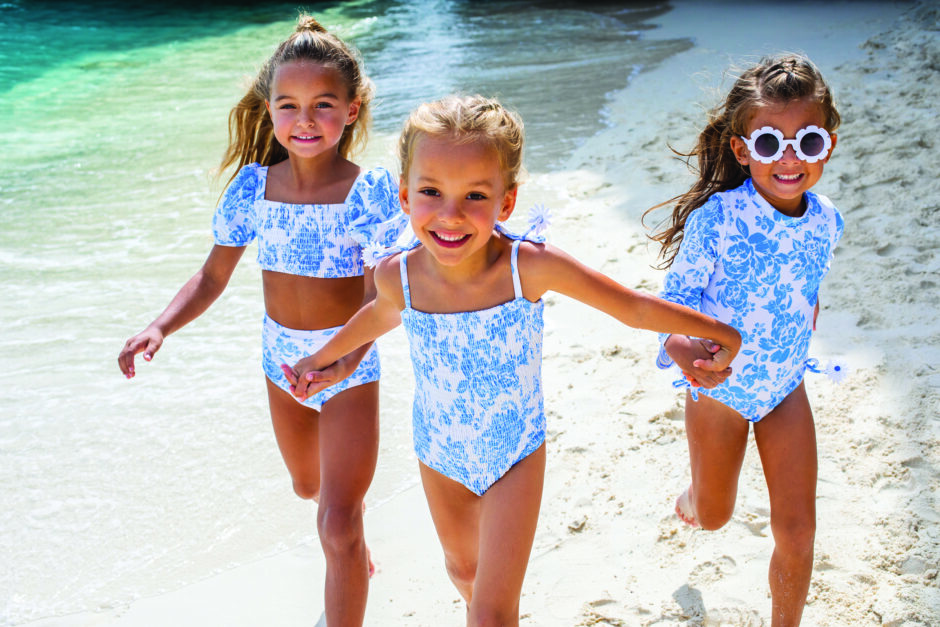 ER: What are some aspects of your business model?
Fred: Our categories and supply partners continue to grow and evolve with consumer demand and fashion trends. We are on top of the emerging color and design trends and adapt the styles within the collection to address this. We are one of the few swim companies that stock swim year round and replenish stock throughout the year. That way, we keep the inventory fresh rather than bringing in the bulk for one delivery window.
ER: For S 2023, what are the top trends you think will perform the best and why?   
Maureen: There are so many fun trends emerging right now such as crochet details, smocking and shimmer fabrics. We believe fashion silhouttes, unique fabrications and the small details will continue to be important.  Today's consumer is so informed and savvy!
The demand for swimwear definitely saw an uptick during the pandemic.  Everyone wanted to be outside and not confined in the house whenever possible, even if it was just to be in their own back yard.
ER: How has your business been affected by supply-chain disruptions?
Fred: The global supply chain continues to be a challenge for everyone on both side of this industry and the labor shortage here in the U.S. is greatly contributing to the delays as well.  Our biggest challenge has been absorbing the freight costs, which have tripled since the pandemic began. We have worked hard so we don't have to pass these additional costs on to our retailer partners. We're also working much further ahead this season to help navigate any possible delays.
ER: What advice do you have for a company that wants to get into childrenswear?   
Fred: It's very simple: Be authentic and work tirelessly at exceeding your customers' expectations.  Also, be kind to everyone–your employess, suppliers, customers and fellow vendors.