Caitlin Quirk, owner of Bowfish Kids in Ocean City, NJ, provides a mythical makeover experience that lures customers from near and far.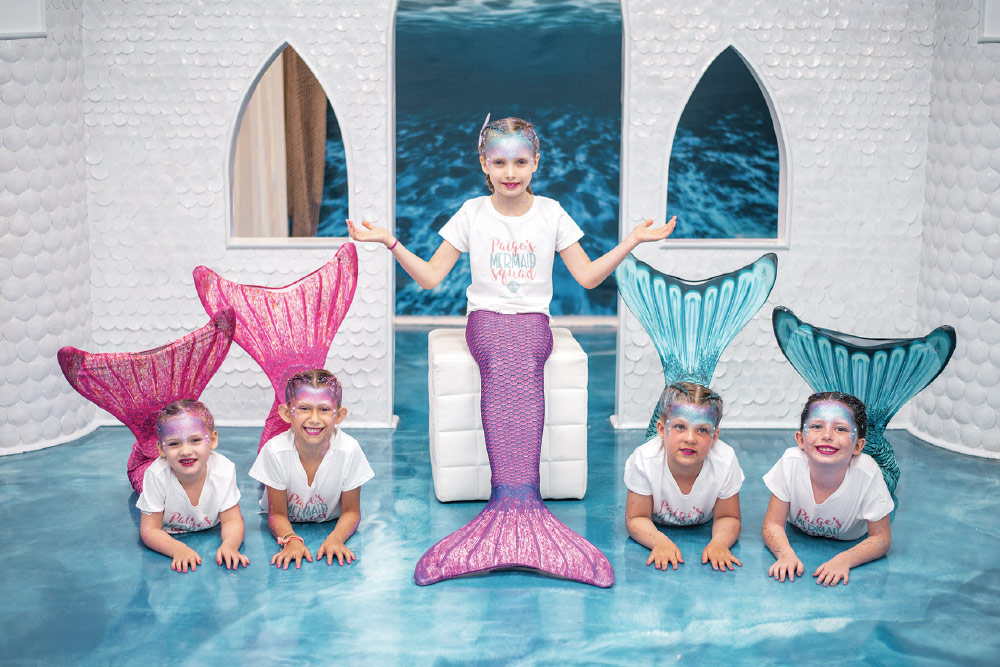 A figure skater growing up, Caitlin Quirk understands better than most the importance of getting up after every fall. So when it came time to start her own business, it's no surprise perseverance played an integral role in her success by the sea.
A few days after graduating from Philadelphia University in 2012 with a degree in fashion design, Quirk was sitting on the boardwalk with her mother when she realized there weren't any children's stores nearby. "That was when I had this lightbulb moment of 'maybe I can do this,' which quickly transformed into 'I should do this,'" Quirk says, adding that after interning for big design houses in college she knew she didn't want to work in a corporate setting. "I always had a strong desire to stay at the local level so making an impact on kids and families of Ocean City excited me."      
Encouraged by her parents to take the risk, Quirk followed her dreams and opened a children's boutique, Bangles N Bows, on that very boardwalk in March of 2013. "I went back and forth about going to grad school for business before opening my own store," she says, but her father, a business owner himself, urged her to try selling for three years. "'That's your grad school,' he said. 'Just go for it.'"     
Learning to Swim
For the next three years, Quirk rode the waves of being a new business owner in a summer resort town—facing unforeseen struggles, taking feedback seriously and making adjustments during the off-season. "It was very difficult," she says, explaining how each winter she would close down and rip up everything to implement what she learned the previous year. "It was always amazing to me that I would have product sitting there for months, and then I would make a new display or move it, and it would sell out."
When it came to her first buys, Quirk remembers trade shows as an overwhelming experience. "As a first-time buyer, you walk up to these booths and terms are being thrown around like minimum, quantity, $1,500 open—it's super intimidating," she says, noting that it wasn't until she met Wendi Cooper of Curly Girls Showroom in New York that she got more confident. "Wendi was like a second mom to me, taking me under her wing and giving me advice on how to buy," Quirk says. "Plus, I'm the same age as her daughter Samantha who also works in the showroom, so that was a fun coincidence."   
After her second year on the boardwalk, Quirk decided her store's name wasn't resonating. "I initially wanted to have a store, but then I developed the desire to build a brand," she says, explaining how she conducted brand research for a year and decided to change the name to Bowfish Kids in May of 2015. "It subtly represents our origin of being by the sea while honoring the original name."
As clientele grew and Quirk's three-year lease came to an end, she felt it was time to move off the boardwalk and become a year-round local business. "This was inspired by my strong desire for community living and camaraderie," Quirk says. "Since moving to Asbury Avenue, I have developed a vision for branching out even more within our community and involving kids and their families as much as possible in our Bowfish family."
Diving Deeper 
During her time on the boardwalk, Quirk studied how people liked to spend their money. "We all know the whole Millennials thing that they like to spend more money on experiences than product, but I can tell you in a tourist town that's even more heightened," she says. "They're on vacation and spending at least $200 on amusement ride tickets but would hem and haw over a $40 dress, which is what got me thinking about my own business."
The boutique owner imagined that if she found a way to turn little girls into mermaids, her business would excel. She kept the idea in mind while searching for a new space, leaving room for the vision that ultimately became known as Bowfish Studios in the summer of 2017.  "Last year was basically my proof-of-concept year," Quirk says, noting that she geared up in 2016 by hosting events, featuring kids on their blog and holding holiday-themed parties to get more acquainted with the community. "The success with our community outreach gave me the confidence to run with my bigger idea in 2017," she says.
Putting about $35,000 into transforming a 500-square-foot portion of her shop into a child's makeover paradise, Quirk shared updates on the store's blog and Facebook page of the re-decorating process to promote excitement and engagement. Today, Bowfish Studios is a creative space for kids and families to enjoy birthday parties, educational classes and community and charity events. Harnessing the power of children's imaginations, the studio provides a one-of-a-kind interactive studio experience with stylists that help each kid become the character of their dreams from mermaids and unicorns to pirates, sharks and superheroes. "When we started, we were just doing mermaid makeovers—no birthday parties," Quirk says, noting that positive customer feedback pushed the concept further. "I learned that when you hear a request more than three times, jump on it."
In order to perfect the Bowfish Studios experience, each young upbeat stylist is put through a three-week training process of customer etiquette, braiding, makeup application and how to work with children. All makeup and hair products are all-natural and safe for the environment, with Quirk citing U.S.-made Klee Naturals as her choice vendor. The makeover packages start at $40 and go up to $150, where the child leaves with the costume apparel such as a Fin Fun mermaid tail. To Quirk's surprise, even adults have asked to take part in the experience, from bachelorette parties to after-hour mom nights. "We have people driving from Philadelphia for a birthday party now, which has been great during the slower winter season," she says, noting that each guest's makeover ranges from $35 to $40. "And while the children are in there for an hour, you know what the parents are going to do? Shop!" 
New Fishing Holes
With overwhelming success in such a short time, Quirk is looking to open a second location near Philadelphia—undaunted by the rumors of a retail apocalypse. "I'm seeing people shopping in boutiques more than they have in the past five to 10 years—but maybe that's just my take," she says. "I'm technically a Millennial, so I look at me and my friends' buying habits and I don't know the last time we stepped into a Macy's." She adds, "Sure, I'm constantly looking on Amazon, but it's for my day-to-day products like toilet paper or electronics. But when I'm buying a gift for someone? I'm going to a boutique."
Quirk's take in the future of retail? It's summed up in one word: curate. She stresses the importance of merchandising and storytelling within her selection of brands for boys and girls, size newborn to 14. "The store is departmentalized by size so the customer knows exactly where they need to look," she says, noting Tea Collection, Chloe and Egg by Susan Lazar as a few best-selling brands in addition to any holographic items being hot of late. Quirk adds that the brands she stocks are often based on the support they provide. Of late, she has been scaling back to only ones that provide the best service. "I can't tell you how important customer service is on my end," she says. "If I get something in and it's damaged, how difficult is it for me to call for you to fix that? The line of communication should be open and easy," she says.
While Bowfish's sales doubled from last year and the studio is taking off, Quirk is not resting on any laurels. Her next cast is into ecommerce. "This is really going to be my year where I focus on our e-commerce because if I'm curating specific things that people are coming to look for, they're going to shop online just as easily as they would come into the store," she says. To prepare, Quirk has been capturing customer emails the past few years, especially since many of them are tourists.  She's also asking brands about their in-stock program capabilities. "If I'm going to take the time to take pictures, write a description and put this dress on my site, I want to know if I can reorder it," she says. "I don't want to take in a whole second inventory and have to sit on it just for my e-commerce site because, realistically, that's what you have to do."
In the meantime, Bowfish Kids' brick-and-mortar businesses continue to hum along. "Downtowns are bumpin'—we're all doing great around here," she says, noting how she's honed-in on her in-store shopping experience from having a quality selection to offering mini shopping carts for kids. Yet Quirk continues to stay humble, aware that success at retail is a fickle beast. Other shop owners are always warning her that you think you have it all figured out, but the business keeps changing every year. "As a store owner, your job is never done," Quirk says. "You must constantly evolve and try new things because if you rely solely on one approach, your doors will close up pretty quickly." •