Mark Jeynes doesn't consider himself a designer in the technical sense of the word.
Mark Jeynes doesn't consider himself a designer in the technical sense of the word. While he wasn't formally trained in the craft, he has nearly 30 years of experience buying, designing and manufacturing kidswear at mainstays like Joules, JoJo Maman Bébé and UK department store John Lewis. "Do I sit and create CADs and tech packs? No," he says. "I spend a week in an office with pen and paper and draw, chat and organically make it happen. And guess what? My manufacturer loves it that way."
When Jeynes identified a hole in the boys' market for reasonably priced classic clothing, he channeled his years of industry experience into launching Me & Henry. The brand is modeled closely after Jeynes' own aesthetic of classic British prep with polos and collared one-pieces in a primarily muted color palette. "I love the vintage look where boys dressed as smart little men before the term 'athleisure' was invented," he says, adding that he keeps things fresh by playing with prints and textures not usually found in boys' apparel.
For Spring '19, Jeynes introduced slubs and seersuckers as well as cotton with a linen hand feel. The vintage color palette of fall translates to spring with a nautical slant of navy and white with injections of yellows, reds, greens and grays. And while a cowboy tee was designed with his large Texas market in mind, the rest of the collection (sizes newborn to age 10) is decidedly about stripes.
Since launching earlier this year, Me & Henry has grown by leaps and bounds, according to Jeynes. He credits quality fabrics and the right classic styles with a vintage twist at a sensible price for the success. "People will spend a small fortune on girls, but overprice your boys' line and you're dead," he says. Also intriguing buyers is a storybook that details the adventures of a little boy and his English cocker spaniel Henry, the line's namesake. Stores receive a batch of the books as a gift-with-purchase. "The children hopefully then fall in love with Henry and follow the real Henry on social media," Jeynes says. "I've even been asked to sign copies!" —Aleda Johnson
Did you expect Me & Henry to take off this fast? No, I've been blown away with the immediate success! Being British, we wear school uniforms in most cases, so I didn't even have back-to-school in my head. But when everyone pointed out how perfect the clothes were for school, I altered the delivery to mid-July, which has meant many stores have sold out by mid-August. But the U.S. and Canada are not my only markets. I have launched the line in Japan with huge success,  which includes  four pop-up shops happening across the country. I also have distributors signed in Australia and New Zealand.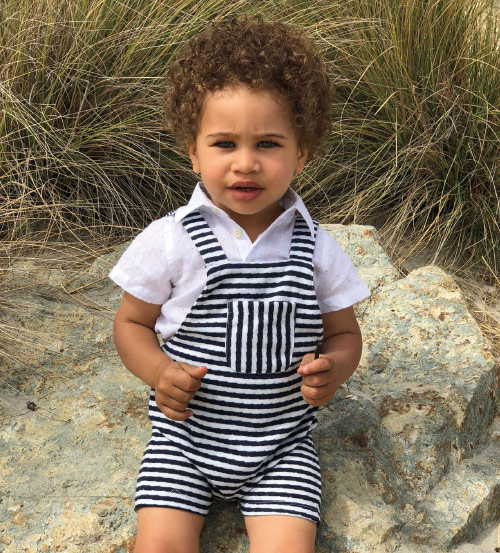 Who is the quintessential Me & Henry customer? Every little lad! Turns out boys are quite happy to dress up. It's the parents who struggle to know what to dress them in at the right price. I've found every little lad who has worn our pants with suspenders overjoyed with them. They don't just want jogger pants and sports shirts! I've now been asked many times to add girls' wear—so in truth the 'Me' in Me & Henry was always meant to be anyone…boy, girl or dad.
What have you learned designing for children? To be adventurous with fabrics and embrace the stripe! I am fan of stripes, but on boys it's really tough to inject a point of difference. Girls get florals, prints and an amazing array of colors, fabrics and embellishments, but boys are tougher to get the color combination, stripe layout and great fabric right. Little lads also like to look like their fathers, so a big bit of the success has been the 'mini man' look, which I plan to continue.
How's Henry's following on social media? Great! I went from zero to 400 stores following me to just over 12,000 in 3 months. Many are mums excited to know about the brand, so I dedicate quite a bit of time to satisfying their thirst for new content, including updates on which stores now stock Me & Henry. I've always been active on my personal accounts, so it's been quite enjoyable seeing the instant reactions to new photos and posts from the brand.
What might people be surprised to learn about you? I have no idea how I fell into fashion or kidswear. I was supposed to be a French teacher but ended up working in a huge UK department store for more than 20 years, and most of that time was in the childrenswear sector. I love that it has been a journey that has seen me sell, manage, buy and design kids clothing—I just wish I decided to do it 10 years ago.
What do you love most about being a designer? I travel a lot for work and pleasure and get a lot of inspiration from the oddest places. I recently went to the Neon Museum in Las Vegas, and the way the light at dusk fell on the vintage signs made me see colors I thought were perfect for the next season's palette. Being able to see that, choose fabrics and design something to personally sell and hear great feedback on? You can't beat it!