When President Kathryn Wiley purchased Rockin' Baby in 2012, she had no idea the baby sling brand would one day be the first to offer one-for-one children's apparel, helping kids in need across the globe.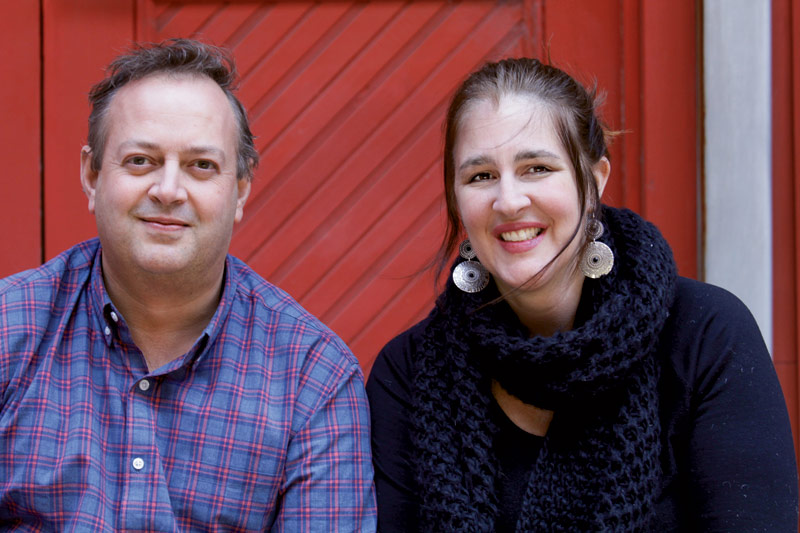 Thanks to the expertise of Vice President Mark Jeynes, the company is on track to donate a quarter-million pieces of clothing in its first year alone. Here, Jeynes reveals how.
Mark Jeynes will never forget the day he met Kathryn Wiley.  "I was in a booth across from her at Children's Club," he recalls. (At the time Jeynes, a London native, was leading JoJo Maman Bébé's U.S. expansion.) "She was just this very loud, brash American woman, who kept standing in the middle of the aisle and asking, 'Hey, have you heard of Rockin' Baby?' It was driving me insane."
It may not have been the most auspicious of introductions, but it wasn't long before Jeynes and Wiley were chatting, laughing and exchanging emails. "I don't come across many people with my energy level and craziness," he admits with a laugh. "She's like an American, female version of me."
What's your favorite way to spend a free afternoon?
That's easy. Walking my dog Henry on the beach.
What's the best movie you've seen recently?
I'm a sci-fi/dystopian future fanatic. I saw Martian recently, and I absolutely loved it. It's so well filmed and beautiful to watch that you forget Matt Damon's not actually on Mars.
What are you listening to right now?
The new Janet Jackson album. It's really good!
What three items would you bring to a deserted island?
My partner, my dog and my iPhone.
Wiley's persistence makes sense in light of the circumstances. She had recently purchased the company—known for its collection of stylish rings, wraps and pouches—and it was Rockin' Baby's first foray into wholesale. Plus, as a mom of six, she was a big believer in the benefits of babywearing. And the brand's one-for-one mission meant that for every sling Wiley sold at the show, a mom in Haiti would receive a much-needed sling as well. (Looking to help out after the devastating earthquake in Haiti, Wiley realized that slings would allow the island's moms to wear their babies while working.)
"I spent $3,000 on that booth, and I was laser-focused. I was determined to get that $3,000 back," she remembers. "I knew that I had a strong vision, but I needed to get it out there. Mark calls standing in the aisle of Children's Club 'button-holing.' He was going nuts. But it's just who I am; I'm tenacious."
And while Jeynes was observing Wiley, she was similarly taking stock of Jeynes, a seasoned salesman with 25 years of experience in the children's industry— including 20 years at John Lewis, one of Britain's top department stores, where he worked his way up from shoe fitter to the head of buying in childrenswear. "I was watching him sell, and the guy can sell like crazy," Wiley says. "He never got up from his chair. Everybody came to him. I thought, 'I can talk to these people until I'm blue in the face, and he's just sitting over there taking these massive orders.' So I started thinking, 'I need a Mark Jeynes.'"
It wasn't long before the two teamed up, with Jeynes serving as the company's vice president. He loved the one-for-one charitable aspect—the brand has donated 10,000 slings and is on track to donate
another 5,000 by January. And, he reasoned, the success of companies like TOMS proves that shoppers love it, too. So why weren't any brands offering one-for-one kids' clothing? Never ones to let an opportunity go to waste, Jeynes and Wiley quickly began making plans to launch a one-for-one apparel collection.
Utilizing Wiley's contacts in philanthropy (She brought in ChildFund International, a 77-year-old non-profit based in Richmond, VA, to help distribute the company's clothing.) and Jeynes' resources in design, production, distribution and retail, the two launched the company's first one-for-one apparel collection in Spring '15, offering a full range of boys and girls apparel and accessories up to size 10. To say the line has been successful would be an understatement: By March of next year, Rockin' Baby will be available in 27 countries. Just like TOMS, Jeynes hopes Rockin' Baby's charitable mission and bright, European-inspired designs will resonate at a wide range of retail channels.
"It's the strength of his product and his giving message, and that's why he's in retailers that range from Target to Bloomingdale's," he says of TOMS' president Blake Mycoskie. "I think we've seen the same kind of uptake. We're selling to hundreds of boutiques across the states, but on the other hand we've got Babies "R" Us giving us many doors in the Middle East and Japan. You can't imagine a more diverse range of retailers."
Tell me more about the one-for-one clothing donation. How does it work?
At the end of each season, we calculate how many units we've sold, and then we tell ChildFund International that's the quantity they can donate. What we don't do is give an identical item, because that would be financially impossible. If we sold a wool coat and gave away a wool coat, we'd go bust. Instead, we've created a selection of brand new clothing, called our Hero collection, that includes everything from rompers to shorts to dresses. Its made in six lovely, bright colors, and comes in a super-soft cotton. For Spring '16 we've sold 130,000 pieces, which is amazing. ChildFund International will now choose 130,000 pieces of clothing from the Hero collection, and they can choose any item, size or color they want. We then go to a different factory, manufacture the selections for them and they ship it around the world to nearly 30 different countries, which also includes the U.S.A. They are currently focusing on West Africa, since so many thousands of mothers and fathers have died from Ebola, and that's left tens of thousands of children orphaned. By this time next year, we're on target to have donated a quarter-million pieces of clothing.
That's amazing! What's the response been like so far?
We've been blown away. I worked hard in the first six months to recruit as many distributors around the world as possible to help spread the message. By March 2016, Rockin' Baby will be in 27 countries, including Australia, New Zealand and China. We will be adding Brazil and a bunch of South American distributors to the mix as well. We've got huge interest in Japan—so much that we've just recruited a full-time manager there to help support me. Everywhere we go, from small boutiques to large retailers, people want to buy the brand. First and foremost, they actually love the collection—the fun colors and design. When I then tell them about what we're doing with the charity, they almost rip my arm off with excitement. We've been saying almost as a mantra, 'Why would a mom not buy our T-shirt when she knows that someone else is going to get a T-shirt as well?'
Speaking of design, how would you describe the Rockin' Baby aesthetic?
In truth, we are a European brand, because even though Rockin' Baby is based in America, most of the people working on the brand are British, and Kathryn and I always wanted it to look and feel like a European brand. I know from experience that looking European has great caché with the American market. We wanted to make sure that we are fun and bright—that moms, kids and retailers all love it. You then get a beautiful but practical brand that looks very different from what's on the market. When people talk to us, I want the brand to stand up without any marketing or charitable message and still sell really well, and I think that's worked. People definitely love the brand first and foremost, and the charity bit is an extra bonus.
How important are seasonal trends when designing the collection?
Of course they inform the design process, but we don't want to be a brand that just follows trends. We will always include global themes like nautical, but more importantly, I want to inject fun into the designs and make sure people are smiling. However, I am 100-percent committed to making sure we keep changing the themes and collections every season. I don't want us to look stale. There will be no bestsellers we've kept in the line for three years. It's going to be fresh, fresh, fresh every season.
So where does Rockin' Baby sit in terms of pricing?
We've got T-shirts for newborns starting at $10 wholesale, and our most expensive piece is our beautiful Esme dress, and that's only $33. If you had to compare us, we're definitely in the Tea Collection, JoJo Maman Bébé and Little Joules bracket. But it's hard to compare us because we're doing a baby collection in newborn to 24 months, as well as an older collection that goes up to age 10, which we did deliberately.
Why did you decide to go up to size 10?
I know from the feedback I've received from retailers that there are so few brands making young-looking clothes in bigger sizes. I'm not going to lie; I don't really think we're selling to a 10-year-old; I think we're selling to a large 6- or 7-year-old. The clothes are designed for the 6-year-old bracket, but we wanted to go up to larger sizes, because there's a demand for it. And for Fall '16, we're adding a very delicate, sophisticated, couture-feeling dress collection to the line. We're going to continue to grow the brand and listen to what our customers say they would like in the collection.
Incorporating suggestions from your customers is really crucial to success in the children's industry, but it seems like a lot of people neglect to solicit feedback.
Someone once told me the best decisions in kidswear are made by the people in the industry who don't have kids. I do actually get that because I don't have kids. And I do see a lot of people who build a brand based upon what they want their kids to wear—and there's absolutely nothing wrong with that. But I do think when you've got kids, it does slightly cloud your judgment. When I'm discussing the next season with the team, it's always with a completely unbiased, commercial viewpoint. That being said, some of the bestselling Spring '16 stuff has surprised me. We've got a jungle-themed story called Out of Africa, which is really bright and very cute. We've sold huge quantities of it, even more than our nautical collection, which surprises me. And we know parts of our collection will only appeal to parts of the country or parts of the world, but that's why our collection is now three times bigger. It's hard to get that right, the size of the collection. There's a tipping point. If it's too big, it can be overwhelming for a retailer to buy. If it's too small, you aren't appealing to as many people as you could. We're offering around 250 pieces per season, and that seems to be the magic number at the moment.
What's been the biggest challenge so far?
Production. Luckily, it's something I used to do daily at John Lewis, and it doesn't phase me. And we are making the Hero collection in one large order in a different factory, with an absolutely incredible supplier we've got in Bangladesh, so it doesn't affect our production line for our main collection. What's a pain in this industry for all of us is trying to guess how many new stores, both big and small, you might get after you post your orders to the factories. That's why trade shows are so important to us because we try to get as many people as possible to place their orders before we have to give ours to the factory. Of course, you always have to add a buffer, and you have to be careful it doesn't overstock you or understock you. We've come up with a strategy to sell in the Southern Hemisphere, so that any stock left at the end of our season in the north then becomes stock we sell in the south. We've got distributors in Australia, New Zealand and South Africa and so on, and we've done that deliberately so we can extend our season for almost a year.
It sounds like trade shows are a big part of your growth plan.
For brands that don't have a showroom like us, they are important, because that becomes our showroom. It's a nice way for us to get our identity across to people who want to see what we look like as a brand. That's why we've invested in a big booth that looks on-brand for us. By the end of this year, we will have attended 15 trade shows around the world.
Since the charitable aspect is such a big part of your brand, marketing must be key to getting the message out, too.
It's a huge part, and it's a very expensive part. Because we're a new and relatively small company, relying on word-of-mouth is really difficult. That's why we wanted to get out to as many countries as possible, because a really good distributor and really good established reps can do wonders for a brand. Our reps have great contacts in their databases, so they've done a huge part of the messaging for us. Our Dallas and Atlanta reps send orders in daily. Thanks to our reps, Rockin' Baby is now carried in a part of the country I didn't dream we would be in. I thought Rockin' Baby would be an East- and West-Coast brand, but we've got more customers in the middle of the country than we have on the coasts.
I love to hear that. Many new brands tend to focus on social media and celebrities to boost growth, instead of sales reps.
Our distributors and reps are absolutely amazing, and we treat them as part of our team. Rather than sending them the lookbook and collection once every season, I visit them regularly and I email them every month. A lot of people aren't bothered with reps at all. It's a bad move. You can't just rely on trade shows you attend yourself—you need support. However, we are working with two really good PR companies as well, one in the U.K., and one with offices in Los Angeles and New York. They've helped us a lot with celebrities; a lot of big celebrities' kids are about to be seen wearing Rockin' Baby, which we're really excited about. And we've got lots of bloggers who are wearing us, sharing photos and tweeting about us.
Any other plans for growth in the pipeline?
For Fall '16, we're growing our outerwear and our knitwear collection. I think there's a real gap in the U.S. market for really good outerwear and knitwear. Our Spring '16 sales of swimwear and rainboots, which we introduced for the first time, really surprised us. So for Spring '17, we're going to really go for it on swimwear and rainboots. We're also adding a lot more countries to the global network in the next six months. We're going to be opening a store in Japan in March. But in truth, what we're really doing to grow the brand is focusing on the main market, which is the U.S.A. I'll be spending even more time in the U.S. with the reps and retailers to try and work out how we can grow.
You've got 25 years of experience in childrenswear. What advice would you offer a new brand?
You should never assume you know what people think of the brand. Ask them what they want, what they need and make it. It's not rocket science. I think too many brands get caught up in what they want the brand to be. It might be beautiful, but if it doesn't sell, it won't be around for them to keep doing what they love doing. Make sure you get a fantastic supply base, and visit them regularly. And if you're an established brand, keep looking at the competition, and keep seeing what people around you are doing. No matter what, keep listening to what people want. Don't just give them what you think they want. Listen to your reps. Listen to your customers. Tweak your assortment. Change your brand constantly.