Harald Husum, president and founderof Appaman, shares strategies behind the celebrity-approved global fashion label and its focus to provide kids with well-deserved "street cred."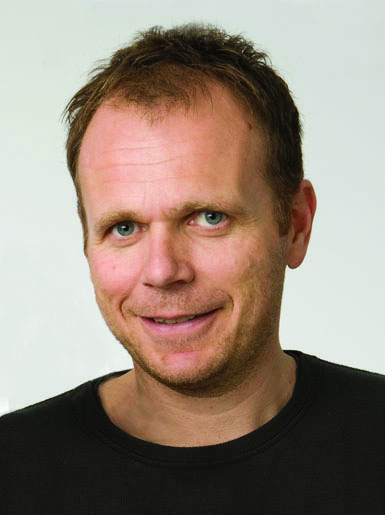 What started as a joke in 2002 turned out to be the kindling for a young Brooklynite couple's next chapter in life. Harald Husum and his wife, Lynn, were waiting for seats outside Veselka, a restaurant in Manhattan's East Village, when they spotted a young boy and his father walking down the street. The boy was wearing a teddy bear T-shirt while the father sported an AC/DC concert tee. The couple remarked how funny it would be if the father-son duo's attire was reversed. They laughed, and seemingly moved on. But little did they know, a seed had been planted.
"A few months went by, and I couldn't get the idea out of my head," Husum recalls. At the time, Husum had recently been laid off from his graphic design job.  He needed a new gig and enlisted his wife, a nurse practitioner, to help launch a fashion line. Husum felt that the risk of experimenting with the concept was minimal. "When you get laid off, everyone says things like, 'Well, you weren't happy there anyway and maybe this is a sign or some sort of blessing in disguise,'" Husum says. "In this case, they were right."
The couple got to work on a line of funky, retro-inspired T-shirts for youngsters in the summer of 2003, mind you without any business or fashion experience and, at that point, without kids. Husum, born and raised in Norway, designed the first collection by blending his Scandinavian roots with Ameripop iconic imagery. The brand name, Appaman, came from a corduroy monkey plush Husum had as a child and has since become a permanent resident of the company's New York headquarters. "He's too old to handle the commute now, so he spends his time sitting on a shelf in the office," Husum says, noting that his wife came up with the idea of using the monkey as the brand's logo.
Small Talk
What are you reading?
Between The World and Me by Ta-Nehisi Coates. It's incredibly eye-opening.
What sound do you love?
Liverpool fans cheering a goal and singing "You'll Never Walk Alone."
What's your favorite family activity?
Going to the beach in the winter.
What are three items you can't live without?
The only thing I can't live without is my family, and maybe my Moccamaster.
What talent would you most like to have?
To play piano.
If you could hire anybody, who would it be?
Elon Musk. For the big ideas.
What was your first paying job?
I used to work in my dad's hardware store on the weekends. My friend and I were also grave diggers after school.
Office dog: yay or nay?
Yes! Our Cockapoo, Party Hat! He brings a sense of family and the perfect cuddle during the work day. However, he means something completely different to our mailman.
What's your favorite hometown memory?
In my hometown in Norway, they opened the ice cream store on May 1 every year. It was like Christmas in May. My siblings and I got on our bikes to get the first ice cream of the summer.
What is your motto?
Do the right thing!
Husum, who always had a dream of running his own company, never thought it would involve children's fashion. "It was just not on my radar," he says. Turns out he and his wife had the right touch. In just the first year, the company grew "leaps and bounds," distributed in more than 100 stores within the first nine months. And, about a year-and-a-half after launching, Appaman entered the limelight when Angelina Jolie's son Maddox was photographed in its bulldog T-shirt. Since then, stars like Gwyneth Paltrow, Gwen Stefani and Sarah Jessica Parker, to name a few, have outfitted their offspring in Appaman apparel.
Husum's keen eye for graphic design is what has set the brand apart. Another smart move that helped the company get off the ground: his wife taking a night class at the Fashion Institute of Technology on marketing to the childrenswear industry. Early on, Lynn gathered contacts and learned inexpensive public relations techniques. The company was growing so rapidly that she left nursing and joined the family business full-time in 2008.
Appaman has since blossomed from a trendy T-shirt line to a full-scale collection that caters to children from newborn to 16 years, stocking everything from playwear to dresswear. On the cusp of celebrating its 15th anniversary next year, the Appaman team continues to hone its cutting-edge designs while also planning something special for the milestone. "We are spit balling some ideas, but those will be a surprise," Husum says. In the meantime, he wants to continue to fine-tune the brand's message and service, ensuring customers a sense of connection and loyalty. "Our customers are something we never take for granted and are very conscious of," Husum says, adding, "Building a brand with a true identity is our way of securing a position in the marketplace that is ever-challenging and changing."
How's business this year?
The company is doing very well. We are expanding our senior staff and seeing great growth in new categories. Swim, for example, is a new category. We've just added girls' swim, and we've seen a great reaction so far. Our dresswear is doing really well, too. Not just suits, but also girls' holiday dresses. To help our customers with inventory control, we now have permanent stock on some hot items, instead of doing everything by season.
What's new for Spring '18?
Our spring collection brings all-American vacation vibes to summer-in-the-city style. Tropical patterns and street mural-inspired graphics showcase a palette of rich, whimsical rainbow tones and celebrate the spirit of a cross-country adventure. In addition, our Fine Tailoring selection carries this sun-drenched style into formalwear, with a range of seasonal color and fabric options perfectly suited to spring and summer events or tropical destination weddings.
Anything else in the pipeline?
We are concentrating on growing our relationships with our current customers. In addition, we have some international expansion plans in the works. Right now, we are particularly focusing on the marketing part of our business. We know that we cannot do everything at once, and we are trying to stay focused. In the coming years, we hope to still enjoy running our company, with happy employees and happy customers who want to dress their kids in clothes "with the little monkey on it."
Was there ever a moment when you just knew Appaman was going to be big?
There have been a lot of great moments that made us think that we had a chance. The first one that stands out was at our first Children's Club show. We received 30 orders and hired an L.A. rep. We felt hugely successful. But there have been other key moments, like when the whole Jolie-Pitt clan was photographed in Appaman outerwear. That was amazing.
Despite starting as a line of retro-inspired T-shirts, the Appaman suit has become one of your strongest categories. What's your secret to fine tailoring?
To me, what makes a great suit is the fit, first and foremost. Too often you see suits being worn too big, and this goes for adults. Of course, the perfect suit for kids also has to be machine washable, which most of our suits are. T-shirts and suits are really not that different. It's about style and attitude. The rest is technical, and we have great people that help us execute our visions.
What's the biggest challenge facing the childrenswear industry right now?
I believe the biggest challenge for small businesses is the fact that we are small businesses. We are often overlooked in policy making, and we have the biggest mountains to climb. Customers want everything faster and cheaper. Small business can accommodate higher quality demands, but the faster and the cheaper doesn't come so easy, and this can be a huge challenge.
Speaking of huge challenges, what's your take on Amazon's growing dominance as it pertains to your other retail partners? Any advice on how to stay relevant?
It's no surprise that being able to shop 24 hours a day is a benefit to most consumers. That freight train is not slowing down, but if you're willing and able to adapt, there are ways to work within this new landscape. But it requires more thinking than it did before. What we can do is to work every angle to widen and strengthen our brand awareness, which will benefit brick-and-mortar stores as well as e-commerce dealers.
Well, the digital age certainly brings its share of opportunities.
The digital age brings many exciting opportunities. We have been investing in digital marketing to work on brand building and messaging for Appaman, and so far, it's working well. The exhilarating part is that we get instant, measurable analytics that tell us whether something is working. In the process, we are testing many different channels to find out the right strategy for us.
Speaking of which, what's your take on influencers? How important are they to the overall marketing plan?
We have a team that handles this category, which is one of many marketing channels. When the clothes are displayed on kids in inspirational settings, it will always help a brand. We are living in an aspirational society and these channels help. We have had some amazing kids represent the brand lately, like Jacob Trembley. He's worn our products on the red carpet multiple times, and he always looks amazing.
What specifically is Appaman doing to adapt to this rapidly changing retail landscape?
So far, our department store business remains strong, and we have been able to transition with the changes. Overall, we have transitioned nicely to combine brick-and-mortar with our online sales. While we are aware of the challenges and are fostering our relationships, we our doing our best to give our partners a great shot at success. From a brand perspective, we have to cater to both tiers. That said, I think there's a place for the brick-and-mortar stores in the future. People will always search for a sense of community, and I know one of the reasons why I like living in Brooklyn is the local businesses. They all provide an experience that I appreciate. I think that's the key word when it comes to brick-and-mortar. Traditional stores have to provide a great experience to compete with the convenience of e-commerce.
What might this landscape look like in five years?
I wish I knew! Right now, I'm just working within the landscape we have been given, and I don't think anyone is thinking five years ahead with the current pace of change. We all have to roll with the punches and adapt quickly. In the meantime, we must provide great products and give back whenever we can. For instance, we work closely with GOOD+ Foundation (Jessica Seinfeld's charity) and are proud to partner with them and their great cause. We have donated to this charity since its inception. We also encourage kids to have fun, explore their surroundings and, most importantly, be kids. We want them to stay their age and dress the part.
What's it like working alongside your spouse?
The advantages are that we get to spend time together, which is rare in this fast-paced world. I'd say 85 percent of the time we are on the same page; we find the same things funny and react similarly to situations. The other 15 percent brings challenges of disagreement, which we find healthy and manageable.
You started Appaman before you had children, and now have two daughters. Do you think they'll take the helm someday?
We try to keep the business separate from the family. They occasionally come to the office when they are home from school and help with small projects. When they were little, we used them as models along with their friends, but now they're engaged in their own worlds. We hope they'll start their own business one day, and after watching hundreds of episodes of Shark Tank, I think they may just have that entrepreneurial spirit.
What do you love most about your job?
I love working with such creative and motivated people. The expanded Appaman family is full of great people who I never would've gotten the chance to meet had this little monkey not come into our lives.