To make up for the childhood moments she never had a chance to savor, Patrice Perine Lowe began crafting keepsakes for others. Now, after building her business into a multi-million dollar company along with the help of her husband and sons, the Child to Cherish CEO is creating many treasured memories of her own. by […]
To make up for the childhood moments she never had a chance to savor, Patrice Perine Lowe began crafting keepsakes for others. Now, after building her business into a multi-million dollar company along with the help of her husband and sons, the Child to Cherish CEO is creating many treasured memories of her own.
by Audrey Goodson Kingo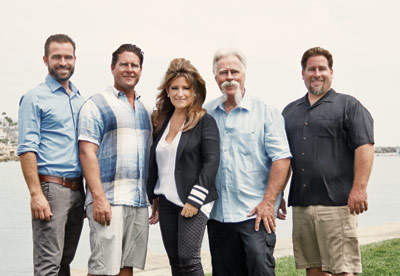 CEO Patrice Perine Lowe and her husband Gordon (center) helped build Child to Cherish with the help of their sons (from left to right) Cody, Taylor and Tucker.
It was a long road that took Patrice Perine Lowe back to her childhood home, where she and her siblings had left little handprints in cement in the backyard. The home's new owner kindly allowed her to try and break the cement into pieces to take with her, but in the end it was impossible to do without breaking the prints, Lowe recalls. And though the moment inspired the idea that launched her children's gift company, Child to Cherish, it was a bittersweet experience for Lowe, who had very few mementos from her childhood, interrupted by tragedy.
The sixth of 10 children, Lowe was a teenager living in Whittier, CA, when her mother went to the hospital for a routine procedure and died from a mistake made in surgery. At the same time, her father was diagnosed with throat cancer and lost the ability to speak. But the recent high school graduate, who dreamed of being an interior designer, had no time to grieve. "My older brothers and sisters were newly married and starting a life of their own, so as a teenager, I found myself caring for my sick father and my four little brothers, who I still feel as though are my children," she recalls. Instead of heading off to college, Lowe took a job as a cocktail waitress to help support her family. Her father passed away not long after, and she realized that she and her siblings were "searching for memories instead of creating them, as young children should do."
So, as an adult she set out to create memories for others. Peering down at those cracked handprints in 1987, she realized there were very few ways for parents to mark their children's milestones—ways that could easily travel from home to home, at least. What if parents could create a small plaster handprint at home? Thus, the handprint kit in a tin was born. Lowe created a prototype from a tin she painted and brought it to her first meeting with Diane Walker, a Nordstrom buyer for the southern California region. A mother of three at the time, Lowe brought her sons with her—one in the stroller and two holding on to it. "I didn't tell her I needed to bring my sons with me in fear of being rejected," Lowe recalls. "I don't know if she felt sorry for me—which I didn't want her to do—or if she really liked it. Thankfully, she really liked it."
It was quite the scoop—one that was instrumental to the brand's early success. When the fledgling company made its next move—setting up shop at a trade show in Dallas—some buyers and reps told Lowe she wouldn't succeed with just one product. But, as she points out, "having Nordstrom under my belt really helped because if Nordstrom looks at something, then other stores will, too." The retail giant was the company's first customer, she adds, and the brand's handprint kits are still on the merchant's shelves today. "I still have a really good relationship with Nordstrom, and I'm really proud of that."
Soon, Lowe heeded the advice of others and began adding more products to the line, including the handprint Christmas ornament and the wildly popular Block to Grow On, a ceramic block that allows parents to mark baby's first milestones. Now, the Child to Cherish collection boasts 150 products and is carried in more than 8,000 stores in the U.S. and Canada alone. But with success came challenges, including a wave of companies selling and marketing lookalikes of Lowe's bestselling items. Though she doesn't condone it, she understands the temptation, as the keepsake market continues to grow, even during turbulent times. After all, she knows just how important special gifts can be—and not just from the lessons of her challenging childhood, but also from her first entrepreneurial endeavor, as a gift wrapper.
Lowe had noticed how the Marshalls in her hometown was always packed during the holidays, so she petitioned the city to put up a gift-wrapping booth tucked right under the store's awning. "My husband Gordon built this awesome little house, and I just basically lived there with three kids from morning until night the three weeks before Christmas," Lowe remembers. "He made little bunks for the boys, and I had a TV back there, and I just gift-wrapped and they watched TV. And I made $20,000 in three weeks. That's a lot of money when you're a cocktail waitress!"
The booth's success can probably be chalked up to Lowe's attention to detail: Every gift was wrapped with ribbons and small ornaments, and seams were verboten. It's why gift-wrapping is always her top suggestion to retailers looking to stand out from the competition, and also why she's meticulous with the packaging for Child to Cherish. A gift, after all, should be special.
UPCLOSE with Patrice Perine Lowe
What's your favorite way to spend a free afternoon?
Lying on the beach and doing nothing!
What's the biggest lesson you've learned from your kids?
That every person is unique. I have three amazing sons and each is totally different. They each react differently to situations, and I've come to understand that they are right in their own way. But I also learned that from having seven brothers!
What's your favorite movie?
The Breakfast Club.
What superpower would you love to have?
Healing.
What three things could you never live without?
My family, the ocean and entertaining—which means hosting my annual Christmas party.
But Lowe's not only helping foster memories for other families—she's also making many of her own, now that her husband and three sons work for the company. Her husband Gordon handles all the product importing, quality control and product specifications. Her oldest son, Tucker, does all of the computer designing and systems invoicing. Her second son, Taylor, is the company controller and large account compliance director and oversees the company's computer systems and Internet development. And her third son, Cody, is in charge of inside sales, account development and customer service. "They're a huge part of the business," Lowe shares. "They've lived and breathed it from the beginning, from living in that little gift-wrapping booth to bagging plaster. They've done it all with me, right by my side. Sometimes it's weird being a mom and a boss and a wife and a friend, but I wouldn't change it. Even though I walk into work sometimes, and my boys ask, 'Mom, did you bring toast?'"
What was the biggest challenge in the beginning?
In the first seven or eight years, the difficult part was trying to come up with new ideas, bring them to market and get them out there before others could copy the idea and flood the market. Being a small manufacturer is very, very difficult because you're competing with people who have the relationships and resources to move products very quickly. If someone has the money to market and advertise one of your good ideas, they can succeed. That has been one of the biggest roadblocks for Child to Cherish, because our products are all unique, and we know when someone is copying us—but they're experienced, and they've got money. Unfortunately, it sometimes takes a lawsuit to compete. We actually went to court once, to get the trade dress rights for our Block to Grow On, which we developed in 1998 and has probably earned us the most recognition. It's essentially a baby book on a bank.
What happened with the case?
A few big companies had created their own Block to Grow On. We challenged them in court and we won the suit, and the jury awarded us $3.2 million. But—and this is a big but—it cost us $1.2 million to fight it, and the judge brought the award down to $600,000.
How frustrating. So in the end, fending off copycats cost you money.
It was really disturbing, and even the jury couldn't believe what happened. But the good thing about it was we protected ourselves. Now nobody can make a block bank with milestones on it. Luckily that year we happened to have huge orders from Pottery Barn, and every nickel of those sales went toward the lawsuit. If I hadn't had that business, we could have gone under. But now that we've created a name for ourselves and we've fought that battle, people are much more reluctant to copy us. So it was worth the money, I'll put it that way.
Yet I bet you still have imitators.
Yes I do. One of the products I created right after the handprint kit was the handprint ornament. You've probably seen that everywhere, but that's something I created. It's really frustrating when you're doing trade shows and a retailer says, "Oh, no, I already have that." I've never been the type of person to say, "Well, wait a minute, I'm the one who created it." I don't ever want to put a customer on the spot like that. I don't want them feeling uncomfortable. Now I just try to make things better, instead of sitting around while someone copies me. For example, I came up with a few different versions of the handprint ornament, including one with glitter, called Snowprints, and it's taken off three times as much as the original Handprint. I have a wealth of things in my head we're trying to get patented. That's where my brain goes. It's constantly trying to think of new ideas.
Do you think that's helped you remain competitive?
Absolutely. It's been a struggle to stay in business in this climate, and the only thing that has helped is offering something unique. I built Child to Cherish into a big multi-million dollar business, but it's been long and tedious. And thankfully, the keepsake market has really grown over the years, and continues to grow. A lot of department stores are focusing on keepsakes right now. There really weren't a lot of keepsakes on the market before Child to Cherish, with the exception of Bibles, silver spoons and baby books. And keepsakes aren't something you just throw away. Everything we sell has a memory attached to it, and I think that's why we've stayed strong.
What's the biggest lesson you've learned over the years?
I've learned that simpler is better. I'm proud to work with Pottery Barn Kids. Their look is such a great look, because it's so simple. I've been doing business with them for 12 years, and they have really taught me a lot. I often work with them to hash out new ideas, and they're not just going to throw some bunny on a block or a piggy bank. Sometimes I will bring them artwork that I think is amazing, and they will look at it and say, "Take that off and tone down this." And it works. Your audience is much smaller when you do too much with too many characters. They've taught me to really perfect things.
It definitely seems to be working for you!
We're doing really well, but we just need this economy to turn around. It seemed like in 2008 we hit a roadblock, and businesses had to totally recreate themselves. You had to start thinking completely differently—coming up with new products, lowering the price, offering specials.
How did you cope?
First, we lowered our minimum order amount. If we had stood strong and said, "No, it's a $500 minimum," nobody would be buying from us anymore. We also had to lay off a few people and we had to change our pricing structure—we had to work with China to get better pricing. We downsized our building and went into one that was a little more cost effective. We just streamlined everyone and everything. We also brought most of our sales in house because some reps seemed to get a little lackadaisical when there wasn't much going on, especially because they had to spend their own money on gas to go out there and get sales. That has really helped.
It was a challenging time for everyone—particularly small retailers.
At the trade shows, I felt really bad for many of the mom-and-pop stores, because they were struggling. I would give them extra time to pay, and I would work with all of the owners just to try to help get products in their doors. And I would take things back if they didn't sell, because I didn't want them stuck with anything of mine they didn't want. And that helped, because you get loyalty that way. People called us back and said, "Thank you for doing that. I'm back on my feet. Here's an order."
Do you believe most retailers are back on their feet?
The stores that are left are getting back on their feet, yes. But we probably lost about 25 percent of our customers—mostly the mom-and-pop stores. And people are still scared. They're afraid to get stuck with anything.
What advice would you give to those retailers?
You have to have good customer service. And here I am going back to gift wrapping! Put purchases in a beautiful box with a ribbon on it. Make the store somewhere they would want to go instead of going online. That's the only thing that specialty stores can do differently than big box stores. That's it. The only thing they can do is keep their prices competitive and add that little extra touch. And offer personalization. We get the most reorders from stores that allow the customer to personalize their purchase. They take our piggy banks and have one of their sales people put a name on it in a paint pen. Also, you have to have a big display of our product. Put a big cute display right out in front of your store, and offer personalization and gift wrapping. Customers will come back every time.
Is that specialty market a big part of your business?
It means everything to me. I would say it's about 70 percent of our business. It's extremely valuable. In fact, the best advice I ever received came from an extremely wealthy retired businessman named Bob Fulton, who said, "I want you to respect all the small stores and build your business through them. You should build your business like a pyramid. The foundation of it should be strong, built of lots of small stores, while large companies should be the top. Then, if you lose one of those large accounts, it's no problem because you have a strong foundation. But if those large companies are your foundation and you lose one, you will topple. You will go out of business." And I've learned that and he was absolutely right.
He sounds like the Child to Cherish guardian angel.
He was. I actually met him in my gift-wrapping booth. One day he had gone to the mall and bought gifts for his wife, including a $25,000 diamond necklace. I asked him to wait for me to wrap it, but he said, "No, I'll come back later. I trust you." That's how he got to know me. He liked the fact that I was starting a new business, and he liked to sit with me in the mornings and offer advice. Another time he was sitting in my office when I was placing the purchase order for the handprint kits at our factory here in the states. He tried to talk me into ordering 50,000 pieces instead of 5,000, because the cost was much lower on 50,000 pieces. I said, "Bob, stop, I can't afford a $50,000 order." He came back about an hour later with a $50,000 check. I paid him back with interest within the first year. He really was my guardian angel when it came to business. Sadly, he passed away a few years ago.
You work with your husband and three sons. How do you keep from killing each other?
They all started working with me in 2000, and the first few years were tough. It was overwhelming. One of my sons had just graduated with a business degree and he definitely had his mind set on how business should work. Of course, when you're 22, your parents don't know anything. So there was a lot of butting heads. Today, he looks at me and says, "Mom, I can't believe how naïve I was. Experience is everything. It's not just going to school." I used to tell him, "You have to treat buyers with respect," because a lot of times he would get frustrated. He would say, "They want this, and they want that. How do we do it all? I told him, "You just do it. You make it happen." He didn't understand that. But now, he's amazing and they all are. It's a lot easier now. So we're all still alive, and I'm still married. [Laughs.]