Briana Hetzel, founder and designer of Haven Children, makers of Havengirl, Wyldson and Joyous & Free, on going the extra mile to protect what matters most: her company's treasured island roots.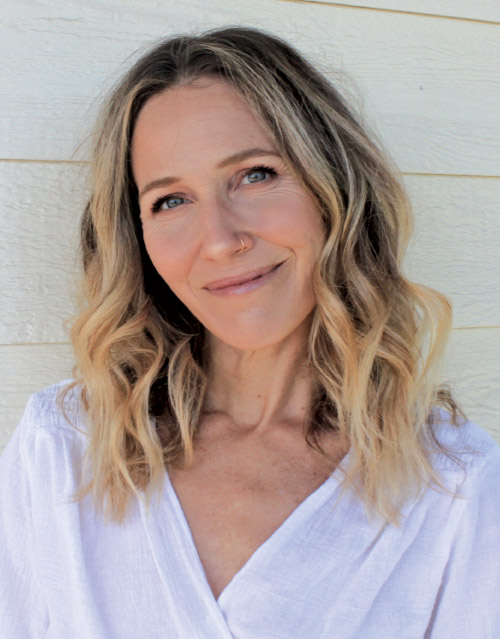 Briana Hetzel has spent her summers in Bali since she was four years old. Unlike the touristy location it is today, during her childhood the Indonesian island was virtually a hidden tropical paradise. "There weren't many paved roads, no air conditioning and the food was super strange," Hetzel says, noting she rarely met other Americans, unless they were surfers. "It was this magical island, and my family fell in love with it."
It wasn't long into this love affair that Hetzel's parents, along with her aunts, began importing clothing from Bali to their hometown of La Jolla, CA, what was then also a quaint and quirky beach community. The synergy between the two paradises clicked as the startup steadily grew and eventually evolved into a wholesale women's resort line. The beauty of Bali served as the inspiration—warm colors, artisan embellishments and breezy styling. "My childhood evolved into countless trade shows, showroom appointments, factory tours and trips to hole-in-the-wall fabric stores," Hetzel says. But she never anticipated a career in fashion, that is until a sudden twist of fate. A psychology major at the University of California Santa Barbara, Hetzel planned on becoming a teacher/world traveler until she became pregnant her senior year. "The unexpected pregnancy shaped the direction of my life and my career," Hetzel says, noting her supportive family enabled the her to graduate college by the time her daughter, Haven, was two.
After graduation, however, Hetzel put a teaching career on hold and pondered what she might do next. She took her daughter to Bali to visit family and friends at the manufacturing facility. During the visit, Hetzel experimented, designing a few outfits for Haven. A spark was lit in her heart. "I was just so inspired and motivated by my daughter," Hetzel says. "My little surprise Haven ended up being the most incredible gift—inspiring me to launch a clothing business, which is still inspiring me nearly 20 years later."           
Small Talk
What are you reading?
With four kids, podcasts are all I have time for these days. Crime Junkie is one of my favorites.
What are you watching?
I just binged Barry on HBO.
What are you listening to?
My kids range ages 4 to 20, so I hear it all! From Ariana Grande to Talking Heads. My little ones also love reggae, so that's in rotation, too.
What do you crave?
Anything with chocolate!
Who is your most coveted dinner guest?
Michelle Obama.

What is your motto?
Trust the universe.
What sound do you love?
Silence—an empty house is bliss.
What talent would you like to have?
I wish I could tidy up like Marie Kondo.
What may people be surprised to know about you?
After I had my last two babies at home, I became a trained doula
The aptly named Havengirl debuted with a resort collection in 2002. To this day, the brand, along with the recent offshoots, Wyldson (2016), a boys' collection, and the tween brand, Joyous & Free (2017), have been manufactured in Bali. Despite rising cost pressures and more affordable sourcing alternative, Hetzel has held firm on the company's deep Bali roots. In addition to the quality and uniqueness of the designs, she cites a synergy between mothers—the ones working in the factory supporting their families and those purchasing the wares in the States—as too important to just discard. Specifically, the fair wages Haven Children offers enables its factory workers to better support their families. That's an aside worth mentioning at the point of sale. So is the fact that all Haven Children fabrics come from eco-friendly suppliers with state-of-the-art dying facilities that ensure minimal water waste. "It's our wholesome story that really helps sell customers," Hetzel says. "We remind retailers that it is moms like us who are making these clothes."
Havengirl started with one sales rep in Dallas, the Martha Foster Group. After great feedback at its debut show, Hetzel asked Sylvia Gill in Los Angeles and Janet Hunter Hawkins in Atlanta to join the family. All three are Havengirl reps to this day. Hetzel has overseen a tight-knit corporate culture where employees are considered family. This isn't about just pumping out the next season's product. It's about creating clothing for children with a sense of purpose and passion. The belief that commitment will connect with retailers and consumers on a higher level. And it's working, especially of late with the two brand extensions as well as 20 percent growth overall over the last two years. Hetzel credits part of the recent success to two management team hires: Jennifer Myers and Robin Jones. The duo has streamlined operations and created brand awareness, while allowing Hetzel to focus more on the design process. Haven Children has upped its game across the board, which is the only way to survive amid these challenging times. "As in any business, there's always room to improve," Hetzel says, citing the downward pressure on price as being particularly challenging to the business model. "It's a shame that prices are being driven down by chains, hurting those of us who are trying so hard to conduct business in a responsible way," she says. "We've had to make significant adjustments to our overhead cost structure in order to maintain our Bali roots."
Despite the difficulties, Hetzel forecasts continued growth for Haven Children in the years ahead. The company's new website and e-commerce platform launched last year, which should provide a sales lift. Hetzel also hints at another brand possibly in the works. "We've had such an incredible reaction to our tween line that we are playing with the idea of 'Mommy and Me,'" Hetzel says. "Who knows? Maybe next time you interview us we we'll have a women's division, too!" In the meantime, Hetzel is committed to giving back. Haven Children recently partnered with Delivering Good, a nonprofit organization that provides new merchandise to families impacted by poverty and tragedy. Furthermore, she remains as committed as ever to her made-in-Bali roots. It's what separates Haven Children apart from the competition. It's also a labor of love. "For Haven Children to remain successful, it's simply a matter of retelling our story over and over," Hetzel says. "We have to work twice as hard to educate every customer about who we are, what they're buying and why it's so special, but that's worth it to us every time."
Besides deep family connections, what makes Bali an ideal place for manufacturing Haven Children's brands?
When I started, no one was able to do embellishments like I could in Bali. China wasn't a major player yet, so I had this huge advantage of being able to do all these incredible artisan embellishments that were difficult to find—hand-beading, sequins, embroidery, you name it. Obviously, that has changed in the last five years, but our ethically sound practices continue to be a major draw.
Have you ever considered moving at least some manufacturing out of Bali?
I've thought about it. It's been a huge challenge to hold our ground with 'fast fashion' taking over the market. Could I hop on a plane and go do everything in China? Sure, but I just couldn't sit with that. We just have to keep telling our unique story, and why the made-in-Bali factor is worth the little extra investment. Social media has helped give us the opportunity to speak directly with consumers. It's a great tool to showcase not only our latest collections, but about who we are as a company. Beyond that, it's about creating strong relationships with our retail partners who play a critical role in spreading our message.
How do you build these strong relationships?
It starts with having a strong connection with reps. For example, if a retailer has a special request or if they need to shift a delivery date, the reps know I trust them to make that decision and work directly with their customers to find the optimal solution. It's also helpful being a small team so when customers call they will likely speak with me, Robin or Jennifer. They don't have to go through a lot of layers.
What were some of the biggest challenges you faced in getting the business off the ground?
Actually, it all felt pretty effortless in the beginning. Not to say there weren't challenges, but I feel like those have come with growth. It was a major advantage having my family in the business since I was a child. They worked out lots of the growing pains most small businesses go through. But I still made my fair share of mistakes. I remember in our first season Havengirl's sizing was a little funky. My daughter was three, and I tried to grade up to a 14 using a women's patternmaker. Everything ran big—oops!
What was the impetus behind the launch of Joyous & Free last year?
I felt a shift in the market two or three years ago where, all of a sudden, we saw a real distinction between sizes 2-7 and 8-16. It's always been there, but now retailers won't even buy the same brand for tweens that also caters to sizes 2-6X. It must be a totally different label.
Any challenges making the leap into tween designs?
Joyous & Free is actually way easier to design than Havengirl! Havengirl is driven by so many embellishments. It's incredibly time-consuming to go from the concept to designing the fabric to coming up with the treatment to selecting the silhouettes. For Joyous & Free, the aesthetic is very clean and revolves more around trend-driven silhouettes and minimalistic prints. Many of our bestsellers are solids, and a solid tee is way easier to design than a unicorn-embellished tee with all the bells and whistles.     
Where do you get most of your inspiration for design?
My design process is layered. I always start with sales reports to see what's working and what isn't. For Havengirl, there are some key themes like mermaids and unicorns that are timeless for little girls. I adjust colors based on trend reports or what I'm seeing in the market. For example, unicorns became a key trend two or three years ago and I don't see them going anywhere. I just try to reinvent them each season with a new embellishment or colorway.
What about Joyous & Free?
I start with bodies, which typically follow women's trends. I look for key silhouettes in high-fashion boutiques. For example, rompers have been huge in women's and turns out they were our bestseller as well. I just make sure the bodies are age-appropriate.
What are your anticipated key trends for Fall '19?
We always do huge holiday tee business with Havengirl. We cover all the major retail holidays—Christmas, Chanukah, Thanksgiving and Halloween. These items are fun for our retailers to merchandise and make for great gifting, which is huge right now. We're also still having success with rainbow and unicorn motifs. In addition, our Woodland Wonderland story is adorable with hand-stitching on woodland animals and soft florals in grays, blush pink and dijon—all still key colors for this fall. We created some cool graphics and pompom treatments for our llama story this season. And for Joyous & Free, expect to see many new jumpsuit bodies. We're introducing tons of knits, too, for layering underneath. I especially love the wine and blush pink color combo. Denim blue paired with Pantone's color of the year, living coral, is another favorite combination of mine.
Do you plan on expanding your boys' division?
Eventually, but that's been very challenging. I was excited to start a boys' line after having my first son seven years ago. And once my second son came along, I was like 'This is it. I have to do it." But since everything is made in Bali, it's hard for me to compete with the added costs. I had a pretty extensive collection when we launched, but it just can't carry the same price points little girls' items can. Most people just aren't willing to spend that much on their boys. We've hit our targets in T-shirts, so that's where we're sticking for now until we figure out a better solution.
How are your retail partners faring in today's climate?
It's affecting tiers in different ways. While this marks my seventeenth year in business, and I have worked through all different types of economic conditions, none are as particularly difficult as now. There's just so much more competition for wholesalers and retailers. It's very cutthroat, and loyalty only counts for so much. In many instances, it's too much about the numbers. Our industry must support each other. For Haven Children, we've lowered our minimums and we've push deliveries out when needed. We even modeled our deliveries after the women's market (shipping almost every month), which I think has worked out well for our boutique clientele. It just makes more sense to deliver goods more often so your customer has a reason to check back. However,  if a store prefers to get it all at once, we're happy to accommodate them. We also provide loads of marketing collateral—every single garment has been photographed on a model. It's all about providing as many tools as possible to our retailers because if they don't succeed, neither will we.
What do you attribute your company's longevity to most?
There is so much to this answer, but it comes down to the strong relationships with our reps, suppliers and retailers. We never take any of them for granted. It's a privilege to be in this business as long as we have. We always pay close attention to meeting the needs of our customers, working hard 24-7. Many all-nighters have been pulled along the way, but every one of them has been worth it.
What do you love most about your job?
That it's continually changing. It never gets old seeing a seed of a thought turn into a garment. The whole process is totally new each season. Plus, I get to travel and spend time with my four kids—what more could I ask for?