Mónica Algás, CEO of Boboli, achieves success by offering philanthropic values, kid-friendly designs and, most of all, always knowing her next move.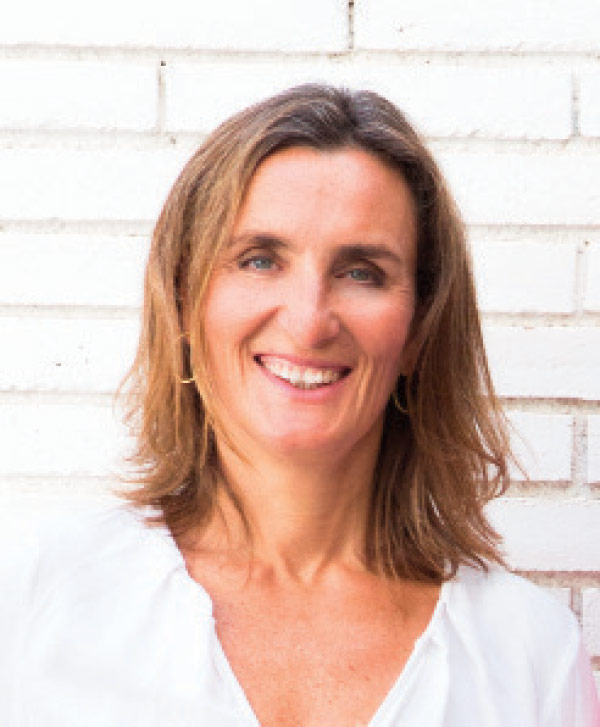 Mónica Algás compares the spirit of Boboli to a "restless child"—one fueled by its zest for new experiences and challenges. For more than 30 years, the CEO says the family-owned business has satiated that burning desire by expanding into new categories and extending its presence in more than 50 countries with distribution in more than 1,800 outlets spanning franchises, department stores and specialty retailers.
"We are growing about 10 to 15 percent every year," Algás says, noting that in the last five years the Barcelona-based company has doubled its turnover with exports and online as main drivers. "Our success comes from adapting to the needs and desires of our consumers—how people shop is changing, and it's up to us to change with them."
Boboli (a nod to Boboli Gardens in Florence where the family used to go every season around the Pitti Immagine fair) came into being in 1984. Algás' parents founded Star Textil in 1981, makers of several fashion brands, before launching their own children's brand. They chose Boboli as a name because they didn't want something that sounded too Spanish and would be easy to understand. What started as a handful of items back in the early years has grown to more than 150 exclusive Boboli prints in sizes newborn to 16. In 1995, the brand marked its debut in Vogue followed by several growth milestones across Europe, Asia and the U.S., including catwalk appearances, showroom partnerships and retail expansions.
Small Talk
What are you reading right now?
Anna Karenina.
What sound do you love?
Spanish music from the '80s.
What talent would you most like to have?
Flawless multitasking.
If you could hire anyone, who would it be?
Amancio Ortega (founder of Zara).
What three things would you bring to a deserted island?
Definitely my Kindle, swim goggles and a cell phone.
What inspires you?
Travel. My last trip was in a motorhome through the national parks of Canada. I also loved traveling around the Swedish fjords.
It was in 1996 when Algás joined the family business as the head of retail and marketing. After earning a degree in economics at the University of Barcelona, she spent eight years at Nestlé in media planning, marketing and export before returning home. "When I was young, I was not motivated to join the family company because I preferred to work for an international company—more mass media products," she says. "But then I realized that a smaller environment of more familiar decision-makers who can directly influence a company is a greater motivator to me."
In 2014, Algás took the helm with one of her sisters, Arancha, when their father retired. "While it's not always easy working with family, the advantages are much bigger than the disadvantages," she says, noting that the company's decision-making is split. She manages the commercial area of marketing, retail and export while her sister runs the product design and production. "Our relationship is strong, so it's easy to discuss strategies together, as well as with our directors' committee," she adds.
Big decisions are certainly aplenty in an apparel company that produces two collections of six lines per year, adding up to more than 700 styles each season. According to Algás, kids' trends for next fall include '60s sporty chic looks for girls and a palette heavy on the mustard in boys. "Fabrics like denim with woolen yarn embroidery, plush jackets and sweatshirts, as well as twine knits will become important materials of that season," she says. "Also, soft and cozy pieces like fur jackets for baby girls and fleece denim for baby boys are expected to perform well." Overall, Algás says the company's designers drew from four different themes: "Retro Forest" inspired by autumn fields, "Born in Alaska" inspired by cold climates, "Winter is Coming" that features the brand's signature bright colors and flowers and "Colour the Shadow," an ethnic theme.
Algás says trend-right designs are just one, albeit critical, aspect of what makes Boboli successful. There's plenty of backroom requirements as well as outward facing matters that must be addressed today. Consumers are buying much more than an item these days. They want to know who the brand is, where it's made, what it's made of, what its values are, etc. "Retail consumption today is more conscious in general," Algás says. "Materials are important, social components are important—people really identify with brands that offer something personal." As a result, Boboli launched a philanthropic program, the Boboli Suma Award, in 2016 where charities submit applications to be considered for a donation from the company. Boboli typically picks a few organizations for the award annually. "We try to give to little foundations that are really striving to help with something special—anything from a rare illness to a social project," Algás says. "It's really a heartwarming mission, and I'm excited for our third edition coming up this spring."
Going forward, Algás says Boboli plans to expand its e-commerce site to serve the U.S. market better, however, there's a few logistics to iron out first in the coming months. "Success is the sum of little actions," she says, mentioning how every step toward bettering service in today's fast-paced retail climate will help its retail partners stay competitive against dominating online players, like Amazon. The rules of childrenswear are changing rapidly and dramatically. The
status quo has gone the way of butterfly collars and bell-bottoms. Companies can't afford to sit back and wait for the market to come to them. They must act quickly and be aggressive—and Boboli is an example of doing as such. It's not easy, but there is little other choice. "I'm lucky to have a great team of about 250 people who are all focusing on the same goal," Algás says. "Our world is very motivating, especially within fashion, and it's more critical now than ever to keep alert, inspired and never settle."
Who is your target customer?
She's a woman between 30 and 45 years of age, upper-middle class and loves fashion. Her children are dressed in an original way and are always wearing the latest trends. She is cosmopolitan, modern and loves reading fashion magazines and following influencers. She always checks her social media feeds, catching up on her favorite Instagram profiles when she wakes up and before she goes to bed.
What do you attribute most to more than 30 years of success?
Listening to the consumer and responding to how they shop. For instance, Mom doesn't go out and buy, buy, buy anymore. She looks on the internet first and does her research. We see less people coming to brick-and-mortar to shop. Our customer is more spontaneous as to when they buy, and they only buy what they need. Consumption is evolving more to online, so not only do we need to offer the best experience across our brick-and-mortar locations but also to be just as strong online. An omnichannel strategy is a must today! But it's also helpful to offer certain products in stores that you don't offer online to give those retailers a way to compete. Right now, we have about 25 retailers in the U.S. Our agent in New York is Ali's Market, and we are going to hire a rep on the West Coast next season. We also will be partnering with an agency in China.
How important is integrating social media marketing strategies into your business plan?
It's very important, especially for fashion companies. Social channels allow you to reach your target customer and show your products quicker than with traditional media. Nowadays, we think it is important to have a mixed media marketing strategy, including both online and offline. Effectiveness in the channels depends on your goals. Our weekly newsletter is another great way to inform loyal customers about our products, events and promotions. We've found we typically get the best response to the letters related to promotions.
What's your take on the online tier's growing dominance?
It certainly is having a large effect on retail overall. It's more important now than ever before to have a competitive approach that makes your clients prefer to buy from your stores. Shopping must be a good experience each and every time with superior product, merchandising and customer service. 
As a company with its own franchises, any merchandising advice to your other retail partners?
We offer sizes newborn to 16, so it's a challenge to organize such a wide selection—even in our franchise locations. But it's important to remember that everything must be beautiful and visible. Our DNA is very strong, and we want it to come across that way by ideally showcasing all of our colors, prints and patterns. Of course that is not always possible or feasible, so we work in groupings, putting certain themes or concepts together by size to create a cohesive story throughout the in-store displays.
What do you consider to be Boboli's No. 1 advantage?
Design—our color and quality! It's difficult to stand out in a crowded marketplace, but it's not impossible. There's always a way to success, we just have to dig deep and find it. At the same time, we can't go  crazy. We have to remain focused and remember who we are along the way. We have to always stay true to our company's values and mission.
Where do you envision Boboli in five years?
To be more present around the world and one of the leading brands in e-commerce. We plan to launch a strong e-commerce program in the U.S.  We're still figuring out the logistics right now. But the best of Boboli is yet to come. •