Steve Dunn aimed to change the children's product industry, one innovation at a time. Now the Munchkin CEO has his sights set on the apparel category, with a patent-pending one-piece and a fashion line full of functional twists. Most entrepreneurs can tell you all about their "light bulb" moment, when the inspiration struck for creating […]
Steve Dunn aimed to change the children's product industry, one innovation at a time. Now the Munchkin CEO has his sights set on the apparel category, with a patent-pending one-piece and a fashion line full of functional twists.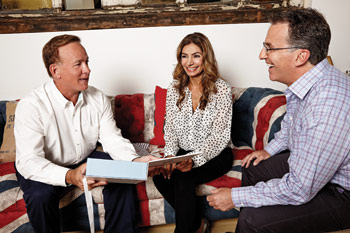 Most entrepreneurs can tell you all about their "light bulb" moment, when the inspiration struck for creating their company. But not many can say that they've had a light bulb moment around 120 times. Not unless they're Steve Dunn, the CEO and founder of Munchkin, that is.
The company Dunn launched in 1991 with the first of many light bulb moments—when he shook up the market with soda-shaped baby bottles—has since grown into one of the biggest players in the juvenile product industry, with an offering almost as wide as the market itself. Changing mats? Check. Diaper pails? Done. Baby bottles? Been there, done that. In fact, the company is on track to surpass $300 million in revenue this year, considerably more than its competitors, including Playtex, Evenflo and Gerber's product division.
A pretty big reason for that rapid growth is Dunn himself, the lead inventor on approximately 120 of the company's 150 patented products. Like many an entrepreneur in the children's product arena, Dunn didn't begin his career in the industry. In fact, he was working as a venture capitalist in Fort Worth, TX, when he first decided to launch Munchkin. His friends from business school teased him unmercifully when he told them he was leaving the lucrative world of investing to begin a children's product company. But it's safe to say Dunn had the last laugh: After raising $2.3 million from investors, Munchkin notched $15 million in sales in its first year, largely due to a licensing agreement that allowed the company to create plastic baby bottles shaped like Pepsi's iconic glass bottles. After landing a spot on the shelves at Kmart and Walmart, the bottles soon became a runaway bestseller. "We grabbed about 20 percent of the bottle market in our first year," Dunn recalls. "We were selling up to 50,000 baby bottles a week at Kmart, and we just couldn't keep up with the demand."
But he soon discovered that just as licensed fads go up, they also go down. What Dunn wanted for Munchkin was longevity, to create a company that could hold its own with the other big name brands on the shelf, from Playtex to Gerber. A welcome reality check came when a buyer for Babies"R"Us refused to take Munchkin products, and Dunn realized he needed to offer something the other brands didn't—patented products that provide unique solutions for busy parents. A new father at the time, he began looking for ways to improve the items he and his wife used with their daughter, Beau. It wasn't long until he hit upon ideas for some of Munchkin's bestsellers, like its soft bite spoons with color-change technology to alert parents when baby's food is too hot.
While the company's commitment to innovation may start with Dunn, the CEO also ensures it's an ethos that runs throughout the entire organization. All of the brand's employees are eligible to receive a bonus if they devise an idea for a product Munchkin can successfully patent and sell. "I think we're the only company where everybody's job description includes product development," he points out. In addition, more than one-half of Munchkin employees own stock in the company—a concept Dunn borrowed from his venture capital days. "When you're investing in a venture start-up, you want people to have all of their chips on the line. You want them to eat, sleep and drink the business," he explains. "There's room within Munchkin for employees who work from 9 to 5 then go home. But the ones who have stock options are the ones who go to baby stores while on vacation in Europe because they want to see what products they have in Spain or France. If an employee acts like an owner, our managers and vice presidents recognize it, and I haven't turned down anyone's recommendation for an employee to get stock in the last 22 years."
Dunn's latest light bulb moment takes the company into totally new territory: children's apparel. The creative CEO had been hesitant to jump into the fashion side of the children's business, since success in the segment relies as much on design as function. But when he realized he could add an inventive twist to a time-tested product, the one-piece, by adding a double-sided front that keeps baby warm in lieu of a blanket, he decided to give his new concept a shot. Dubbed the Onester and Sleepster, the patent-pending products are part of a new Mbaby apparel line Munchkin launched online earlier this year and hopes to see lining the shelves of the country's best specialty stores in the next few months. An expert in kids' products but not fashion, Dunn knew he needed outside help to make the Mbaby line a success, so he recruited Caroline Amrikhas to come on board as the company's director of apparel design. With more than 20 years of experience in the fashion industry—including stints at Macy's and Levi's—Dunn knew Amrikhas would be the best fit for the position, which required coming up with innovative, functional twists for every new design, per Dunn's directives.
Also leading the new apparel effort is Munchkin's President Andrew Keimach, who Dunn believes will be a perfect point man for building relationships with key retailers. "What Andy's done a tremendous job of," Dunn says, "is asking buyers, 'What are you guys seeing domestically? Internationally? What can we do for you? What are you seeing from our competitors that we don't have? What are your ideas?'"
That spirit of camaraderie has helped Munchkin establish a reputation as a go-to problem-solver for its retail partners, he notes—a reputation that will certainly help as it looks to build a new base of retail buyers. Here, Dunn, Keimach and Amrikhas discuss how Munchkin got its start and why they believe Mbaby is set to revolutionize the children's apparel market.
How did Steve's first idea, for soda-shaped baby bottles, help catapult the brand to success?
Andy: After that, buyers from big retailers were willing to see sales people from Munchkin, even though we were a small company. It began a continuous stream of innovation for us that never ended. Buyers look forward to our meetings because they always know that Munchkin is going to bring something in that will clearly be innovative and may even make them laugh—like a soda-shaped baby bottle, which had never been done before. Steve is a little bit modest and gives a lot of tribute to the license, but the truth is he had the courage to launch a product that most other baby bottle manufacturers wouldn't do, and it paid dividends and really catapulted the company.
But Munchkin quickly shifted away from licensed products to focus on its own brand. What inspired the change?
Steve: I had a very pivotal meeting in the early stages of Munchkin with a senior executive at Babies"R"Us. He said, "I'll take your licensed products, but I have Playtex, Gerber and Evenflo. I don't need Munchkin products." At first I thought, 'Maybe I have to stick with licensed products.' That lasted about 30 seconds, until I decided instead to create the best patented products on the market. At that point I had never invented anything or filed a patent in my life. But between that meeting and now, the company has created over 150 patents. That's why I think Munchkin is really known for its innovation. One of our core principles is: If we can't make it better, don't make it. If we come out with a product that's equal or slightly better than a Gerber product, why would a buyer take Gerber products off the shelf and put ours in? That's why our products always have a twist—like a bottle brush with a nipple brush inside or a soft bite spoon that turns white if the food is too hot. We kept adding innovation after innovation, and we kept taking share away from Playtex, Evenflo and Gerber, and at this point we're considerably larger than all of them.
Congratulations! You're also increasing your market share globally, correct?
Andy: Worldwide, Munchkin products can be found in tens of thousands of retail locations. One thing that has helped fuel our growth is that we have enough of a product pipeline that we can sell products to all channels and provide unique opportunities for different types of retailers. We can be found in grocery and drug stores, as well as juvenile specialty shops, hospital gift stores and in mass market chains. If baby products are sold, chances are Munchkin products are present. That's especially true in North America, but in the last three to five years, our growth in Europe has been phenomenal, and now we're expanding into Asia and Latin America at the same pace. We're truly becoming a global brand. At this point, about 25 percent of our sales come from outside the U.S.
Steve: With birth rates at a reasonably low level, retailers aren't giving any more retail space to our segment. Part of why we've been so successful is we work with key retailers and help them generate higher revenues from the same space. If we can come up with an innovation on a bottle rack that allows the bottle rack to fold flat and store easily, and we can charge $3 more for that, then retailers can replace the cheaper one with ours and they sell more. As a result, we've just grown their business 30 or 40 percent in that one spot. And that's why we get such a great reception with buyers.
Steve, where do all of your wonderful ideas originate?
Steve: They just kind of pop into my head. Right after that pivotal meeting with the senior buyer at Babies"R"Us, I made a list of the top 30 baby products every mom buys, and I started to come up with ideas for the easier and less expensive ones. That's how I came up with the idea for our patented White Hot spoons. My wife would always remind me to test the temperature after microwaving baby food by putting it against my cheek or tasting it, to make sure it's not too hot. I hated tasting the baby food, and I hated putting it next to my face. So I came up with the idea of taking color change technology and putting it into the soft coating of the spoon. And now our White Hot spoons are a multi-million dollar business. We took that technology, and asked, 'Where else can we use it?' And the number one injury for babies is burns from the bath. A lot of moms and dads think the bath water feels okay to their hands, but it's too hot for baby. So we created a White Hot Ducky that changes to white on the bottom when the water is too hot. We also added the technology to car shades, to alert parents that a car may be too hot for a baby.
How do you maintain that innovative spirit?
Andy: We've really created a culture of creativity. We offer a bonus to any employee who comes up with a new product idea that we can make commercially successful. It doesn't make any difference what role you have within the company—whether you're in sales or accounting, or a receptionist or a forklift driver. It creates an environment where people are constantly looking and thinking of new ideas. Our employees go on vacation and if they walk by a juvenile products specialty store, they will pop in. I can't tell you how many times somebody will come back from vacation, go into Steve's office, drop off a product they bought and say, 'Hey, I think we can make this product better.' And we do.
And the new Mbaby collection fits in perfectly with that philosophy of innovation.
Steve: Exactly. One day I read that the average mom buys more than 20 one-piece outfits by the time her baby is 18 months old. That struck a chord with me. Moms don't buy 20 bottle brushes, bottles or bottle racks. That's a huge industry. But we know nothing really about apparel and fashion, other than we're obviously very creative and artistic. So we recruited Caroline, who has a great fashion and design sense but also a tremendous amount of experience in sourcing and manufacturing apparel and soft goods. I told Caroline, 'I'm not launching a one-piece line that is better just because it has nice designs. It has to offer a twist that nobody else has. We need a functional difference that we can patent.'
Thus the Onester and Sleepster were born. How did you come up with the idea?
Steve: Year by year the CPSC is restricting what can go in the crib. No pillows, no bumpers—you're really not allowed anything but a flat sheet. And I think a lot of homes have one air conditioning zone. There's really just no way of keeping a baby comfortable without wrapping her in a swaddle blanket, which is fine when she's very young but doesn't make as much sense when the baby gets older. I remembered picking up my daughter when she was a baby, and a lot of times her back would be all sweaty and the front would be completely dry. So I came up with the idea for our double-layered technology, which covers the entire front of the one-piece. We're able to make it warmer on the front side, which is almost always exposed, and cooler on the back side—since most of the time baby's back is against something, from the crib to the car seat to the high chair to the stroller.
It's remarkable that no other brand had created something like that before.
Steve: We did a lot of research. No one had ever created a different thermal quality on one side of a one-piece suit versus the other. So we filed a patent on it.
Caroline: We also came up with a convertible footie, since a lot of parents complain that kids outgrow their all-in-ones very quickly. If it's hot or the baby is running around, parents can roll it up. If the baby falls asleep, they can roll it down. And since it has a built-in blanket, they don't have to put an additional blanket in the crib. Parents are really set with the Sleepster.
Steve: The other feature we offer is two color snaps. When I was buttoning up my daughter's one-pieces, I would get all the way to the top and realize I started at the wrong snap. We put a brass-colored snap as the first one to start, so it's impossible for a dad to screw up snapping it all the way up. [Laughs.]
The collection was offered first on the Munchkin website. What encouraged you to go with on online launch?
Steve: We had just invested a tremendous amount of money re-launching Munchkin.com, and we wanted to have some exclusive products on the site. We also felt that we were doing something special with the Mbaby line, and we wanted to control our own message and try to get some feedback from consumers on how well received it would be, and whether we were providing a solution to a problem. Our plan was to launch it online, and then beginning in July, to branch out and put it into some stores.
And, of course websites are such a crucial consumer touch point these days.
Andy: What we're learning is that consumers go to manufacturers' sites to learn about products. We felt we could create a competitive advantage for ourselves by having the best site possible that delivered the information our customers needed about our products. We can also launch products quickly on our website, whereas retailers typically have set times when they do launches. If we're ready to go a little bit early, e-commerce provides an excellent vehicle for getting consumer feedback. It's almost like chatting live with your custumers all the time. And for Mbaby, the website is great for gifting, and the whole gift piece of Mbaby is critically important to the success of the line.
Caroline: What's great about the website is we can really control the experience our customer has with the brand. We offer free shipping, and we gift wrap the purchase. It comes in a beautiful keepsake box, wrapped in tissue, with a lovely card from Steve, thanking the customer for her purchase and asking for feedback. On the other side, it explains the features of the Onester and Sleepster. We plan on giving retailers the packaging, too, so the experience will be similar.
Now that Mbaby is branching into brick-and-mortar, where do you see the line being carried?
Andy: Our overall retail strategy is we need to put the Mbaby collection in places where the line can be properly explained to the shopper. If it's just racked with a bunch of other one-piece outfits, it's not going to get the attention it needs or deserves to explain the blanket feature, or the footie or the snaps. It's the little things that make this so unique and create the value proposition. We're looking at high-end juvenile product stores in key cities, where we're going to go in and create relationships and train the staff in how to sell the line. And then hopefully we will move from there into the prestige luxury department stores, like Neiman Marcus or Saks Fifth Avenue.
Did your retail strategy help determine your price point?
Caroline: We wanted to target affordable luxury. The patent-pending feature that we have with the Onester and Sleepster adds about a 50 percent make cost to the garment. And we use really beautiful high-end cotton yarns.
Andy: It's really similar to how we go about pricing on any product we make. We don't start with an absolute price target. We start with making a great product. After that, more often than not, we've got the right value equation built in with just a little bit of tweaking. Same with Mbaby. It hit a price point [$26 to $60 retail] that we think we deserve, and I think the consumer will pay based on what we're delivering.
The Mbaby line clearly delivers a functional difference, but it's fashionable, too. Caroline, how did you decide on an aesthetic?
Caroline: We definitely wanted the line to be elegant and timeless and classic, and we were inspired by the fact that we're a California company, so we wanted to give it a California-fresh feel that was very approachable and optimistic. The European flavor comes from the collection's clean lines and the quiet colors.
Steve: I told Caroline I wanted a line where we could change 10 to 20 percent of it a year by taking chances and adding some interesting designs—but I also wanted classical pieces. I remember when we had Beau, we got a bunch of Petit Bateau one-pieces as a gift. They were really good quality, and they lasted forever. I thought their products were very beautiful, very simple and classic, with great patterns.
And you wanted the Mbaby collection to match that quality.
Steve: Absolutely. I told Caroline, quite frankly, that I wanted the material to be as nice or better than Petit Bateau.
Andy: This is a high-end specialty line. It won't go into many of the current channels where Munchkin's products are sold. Moms can already buy a three-pack of one-pieces for $12. That's not what we want to do. We want to cater to style-conscious moms who are looking for solutions, and who can tell a difference between our material and what you might find at mass merchants. And we already have moms writing to us asking for bigger sizes—something we're definitely going to look into down the road. But first we want to get it right, with the right partners.
It sounds like the Mbaby line is going to require an entirely different retail effort.
Andy: Juvenile product growth is fueled by product innovation. The exception to this seems to be the apparel category. It was easy to see the opportunity! In addition, there's more TLC involved in selling a product in the apparel category. It doesn't take a lot of hand holding to show a mom how to buy a sippy cup or a bottle brush, but when it comes to apparel, moms are spending a lot more time touching and feeling and getting involved with the product. It's a little bit of a different world. It's a world where we need a little bit more patience—and the retailers have a bit more patience. So it allows us to learn and grow.
Can you give us a hint regarding future innovations?
Steve: I'm seeing some real advances in the sports world with different materials and air flow technology. Those are some of the things we're looking into. We don't want to just assume that the materials we are using now will be the materials we use in the future. We're going to keep trying to push the envelope. And we have some really interesting ideas on a few other products, like bottle warmers and wipe warmers. Our new ideas are just killer. I think we're going to come in and hopefully grab 70 to 80 percent market share with some of our patented features.
Steve, what advice would you give to an entrepreneur looking to break into the children's market?
Steve: Have a reason for being. I have a lot of friends who come to me with ideas, and they clearly haven't identified their competition, or what the competition is doing. A lot of their ideas are already out in the market. You really need to come up with a twist or an innovation. It's the same thing I tell all my brand managers who want to get us in a new product or category: Why is it better? What's the twist? What's the innovation? What's the need? In good times or bad, Munchkin is always coming up with innovations. We were recently at a meeting with senior executives from one of our biggest buyers, and they said one of our competitors had met with them the previous day, and the brand only presented one new product. Then the buyer asked us, "How many new items are you bringing in this year?" And I said 63. She turned to her boss and said, "That's why I love Munchkin. They are always bringing in new ideas."