Alan Steber, vice president of Sara's Prints sleepwear and Widgeon outerwear, on building a business the old-fashioned way: through quality products, loyal partnerships and treating everyone like family.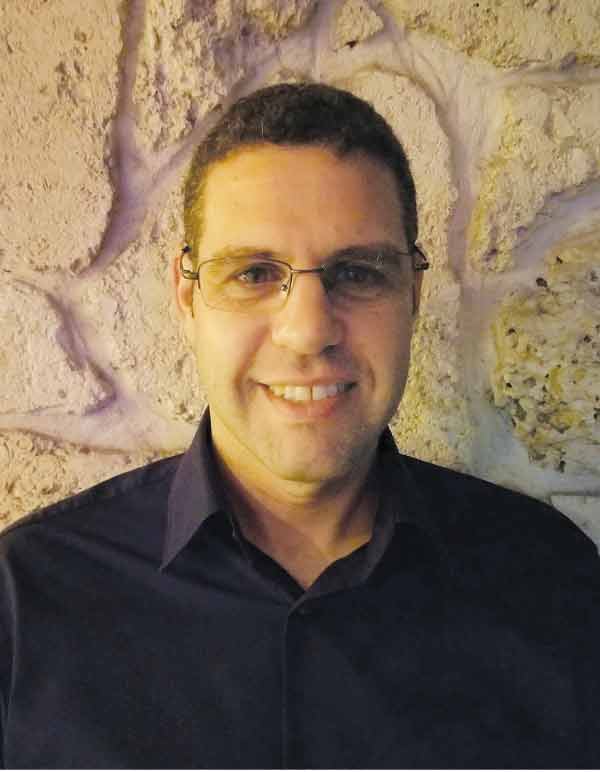 While his employees may not all be blood relatives, Alan Steber considers everyone who works for Sara's Prints and its sister label Widgeon a part of his family-owned business. "We care about each other," the exec says. "It's always been people first, business second."
Part of that family affair involves no one being allowed to work weekends, unless a trade show overlaps. The company is also big on regular bonding activities to foster a healthy and happy work environment. For instance, with an office full of "foodies," employees often take turns making lunch for each other. "We cook every day," Steber says, sharing that he's been inspired of late by Ayurvedic cooking, a traditional Indian cooking in the form of medicine. It's helped facilitate healthier eating at the office—several staff members have reported weight loss, lower blood pressure and better cholesterol. What's more, it's inspired new pajama prints featuring a menu of international foods, including emoji-faced tacos and bowls of ramen to a colorful selection of sushi rolls. "I think half my conversations at the office are about work, and the other half are about food," Steber says with a laugh. "We treat everyone like family to make sure our team is always taken care of," he adds, noting it pays dividends in employee retention. "Nobody at our company has been here for less than five years, and some are going on more than 25," he says.
After Steber's parents, Mike and Pam, retired a few years ago, he and his brother, Jeff, took the helm and their first priority was to ensure the San Leandro, CA-based company's quality standards and family-first values were maintained. Established in 1985, Sara's Prints built its reputation on offering whimsical sleepwear prints, fine materials and innovation. "We're the Cadillac of pajamas," Steber says, noting it was one of the first companies to introduce flame-resistant sleepwear in a cotton/modacrylic blend. Since then, it has refined its treatment to omit topical chemicals for a more skin-friendly design. "The Millennial mom is conscious about the chemicals she puts near her children's bodies," he says. "Therefore, we've introduced pajamas that are certified organic and still inherently flame resistant—a perfect product for today's environmentally and socially conscious moms." Along those lines, Sara's Prints has also expanded its offering of organic cotton pajamas. "We're introducing even higher-end products that incorporate modal into the fabrics for girls' sleepwear because it's so buttery-soft," Steber says.
Small Talk
What are you reading?
Everybody Lies. It's about big data psychology. Everybody lies except in that little Google search box, which can be very powerful from a marketing perspective.
What superpower would you like to have?
The ability to read minds.
What three items would you bring to a deserted island?
My yoga mat, a fishing rod and a satellite phone.
What's your favorite way to spend a free afternoon?
A walk on the beach with my wife.
What was your first paying job?
Helping a friend in high school with his silkscreen business.
What's your favorite childhood memory?
Playing outside with friends after school—no iPads or Xbox back then. Gosh, I'm dating myself.
What gives you the most satisfaction?
Watching my kids grow up and develop their own personalities. I also love exotic travel. I'm going backpacking in Kyrgyzstan this summer with my 10-year-old son.
What's your motto?
Be present.
Sara's Prints is also focusing on the customization and personalization of its collections. "That's where this world is going" Steber says. The company launched Color Me PJs, a collection with colorable graphics that children can customize with provided non-toxic markers. "One of the most popular styles reads: 'All I want for Christmas is____,' leaving it up to the child to fill out the lines below," he says. "Think about a kids' sleepover, where they could each decorate their own pajamas. Can you imagine the wonderful Instagram photos that will come out of these?" In addition, Sara's Prints is capitalizing on niche categories. "Christmas pajamas have always been our bread and butter," Steber says, however this year we collaborated with the Jewish Museum of New York for a special Hanukkah print. "The cobranded product leverages Sara's Prints with something customers can't get anywhere else," he says, adding that offerings will be sold at the museum, as well as its other retail channels, which spans specialty boutiques to high-end department stores.
Steber says the company's drive to innovate, adapt and update its sleepwear offerings is never-ending. The same approach applies to its Widgeon outerwear label, which it acquired in 1996, 11 years after Sara's Prints was founded. Back then, Widgeon was focused on the kids' technical market. "They were the first children's outerwear company to use modern polar fleece (Polartec)," he says. "While fleece is still a mainstay of the brand, we have ventured into the fashion world. That's where we've seen the most growth." Of late, it involves a shift from suedes to faux furs—the softer, the better, according to Steber. "More creative, more textures, more colors, more interests," he adds. "We continually develop fabrications—some work, some don't—but we continually push the envelope on microfibers in our outerwear."
Across both categories, Steber has been noticing celestial influences for Fall '18 in the form of glitter, metallic and galactic graphics. Some point to last summer's eclipse and the new Star Wars film for inspiring the out-of-this-world themes. Sara's Prints joined in, releasing a pajama style that features a unicorn graphic made from constellations, while Widgeon's collection includes a coat covered in stars. Texture and mixed fabrications are also prominent in Fall '18 outerwear. Steber cites a Widgeon vest with cream patchwork as a popular item among its retailers. "Earth tones are very big of late," he says. Popular hues include cream, dusty rose, mushroom and "anything with a berry quality." Tiger is also roaring again, as Steber cites a blue tiger print faux fur jacket as one of his favorite designs from the new collection. Last but not least, he says embroideries add a dash of personality, like Widgeon's varsity jacket with a smiley face emoji stitched on the back. "There's a demand for more exciting prints—more real, more bling," he adds.   
How does the company know when one of its designs knocks it out of the park? Mommy feedback, according to Steber. It often comes in the form of letters from mothers in search of certain prints or styles that might have been released years ago, because their child refuses to wear anything else and needs a bigger size. "The old pajamas reach their knees or elbows, but they won't wear a different brand or print," Steber says. "That's the kind of amazing feedback that keeps us working together and striving for more."
Who's your target customer?
Definitely the mom who wants something classic with a twist—fashionable but not too crazy. We also get a lot of grandmothers who buy sleepwear and outerwear for their grandkids. We had a grandmother this season with 12 grandkids. The store called and said, 'Listen, they have to all wear the same theme, and we're missing two sizes.' We called around and found one, paid retail for it and had it shipped to her. However, we couldn't find the second piece, so we took a little bit of leftover production fabric and made it in our sample room. It's always worth going the extra mile for the customer. 
How's business been of late?
Good. Last year was  strong. Pajama sales were great, and Christmas pajama sales were especially strong. It's also been a pretty cold season across the entire country, so our outerwear business benefits. In department stores, we've seen a much lower rate of markdowns, so there's been better margins across the board. Smaller retailers have also been reordering.
Are there any negatives?
The one downside is our fleece supplier, Malden Mills, moved its factories from Lawrence, MA, to Tennessee and Guatemala. That created large backlogs in production for them, which caused us to run out of stock during critical times of the season. That hurt us and our retailers significantly because we couldn't keep up with the demand. The cold weather created this big demand that we couldn't foresee, and their late shipping did hurt sales. They've fixed it though, and everything is back to normal. We're looking forward to a good 2018.
Do you think the retail environment is as bad as many in the press make it out to be?
I think the retail environment continues to change at an extremely fast pace. Amazon, obviously, is continuing to capture market share across nearly every product category. It's not just children, or just clothing. We're seeing now an influx of non-branded copycats, primarily from China. Products are being copied, one for one, and sold on Amazon and other large retail channels. The problem when it comes to sleepwear is that many don't comply with regulations. There's a real issue with trust.
Do Millennial moms, many who are overly protective of their children and only want the best and safest items, realize this?
I think Millennial moms, in general, will get tired of purchasing what turns out to be sub-quality, untested products where they really don't know what they're getting. The importance of trust—either trust of the retailer or the brand—is going to create new opportunities. I think people do care, and they're increasingly going to look for trusted providers that provide no hassle, good quality and great service.
What's your take on the state of retail right now?
I believe that the retailers who are doing well will likely continue to do so in the future. Our job as wholesalers is to provide trusted brands, quality merchandise and cutting-edge fashion to meet their needs as well as our customers. That requires us to come up with new ideas every season to stay ahead of the curve—and ahead of the copycats—to give retailers something that is unique and generates sales. That being said, it's very tough out there now and will remain so. In fact, it's getting tougher every year.
Would you say retail is evolving or dissolving?
Things are evolving. Retail has to evolve. It's spread too far and thin, but now it's working its way back to a healthier balance. Usually the pendulum swings too far in either direction. There were too many stores, and now it's adjusting to a level that is more in scale with how consumers want to shop.
How is your company adapting to this new reality?
We're putting all the photography online to allow our retailers to download product images for either their own site or to show customers a product they don't have in stock. They don't even have to call us directly; we made a portal for them to order through. It takes a bigger team and more work, but you have to offer these types of services to your retailers. Everything from writing copy to providing images—it's just part of doing business today. It's the reality. And giving our smaller retailers the added tools to be successful is powerful. It's one of the ways we are trying to help our wonderful boutiques across the country compete with some of the larger online retailers who are able to carry a larger selection.
Everyone says an omni-channel approach is critical these days, although for many it's more lip service than reality. How important is it?
Very. It has to be an all-of-the-above strategy. You have to be able to hit demands across all the different channels.
What might the retail landscape look like in five years?
Back in 1997, I was at Haas, Berkeley's MBA school. I had a project where I was asked to identify the need for department stores, which included not stocking as many goods, more customized clothing and ordering on an as-needed basis. However, I don't think we'll get to all that in five years—more like 10 to 15 years. That's when they'll be more customized clothing. It's so wasteful for a company to think they know what people are going to buy, guess size ranges, and then make mistakes. There won't be much room for mistakes in the future. We're looking at stores with smaller square footage that provide specialty products and excellent customer service—and of course, a big web presence.
Do you ask your kids for input on new designs?
Of course! I love bringing my kids and their friends in for focus groups to really dissect our new prints. My two-and-a-half-year-old daughter recently opened my eyes up to the importance of how well a nightgown twirls. Whenever I bring home a new nightgown for her, the first thing she does is spin around. While I always knew twirling was important, I don't think I ever appreciated it enough until I had a girl and saw what joy it brings her.
What do you love most about your job?
In addition to watching my daughter twirl in one of our nightgowns, I enjoy the entire creative process—coming up with new ideas, new concepts, new trends, and seeing them come to life. We have our own sample room, so we can come up with an idea on Wednesday and see it on Friday. Most importantly, I really enjoy the people that I work with—all of our employees and our retailers. Everyone is so hardworking. They do their best in a tough environment. They show up every day and take risks. I have a ton of respect for all our retailers that are making a go of it out there.