The saying beauty is pain got a little too real here…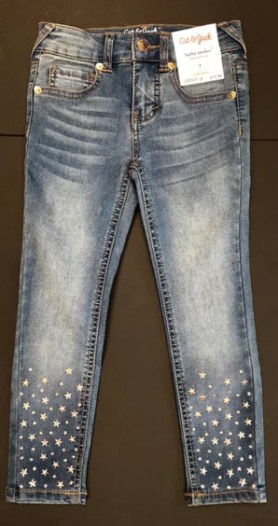 An $18 pair of Cat & Jack girls' jeans, sold exclusively at Target, are being recalled for causing skin lacerations. Known as the "Cat & Jack Girls' Star Studded Skinny Jeans," the denim style in sizes 4-18P are manufactured by Topson Downs.
Each pair is embellished with small gold stars at the bottoms of each leg, which customers have reported come loose and cut the wearer. The U.S. Consumer Product Safety Commission issued the recall advisory March 7, and Topson Downs voluntarily issued the recall after receiving five complaints about lacerations from the metal stars.  
Those curious if they own a pair of Cat & Jack jeans can check the waistband, which should read both "Cat & Jack" and "Super Skinny." The CPSC recommends people stop wearing the jeans immediately and return them to Target for a full refund.
The denim pants were sold in stores and at www.target.com from September 2017 to November 2017. More information about the recall can be found on Target's website under the "Recalls" section or by calling (800) 440-0680.