Co-hosted by Kids Atelier and State of Kid, what began as an educational meet-up fast became an impromptu mentorship for fashion students.
Miami Fashion Institute
Spring is notably a time for new beginnings, and for students from the Miami Fashion Institute (MFI) at Miami Dade College, this was the beginning of an intimate and aspirational look into the world of children's wear. The MFI has two programs of study Fashion Design, and Fashion Merchandising, and both concentrations were equally represented within the group of students who took part. 
"Experiential and interactive learning is the hallmark of workforce programs and a documented request for students across all disciplines. An opportunity to explore a specific sector of business and engage in conversation about what makes that sector unique is invaluable when it comes from the proverbial "horse's mouth".  Fashion has both depth and breadth and we celebrate any opportunity to engage with industry both in and out of the traditional classroom." – Asanyah Davidson, Chairperson, Miami Fashion Institute.
Miami Design District
Just a few miles from the MFI is one of the world's glitziest arts and shopping destinations, the Miami Design District, which is where our gracious co-hosts, Kids Atelier and State of Kid received the students. Both retailers are located within the lush Palm Court locale of the Design District. Before making their way over to Kids Atelier, to set the mood for the day, students and faculty convened around the Fly's Eye Dome, a version of the iconic structure designed by Buckminster Fuller in 1965. The Fly's Eye is considered the centerpiece of the Design District, but it isn't the only work of art, the Design District is brimming with sculpture-filled plazas and other creative activations.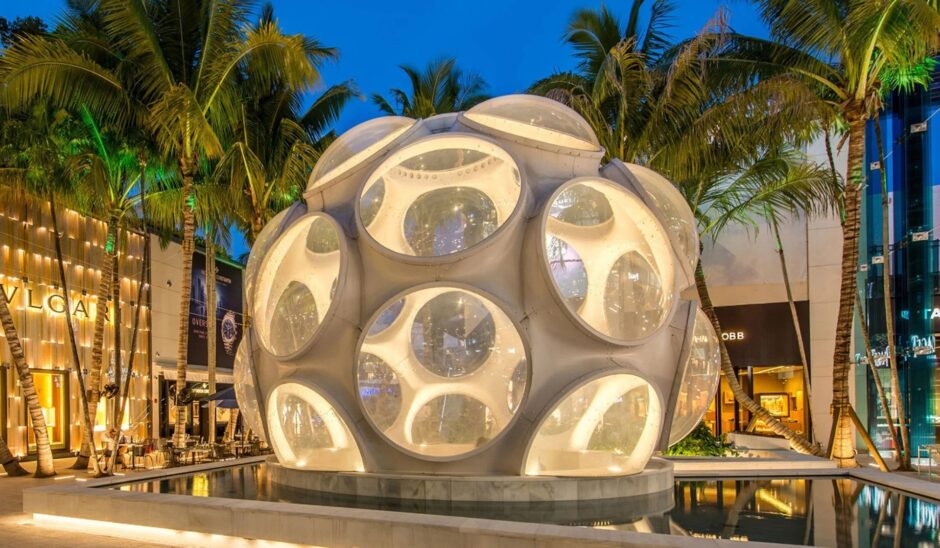 Kids Atelier
Kids Atelier is a petite and emphatically chic boutique. It's absolutely lovely. A wee shangri-la filled with the world's most prestigious children's brands from Givenchy to Kenzo to Stella McCartney, and Moncler to name a few. At the helm of it all is Eliana Fernandez, Store Manager, who is as knowledgable as she is approachable. Eliana, together with her warm and welcoming staff indulged the students with information about the day-to-day operation, merchandising, customer service, sales, buying, and as a matter of course, the principles of the California-based retailer. While Kids Atelier is a business concept that grows with kids from birth to sixteen, the support they have expressed for these students, who want to follow their lead into this wonderful whimsical niche market that is children's wear comes from a perceptible concept of care within the culture of Kids Atelier. https://kidsatelier.com/
State of Kid
State of Kid is a destination, and profoundly so. While co-founders Alana Oxfeld and Cheryl Gonzalez have prudently curated a collection of children's clothing, décor, and gifts for the most au courant of kiddos it's the added element of class offerings that kills it, so to speak. There is a full schedule of dance classes, art, yoga, martial arts, cooking, science, parenting, and more, all led by qualified and experienced instructors. Based on the ideology of State of Kid, it's no wonder that Alana and Cheryl were instantly amenable to an educational meet-up at their space where they shared their wisdom, experience, and candidly, the trials and tribulations that came with starting and sustaining their business. The meet-up led to a win-win partnership with the MFI as the two entities plan to collaborate on the placement of students and graduates in future internships and employment opportunities with State of Kid. Alana and Cheryl recently opened a second location on Miami Beach. https://stateofkid.com/
"We loved having such a talented group of students visit our Design District location. We were impressed with how inquisitive they were, specifically around the backend of the business. Clearly, they are creative, but they are also in tune with the importance of elements outside of design such as marketing, operations, and finance." – Alana Oxfeld and Cheryl Gonzalez, Co-Founders, State of Kid 
This meet-up was organized and led by Daymaris Alvarez, Fashion Merchandising Instructor, Miami Fashion Institute, and Visiting Instructor, Paula Lauriano-Stiehm, Fashion Institute of Technology SCPS.