Earnshaw's Webdesk • Sep 17, 2020
Medela and Rebecca Minkoff Release Limited-Edition Breast Pump Tote
The tote debuted at Rebecca Minkoff's New York Fashion Week show.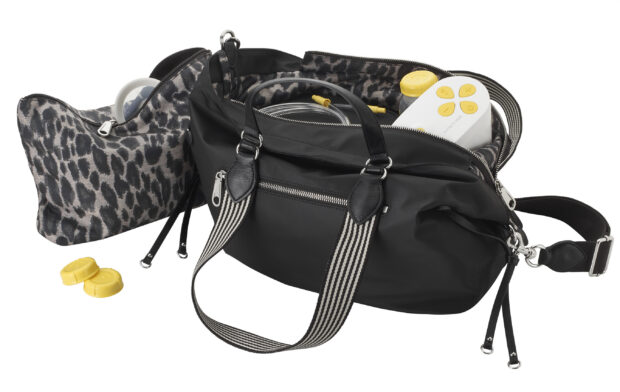 Breast pump brand Medela has launched a new breast pump tote in collaboration with fashion designer and breastfeeding advocate Rebecca Minkoff.
"As a breastfeeding and pumping mom of three, I wanted to create a bag that is fashionable and functional, that could transition from a pump bag to a diaper bag and beyond," says Minkoff. "With a soft inner print, playful tassels and bold stripe carrying strap, the Medela x Rebecca Minkoff tote goes beyond form and function and represents the beautiful and multi-faceted nature of breast milk feeding and motherhood."
The tote includes a removable, leopard-print lined bag for holding pump parts and pieces, generous interior pockets and an exterior pocket for personal items like Mom's cell phone. It also features three adjustable straps (one handheld, one shoulder and one detachable crossbody) and an exterior easy-clean nylon material.
"This collaboration is a celebration of our commitment to motherhood and the many millions of moms and babies we've helped over the years," says Melissa Gonzales, executive vice president of Americas for Medela. "Moms look to us to create purposeful, effective and differentiated products, and working with Rebecca's experience as both a breastfeeding mom and designer made for the perfect collaboration."
This is not the first year Minkoff included nursing or pumping models at Fashion Week. Her Spring 2020 and Fall 2019 NYFW shows were also in collaboration with Medela.
Debuted at Rebecca Minkoff 's New York Fashion Week show on Sept. 15, the new bag retails for $298 and can be purchased from RebeccaMinkoff.com.