[Editor's Note: Welcome to our new daily blog! Stop by for up-to-the-minute coverage of the children's industry, including brand spotlights, trend reports, trade show recaps and lots of interviews with the industry's most fascinating retailers, reps, manufacturers, designers and more. Every Monday we will spotlight an industry insider who is helping change the future of […]
[Editor's Note: Welcome to our new daily blog! Stop by for up-to-the-minute coverage of the children's industry, including brand spotlights, trend reports, trade show recaps and lots of interviews with the industry's most fascinating retailers, reps, manufacturers, designers and more. Every Monday we will spotlight an industry insider who is helping change the future of children's fashion.]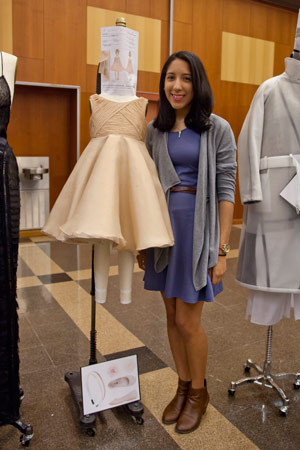 April showers bring May flowers, as well as a crop of talented new design grads looking to make their mark in the fashion world. Last week we stopped by the Fashion Institute of Technology to check out some of the best childrenswear designs crafted by this year's graduating class. From ostrich-feathered vests for girls to striped linen vests for boys, the designs offered plenty of beautiful fabrics and textures—but perhaps not so much practicality. (Moms won't find any machine washable materials here.) But if high fashion is supposed to serve as the inspiration for everyday wear—and it does—then FIT is the perfect place to look for styles that spark the imagination.
Case in point: This year's Critic Award winner in the childrenswear category, crafted by upcoming grad Natali Collado. Every year, an industry designer mentors the students as they create their final collections and selects one look as the most exceptional garment. (This year, Lisa di Napoli of Tommy Hilfiger Kids served as the childrenswear critic.) Collado's winning look, a sparkling special occasion dress in dreamy blush pink, would certainly entrance any little girl who gave it a twirl. The silk wool skirt is scattered with seed beads and sequins and topped off with a silk organza overlay, while the silk chiffon top features interlocking layers of fabric.
Collado says she was inspired in part by her large, kid-filled family to jump into the childrens' fashion arena. We chatted with her about her post-graduation plans and what she loves about the kids' market. —Audrey Goodson Kingo
Q: Why did you decide to specialize in childrenswear? 
 
A: What drew me most to kids' wear was that I could design a little bit of everything. I've done everything from puffer coats to swimsuits.  No matter what it is that I'm designing, I am enjoying every second of it! 
 
Q: What's your favorite kids' category? Dresswear? Swimwear? Sportswear?
 
A: I would have to say that my favorite category is dresswear, mainly because dresses are what attracted me to fashion design ever since I was little. I really enjoy the fact that dresses can be fun and playful but they can also be sophisticated and elegant. I also love the idea of every little girl being able to feel like a princess just by putting on a sparkly dress.
 
Q: What's the most challenging aspect of designing childrenswear?
 
A: Honestly, since I decided to focus in childrenswear, I have had so much fun and I have learned so much about this industry that I have not felt that anything has been extremely challenging. But if I recall a specific moment, it's the fitting process. It was surprising to see how two girls of the same age can have such different size ranges, even at the age of five.
 
Q: What would be your dream job?
 
A: I would love to one day have my own company or even to have my designs recognized globally. But I know that is something that would be accomplished with time, experience and plenty of hard work. For now, I look forward to what comes next, excited about what life throws my way.